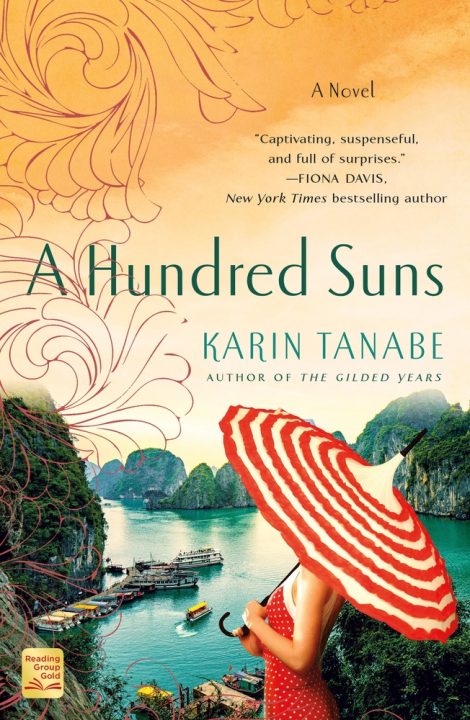 A HUNDRED SUNS
A Novel
---
A faraway land.
A family's dynasty.
A trail of secrets that could shatter their glamorous lifestyle.
On a humid afternoon in 1933, American Jessie Lesage steps off a boat from Paris and onto the shores of Vietnam. Accompanying her French husband Victor, an heir to the Michelin rubber fortune, she's certain that their new life is full of promise, for while the rest of the world is sinking into economic depression, Indochine is gold for the Michelins. Jessie knows that the vast plantations near Saigon are the key to the family's prosperity,
A faraway land.
A family's dynasty.
A trail of secrets that could shatter their glamorous lifestyle.
On a humid afternoon in 1933, American Jessie Lesage steps off a boat from Paris and onto the shores of Vietnam. Accompanying her French husband Victor, an heir to the Michelin rubber fortune, she's certain that their new life is full of promise, for while the rest of the world is sinking into economic depression, Indochine is gold for the Michelins. Jessie knows that the vast plantations near Saigon are the key to the family's prosperity, and though they have recently been marred in scandal, she needs them to succeed for her husband's sake—and to ensure that the life she left behind in America stays buried in the past.
Jessie dives into the glamorous colonial world, where money is king and morals are brushed aside, and meets Marcelle de Fabry, a spellbinding expat with a wealthy Indochinese lover, the silk tycoon Khoi Nguyen. Descending on Jessie's world like a hurricane, Marcelle proves to be an exuberant guide to colonial life. But hidden beneath her vivacious exterior is a fierce desire to put the colony back in the hands of its people––starting with the Michelin plantations.
It doesn't take long for the sun-drenched days and champagne-soaked nights to catch up with Jessie. With an increasingly fractured mind, her affection for Indochine falters. And as a fiery political struggle builds around her, Jessie begins to wonder what's real in a friendship that she suspects may be nothing but a house of cards.
Motivated by love, driven by ambition, and seeking self-preservation at all costs, Jessie and Marcelle each toe the line between friend and foe, ethics and excess. Cast against the stylish backdrop of 1920s Paris and 1930s Indochine, in a time and place defined by contrasts and convictions, Karin Tanabe's A Hundred Suns is historical fiction at its lush, suspenseful best.
St. Martin's Griffin
Paperback
March 2021
416 Pages
9781250231482
Praise
Named A Best Book of Spring 2020 by Real Simple · Parade · PopSugar · New York Post · Entertainment Weekly · Betches · CrimeReads · BookBub
"Tanabe is a master of historical fiction." –NPR
"Riveting… Tanabe pulls the reader in from page one, painting a lush, vibrant paradise with a dark side, and taking us along on a fast-paced, exquisitely layered, beautifully detailed ride to the end." –Kristin Harmel, international bestselling author of The Room on Rue Amelie and The Winemaker's Wife
"A Hundred Suns has a cinematic quality…This view of French occupation in Indochina is replete with love affairs, revenge and secrets, not to mention a history lesson about the evils of colonialism." —Washington Post
"A luscious setting combined with a sinister, sizzling plot." —EW
"Tanabe reveals secrets in exquisitely paced steps…A smart, riveting psychological thriller." —Kirkus
"An impeccably researched historical novel that immerses readers completely in a beautiful and haunting place." —PopSugar
Excerpt
ONE
Jessie
November 20, 1933
The house of a hundred suns. That's what my tai xe called it. The first time he ferried me to the train station, in a black Delahaye 134 as polished as a gemstone, he slowly circled the building, avoiding the rawboned rickshaw drivers. I craned my neck, watching as the car's exhaust left a trail behind us like a mollusk's track, and tried my best to concentrate on his words, not the quick tempo of my heart.
"When I was young," Lanh explained, moving his white-gloved hands to the top of the large metal steering wheel, "the government posted hand-painted advertisements all over the city boasting that railroad construction was booming and that one day the country would have one hundred train stations. I promised myself that I would visit every single one in my lifetime. There were several versions of the advertisement, with different stations featured, but all of them had a bright, many-rayed sun painted at the top. I used to trace those suns with my hand when I passed the posters on my way to school, as the government was kind enough to put them in the poorer neighborhoods, too."
He turned the car smoothly, his voice quietly laced with enthusiasm. "But as you can see, all roads, even railroads, begin right here. Hanoi. Even if they build a hundred suns in Indochine, this will always be number one. That's why it gets to be the house, the orb. The rest are simply rays."
"How many have you visited so far?" I asked.
"Thirteen," he replied. "But I'm still quite young."
He cleared his throat and in his pleasant baritone added, "I once told a Frenchman that I called this station the house of a hundred suns, and he laughed in my face. He said, 'Lanh, don't be fooled by appearances. Most of those train stops that the government boasts about are in the middle of nowhere and have a train go through every three days at best. The sun shines on them, but they're also full of malaria and poverty. The rest of Indochine is not like Hanoi.' He called Hanoi 'a city kissed by the French.' He said that the French had brushed their lips against Saigon as well, but that the rest of the country was still waiting to be kissed."
Lanh shifted his grip and said, "I don't see it that way, madame." He caught my eye in the rearview mirror and smiled. It was unexpected, since as a good chauffeur, he knew to keep his gaze on the road and not on his employer or, worse, his employer's wife. But Lanh must have sensed that on that particular day I would appreciate the personal connection and wouldn't mind a breach of etiquette.
"Those iron tracks mean freedom. They mean a life away from the one you were born into," he said softly. "You'll see. It will grow in importance to you. The house of a hundred suns. Nhà Tram Thái Duong, as I say in my language."
I had only been in Indochine for thirty-three days, having arrived from Paris on the first Saturday in September 1933, after a month-long endurance test of a trip, including a four-day sandstorm in the Suez Canal and the dark, shark-dotted waters of the vast Indian Ocean. But on that sun-soaked day in Hanoi, alone with Lanh, it was not my arduous journey to the Orient but my new life that was weighing on me.
Since arriving in the bustling colonial city with my husband, Victor, and our little daughter, Lucie, I had barely left the inviting neighborhood where we lived. The streets were wide and welcoming, and all our neighbors were French. But after a month had ticked quickly by, Victor decided that I'd had more than enough time to get used to Indochine—the singsong tones of the language; the rush of the rickshaws, or les pousse-pousse, as the French called them, as they zigzagged along the avenues en masse; the tan faces shaded by conical hats; the sea of black eyes when they peeled their hats off; the places where the French went to avoid all of it—and that I should see the country outside Hanoi.
The city of Haiphong, to the east of Hanoi, on the coast, was a fine place to start. It was where our boat had come to port and wasn't entirely foreign to me. The train journey took only six hours, and the first-class cars were touted as luxurious, matching the comfort of any in Europe. French Indochine was our home now, Victor reminded me. It could be for some time—three years, perhaps. Or if he did well in his position, overseeing the vast Michelin rubber plantations in the south in Cochinchina—one of the five French colonies and protectorates that made up Indochine—then perhaps even longer. I couldn't just spend my time in the house, even if it was lovely.
Our house was painted yellow ochre, set off by dark green shutters on every window, and the sun seemed to be drawn to it, turning the walls gold as it sank in the late evenings. Inside, the rooms were painted a vanilla white and the floors were dark gray and white patterned encaustic tiles, each measuring nearly two feet across. The four staircases were marble, with curved iron railings, and there were balconies or terraces on every floor. The imposing architecture was softened by the comforting whispers of servants who seemed to float through the halls like spirits, their black-and-white raw silk and muslin garments billowing slightly as they hurried from room to room.
I had wanted Victor to accompany me on the trip to Haiphong, but in the end, I traveled alone.
"You'll feel the country more that way, anyhow," Victor had said.
Two hours after sunrise, on that October day, Lanh drove me to the Hanoi train station on the route Mandarine. It was an elegant building, constructed from gleaming white limestone and marble, wide and long like a birthday cake, with an elaborate facade. A central clock watched over it all, ticking soundlessly. To Lanh it may have been the house of a hundred suns, but with its French Second Empire style, it felt like a sliver of Paris to me. That feeling of home—as Paris had been my home for eight years—along with the idea of Lanh's suns warming me, had helped me slip out of the car and onto the train with a brief surge of confidence.
Earlier that morning, after a breakfast of fried eggs and rice, I had dressed in the outfit chosen for me by my servant Trieu, and the hat she had topped it off with was a flat-brimmed affair in a cheerful geranium red, with only a thin similarly colored ribbon for adornment. It was a shade that a very confident woman would wear, she said. I felt like an impostor in it.
Of course, my husband was right. That train trip had brought me a changed perspective of Indochine and had helped me understand how I could define my role as the wife of a Michelin in the colony. It also introduced me to the vast countryside, the stretches of verdant land that existed between cities. It was the parts of the country that the French neglected to change that were the most charming, I observed. I devoured the landscape from the half-open train window, losing myself in the hypnotic churn of the heavy iron wheels, taking in the local stations, all curved and molded in the French aesthetic, imagining Lanh ticking them off a list he'd penned as a child. In the weeks following the trip, those images had also helped pacify me when I was exposed to the country's darker elements.
The geranium-colored hat had become a good-luck charm. This November morning, I had placed it on my head again. Victor, Lucie, and I—as a family—were taking the train a bit down the coast to Vinh, a town near Cua Lo Beach. Victor said it was a wide white-sand beach, one of the best in Indochine, and was dotted with large villas built by the French. In two days, we were to meet Victor's young cousin Roland and his family, who were in from Clermont-Ferrand, the seat of the Michelin factories in central France. They were not Lesages like us. They were Michelins. The family was considering staying in Indochine for a month or two, and we were tasked with showing them the best of the country. In his letter to us, Victor's uncle Édouard—who was in truth his mother's cousin, but always called uncle out of respect—had made it clear that Roland and his family were to fall in love with the colony at once, as his nephew had found trouble in France in the form of an expensive, press-seeking mistress. He wanted Roland to disappear overseas for a stretch. He also wanted him to find a much cheaper mistress in the process, preferably one that knew very little French, apart from the dirty words.
"Best behavior," I said to Lucie as her servant, her thi-ba, bathed her.
Lucie tilted her head back for Cam to rinse it and closed her eyes, bracing herself in the long, claw-foot tub. "You're not allowed to speak English to me when we are on best behavior," she rightly pointed out.
"I'm well aware," I said, rubbing my eyes. I sat on the little pink chaise in the corner and inspected the white dress Cam had pressed for Lucie. When we had first arrived, the servants had consulted me about all of Lucie's clothes and diversions, but I soon learned that they knew much more about how rich little French girls should dress and act in the colony than I did. Seeing me touching the dress, Cam asked if it was to my liking—a mere formality, we both knew. I smiled and nodded, thinking for a moment about the shapeless, stained clothes I had worn as a girl. They were always too big—dark and practical dresses, pants rolled up at the hem so they would last for years instead of months. I had hated them. I touched Lucie's traveling dress, fingering the starched cotton skirt and white satin waist bow.
Just an hour later, Lucie was in her dress, trying not to crumple it, as we made our way in the Delahaye to the house of a hundred suns. Her dark hair was brushed and plaited, with white satin ribbons at the end, tied up in stiff bows that stood a chance of surviving the twelve-hour train trip ahead of us.
I told her to stop fussing and she inched closer to me, fanning out her skirt around her. I gazed out the window, pretending to observe the only other car gliding down our street in our quiet neighborhood, but I was mentally going through every ensemble Trieu had packed for me, making sure they were fashionable enough in the face of the Michelin fortune. Victor was a Michelin through his mother, Agathe. We were Michelins, too, he reminded us. But we weren't those Michelins. We weren't the ones directly descended from the Michelin et Cie founders, brothers Édouard and André Michelin. The pair had taken over the then fifty-year-old family rubber business in the 1880s and reinvented it. Michelin went from making small rubber items and farm machinery to popularizing the rubber bicycle tire, putting their rubber on the first automobile to run on pneumatic tires, creating the Michelin guides so no one had to eat or sleep badly on their journeys—they even built the first paved runway, and during the Great War helped the government design a plane and assisted in building nearly two thousand Breguet aircrafts in their Clermont-Ferrand plant. But Victor, and I, had been kept at more than arm's length from these activities for years. Unlike most of the family, we'd never been perched at the seat of company activity in Clermont-Ferrand, where the family and all their employees made the rubber tires spin. We were trying to change that with our efforts in Indochine. Édouard had told Victor that if he succeeded in the colony, then he could succeed anywhere, even in Clermont-Ferrand.
The evening dresses my servant and I had selected could be a problem, I worried. I'd been losing weight the last few months and had been afraid to try them on before packing them, not wanting to know if they were loose in the bust. But now I was angry with myself for such stupidity. The Michelin women were always so beautifully turned out, wearing the latest fashions from Paris, even though Clermont-Ferrand was miles from the capital, and I, with my American sensibility, never seemed to choose the right thing, even with the generous budget Victor provided.
I let my breath out slowly, desperate to calm my nerves, and tried to concentrate on the sensation of little Lucie next to me. She was moving her fingers absentmindedly against my palm, stroking my gold rings, as if she knew I needed to relax.
Lucie had taken to the country upon arrival, having always been too wild for the elegant streets of Paris. A tan thing with ink-black hair, she looked practically native from the back. Like us, she had studied Annamese for six months before leaving, important mostly for Victor, who wanted to have a basic understanding of the language before being surrounded by thousands of native laborers. I had first called the language Indochinese but was swiftly corrected by Victor, who told me that natives of Indochine were referred to as Annamite, their language Annamese. "It comes from the center region of Indochine, which is Annam. Sometimes the residents of Tonkin are called Tonkinese, and the residents of the south Cochinchinese. It's all terribly confusing but do try to say anything besides 'Indochinese' or else you will sound very new." Victor learned the customs and the language quite quickly, but nowhere near as fast as Lucie. In the two and a half months that we had been in Hanoi, Lucie had started speaking full sentences, even conversing at length with the staff, which made her a curiosity among les indigènes and a cause for concern in the French community, whose children were rarely allowed to learn the local language. The rich Annamites sent their children to France to be educated, not the opposite, the French women I had met reminded me, but I was never one to prevent learning. It was fascinating to watch the speed of the process, the wheels of her curious mind twirling like a pinwheel. One day she had been shyly hiding under the fabric of her servant's ao trying to string the few phrases she knew together, and a few weeks later she was telling the same servant stories in Annamese. Now all the servants, from the cook to the chauffeur, were teaching her to write Chinese characters and the more modern, simpler script, Quoc Ngu. She only wrote out a word or two a day, but I knew they were building up in her mind like a pyramid.
Lucie's nose on my wrist, smelling my orange-flower perfume, brought me back to the present, and I peeked over the bench at Victor, who was next to Lanh, fussing with a pile of papers full of figures. They covered his knees, resting precariously on his beige linen travel suit.
It was a familiar sight. I listened to the sounds of Hanoi as my heart beat quickly, my body refusing to calm down, as we waited for the station to come into view. It was Lucie who spotted it first. "Regarde, maman, the house of a hundred suns!" she exclaimed cheerfully. Since Lanh had told her about that name, she hadn't called it anything else.
"It's prettier every time I see it," I said and patted her exposed leg, thin and muscular like a dancer's. Victor had wanted Lucie to take ballet lessons, to do a few things in Hanoi that little French girls enjoyed in Paris, but she preferred to run wild—riding her bicycle on the wide streets of our neighborhood, buying penny candy in the open-air markets with the servants—and she was still young enough that her father allowed her to.
"Jessie, close the window, please," Victor said from the front seat, trying to hold his papers still.
I desperately needed the air but rolled it up immediately anyway. I tilted my hat so I could lean against the glass instead. Though it wasn't quite right for the winter season, the hat still felt like a talisman, something with a hint of magic instead of just a pretty geranium-colored accessory.
"Do you like the house of a hundred suns better than the Gare Saint-Lazare?" I asked Lucie quietly, getting in my last few phrases in English to her before we stepped into a public place and French took over again. Our home in Paris had been just a ten-minute stroll from Saint-Lazare.
"I'm starting to forget Paris," she replied in a tiny voice, not wanting to disturb her father.
"It has only been a few months, Lucie," I said, unable to hide my alarm. "And no one can forget Paris. It's the most wonderful place in the world. Spend just one day there and it finds its way inside you, even someone young like you. The memories you make in Paris are thicker than cartilage."
I could tell she was about to ask me what cartilage was, but she paused and laid her head against my arm instead.
"I remember that it rained every day," she whispered, "and that Mademoiselle DuPont would tell me not to play in the elevator or I would be trapped inside and have to live there forever. In the elevator. But no one lives in elevators, do they?"
"It did not rain every day," I corrected her.
Copyright © 2020 by Karin Tanabe