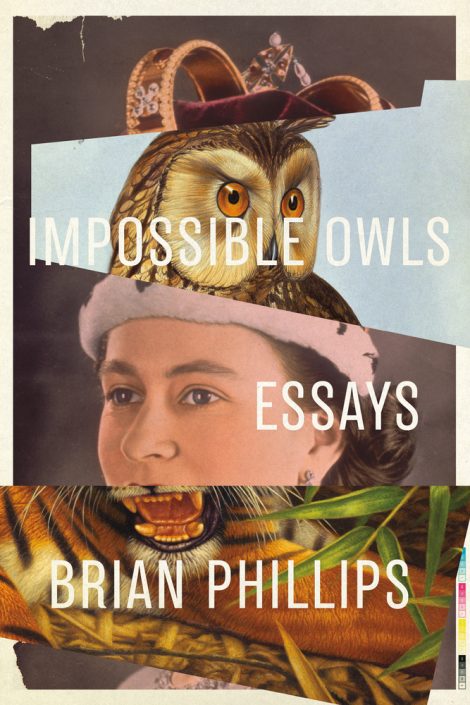 IMPOSSIBLE OWLS
---
A globe-spanning, ambitious book of essays from one of the most enthralling storytellers in narrative nonfiction.
In his highly anticipated debut essay collection, Impossible Owls, Brian Phillips demonstrates why he's one of the most iconoclastic journalists of the digital age, beloved for his ambitious, off-kilter, meticulously reported essays that read like novels.
The eight essays assembled here—five from Phillips's Grantland and MTV days, and three new pieces—go beyond simply chronicling some of the modern world's most uncanny, unbelievable, and spectacular oddities (though they do that, too). Researched for months and even years on end,
A globe-spanning, ambitious book of essays from one of the most enthralling storytellers in narrative nonfiction.
In his highly anticipated debut essay collection, Impossible Owls, Brian Phillips demonstrates why he's one of the most iconoclastic journalists of the digital age, beloved for his ambitious, off-kilter, meticulously reported essays that read like novels.
The eight essays assembled here—five from Phillips's Grantland and MTV days, and three new pieces—go beyond simply chronicling some of the modern world's most uncanny, unbelievable, and spectacular oddities (though they do that, too). Researched for months and even years on end, they explore the interconnectedness of the globalized world, the consequences of history, the power of myth, and the ways people attempt to find meaning. He searches for tigers in India, and uncovers a multigenerational mystery involving an oil tycoon and his niece turned stepdaughter turned wife in the Oklahoma town where he grew up. Through each adventure, Phillips's remarkable voice becomes a character itself—full of verve, rich with offhanded humor, and revealing unexpected vulnerability.
Dogged, self-aware, and radiating a contagious enthusiasm for his subjects, Phillips is an exhilarating guide to the confusion and wonder of the world today. If John Jeremiah Sullivan's Pulphead was the last great collection of New Journalism from the print era, Impossible Owls is the first of the digital age.
FSG Originals
Paperback
October 2018
352 Pages
9780374175337
Praise
New York Times Bestseller.
One of Amazon and ELLE's Best Books of 2018.
"An absolute blast . . . [Phillips] is able to navigate extraordinary circumstances with curiosity, playfulness, and humility, and his enthusiasm is best seen in his extensive research within these communities and their histories. And this is why I couldn't get enough of this book: Phillips is the perfect adventure guide — down for anything, talented enough to translate the experience." —Arianna Rebolini, Buzzfeed (Best Books of Fall 2018)
"Brian Phillips has a wonderful way of taking readers to entirely unfamiliar places in nature (the Yukon) and in culture (sumo wrestling), and translating those experiences into something that feels visceral, even for people who are stuck at their computers all day. Believe the John Jeremiah Sullivan comparisons and get lost in this captivating essay collection, which brings to life both the extraordinary and the mundane." —Maris Kreizman, Vulture
"As a journalist, Brian Phillips is willing to fall down a rabbit hole to uncover a mosaic of detail within a particular subject. This collection of essays presents some of his greatest examinations into the odd and intriguing . . . Philips takes readers down unexpected paths that are as world-expanding as they are entertaining." —Wilder Davies, TIME
"Brian Phillips has a way of making you care about the things he cares about in the way he cares about them, which is passionately, almost obsessively . . . The essays are invigorating and muscular; the perspective is enthusiastic and vital; the book is a must-get." —R. Eric Thomas, Elle (Best Books of 2018)
"[Phillips] has now established himself as a master of long form reporting that is indistinguishable from the literary essay, through which he bares witness to our contemporary moment." —Los Angeles Review of Books
"Again and again, Impossible Owls proves that Brian Phillips is a cultural codebreaker of the highest order, unlocking the hidden systems of our mad world. Hilarious, nimble, and thoroughly illuminating." —Colson Whitehead, author of The Underground Railroad
"Long-form narratives both diverting and engaging . . . [Phillips's] keen sensitivities color each scene, and he rarely hides his feelings about the figures he meets. Phillips has fashioned a calling for himself as an American flâneur, casting out into post-colonial frontiers and marveling at the oddities he encounters from the comfortable distance of unsupervised creative prose . . . [Full of] genuine insight the author dredges up from his experiences as well as the sense of a full human mind at large in the world that so many of his recollections approximate." —Kirkus (starred review)
"When Phillips, a jazzy John McPhee, ventures out into the world in pursuit of understanding of a place, mystery, vocation, or obsession, he is attention incarnate. The resulting prismatic descriptions power his vibrant, multidimensional essays, which are built on rich veins of research and further enlivened with crisply recounted conversations and convivially self-deprecating glimpses into his state of mind." —Booklist
Excerpt
Out in the Great Alone
1. SNOW CRASH
In the summer of 1977, a fire swept across the wilderness of interior Alaska, west of Denali, which was then still officially known as Mount McKinley. Tundra burned to rock; 345,000 acres of forest—more than 530 square miles—disappeared in flames. When the smoke cleared, it left behind a weird scar on the map, a vast, charred crater littered with deadfall. In the winter, when temperatures in the interior dive to forty below, the skeletons of burned trees snapped in the cold or were ripped out by powerful winds. Tussocks of tundra grass froze as hard as bowling balls.
Every year in early March, the Iditarod Trail Sled Dog Race sets out from Anchorage, in the south-central part of the state, and runs northwest toward the finish line in Nome, on the coast of the Bering Sea. In its early stages, the trail runs uphill, into the mountains of the Alaska Range, then plunges down, into the interior, where it enters the fire's scorched country.
For the mushers of the Iditarod, the Farewell Burn, as that country became known, was a nightmare. The race had been founded only four years earlier, as a way to commemorate the importance of sled dogs to Alaska. Large expanses of the state had, for much of its history, been unreachable by other forms of transportation. Now dog teams were forced to navigate through blackened stumps and fallen limbs, along a trail that was often impossible to follow. Many years, the Burn accumulated little precipitation. Sleds intended for snow and ice had to be dragged across hardened mud and gravel. Runners broke; tree shards snagged tug lines; speeds dropped to three or four miles per hour.
In 1984, the Alaska Bureau of Land Management cut a swath for a better trail. But even then, a seasoned musher could need twelve hours or more to cross from Rohn to Nikolai, the checkpoints on either side of the Burn—a passage that would frequently be made in darkness, through heavy wind and extreme, subzero cold. The novelist Gary Paulsen, who ran the Iditarod twice in the 1980s, describes the Burn as a place where mushers literally go mad. "It was beyond all reason," Paulsen writes in his Iditarod memoir, Winterdance. "I entered a world of mixed reality and dreams, peopled with the most bizarre souls and creatures." At one point, he thinks he's on a beach in California; at another, he pulls out a real ax to fend off an attack from an imaginary moose. When he comes to, his dogs have vanished; he's alone in the landscape. He stumbles across them a hundred yards away. He has built a fire and bedded them down without knowing it.
The Iditarod Trail runs across the Farewell Burn for around thirty-five miles of its total length. The total length of the Iditarod Trail is more than one thousand miles. The Burn is not the most difficult section.
* * *
In late February 2013, I flew to Alaska with the intention of following the Iditarod all the way from Anchorage to Nome. This was a plan of—I might be quoting my editors on this—dubious sanity, even before you consider the logistical complexity of chasing several dozen sled-dog teams across a subarctic wilderness the size of the Eastern Seaboard. That's not an exaggeration: There's disagreement over how long the Iditarod Trail really is, but the best estimates peg it at just about the distance from Carnegie Hall to Epcot. The fastest mushers take around nine days to reach the finish line, and that's assuming ideal conditions, say fifteen below, with blue skies and hard-packed, ice-slick snow.
I was staring at a week and a half of bone-deep cold, probable-verging-on-inevitable blizzards, baneful travel conditions, and total isolation from the civilized (read: WiFi-having) world. I hated snow, did not play winter sports, kept the thermostat at sixty-five on a good day, and hadn't logged out of Spotify since 2011. I wasn't even a dog person.
I called a pilot.
"Do you have experience in winter-survival-type situations?" he asked.
"Sure," I said. "I survive them by staying indoors. It's a technique that's worked well for me so far."
"Have you spent any time in small aircraft?"
"I've, uh … I've watched movies where people spent time in small aircraft."
"How about winter camping, backpacking, anything along those lines?"
"Day hikes," I said miserably.
There was a pause on the other end of the line. "Well," he said, "I'll be straight with you. There are a lot of ways to die in Alaska."
That was in September. Over the next five months, the phrase "please don't die" started cropping up with maybe slightly more frequency than you'd like to see in your work e-mails.
Why was I so keen to do this? To make this trip for which I was patently unprepared? It had something to do with Alaska itself, its sheer hugeness and emptiness—731,449 people spread out over 570,640 square miles, a territory larger than Spain, France, and Germany combined holding slightly fewer people than the metro area of Dayton, Ohio. The density stats are a joke. The U.S. average is 87.4 inhabitants per square mile. The forty-fifth-most-dense state, New Mexico, thins that down to 17. Alaska has 1.28. And more than 40 percent of Alaskans live in one city! Factor out metropolitan Anchorage and you're looking at about three-quarters of one person per square mile, in a land area ten times the size of Wisconsin.
I don't know how you roll, emotionally, with respect to population-density tables. Personally I find this haunting.
I've always been fascinated by the cold places at the end of the world. Back when I used to spend a lot of time in libraries, I wasted hours going through polar-exploration narratives, tracking the adventurers who froze to death, the expeditions that vanished. The generation of Scott and Shackleton was probably the last one to live with the old intuitive belief that the world went on beyond the part of it that their civilization had discovered. That there were meaningful blanks on the map, terra incognita. It's riveting to watch these practical-minded emissaries of high European culture hurl themselves into an unknown that they're not equipped to handle. Robert Falcon Scott, who died in Antarctica in 1912, tried to take ponies to the South Pole because he didn't trust sled dogs. Apsley Cherry-Garrard, who wrote, with no trace of exaggeration, a memoir called The Worst Journey in the World, nearly died several unimaginably horrifying early-twentieth-century deaths while trying to retrieve an emperor penguin egg, for Science. I know the genealogies of their ships. HMS Terror and Erebus, the vessels in which James Clark Ross charted the coast of Antarctica in the 1840s—you'll find a Mount Terror and a Mount Erebus there still, volcanoes on Ross Island—which disappeared, along with Sir John Franklin's entire expedition, in 1845. Fram, the ship from which Roald Amundsen set out for the South Pole in 1910, which was first designed for Fridtjof Nansen's mad, brilliant scheme to embed himself in Arctic sea ice.
I'm not saying this is right, but there's something magical to me, something literally entrancing, about a place that can inhale a clutch of Victorian sailing ships and leave behind a handful of brass buttons and a copy of The Vicar of Wakefield. Terrifying, but entrancing. That high white vanishing fog—doesn't it call to you, too?
No one's sure what the word "Iditarod" means. The best guess is that it comes from the Ingalik and Holikachuk word hidedhod, meaning "faraway place." It's the name of a river; in 1908, a couple of prospectors found gold on one of the tributaries, Otter Creek. A boomtown, named for the river, sprang up. Now it's a ghost city, an empty bank vault and an abandoned brothel. This year's race goes right through it. People who'd been there told me about camping out under the northern lights, watching the green shells of the dogs' eyes come gliding out of the dark.
At some point during all this, I copied down a line from Melville. He's talking about being lost at sea here; it's the same thing.
The intense concentration of self in the middle of such a heartless immensity …
"Come a week early," my pilot said, "so you can learn how to fly the airplane."
2. CITY OF DOGS
I landed in Anchorage in the middle of the night. The next morning, I drove an hour north to Wolf Lake Airport, a private airfield near Wasilla. You know those old photo-backdrop screens that little kids in department stores used to have their portraits taken in front of? It was like driving into one of those. National-monument mountains framing a sky that was chemical blue. Highway like a rifle sight. Until you actually get to Alaska, it's hard to prepare yourself for the scale of it, the sheer felt immensity. The numbers barely do it justice. Sixty percent of the nation's parkland is in Alaska. Four of the parks—four—are bigger than Connecticut. If you stood the white peak of Denali next to Mount Everest on level ground, Denali would tower over it, thousands of feet higher; Everest is taller only because it rests on an elevated plateau.
The majority of this extreme vastness can't be reached by road. Juneau, the state capital, isn't on a highway network. Head north, into the semi-populated reaches, and you'll find nothing connecting the villages at all. Alaskans depend on bush pilots, fliers who take small planes into remote and dangerous places, for transportation, mail—almost every type of contact with the outside world. I had come to watch what might be the least spectator-friendly sporting event on earth: To follow the Iditarod requires not only a bush plane, but a bush plane equipped with skis, capable of landing on frozen rivers and lakes.
Jay Baldwin met me at the hangar. He'd flown F-16s back in the day and put in a couple of decades with Delta and Northwest before moving to Alaska to be a bush pilot. He was retired, in some theoretical sense, but he had a flight school, Alaska's Cub Training Specialists, at Wolf Lake, and from what I saw still knocked out around nineteen high-intensity daily hours running that, tinkering with airplanes, and educating anyone within earshot (children, small animals, whatever stray Iditarod reporters happened to stroll past) about the perils of bush flying. Jay was sixty years old and tall, and he had white hair and a smile so enthusiastic it hinted at actual anarchy.
His best friend was a musher, Linwood Fiedler, who'd been the Iditarod's runner-up in 2001. They'd grown up together in the Lower 48, then lost touch before reconnecting as adults in Alaska, having in the meantime become a bush aviator and a professional dog musher, respectively, because obviously that is life. Every year, Jay led an expedition to follow the Iditarod from the air, partly for the flying and partly as a show of support for Linwood. This was the expedition I'd signed up for.
"You're not a pilot in Alaska," Jay said, fixing me with a blue-eyed and somehow piratical stare, "until you've crashed an airplane. You go up in one of these stinkin' tin cans in the Arctic? Sooner or later you're gonna lose a motor, meet the wrong gust of wind, you name it. And OH BY THE WAY" (leaning in closer, stare magnifying in significance) "that doesn't have to be the last word."
Having lost more friends than he could count to wrecks in the remote Alaskan wilderness, he was obsessed with crash reports, fatality statistics, replaying freak scenarios. One wall of the ACTS hangar was plastered with newspaper clippings from accounts of gruesome accidents: "5 Killed as Small Planes Collide," "Sisters Among Dead in Plane Crash," "Flying to Die." The most unnerving clip was titled simply "Pilots: Grief." I pictured tiny mosquitoes of flame blooming against the side of a mountain, torn hulls rolling in black water. "This is the junk that keeps me up at night," Jay said, smoothing his hair under his ACTS baseball cap. "I've flown just about every dangerous kinda bird you can fly. Why are they gone and I'm still here?" One of his mentors had vanished without a trace while transporting a couple of bear watchers over the Shelikof Strait from Hallo Bay to Homer; the authorities didn't know for sure that the plane had gone down until the body of a passenger washed up in a fishing net ten days later. And yet Jay wholly, truly loved flying, the way some people can love it. I have a brother-in-law who's like that. When he's not in the air, it's like he's seeing fewer colors.
This was the paradox of Jay Baldwin: One of the most infectiously happy human beings I've ever been around, his every waking moment was a kind of prolonged existential debrief. He was never not working on how to outwit the horrific eventualities he was forever expecting to befall him, and he was never not just extremely cheerful about this. Jay was a Vermont kid, raised in a small town, and there was a mordant New England pluck in the way he gazed into the abyss and said, "I see what you're trying to do there, abyss."
The plan was for me to spend a few nights in the apartment connected to the hangar—live with the planes, get the feel of them. I'd read that some Iditarod mushers slept with their dogs, to make themselves one with the pack. I needed flying lessons because the little Piper Super Cubs that would carry us to Nome were two-seaters, one in front, one behind. Jay wanted me prepared in case he had a fatal brain aneurysm (his words), or a heart attack (his words ten seconds later), or keeled over of massive unspecified organ failure ("Hey, I'm gettin' up there—but don't worry!") at twenty-two hundred feet.
Choosing an airplane—that was the first step. Jay had four, and as the first ACTS client to arrive, I got first pick.
They were so small. Airplanes aren't supposed to be so small. How can I tell you what it was like, standing there under the trillion-mile blue of the Alaska sky, ringed in by white mountains, resolving to take to the ether in one of these winged lozenges? Each cockpit was exactly the size of a coffin. A desk fan could have blown the things off course.
"God love 'em," Jay said. "Cubs are slower 'n heck, they'll get beat all to hell by the wind, and there's not much under the hood. But bush pilots adore 'em, because you can mod 'em to death. And OH BY THE WAY … put 'em on skis, and come winter, the suckers'll land you anywhere."
Two of the Cubs were painted bright yellow. I took an immediate liking to the one with longer windows in the back. Better visibility, I told myself, nodding. Jay said it had the smallest engine of any of the Cubs in our squadron. Less momentum when I go shearing into the tree line, I told myself, nodding.
The name painted in black on her yellow door read: NUGGET. She had a single propeller, which sat inquisitively on the tip of her nose, like whiskers. Jay told me—his words came as if from a great distance—that she'd had to be rebuilt not long ago, after being destroyed on a previous trip north. Was I hearing things, or did he say destroyed by polar bears?
I patted Nugget's side. Her fuselage was made of stretched fabric. It flexed like a beach ball, disconcertingly.
Into the cockpit. Flight helmet strapped, restraints active. Mic check. Then Jay's voice in my headset: "Are you ready!" It wasn't a question.
* * *
And this, ground dweller, is Alaska from nine hundred feet. White-flecked spruce forest. Snow-smothered lakes. Mountains all around. There's Denali, clear and far away. Right here, in the Mat-Su Valley, the southern part of the state, you can see power lines, the sketch of a highway system. A little farther north and all that will vanish. People here can sound mystical when they talk about the bush pilots, about how they knit Alaska together. From nine hundred feet, it makes sense.
We'd done some practice turns and picked out a lake; now all I had to do was get the plane on it. Jay explained to me about landing on snow, how the scatter of light tends to mask the true height of the ground. You can go kamikaze into the ice, thinking the earth is still thirty feet below you. To gauge your real altitude against the whiteout, you have to use "references"—sticks poking through the snow, a line of trees on the bank. These supply you with vital cues, like "might want to ease down a touch" or "gracious, I'm about to fireball."
I won't bore you with the details of how to steer a Super Cub—where the stick was (imagine the porniest position possible; now go six inches pornier than that), how to bank, what the rudder pedals felt like. Suffice it to say that in theory it was simple. In practice …
"You have the aircraft." Jay's voice in my helmet's earpiece. "Just bring us down in a nice straight line."
I felt the weight in my right hand as Jay released the stick. The lake was straight ahead, maybe three miles off, a white thumbnail in an evergreen-spammed distance. The plane was under my control.
Nugget—there's no other way to put this—began to sashay.
"Just a niiice straight line," Jay reminded me. "And OH BY THE WAY … your pilot's dead." He slumped over in his seat.
Little lesson I picked up someplace: Once your pilot gives up the ghost, it is not so easy to see where you are headed from the backseat of a Super Cub. I mean at the "what direction is the plane even pointing right now" level. You will find that your deceased pilot, looming up against the windshield, blocks almost your entire forward view. To mitigate this, the savvy backseater will bank the wings one way while stepping on the opposite rudder pedal, causing the plane to twist thirty degrees or so to one side while continuing to travel in a straight line, like a runner sliding into base. That way, said enterprising backseater can see forward through the plane's presumably non-corpse-occluded side window.
Yeah. Well. A thing about me as a pilot is that I do not, ever, want to see forward through the side window. Especially not while plummeting toward a frozen lake. It's like, friend, why create the hurricane. I figured that, as an alternative technique, I would just basically try to guess where we were going.
"How's your speed?" my pilot('s lifeless form) inquired.
The ground seemed to be making an actual screaming noise as it rushed up toward us. Hmm—maybe a little fast. I cut the throttle. Nugget heaved and started falling at a different angle; more "straight down," as the aeronautics manuals say. We were out over the lake. I had a sense of measureless whiteness lethally spread out below me. Either the landscape was baffled or I was. There were trees on the bank, but we were dropping too fast; I couldn't relate them to anything. My references had gone sideways. At the last moment I pulled back on the stick.
There was a chiropractic skrrrk of skis entering snow. There was, simultaneously, a feeling of force transmitting itself upward into the plane. Nugget bounced, like a skipped stone, off the ice. We were tossed up and forward, maybe fifteen feet into the air …
… and came down again, bounced again, came down again, and, unbelievably, slid to a stop.
"Guess what," Jay said, popping up. "You just landed an airplane."
I've never felt all that caught up, personally, in the miracle of air travel. I played a little Wing Commander once upon a time, but I was never one of those pre-9/11 kids who used to lurk around open cockpit doors hoping some head-tousling type would kick him a set of plastic wings. Still, there are moments when your adrenal glands just aren't even going to pretend to hold back.
I HAVE CONQUERED THE MYSTERIES OF FLIGHT, I hollered inwardly, across the valleys of my emotions. LET THE AIR ITSELF BOW DOWN BEFORE ME.
"That was pretty good," Jay said. "Let's try it again."
EEP, NO, I bellowed to the valleys.
* * *
Anchorage, Alaska's one real city. Fairbanks is a town, Juneau is an admin building with ideas. Anchorage is Tulsa, only poured into a little hollow in a celestially beautiful mountain range on the outer rim of the world.
When you're there, it truly feels like you're at the end of something. Like a last outpost. You're in a coffee shop, you ordered a green tea, you can see white mountains from the window, and on the other side of the mountains is wilderness that hasn't changed since 1492.
That's an exaggeration, but not as much of one as you might think.
It's Saturday, March 2, the start of the Iditarod. Here's how this works: In the middle of the night, large trucks beep-reverse in and dump snow over an area of downtown. Race volunteers wearing little lanyard-clipped name badges spend the night smoothing snow down over the streets. Early the next morning, mushers and their dog handlers roll into the staging area in pickup trucks, the beds of which have been fitted with multi-compartmented dog carriers. The compartments on the carriers are arranged in a tic-tac-toe grid with little doors that open to the outside. Your reference here is a wall of PO boxes, only behind each door there's a sled dog lying in a petite bed of straw. Some of the dog carriers have cards hanging from their side clamps with clothespins attached to them. A quick investigation reveals that each clothespin has a dog's name markered on it: Cutter, Lyra, Harp, Sable, Chisel, Bree. Soon the mushers are opening compartment doors and pulling out dogs. The dogs have their toes examined and their lips peeled back so the mushers can check their gums. There's a scholarly air, on the mushers' part, to these inspections. You get the impression that they've checked the dogs out of a library. The dogs shake nonexistent water off their coats and are chained, one by one, to the trailer hitches and free grab handles on their mushers' trucks. Dog handlers drop food in each dog's particular vicinity. The food is in some cases raw meat, which leaves soggy pinkish traces in the snow. Human food is being vended to the growing crowd of spectators via several small pavilions, which bear signs like ALASKA REINDEER SAUSAGE and, impenetrably, REINDEER BRATWURST LOUISIANA. The air smells of hot meat and hay. I spot Jay talking to a woman near Linwood's truck, so I go over to say hello, and it turns out she's Libby Riddles, the famous Iditarod champion from '85. A shivery breeze keeps blowing up Fourth Avenue off Cook Inlet, maybe six blocks to the west, but the day's sunny; it's thirty degrees Fahrenheit. You can see your breath, but it's pleasant. The crowd milling under the giant carved bear that towers above Grizzly's Unique Alaskan Gifts does sport some heavy-fur wearers, but that's a cultural thing; it's celebratory. All the heavy furs I spot are on men. There's a stout, bearded race official going around in not only a heavy fur coat but also an astounding brutalist apartment block of a fur hat. The hat has a bobcat's entire face on it. The face has teeth. I make a note to check whether it would be possible to gauge the hierarchy of race officials based on the food-chain status of the dead animals whose faces are on their hats, but though this feels like a searing reportorial lead at the moment, the results of my follow-up investigation will prove disappointing.
Bobcat-hat-face is going around doing little knee dips over dog teams that are starting to be hooked up to their sleds' riggings. It's maybe half an hour before the official 10:00 a.m. start of the race. Volunteers circulate with clipboards; near the starting line, the bulge of the crowd is impassable. The Iditarod is a huge deal in Alaska. Sled-dog racing in general is a big deal; the Iditarod is the best-known race, but there are others, like the thousand-mile Yukon Quest, that draw major attention. Among the tiny population of the state, the top mushers are famous. You can walk into a hardware store in Anchorage and go, "Did you hear about DeeDee," or "Just saw the news—Dallas might lose his nose," and no one will answer, "Who, creep-o?"
I've been YouTubing pretty diligently, so I spot some familiar faces. There's Lance Mackey, maybe the greatest long-distance musher of all time: four straight Iditarods from 2007 to 2010; also four titles in the Yukon Quest. Do you know him? He got nominated for a couple of ESPYs a few years back. Won his first Iditarod after beating throat cancer. He's a redneck icon in Alaska, a sort of ratty, scrawny, patchy, permanently beat-down-looking guy, tiny pinched head like the head of a curious tortoise. I heard somebody describe him as "the white Snoop Dogg," which fits. The first time I saw him I took out a notebook and wrote, "My best friend he shoots water rats and feeds them to his geese." He's got crazy star power even though he seems to be physically disintegrating. Near the end of this year's race, he will bite into a piece of fudge and lose one of his three remaining original teeth.
There's Aliy Zirkle, last year's runner-up, a red-cheeked and physically imposing forty-three-year-old who always seems to be laughing. About half the fans I talk to are pulling for her, many of them out of a feeling that a woman is due to win. At race HQ they're selling shirts that read, "Alaska: Where Men Are Men and Women Win the Iditarod," but only two women ever have, and none since 1990. "It's time, you know?" people say. I'm pulling for Aliy because she makes the Iditarod look fun. (Which, Jesus.) Some glimmer in her happy eyes seems to say the whole race is a game. She's married to a musher, Allen Moore, and they trade their best dogs back and forth, depending on the event. He won the Yukon Quest with the majority of the team just three weeks ago and now she's racing them in the Iditarod.
I also spot Mitch Seavey, the 2004 champion, who's fifty-three and wiry, with a bacterial mustache and angry little wisps of stray hair jabbing out around his cap. Something about the prickly briskness of his movements as he tends to his dogs suggests both a high-school chemistry teacher and a bird building a nest. I had read his book, Lead, Follow, or Get Out of the Way! Unconventional Sled Dog Secrets of an Alaskan Iditarod Champion, Volume One, and found it fascinating both as a guide to the art of sled-dog training and as a window into the vaguely paranoid self-regard of one M. Seavey. Lead, Follow fixates often on the idea that its author's thoughts and stances are offending unspecified "wackos," who wield unspecified powers and who deserve whatever offense they get. You know how some small-town guys like imagining that everything they say is driving people on the other side of the political spectrum, none of whom they personally know, crazy? Mitch scratched in 2011 after nearly severing his index finger with a knife at the Ophir checkpoint. Then he sued the knife maker, which has led to a lot of eye rolling within hard-core dog-mushing circles. He's feuding with at least one Alaska newspaper over its coverage of the lawsuit. Mitch looks like, and is, the kind of guy who holds grudges.
For most of the Iditarod, mushers will run teams of up to sixteen dogs, which they're not allowed to swap out; dogs that get sick or injured can be dropped, but they can't be replaced with new ones. For the start day in Anchorage, however, the mushers can bring only twelve, to minimize downtown chaos. A key detail about the start day in Anchorage is that it's purely for show. It's not timed and doesn't count toward the outcome of the race. The word that gets used is "ceremonial." It's a chance for city folk to clap for the mushers before they enter the genuine wild. The official, timed start will happen the next day, near the small town of Willow.
Still, there are sixty-six teams entered this year. With twelve dogs each, we're looking at nearly eight hundred dogs within about a five-block radius. The dog factor is crazy, tremendous. Dogs are scratching themselves, snarfing down meat, yawning, whining, wrestling, pissing, drum majoring their tails. Iditarod sled dogs are mostly not the Siberian huskies you may be picturing but smaller, faster mixed breeds, engineered for speed rather than hauling power. Downtown is giddy with barking. I note falsetto yaps, screams, howls, baritone woofs. There's something jungle- or apelike about the cacophony. The presence of so many dogs drives all the dogs crazy. When the handlers start pulling out sleds and clipping the teams to their towlines, the collective canine intelligence realizes that—ohmigosh, ohmigosh—it's about to go for a run. This is when the dogs truly begin to freak out.
There's a serious case that animal-welfare people make against the Iditarod; namely, that it's long and cold and dangerous and sometimes fatal, and who are we to subject living creatures to those conditions for our own entertainment? A dog will in fact die during this year's race, buried in a snowdrift one night at the Unalakleet checkpoint. What you can't deny, though, is that these animals, having been bred to want to pull sleds, really want to pull them. The dogs are hysterical, they're in raptures. I watch one little guy, a black-and-tan with a shaggy belly, hurl himself forward against the restraint of his own tug line about fifteen times in a row, barking up a storm, as if he's decided to get the sled going all on his own. He stops every now and again to look incredulously at his teammates. What—is—the—holdup—here—people? This is happening all over the place. It's like standing inside the mind of a saint right before an out-of-body experience. The dogs' ropes all have to be braced by straining handlers to stop them from just taking off.
Around 9:40 a.m., I make my way to the starting line. My own lanyard-attached media badge gets me through the crowd and into a kind of holding pen adjacent to the starting chute, which itself is just a roped-off area of the street. The Iditarod starting line is a flag-surrounded banner hanging above Fourth Avenue. Seven flags correspond to the nationalities of this year's sixty-six contestants: the United States (obviously), Canada, Norway, Russia, New Zealand, Brazil (!), Jamaica (!!). A PA guy's warm booming baritone is priming us with factoids about the race. Every year, the first person through the chute is an honorary musher chosen for his/her contributions to the Iditarod. This year's honorary musher is the late Jan Newton, who died in August. She was a volunteer who helped run the checkpoint at the tiny village of Takotna. She was known as the Queen of Takotna, the Official 2013 Race Guide says, and she was famous for her pies. That's how big a deal the race is in Alaska: You can be famous for baking Iditarod-associated pies. "Her contributions to the race are remarkable and have elevated her to a position of legendary prominence" is the Official 2013 Race Guide's line on this. Her sled will be driven by this year's Junior Iditarod champion, Noah Pereira.
After the honorary musher, the starting order is determined by an elaborate lottery-style number draw at a pre-race banquet. The numbers are drawn from a sealskin Eskimo mukluk. I was at this banquet; it ran for five hours. Every single musher made a speech. That's more than sixty speeches. It was brutal. The only speech I liked was the one by Scott Janssen, a funeral-home director by trade who's known as the "Mushin' Mortician." He introduced himself by saying, "Hi! I'm Scott Janssen, the Mushin' Mortician."
Once the honorary musher's sled goes skritting out of sight, it's time for the real race to (ceremonially) start. Bib No. 2, to the excitement of Iditarod fans everywhere, has fallen to Martin Buser, a Swiss-born four-time champion (1992, 1994, 1997, 2002) and race icon who not only named both his sons after Iditarod checkpoints but was sworn in as an American citizen under the burled arch that serves as the finish line in Nome. He's fifty-four and maybe not quite a top-shelf contender any longer; Norman Vaughan, who went to Antarctica with Admiral Byrd in 1928, completed the Iditarod at the age of eighty-four, but only one musher over fifty has ever won it (Jeff King in 2006). But Buser's known among mushers for his shrewdness, and the fashionable intelligence can't help but speculate about the implications of such a seasoned veteran leaving first.
Bobcat-hat-face, who's emerged as some sort of super-important race marshal with the job of importantly standing in the starting chute, consulting with mushers, and pointing at things that want pointing at, is doing a little waist bend over Buser's sled while Buser goes from dog to dog down the line, patting cheeks and communing. The ex-champ is ceremonially stuffed into so many layers of Arctic gear that all you can really see of him is his clear-eyed handsome Swiss face.
"One minute," the PA guy says.
Buser gets in a few more canine cheek pats.
"Thirty seconds," the PA guy says.
Buser shaking hands, receiving hugs from loved ones. Bobcat-hat-face steps back out of the way.
"Ten seconds," the PA guy says.
Buser on his sled.
"3 … 2 … 1 … GO!"
Profound roar from the crowd. The dog handlers let go of the restraining ropes. The pandemonium in which the dog team was immersed one second ago disappears, replaced by a sense of sudden, efficient shared purpose. The dogs take off; the towline snaps taut; the sled, with Buser standing on the back rails, slides out beyond the starting line. The dogs are quiet, running. They build speed as they go until the sled is more or less sliding on its own momentum. They keep running down Fourth Avenue; I lose sight of them in the crowd.
The next musher's team enters the chute.
And we are off.
Copyright © 2018 by Brian Phillips