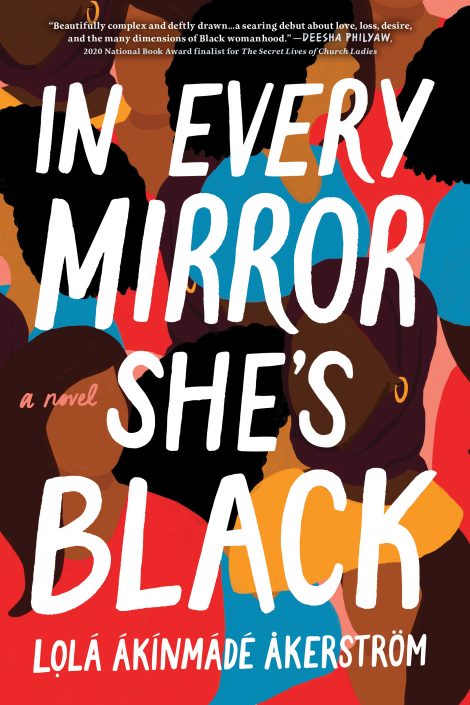 IN EVERY MIRROR SHE'S BLACK
---
An arresting debut for anyone looking for insight into what it means to be a Black woman in the world.
Three Black women are linked in unexpected ways to the same influential white man in Stockholm as they build their new lives in the most open society run by the most private people.
Successful marketing executive Kemi Adeyemi is lured from the U.S. to Sweden by Jonny von Lundin, CEO of the nation's largest marketing firm, to help fix a PR fiasco involving a racially tone-deaf campaign. A killer at work but a failure in love,
An arresting debut for anyone looking for insight into what it means to be a Black woman in the world.
Three Black women are linked in unexpected ways to the same influential white man in Stockholm as they build their new lives in the most open society run by the most private people.
Successful marketing executive Kemi Adeyemi is lured from the U.S. to Sweden by Jonny von Lundin, CEO of the nation's largest marketing firm, to help fix a PR fiasco involving a racially tone-deaf campaign. A killer at work but a failure in love, Kemi's move is a last-ditch effort to reclaim her social life.
A chance meeting with Jonny in business class en route to the U.S. propels former model-turned-flight-attendant Brittany-Rae Johnson into a life of wealth, luxury, and privilege–a life she's not sure she wants–as the object of his unhealthy obsession.
And refugee Muna Saheed, who lost her entire family, finds a job cleaning the toilets at Jonny's office as she works to establish her residency in Sweden and, more importantly, seeks connection and a place she can call home.
Told through the perspectives of each of the three women, In Every Mirror She's Black is a fast-paced, richly nuanced yet accessible contemporary novel that touches on important social issues of racism, classism, fetishization, and tokenism, and what it means to be a Black woman navigating a white-dominated society.
Sourcebook Landmarks
Paperback
June 2022
432 Pages
9781728253169
Praise
A Good Morning America Buzz Pick!
"A book that will stick with you long after you've turned the last page." —Taylor Jenkins Reid, #1 New York Times bestselling author of Daisy Jones & The Six
"A story that is at once enjoyable and disturbing as it explores the painful price millions of women around the world pay for walking around with black skin." —Imbolo Mbue, NYT bestselling author of Behold the Dreamers
"Beautifully complex and deftly drawn…In Every Mirror She's Black is a sexy, surprising, searing debut about love, loss, desire, and the many dimensions of Black womanhood." —Deesha Philyaw, 2020 National Book Award Finalist & award-winning author of The Secret Lives of Church Ladies
"Lola writes with a contemporary flair, highlighting the layered subtleties of the Black woman's plight. In Every Mirror She's Black will stay with readers for a long time." —Nicole Dennis-Benn, author of bestselling novels Here Comes the Sun and Patsy.
"An absolute must-read. This is a very different and unpredictable portrayal of Black women's search for love and self, and it's pure magic." —Kim Golden, USA Today Bestselling Author
Discussion Questions
1. We see three very different Black women in this novel. How do you think each of their backgrounds informed the choices they made?
2. The themes of tokenism and fetishization are prominent in this book. Discuss how they each played out with the women and what impact that had on them in the book.
3. There are many comparisons between Swedish and American societies. What did you find different about how the two countries handled issues of racism and sexism? Was there something about the setting in Stockholm that changed your perspective about the social issues tackled in this book?
4. Kemi seems to make a spur-of-the-moment choice to move to Sweden. Why do you think she did this? How did her sister's opinion factor into her decision?
5. Jonny's infatuation with Brittany borders on unhealthy, and yet there is a part of her that is drawn to him in the beginning. What about him do you think she found appealing? How did her past relationships factor in?
6. At Brittany's birthday party, Kemi awkwardly stumbles during their conversation and insults Brittany. Why do you think the author chose not to have these two Black women become friends?
7. Muna experiences a tremendous amount of loss in the novel. What do her experiences show of the struggles refugees go through when displaced from their homes?
8. Kemi's relationship with Ragnar is unhealthy almost from the start. What does her final interaction with him show about her own growth and what she's learned about herself in Sweden?
9. Throughout the novel, Muna develops many short-lived relationships, with the longest being her uncomfortable acquaintance with Yagiz. Why do you think these relation- ships are transient, and what do you think the author is trying to convey in her relationship with Yagiz?
10. Jonny's privilege and the protection his money affords him ultimately become problematic for Brittany and her child. What do you think the author was trying to say about wealth, choice, and accountability at the end of Brittany's story?
11. Kemi, Brittany, and Muna only have one small interaction with all three of them on the page together. Why do you think the author chose for them not to interact more?
Interviews
What was the inspiration for In Every Mirror She's Black? What did you draw on as you developed the story?
In Every Mirror She's Black was a story that organically developed after years of living in Sweden and observing how the voices of Black women resonate within society, which spaces we are invited to occupy or not, and if those spaces allow us to thrive or simply survive. Having lived in both Nigeria and the U.S. for extended periods of time before moving to Sweden, I wanted to pull out the nuances of navigating the world in my skin against the backdrop of very different cultures.
You took on some very serious social issues in this novel: racism, classicism, sexism, fetishization of Black bodies. Why did you feel it was important to tackle each of them in this book?
They often say debut novelists are quite ambitious because we want to tackle every single societal problem in a single book. With In Every Mirror She's Black, I wanted to address them in a seamless way while spotlighting all these issues because they aren't mutually exclusive.
At what point does racism become tokenism as one moves into a certain economic class, and isn't tokenism a form of racism? Can one have sexism without some form of fetishization?
So simply picking one issue to focus on didn't make sense to me. In reality, they all blend into one another because life is frustratingly complex and multilayered.
You're a Nigerian American woman living in Sweden. How did your own experiences inform each of the three main characters' stories?
Right away, I want readers to know that I am not Kemi, nor is her life based on mine. With that out of the way, making her Nigerian American meant I could pull from cultural references to root her. Brittany is a physical metaphor for the "acceptable" Black woman in society, one who is meant to be perfect in every way, including physically. With Muna, I spent time as a photographer regularly visiting an asylum center in Sweden, getting to know newly arrived refugees like Ahmed and Muna, and vowed to help give space to their individual voices.
I wanted each of the women—Kemi, Brittany, Muna—to be free of having to carry the weight of society simply because they are Black. Even though they are strong, I wanted to give them space to make mistakes and to humanize them deeply. The world asks so much of us Black women, and we're tired of being held to triple standards.
What are you hoping readers will walk away from your book thinking about or talking about?
To me, the power of In Every Mirror She's Black is that everyone will walk away with something different. It could be anything from fully understanding that Black women are not monoliths to the effects of denial on not confronting issues, and how isolating and excluding even the strongest among us can end in tragic loss. There is no one specific "Black culture." The same privilege of treating White people as individuals is long overdue for Black people.
Ultimately, each of these women has a sort of tragic ending. Why did you make that choice?
It is extremely important for us as Black authors to write stories that keep uplifting Black joy and Black hope. That would have been the cliched ending many people would have expected me to write, to tie everything up neatly because we're tired of reading about Black pain. However, for me, based here in Sweden, the soil isn't even fertile enough to allow Black women to thrive and grow. So, how could I transparently address Black joy when we're still not confronting the problems that prevent Black women from thriving here?
The three women don't interact very much at all in the book. Why did you opt to keep them isolated and disconnected from one another?
This harkens back to my goal of presenting each of them as individuals and not the bearers of a nonexistent homogenous Black culture. I wanted Muna to be fully seen as her bright-eyed innocent self and not have to bear the burden of carrying the entire Somali community on her very young shoulders. I wanted Brittany to be fully seen as herself, a woman who wants the finer things in life without being judged as being Black bourgeoisie. And I wanted Kemi to be seen as her imperfect ambitious self, who shouldn't be afraid to fail when many African parents pressure their kids to always succeed.
I also wanted to show that not all Black women are automatically friends or have much in common. One of the most insulting things a White person can say to their sole Black friend is, "Oh, I met another Black person today! Do you know them? Maybe you should meet and become friends?"
I wanted to reflect all this in the book in a nuanced way.
Muna's life seems to be filled with so much tragedy for someone so young. Was there something that inspired you to tell the story of a refugee?
Many years ago, while writing my book LAGOM, I came across a Swedish proverb that says "The deepest well can also be drained," and it arrested me. That even the strongest, most resilient among us can eventually break too because we are human.
I loved Muna's character so deeply and often cried when I wrote her life out on the page, because I connected with her deep isolation the most. As someone who has been isolated and sidelined so many times, personally and professionally, I could feel Muna's pain in trying to create connection and understanding of who she truly is as an individual.
As previously mentioned, I often visited an asylum center deep within the Swedish countryside, and it was simply to spend time with asylees and set up photo shoots for them so they fully see themselves without the labels of being "refugees" as they awaited news about their migration status. Even the name of the fictional center in In Every Mirror She's Black called "Solsidan" is named after one of Sweden's most affluent neighborhoods as tongue-in-cheek.
Many of us who live in Sweden have heard those announcements about train accidents. I wanted to put a name and face that we've grown to love on one of those nameless announcements.
This is your first adult novel. What advice would you give to young writers out there?
The very same advice I gave in the opening credits of the book: Your voice is more powerful than you think. You are allowed to exist without explanation even if you feel uninvited, unappreciated, and invisible. Never, ever let the world convince you that your struggles are invalid.
And I'll end with my absolute favorite quote from E. E. Cummings: "To be nobody-but-yourself—in a world which is doing its best, night and day, to make you everybody else—means to fight the hardest battle which any human being can fight; and never stop fighting."