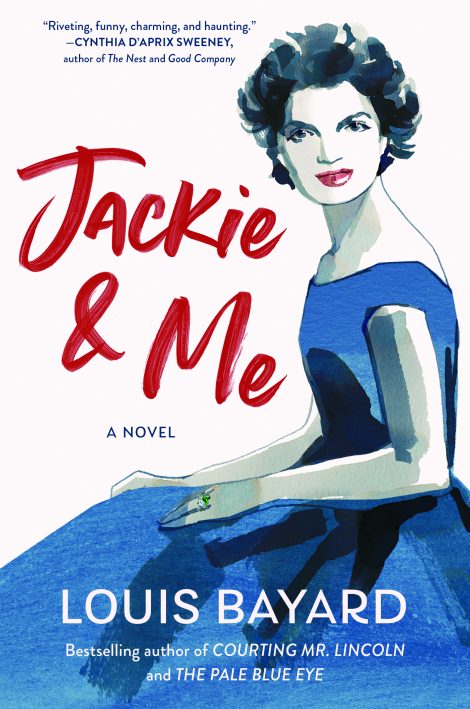 JACKIE & ME
---
In 1951, former debutante Jacqueline Bouvier is hard at work as the Inquiring Camera Girl for a Washington newspaper. Her mission in life is "not to be a housewife," but when she meets the charismatic congressman Jack Kennedy at a Georgetown party, her resolution begins to falter. Soon the two are flirting over secret phone calls, cocktails, and dinner dates, and as Jackie is drawn deeper into the Kennedy orbit, and as Jack himself grows increasingly elusive and absent, she begins to question what life at his side would mean. For answers, she turns to his best friend and confidant,
In 1951, former debutante Jacqueline Bouvier is hard at work as the Inquiring Camera Girl for a Washington newspaper. Her mission in life is "not to be a housewife," but when she meets the charismatic congressman Jack Kennedy at a Georgetown party, her resolution begins to falter. Soon the two are flirting over secret phone calls, cocktails, and dinner dates, and as Jackie is drawn deeper into the Kennedy orbit, and as Jack himself grows increasingly elusive and absent, she begins to question what life at his side would mean. For answers, she turns to his best friend and confidant, Lem Billings, a closeted gay man who has made the Kennedy family his own, and who has been instructed by them to seal the deal with Jack's new girl. But as he gets to know her, a deep and touching friendship emerges, leaving him with painfully divided alliances and a troubling dilemma: Is this the marriage she deserves?
Narrated by an older Lem as he looks back at his own role in a complicated alliance, this is a courtship story full of longing and of suspense, of what-ifs and possible wrong turns. It is a surprising look at Jackie before she was that Jackie. And in best-selling author Louis Bayard's witty and deeply empathetic telling, Jackie & Me is a page-turning story of friendship, love, sacrifice, and betrayal— and a fresh take on two iconic American figures.
Algonquin Books
Hardcover
June 2022
352 Pages
9781643750354
Praise
"Riveting, funny, charming, and haunting. All of Louis Bayard's incredible gifts as a teller of stories we think we already know are on brilliant display here: a captivating setting, unforgettable characters, and an entirely  surprising take on a familiar tale . . . He makes it look so easy! I will happily follow Bayard wherever he leads." —Cynthia D'Aprix Sweeney, New York Times bestselling author of The Nest and Good Company
"We all dream of novels as good as this one: Fascinating, funny, gorgeous, heartbreaking."—Julia Claiborne Johnson, author of Be Frank with Me and Better Luck Next Time
"A meditation on the definitions, possibilities, and failures of friendship . . .  As for Jackie, she's pure delight . . . [Jackie & Me is] romance with bite: The perfect escapism for today's anxious times."—Kirkus Reviews (starred review)
"[Bayard] brings a poignant empathy, persuasive intimacy, and nuanced imagination to . . . a relatively unexamined chapter in Kennedy lore."—Booklist (starred review)
"A startling rendering of Jackie Kennedy's life written with panache and daring."—Laurence Leamer, bestselling author of The Kennedy Women and Capote's Women
"I absolutely adore this novel! It's a testament to Louis Bayard's remarkable gifts as a storyteller how suspenseful it is given that we already know this story . . . or do we? Full of Bayard's trademark charm and humor, with prose that sings and a perfect voice, Jackie & Me delighted me from beginning to end."  —Angie Kim, author of Miracle Creek
"A loving and romantic look at an unlikely friendship told with a playful command of language that feels as effortless as it is exciting. Bayard possesses a singular wit and deftly uses it to give fresh insight into even his best-known characters.  I never wanted it to end."—Steven Rowley, author of The Editor and The Guncle
"It's hard to combine wit and tenderheartedness in a single book, but Louis Bayard has produced a lovely amalgam in Jackie & Me. This latest subtly crafted addition to his oeuvre boasts a top-notch structure and the best-ever depiction of 'Papa Joe' Kennedy, as well as a portrait of Janet  Auchincloss, Jackie's mother, that is poisonous perfection." —Thomas Mallon, author of Henry and Clara and Watergate
Discussion Questions
1. Although the bulk of Jackie & Me takes place in the early 1950s, the story is told by Lem Billings from the vantage point of 1981. What does this perspective do for our understanding of the book and its characters?
2. What common ground do Jackie and Lem find during their initial meeting? Does the nature of their relationship change as they become better acquainted? What do they get from each other that they don't get from anyone else?
3. Lem uses quantum physics as an analogy for life's potentialities, suggesting that "embedded in every human life, there are traffic crossings, where . . . we would see the contingencies of our fate coming together and commingling, before charging off in opposed directions." What do you think of this model? Does it apply to moments in your own life?
4. Over the course of the book, Jackie moves in what were in that era seemingly opposed directions—toward career and toward matrimony. Where do you think her true heart lies? Would she make the same choices if she lived today?
5. "You don't think freedom comes free, do you?" asks Jackie. How does the theme of freedom play out through the story?
6. In her application for Vogue magazine's Prix de Paris, Jackie jokingly refers to her career goal as "Overall Art Director of the Twentieth Century." How close does this come to realizing her actual achievements later as First Lady and style icon?
7. Games and athletic competitions figure prominently in this story. How do they relate to the book's larger themes?
8. The first conversation between John Kennedy's father, Joseph, and Jackie takes place in a doll room. What does that setting convey about the individual characters? About the dynamic of their relationship?
9. One way or another, Lem tells us, Jack has been battling death since childhood. What does Lem mean by this? How does that color his behavior toward others? Does it affect your opinion of him?
10. Kennedy insists that Jack can only be elected to highest office if he's married. Jackie, by contrast, concludes that Jack's appeal to women voters depends on his remaining single. Who's right? Do the old political rules still apply today?
11. In a critical moment, Lem lies to Jackie about Jack's ability to remain faithful. Why? How does his decision reverberate through the story?
12. What do the wedding negotiations between the Kennedys and the Auchinclosses reveal about the families' respective places in society? Does anybody "win" or "lose"? How does the outcome reflect changes in mid-20th-century America?
13. At story's end, Lem is beginning to take down some of the Kennedy photographs on his wall. What does that signify? Has he been changed by what he remembers?
14. In the final scene, Lem and Jackie are reunited in Central Park. Is this a real-life encounter or part of some "alongside life"? Or something else entirely?
15. Does this story make you feel differently about Jackie Kennedy than you did before reading it?
Essay
Jackie and the "First Friend"
 An Essay by Louis Bayard
It started with a photograph.
Two young men, 1930s collegiates, leaning against a stone wall, their mouths smiling dreamily, their left hands perched flirtatiously on their hips, their hips thrust at the camera. Lovers, that was my first thought, from the pre-Stonewall era, seizing this one moment with the camera before slipping back into hiding.
Then I looked more closely at the man on the left. Fair, slightly built, rather pretty and . . . familiar. Before I knew it, I was looking at John Fitzgerald Kennedy. Not the engraved figure of cultural memory but a liminal creature on the cusp of maturity. The only remaining question was: Who was the other guy? The tall, bespectacled blond with the overbite and the air of hilarity so pervasive you can almost hear him laughing.
So began my acquaintance with Lem Billings, whose main claim to renown, in his and everybody else's eyes, was being Jack Kennedy's best friend.
But my initial response wasn't too far off. Lem was also a closeted gay man—or, to quote the old phraseology, a practicing homosexual. (I used to wonder: If they keep practicing, will they get it right?) In those days, that meant finding connections where you could. The bathroom at the Princeton library. The bathroom at Grand Central. A frat party. A wedding. A park. An alley. The church vestry. Praying the whole time that the other guy wasn't an undercover cop or a thug or just somebody who would rat you out a minute from now or thirty years from now.
Lem would have run the gamut of all those possibilities, but the more I learned about him, the more I came to see that his heart was reserved for one man. When Jack needed somebody to accompany him in his post-collegiate tour of Europe, Lem was there. When Jack needed somebody to help with his first Congressional run or his first presidential run, Lem was there. When Jack needed "complete liberation"—the freedom to be who he was, without judgment—he picked up the phone and called Lem.
Then I came across another photograph.
It's Jack and Lem again, only this time there's a young woman sitting between them. No question who she is. Jacqueline Bouvier, in her then-fashionable poodle cut.
The mood is light—some joke seems to have passed among the three—but what draws the eye is Lem's arm curled around Jackie's shoulder. Drawing her away, as if to protect her.
Lem would have had reason to feel protective because he knew what marriage to his friend Jack would be like. Isolation, endless rounds of campaign appearances, the serial humiliation of infidelity . . .  these would be the fate of anyone taking on the mantle of "Mrs. Kennedy."
But I think Lem would also have seen how much he and Jackie had in common. They were both, in their way, outsiders: aristocrats who lived among great wealth without having any of their own, Europhiles who cared more about art than politics—or touch football. Two rather lonely people who happened to love the same man, more than perhaps they should have. I wondered: Who would Jackie Bouvier, presented with the problem of Jack Kennedy as a suitor, have turned to for counsel or encouragement? Wouldn't it have been Jack's best friend?
On the heels of that speculation came Jackie & Me, a different sort of love story and one that shows us a Jackie we don't necessarily know. In the early '50s, she's a career girl, ambitious enough to land Vogue's prestigious Prix de Paris and to talk her way into a daily journalistic gig as the Inquiring Camera Girl, where she conducts man-on-the-street interviews for the Washington Times-Herald. It's a grueling, six-day-a-week job that's not about to land her a Pulitzer, but she's already declared that her mission in life is "not to be a housewife."
Yet she's also a young woman of her time. So when she meets a charismatic congressman from a wealthy and powerful family, she finds herself drawn into a new world of wealth and power. Who better than Lem to help her negotiate it? And who better than Lem to provide a ringside seat on an epochal American courtship?
That seat might have begun to chafe. After Jack's death, Lem became a surrogate father to the next generation of Kennedys, trying to steer them onto a straight or at least straighter path (while also doing pretty serious drugs with them). Yet there are signs that, in his final days, Lem grew increasingly embittered about the Kennedy family and what he had renounced for them. And the more I thought about Lem—about his Remains of the Day arc from adulation to lonely disenchantment—the more I thought he would make a great fictional memoirist. Camelot, from the inside out.
At the same time, in refracting those long-ago events through memory, Lem couldn't help seeing all the roads not taken, the choices that he and Jackie might have made and that they might, in some alternate world, still make. So Jackie & Me also became a meditation on contingency—the moments in every life where a particular future pivots on a single, possibly infinite point of possibility.
I see this same principle at work in my own career. For many years, I wrote Gothic mystery-thrillers like The Pale Blue Eye, but in recent years, to my own surprise, I've found myself pivoting toward a new genre: the courtship novel. With Jackie & Me and Courting Mr. Lincoln, the thrill has become finding something within the historical record—something that resists explanation—and plumbing it not for a solution but for the full extent of its mystery. Which ends up always being the mystery of the human heart.