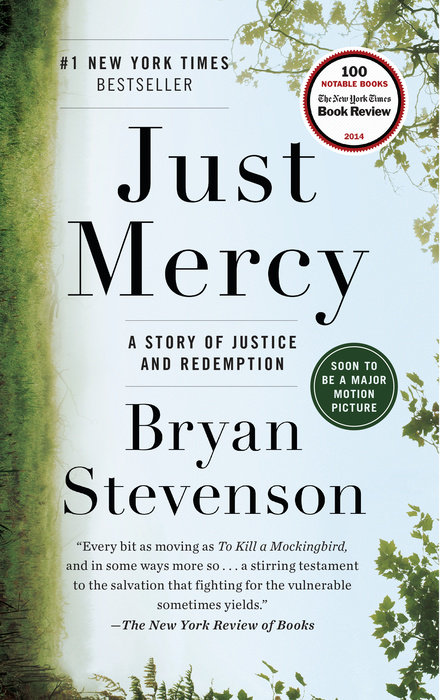 JUST MERCY
A Story of Justice and Redemption
---
A powerful true story about the potential for mercy to redeem us, and a clarion call to fix our broken system of justice—from one of the most brilliant and influential lawyers of our time.
Bryan Stevenson was a young lawyer when he founded the Equal Justice Initiative, a legal practice dedicated to defending those most desperate and in need: the poor, the wrongly condemned, and women and children trapped in the farthest reaches of our criminal justice system. One of his first cases was that of Walter McMillian, a young man who was sentenced to die for a notorious murder he insisted he didn't commit.
A powerful true story about the potential for mercy to redeem us, and a clarion call to fix our broken system of justice—from one of the most brilliant and influential lawyers of our time.
Bryan Stevenson was a young lawyer when he founded the Equal Justice Initiative, a legal practice dedicated to defending those most desperate and in need: the poor, the wrongly condemned, and women and children trapped in the farthest reaches of our criminal justice system. One of his first cases was that of Walter McMillian, a young man who was sentenced to die for a notorious murder he insisted he didn't commit. The case drew Bryan into a tangle of conspiracy, political machination, and legal brinksmanship—and transformed his understanding of mercy and justice forever.
Just Mercy is at once an unforgettable account of an idealistic, gifted young lawyer's coming of age, a moving window into the lives of those he has defended, and an inspiring argument for compassion in the pursuit of true justice.
Spiegel & Grau
Paperback
August 2015
368 Pages
9780812984965
Praise
Named one of the most influential books of the decade by CNN
Named One of the Best Books of the Year by The New York Times, The Washington Post, The Boston Globe, The Seattle Times, Esquire, Time
"Just Mercy is every bit as moving as To Kill a Mockingbird, and in some ways more so. . . . [It] demonstrates, as powerfully as any book on criminal justice that I've ever read, the extent to which brutality, unfairness, and racial bias continue to infect criminal law in the United States. But at the same time that [Bryan] Stevenson tells an utterly damning story of deep-seated and widespread injustice, he also recounts instances of human compassion, understanding, mercy, and justice that offer hope. . . . Just Mercy is a remarkable amalgam, at once a searing indictment of American criminal justice and a stirring testament to the salvation that fighting for the vulnerable sometimes yields."—David Cole, The New York Review of Books
"A searing, moving and infuriating memoir . . . Bryan Stevenson may, indeed, be America's Mandela. For decades he has fought judges, prosecutors and police on behalf of those who are impoverished, black or both. . . . Injustice is easy not to notice when it affects people different from ourselves; that helps explain the obliviousness of our own generation to inequity today. We need to wake up. And that is why we need a Mandela in this country."—Nicholas Kristof, The New York Times
"Unfairness in the justice system is a major theme of our age. . . . This book brings new life to the story by placing it in two affecting contexts: [Bryan] Stevenson's life work and the deep strain of racial injustice in American life. . . . You don't have to read too long to start cheering for this man. Against tremendous odds, Stevenson has worked to free scores of people from wrongful or excessive punishment, arguing five times before the Supreme Court. . . . The book extols not his nobility but that of the cause, and reads like a call to action for all that remains to be done. . . . The message of the book, hammered home by dramatic examples of one man's refusal to sit quietly and countenance horror, is that evil can be overcome, a difference can be made. Just Mercy will make you upset and it will make you hopeful. . . . Stevenson has been angry about [the criminal justice system] for years, and we are all the better for it."—Ted Conover, The New York Times Book Review
"Inspiring . . . a work of style, substance and clarity . . . Stevenson is not only a great lawyer, he's also a gifted writer and storyteller."—The Washington Post
"[Bryan Stevenson's] dedication to fighting for justice and equality has inspired me and many others and made a lasting impact on our country."—John Legend
Discussion Questions
1. How did Stevenson's background prepare him for law school?
2. In the introduction, he discusses his grandmother's background and what impact that had on his career choices. What from your own personal background has influenced your career choices?
3. What famous novel was written in Monroe County, AL, and how is it relevant to Just Mercy?
4. Does your state have Stand Your Ground laws? Do you support them?
5. Stevenson wished he had been more assertive with the police while they were illegally searching his car. Do you think that would have been effective? How would you recommend someone respond in a similar situation?
6. Do you think the police officers acted appropriately? How else might they have approached the situation?
7. What is the importance of the 1986 Batson v. Kentucky ruling?
8. If you were in Chestnut or Boynton's position, would you have tried to move the trial?
9. Who were some of Walter McMillian's most important allies?
10. Describe the 1989 Supreme Court ruling related to death penalty appeals. What impact did that have across the country?
11. When do judge overrides increase and for what reason?
12. While Stevenson is meeting Walter's family, do you think he is confident Walter will be free? How would you handle that situation?
13. How is the relationship between Stevenson and Walter changing? What does the author cite as an important activity for lawyers to do when defending death row prisoners? Why?
14. In what ways has the judicial system failed to protect Charlie?
15. What special circumstances of the murder victim lead to greater struggles for Charlie? Does this seem fair?
Excerpt
Chapter One
Mockingbird Players
The temporary receptionist was an elegant African American woman wearing a dark, expensive business suit—a well-dressed exception to the usual crowd at the Southern Prisoners Defense Committee (SPDC) in Atlanta, where I had returned after graduation to work full time. On her first day, I'd rambled over to her in my regular uniform of jeans and sneakers and offered to answer any questions she might have to help her get acclimated. She looked at me coolly and waved me away after reminding me that she was, in fact, an experienced legal secretary. The next morning, when I arrived at work in another jeans and sneakers ensemble, she seemed startled, as if some strange vagrant had made a wrong turn into the office. She took a beat to compose herself, then summoned me over to confide that she was leaving in a week to work at a "real law office." I wished her luck. An hour later, she called my office to tell me that "Robert E. Lee" was on the phone. I smiled, pleased that I'd misjudged her; she clearly had a sense of humor.
"That's really funny."
"I'm not joking. That's what he said," she said, sounding bored, not playful. "Line two."
I picked up the line.
"Hello, this is Bryan Stevenson. May I help you?"
"Bryan, this is Robert E. Lee Key. Why in the hell would you want to represent someone like Walter McMillian? Do you know he's reputed to be one of the biggest drug dealers in all of South Alabama? I got your notice entering an appearance, but you don't want anything to do with this case."
"Sir?"
"This is Judge Key, and you don't want to have anything to do with this McMillian case. No one really understands how depraved this situation truly is, including me, but I know it's ugly. These men might even be Dixie Mafia."
The lecturing tone and bewildering phrases from a judge I'd never met left me completely confused. "Dixie Mafia"? I'd met Walter McMillian two weeks earlier, after spending a day on death row to begin work on five capital cases. I hadn't reviewed the trial transcript yet, but I did remember that the judge's last name was Key. No one had told me the Robert E. Lee part. I struggled for an image of "Dixie Mafia" that would fit Walter McMillian.
" 'Dixie Mafia'?"
"Yes, and there's no telling what else. Now, son, I'm just not going to appoint some out-of-state lawyer who's not a member of the Alabama bar to take on one of these death penalty cases, so you just go ahead and withdraw."
"I'm a member of the Alabama bar."
I lived in Atlanta, Georgia, but I had been admitted to the Alabama bar a year earlier after working on some cases in Alabama concerning jail and prison conditions.
"Well, I'm now sitting in Mobile. I'm not up in Monroe­ville anymore. If we have a hearing on your motion, you're going to have to come all the way from Atlanta to Mobile. I'm not going to accommodate you no kind of way."
"I understand, sir. I can come to Mobile, if necessary."
"Well, I'm also not going to appoint you because I don't think he's indigent. He's reported to have money buried all over Monroe County."
"Judge, I'm not seeking appointment. I've told Mr. McMillian that we would—" The dial tone interrupted my first affirmative statement of the phone call. I spent several minutes thinking we'd been accidentally disconnected before finally realizing that a judge had just hung up on me.
I was in my late twenties and about to start my fourth year at the SPDC when I met Walter McMillian. His case was one of the flood of cases I'd found myself frantically working on after learning of a growing crisis in Alabama. The state had nearly a hundred people on death row as well as the fastest-growing condemned population in the country, but it also had no public defender system, which meant that large numbers of death row prisoners had no legal representation of any kind. My friend Eva Ansley ran the Alabama Prison Project, which tracked cases and matched lawyers with the condemned men. In 1988, we discovered an opportunity to get federal funding to create a legal center that could represent people on death row. The plan was to use that funding to start a new nonprofit. We hoped to open it in Tuscaloosa and begin working on cases in the next year. I'd already worked on lots of death penalty cases in several Southern states, sometimes winning a stay of execution just minutes before an electrocution was scheduled. But I didn't think I was ready to take on the responsibilities of running a nonprofit law office. I planned to help get the organization off the ground, find a director, and then return to Atlanta.
When I'd visited death row a few weeks before that call from Robert E. Lee Key, I met with five desperate condemned men: Willie Tabb, Vernon Madison, Jesse Morrison, Harry Nicks, and Walter McMillian. It was an exhausting, emotionally taxing day, and the cases and clients had merged together in my mind on the long drive back to Atlanta. But I remembered Walter. He was at least fifteen years older than me, not particularly well educated, and he hailed from a small rural community. The memorable thing about him was how insistent he was that he'd been wrongly convicted.
"Mr. Bryan, I know it may not matter to you, but it's important to me that you know that I'm innocent and didn't do what they said I did, not no kinda way," he told me in the meeting room. His voice was level but laced with emotion. I nodded to him. I had learned to accept what clients tell me until the facts suggest something else.
"Sure, of course I understand. When I review the record I'll have a better sense of what evidence they have, and we can talk about it."
"But . . . look, I'm sure I'm not the first person on death row to tell you that they're innocent, but I really need you to believe me. My life has been ruined! This lie they put on me is more than I can bear, and if I don't get help from someone who believes me—"
His lip began to quiver, and he clenched his fists to stop himself from crying. I sat quietly while he forced himself back into composure.
"I'm sorry, I know you'll do everything you can to help me," he said, his voice quieter. My instinct was to comfort him; his pain seemed so sincere. But there wasn't much I could do, and after several hours on the row talking to so many people, I could muster only enough energy to reassure him that I would look at everything carefully.
I had several transcripts piled up in my small Atlanta office ready to move to Tuscaloosa once the office opened. With Judge Robert E. Lee Key's peculiar comments still running through my head, I went through the mound of records until I found the transcripts from Walter McMillian's trial. There were only four volumes of trial proceedings, which meant that the trial had been short. The judge's dramatic warnings now made Mr. McMillian's emotional claim of innocence too intriguing to put off any longer. I started reading.