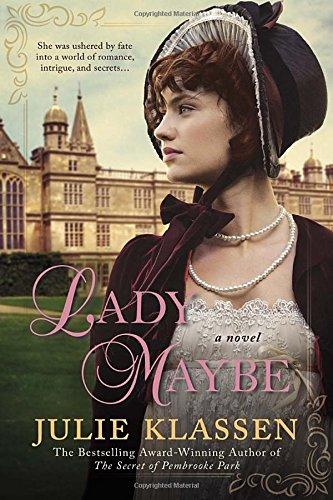 LADY MAYBE
---
In the new novel by the three-time Christy Award-winning author of The Maid of Fairbourne Hall, a woman's startling secrets lead her into unexpected danger and romance in Regency England…
One final cry…"God almighty, help us!" and suddenly her world shifted violently, until a blinding collision scattered her mind and shook her bones. Then, the pain. The freezing water. And as all sensation drifted away, a hand reached for hers, before all faded into darkness…
Now she has awakened as though from some strange, suffocating dream in a warm and welcoming room she has never seen before,
In the new novel by the three-time Christy Award-winning author of The Maid of Fairbourne Hall, a woman's startling secrets lead her into unexpected danger and romance in Regency England…
One final cry…"God almighty, help us!" and suddenly her world shifted violently, until a blinding collision scattered her mind and shook her bones. Then, the pain. The freezing water. And as all sensation drifted away, a hand reached for hers, before all faded into darkness…
Now she has awakened as though from some strange, suffocating dream in a warm and welcoming room she has never seen before, and tended to by kind, unfamiliar faces. But not all has been swept away. She recalls fragments of the accident. She remembers a baby. And a ring on her finger reminds her of a lie.
But most of all, there is a secret. And in this house of strangers she can trust no one but herself to keep it.
Berkley
Paperback
July 2015
400 Pages
9780425282076
Praise
"[It's] what readers love of Jane Austen, Downton Abbey and even a bit of Jane Eyre…everything a historical romance reader looks for."
—Historical Novels Review
"Multiple Christy Award-winning Klassen once again demonstrates her gift for creating richly layered characters and skillfully integrating a multitude of fascinating historical facts into a spirited story."—Booklist
"Delightful…Julie Klassen weaves a compelling story…fully imagined. I loved it!"—New York Times bestselling author Beverly Lewis
Discussion Questions
What did you think of the story's protagonist? Did you admire her? Were you at times frustrated by her actions? Cite examples.
At the beginning of the novel, Sir John goes to great lengths to keep Marianna and Mr. Fontaine apart, even relocating his wife against her will. Ultimately, it is during one of these sudden moves that the accident occurs. Do you think Sir John was at all to blame for this calamity?
Marianna is the first character the reader meets and yet, for a significant portion of the novel, her personality is described to the reader second hand. Did your perception of Marianna change throughout the novel. How so?
Hannah attracts the interest of several men in Lady Maybe. Which suitor, if any, did you hope she would choose and why? Did your choice change as the story progressed?
When considering what was at stake, do you think Hannah's ruse was necessary, or was it entirely unethical? If you were in Hannah's situation, what would you have done?
Did the identity of Danny's father surprise you? Did it change your opinion of Hannah's deceit?
Hannah's relationships with both Mr. Lowden and Sir John significantly evolve throughout the novel. What were some turning points in her connection with each?
In the Regency-era world of Lady Maybe, divorce was viewed with much disdain. As Mr. Lowden states: "Divorce is nearly impossible to achieve, scandalous, and typically unconscionable." Do you think divorce is seen in the same light today? If not, how have opinions changed?
In the time period of Lady Maybe, marriages were often more like business arrangements than affairs of the heart. What do you think of this custom? Would you marry for anything other than love?
When it's a question of Marianna's word versus Hannah's in court, Marianna's is held in higher regard—until Sir John gives his account and his testimony takes precedence. How do the power struggles of class and gender come into play in Lady Maybe?
The magistrate, Lord Shirwell, asks in court: "Can reasons excuse deceit? Theft? Fraud?" How would you answer this question? Is it ever acceptable to commit crimes under certain circumstances? When considering the transgressions committed in Lady Maybe, should any character be excused of his or her misdeeds?
At one point, Hannah thinks, How had she allowed it to happen? That she, Hannah Rogers, should be guilty of more wrongdoing than the infamous Marianna Mayfield? Do you believe that this is true? While both women commit the same wrongdoings of adultery and lying, why do their crimes seem different?
At the novel's end, Hannah goes to support Marianna at the stocks despite all Marianna had done and said against her. Did you pity Marianna in that moment or do you think she got what she deserved?
Eventually, Mrs. Turrill becomes much more than a nurse and lady's maid. She becomes a source of guidance and comfort for Hannah. What do you think was the driving force behind this change?
Hannah's father is the last to know the truth about her secrets. Furthermore, he is told via letter and by a third party (Fred), rather than by Hannah herself. Did you disagree with Hannah's timing and method, or did you find it understandable?