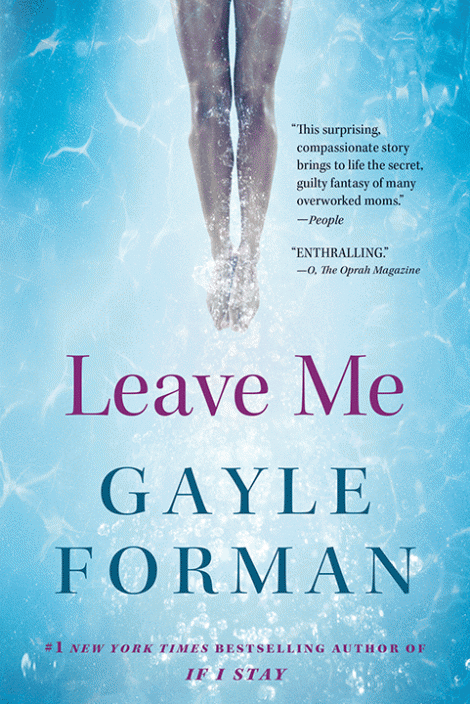 LEAVE ME
---
Every woman who has ever fantasized about driving past her exit on the highway instead of going home to make dinner, and every woman who has ever dreamed of boarding a train to a place where no one needs constant attention–meet Maribeth Klein. A harried working mother who's so busy taking care of her husband and twins, she doesn't even realize she's had a heart attack.
Surprised to discover that her recuperation seems to be an imposition on those who rely on her, Maribeth does the unthinkable: she packs a bag and leaves. But, as is often the case,
Every woman who has ever fantasized about driving past her exit on the highway instead of going home to make dinner, and every woman who has ever dreamed of boarding a train to a place where no one needs constant attention–meet Maribeth Klein. A harried working mother who's so busy taking care of her husband and twins, she doesn't even realize she's had a heart attack.
Surprised to discover that her recuperation seems to be an imposition on those who rely on her, Maribeth does the unthinkable: she packs a bag and leaves. But, as is often the case, once we get where we're going we see our lives from a different perspective. Far from the demands of family and career and with the help of liberating new friendships, Maribeth is able to own up to secrets she has been keeping from herself and those she loves.
With bighearted characters–husbands, wives, friends, and lovers–who stumble and trip, grow and forgive, Leave Me is about facing the fears we're all running from. Gayle Forman is a dazzling observer of human nature. She has written an irresistible novel that confronts the ambivalence of modern motherhood head on and asks, what happens when a grown woman runs away from home?
Algonquin
Paperback
June 2017
368 Pages
9781616207328
Praise
"In an enthralling novel reminiscent of Anne Tyler's Ladder of Years, a woman who recently suffered a heart attack runs away to recover her equilibrium."—O, The Oprah Magazine
"This surprising, compassionate story brings to life the secret, guilty fantasy of many overworked moms."—People
"Gayle Forman is known for her dreamy but hard-hitting young adult novels, including the best-selling If I Stay. With her first foray into grown-up fiction, Leave Me, she doesn't shy away from the tough questions in this deep-diving and highly entertaining read. It's hard not to relate to—and root for—Maribeth even as she does the unthinkable: abandons her children." —Family Circle
Discussion Questions
1. What factors contribute to Maribeth's decision to leave her family? How would you characterize that act? How might putting herself first be the right thing to do for her family in the long run? What would you have considered in making that decision?
2. Does Maribeth know how to ask for help—or how to accept it? Do you think asking for help is a sign of weakness? A sign of strength? How might men and women approach this differently?
3. The friends Maribeth meets in Pittsburgh mirror the family she left behind (twins, spouse, mother). Is that intentional? What does she get out of this new "family"?
4. How would you characterize Maribeth's relationship with Dr. Grant? Why are they drawn together? How do they help each other?
5. How do Maribeth's swimming lessons relate to her recovery? What does she learn about vulnerability or about her own competence? What personal challenges—either physical or emotional—does swimming help her face?
6. How do Maribeth's discoveries in Pittsburgh reframe her feelings toward Jason and Elizabeth? Toward her children?
7. When Maribeth learns details about her birth mother, how do her feelings about herself change? What do you think she had been hiding from herself?
8. Like many women and mothers, Maribeth makes lists and detailed plans in hopes of keeping her busy life from spinning out of control. What do you think she's lost by being so structured? What do you think she learns by giving up control?
9. Do you think Maribeth will be able to incorporate her new attitude into her work, her friendships, and her relationships with her husband and children? How do you think people learn to break patterns in relationships?
Excerpt
Chapter 13
It had been surprisingly easy.
Maribeth had walked downstairs and hailed a cab, carrying only a hastily packed duffel bag with a few changes of clothing and her medications. She'd left her cell phone, her computer—pretty much everything else—at home. None of that felt necessary anymore. She had e-mailed Jason. An apology? An explanation? She wasn't sure. By the time she was in the cab, the details of her note had already begun to fade.
"Penn Station," she told the driver. She had not known that would be her destination until the words came out of her mouth.
Twenty minutes later, she was at the train station. Across the street was a branch of her bank. Maribeth was about to pull cash out from the ATM but instead she wandered into the lobby and asked a teller how much cash she could withdraw.
Twenty-five thousand dollars turned out to be surprisingly portable. It fit snugly into her duffel bag.
Easy.
When she entered the mildewy cavern of Penn Station, she still hadn't known where she was going. She'd thought maybe some quaint coastal New England town. And then she saw the departure board.
She bought her ticket for the Pennsylvanian and went to one of the cell phone kiosks for a burner phone (testing out a vocabulary acquired during that one season she'd managed to watch The Wire). The clerk handed her a pay-as-you-go flip phone with a 646 number. She paid for one hundred minutes of talk time. She went into a Duane Reade and bought a bottle of water, a pack of gum, and some lice shampoo, just in case. Then she boarded the train.
Easy.
When the train emerged onto the Wetlands of New Jersey, Manhattan glittering in the afternoon sun, Maribeth thought it looked like something from a movie. Which was how it had felt. Like something happening to some actor on a screen. She was not Maribeth Klein, mother, leaving her two young children. She was a woman in a movie going somewhere normal, perhaps a business trip.
On the train, exhaustion overcame her, a different flavor than the dragged-down lethargy that had plagued her back home. It was the floppy satisfying tiredness one gets after a long day of doing nothing in the sun. Using her duffel bag as a pillow, she went to sleep.
Easy.
When she woke up and went to the café car to get something to eat, she found a discarded City Paper on one of the tables. Inside was a tiny real estate section, with not much advertised, but there was a one-bedroom in a neighborhood called Bloomfield. She called from the train and spoke to the landlord, an elderly sounding man with a thick accent (Italian? Eastern European?) who told her the apartment was available, and not only that, it was furnished. The rent was eight hundred dollars a month. For an extra fifty bucks, she could move in a few days before the first of the month. She took it sight unseen.
Easy.
She spent her first night in Pittsburgh in a janky motel near the train station. The next morning, she took a taxi to her new apartment and gave the landlord, Mr. Giulio, first month's rent, one month's deposit, and signed a month-to-month lease. There was no FBI-level background check required of a New York City rental. No broker free amounting to 15 percent of a year's rent. Just sixteen hundred dollars. When she paid in cash, Mr. Giulio did not bat an eye.
Easy.
As for leaving, leaving, leaving Jason, leaving her children, she kept hearing Luca's words: You have to do that for yourself.
A task assigned to others, falling back to her. In some ways it was comforting.
So leaving them was not exactly easy. But it was something she already knew how to do.
Essay
What We Fight About When We Fight About Laundry
An Essay by Gayle Forman
Novels are like arguments. You think they're about one thing—you're certain they're about one thing—but then time passes, perspective shifts, and you realize you've actually been writing (or fighting) about something else all along.
When I first conceived Leave Me, I thought this story about an overworked, underappreciated mother who has a heart attack and runs away from home was a cri de coeur about the inequity faced by working mothers. Because even in times of extreme crisis, when women need to look after themselves—to be selfish—we're often not allowed to, by our families or by ourselves.
The inspiration was political and personal. In the weeks prior, I'd been having intermittent chest pains and was convinced it was my heart. (This was not completely bonkers: my thin, fit, nonsmoking mother had her first quadruple bypass surgery at forty-eight.) As I contemplated open-heart surgery, I started to get scared. And then angry. If I had this massive operation, who would take care of my two young daughters while I convalesced?
Who would take care of me?
My husband was a present, loving father, good about pitching in with cooking, tidying, and the occasional grocery run. But he worked full-time in a job-job (unlike me, who worked "part-time" as a writer at home), and while he was excellent at bedtime stories and dance parties, he didn't keep the mental inventory that I did: doctors' appointments, parent-teacher conferences, homework, tax payments, location of snowsuits, level of coffee supply.
As a result, he wasn't the one the kids came to when they barfed, when they wanted a snack, when they were bored or sad or scared. That fell to me. Which was why the most worrisome thing about my chest pains wasn't the prospect of death but the prospect of recovery. I remembered how three years before, after I'd undergone outpatient sinus surgery, I'd been exhausted by the recuperation because there had been so little reprieve from the daily grind of motherhood.
And that was sinus surgery, with one child. The specter of a heart attack and two children to look after amped up my anxiety and anger exponentially.
I started writing the book that would become Leave Me as catharsis, rant, revenge fantasy. I imagined an overworked mother who had a heart attack and subsequent bypass surgery and was still on deck for keeping her family afloat. Oh, the righteous indignation it inspired. I imagined her running away from home. Oh, the grim satisfaction!
But then it turned out my heart was fine, and the urgency fueling the story cooled. I put the book away, figuring it was a therapeutic exercise that had served its purpose.
But four years and two novels later, the story began knocking on the door of my consciousness again. I'm still not sure why. Maybe after a decade of writing about young adults, I was ready to turn to people my own age. Maybe because issues of gender equality and default parents had finally become central to a broader national conversation.
This time, when I sat down to write, I had company. A new character, Maribeth Klein, was by my side. She felt less like an avatar of the Overworked Mother than a woman I knew deeply, intimately, the kind of droll, levelheaded woman who's so busy that even when she suspects she might be having a heart attack, she carries on with her day, because she has a to-do list to get through, dammit!
I still assumed I was writing the story I'd begun years before. The plot remained the same, but as I got deeper into the story, as I grew to understand Maribeth's complex relationships with her husband, her best friend, her mother, and her children, I realized that these characters had pulled a bait and switch on me.
Yes, Maribeth and Jason have huge issues about parental division of labor, as do most parents I know. Maribeth believes this is what fuels their fight and her flight.
It is. And it isn't. Because underneath that universal fight lurked a different fight, one specific to Maribeth and Jason, one too tender to touch, one that proved to be, excuse the pun, the heart of the story.
If I understood this about Maribeth, it was because in the years when the novel was marinating in a drawer (and in my head) I'd come to see that my husband's and my prosaic you-do-I-do-you-don't best hits arguments seemed to wax and wane, less dependent upon the workload than on the emotional load.
Half the time when we're fighting about laundry, we aren't really fighting about laundry at all. Laundry is just the Trojan horse, hiding all the messy stuff inside. When we take the time to excavate that messy stuff, it not only clears the air, it alters the other fight, too, and allows us to approach the difficult task of family job-sharing and parenting with less resentment and more pragmatism. That, in turn, allows me to take care of myself without feeling (quite so) guilty about it.
Maribeth and Jason were also having two fights. That doesn't mean that their laundry fight was not absolutely galling and important. Jason is a decent man, but he is so accustomed to Maribeth taking care of everyone that when she needs taking care of, he can't handle it. Which is maddening. But Maribeth is also so accustomed to taking care of everyone that when she needs taking care of, she can't handle it. Which is terrifying.
And so Maribeth flees her family. But not for the reasons she believes, or for the reasons I believed when I first started the book. What began as a cathartic revenge fantasy evolved into an examination of what happens when one woman knocks open her own Trojan horse, takes a hard look at the mess inside, and discovers what she's really angry about, what she's really running from. Once she does, her shocking choice to run away, to take care of herself—to be selfish—no longer feels quite so shocking or so selfish. It feels like something that Maribeth is entitled to. Like something we are all, at times, entitled to.