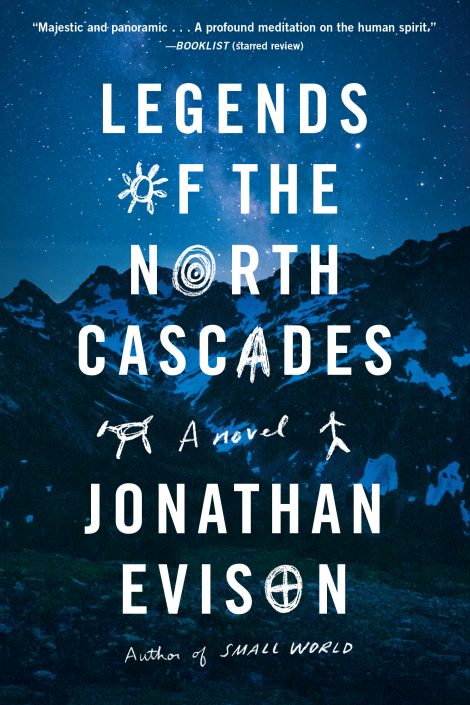 LEGENDS OF THE NORTH CASCADES
---
Dave Cartwright used to be good at a lot of things: good with his hands, good at solving problems, good at staying calm in a crisis. But on the heels of his third tour in Iraq, the fabric of Dave's life has begun to unravel. Gripped by PTSD, he finds himself losing his home, his wife, his direction. Most days, his love for his seven-year-old daughter, Bella, is the only thing keeping him going. When tragedy strikes, Dave makes a dramatic decision: the two of them will flee their damaged lives, heading off the grid to live in the wilderness of the Pacific Northwest.
Dave Cartwright used to be good at a lot of things: good with his hands, good at solving problems, good at staying calm in a crisis. But on the heels of his third tour in Iraq, the fabric of Dave's life has begun to unravel. Gripped by PTSD, he finds himself losing his home, his wife, his direction. Most days, his love for his seven-year-old daughter, Bella, is the only thing keeping him going. When tragedy strikes, Dave makes a dramatic decision: the two of them will flee their damaged lives, heading off the grid to live in the wilderness of the Pacific Northwest.
As they carve out a home in a cave in that harsh, breathtaking landscape, echoes of its past begin to reach them. Bella retreats into herself, absorbed by visions of a mother and son who lived in the cave thousands of years earlier, at the end of the last ice age. Back in town, Dave and Bella themselves are rapidly becoming the stuff of legend—to all but those who would force them to return home.
As winter sweeps toward the North Cascades, past and present intertwine into a timeless odyssey. Poignant and profound, Legends of the North Cascades brings Jonathan Evison's trademark vibrant, honest voice to bear on an expansive story that is at once a meditation on the perils of isolation and an exploration of the ways that connection can save us.
Algonquin
Paperback
January 2022
368 Pages
9781643752488
Praise
"Evison's majestic and panoramic latest conjures the beauty, power, and unforgiving nature of the Cascade Mountains in alternating narratives separated by thousands of years. Evison masterfully delivers a subtle yet pointed commentary on how society marginalizes veterans and how we profess to admire yet distrust the individualist ethos while also offering a profound meditation on the human spirit." —Booklist, starred review
"Only a writer of Evison's talent could so brilliantly weave the struggles of a PTSD-stricken veteran and the ghosts of an ancient family into such a powerful social commentary. Wildly original and breathtakingly big-hearted." —Willy Vlautin, author of Don't Skip Out on Me
"Engaging . . . This modern back-to-the-land story feels like John Krakauer's Into the Wild meets Jean M. Auel's Clan of the Cave Bear, a combination that makes for a compelling read in its appreciation of the monumental properties of nature and recognition of the history of humans in the North Cascades." —Library Journal
"Under the daunting and impassive mountains of the title, two dramas, one ancient and one contemporary, intertwine to become a greater story of parent and child attempting to survive in the harshest of circumstances. For me, the heart of this fine novel is Bella, a young heroine whose courage and steadfastness are a timely reminder of how human decency can prevail in the darkest of situations." —Ron Rash, author of Serena and In the Valley
"Evison weaves the prehistoric past and the troubled present together with imagination and tenderness in this haunting, timely meditation on the redemptive power of love." —Hillary Jordan, author of Mudbound
"Jonathan Evison's Legends of the North Cascades is a beautifully rendered and cinematic portrait of a place and its evolution through time; it is also—pure and simple—a story of survival and the love and devotion between parent and child."
—Jill McCorkle, author of Hieroglyphics
Discussion Questions
1. Do you think Dave is a good father? Though his actions are dangerous in many ways, does a part of you sympathize with Dave's decision to take Bella to live a life he feels is more authentic? Why or why not?
2. Have you ever dreamed of living off the grid? Where would you go? How do you think you would fare?
3. How would you characterize Dave's political beliefs? Where do you think he fits on the political spectrum?
4. Do you think Dave regrets enlisting in the Marines?
5. How do you feel Dave and Bella will adjust to their return to society?
6. The individualist ethos is deeply embedded in American history. At the same time, many Americans also hold it in deep suspicion. Why do you think that is? What are your own feelings about individualism?
7. Some parts of American culture also champion the idea of supporting our troops. How do you feel we as a nation treat our military veterans in reality?
8. Why do you think the author decided to make Dave a former high school football standout?
9. Why do you think the author included the interview snippets from Dave's friends, acquaintances, and neighbors?
10. What do you think is the nature of Bella's connection to S'tka and N'ka?
11. What do you see as the common threads between the modern narrative and the Pleistocene narrative? Why do you think the author included both?
12. For you, what resonated as the major themes of Legends of the North Cascades? What did you find yourself thinking about the most after you finished the final pages?
13. Are you familiar with any of Jonathan Evison's other novels? How does this book compare? What does it have in common with, and how is it different from, the other work(s) you've read?
14. Have you read other stories of survival, adventure, or living off the grid that you would like to recommend?
Excerpt
From Legends of the North Cascades
By Jonathan Evison
Once Bella had broken her silence and returned to school, Dave escaped into the backwoods almost daily, hiking fifteen and twenty miles at a go, in spite of his lousy hip, up the canyon, and over the rock-studded ridge, into the sprawling high country of the North Cascades, their precipitous peaks and cornices buttressed by glacial ice, white and windswept against the late winter sky.
As long as Dave was moving, putting distance between himself and the world, he could endure living in the moment.
One afternoon, while taking refuge on a small plateau high above the canyon, he paused in the clear, cool, afternoon to eat a heel of bread and a tin of sardines, taking in the remarkable panorama through the cloud of his breath; the great, yawning jaw of the canyon, and the ruffled blanket of spruce and fir sprawling clear to the bottom of the basin and beyond. Behind him, the peaks of the Picket Range reared up like spires: Ghost, and Phantom, and Fury. To the west, beyond the frozen silence, lay the inland Pacific, with its labyrinthine waterways.
Here, in this spot above it all, he lingered as long as the day would allow, basking in isolation. When he finally hefted his daypack, and turned to resume his progress, his eyes lighted on a narrow cleft in the side of the mountain.
In a world that seemed all out of mysteries, the gash in the hillside demanded his attention. Tentatively, he poked his head in, sniffing the chalky air, wary of bear, or cougar. Sensing no danger, Dave entered what amounted to a stone chamber, the size of which was difficult to ascertain at first. By the paltry light of his phone, he eased his way along the near wall for four or five steps, until the rock began to close in on him from above. After a few more steps, he arrived at the rear of the cavern. Stooping, he doubled back along the opposite wall, feeling his way along the cold rock, before stationing himself in the very center of the space, which he estimated to be roughly four hundred square feet. The stillness of the place was overwhelming.
Dimming his phone, Dave sat down upon the cold, hard earth in the darkness, only a narrow blade of sunlight slicing the foreground diagonally in front of him. For the first time in weeks he drew a deep breath, and clutched it in his chest, and stared at the back of his eyelids for a good fifteen seconds. Rather than exhale the breath deeply, he absorbed what he could of it, letting it pass slowly through every pore of his body, his shoulders slackening, as he released it gradually.
He spent the next twenty minutes repeating this exercise until finally, he let go a deep sigh. While the experience did nothing to buffer him from the future, he found comfort in the stillness, and in the tomb-like depths of the cavern, which immediately took on an almost holy significance. Here was sanctuary, and shelter in the realest sense; a divine cathedral of rock to soothe the aches and pains of the temporal world.
Dave would visit the place again and again in the weeks that followed, hiking eighteen-mile days for a few precious moments of shelter from the outside world.
It was upon Dave's third visit to the cave that he began to consider and calculate the possibility of leaving his life behind and taking shelter in the inexhaustible wilderness of the North Cascades. Yes, to turn his back on the world was a rash course of action, but what was left for him and Bella down below? Their lives were a smoldering heap of rubble. The only woman Dave ever loved, the only mother Bella would ever know, was two weeks in the grave. And in spite of Bella's naïve insistence, she wasn't coming back. The days of his employment at Terminix were numbered. The prospects for future employment were fraught with unknowns. He was down to nineteen hundred dollars, roughly a third of which would be eaten up by the mortgage payment due in two weeks. Each possibility he contemplated for the future seemed bleaker than the last.
To leave the civilized world behind seemed like a natural extension to the escape Dave had been gradually charting for a decade, a course that had accelerated in recent years. He started tuning out the news cycle before the last election. He shut down his Facebook account shortly thereafter and taped over the camera on his laptop. He stopped engaging in political discourse of any kind. Eventually, he stopped returning calls, or paying social visits, or attending the occasional Sunday service at Saint Barnabas to appease his mom.
Now, with Nadene in the grave, life in V-Falls had become altogether untenable. Dave no longer wished to be around anybody, except for his daughter. And what was left for a child down there but a world that would likely forsake her, a world that would wring the wonder and humanity right out of her, as it sought to reduce her life force to an algorithm? The modern world held no more promise for Bella than it did for Dave. Reverend Hardy had it wrong: It wasn't third and long. It was fourth and forever. Time to punt.
It only took a matter of days for Dave's unlikely speculations to harden into a conviction; to live in isolation suddenly seemed like an imperative, and the only future he could bear to contemplate. The decision itself proved to be a morale booster. If not hope, it gave Dave's life new purpose and direction. Thus began the six supply runs in two weeks; through the steep canyon and over the wooded saddle, thirty-five hundred vertical feet up the mountain, eighteen miles round trip, a third of it in snow shoes, to town and back, packing sixty and seventy pounds per load: vintage hand tools—two saws, a planer, a drill, a mallet, a hammer, a coffee can full of hardware. Fishing tackle, rods, a pair of Winchesters, .22 and .458 Magnum, a hundred and thirty-six rounds. Skinning knife, nylon rope, parachute cord, binoculars, butane lighters, wooden matches, three flashlights, three headlamps, and five pounds of batteries. Topo maps, bear spray, fire starter, ibuprofen, a first aid kit. A pair of old Coleman lanterns to be used sparingly, three gallons of kerosene, a hatchet, a wedge, a shovel, three pairs of work gloves (two large, one small), two sleeping bags, two inflatable Therm-a-Rests, four wool blankets, four tarps, clothing for all seasons, a transistor radio, and every trip, two or three empty water jugs. Oats, flour, rice, sugar, and books, cumbersome, heavier than tools, awkward, backbreaking books. The least he could do was improve himself with all the time he'd have on his hands. He devoted one whole trip explicitly to the printed word: used books, new books, library books, children's books, textbooks, medical books, survival books. In two weeks' time, Dave hauled anything and everything a body could think of to survive in the backcountry of the North Cascades.
Almost everything.
Essay
Love on Ice
An Essay by Jonathan Evison
I have three kids, ages three, eight, and eleven, and make no mistake, I want them to be confident and curious. I want them to experience life to the fullest, and be independent and adventurous, and discover things on their own, and I want them to take risks—once they're adults.
I can't help it. I'm a helicopter parent and have been since day one. That's me walking behind my infants and toddlers as they climb, then crawl, then waddle up staircases; that's me standing below my grade schoolers, ready to catch them when they're scrambling up trees; that's me riding on the outside anytime we're biking around traffic (even the mere possibility of traffic); that's me barely out of arm's length in the swimming pool.
I'd like to think I'm not suffocating about it. I go out of my way to offer them extraordinary experiences and opportunities. I give them space, I really do. I don't try to influence their every move or discourage them from exploring the world; I just keep my eyes peeled for trouble at all times. I've seen firsthand how fast an accident can happen to young people, and the irreparable damage it can do.
My helicoptering is by no means limited to the realm of physical safety. I constantly worry for my kids' mental and emotional well-being, especially when they're away from me at school, or out playing, or staying at a friend's house—anywhere and anytime they're out of my sight, really. While I am mostly powerless in these situations, I can't stop trying to prepare them for heartbreaks, or reassuring them that they are loved, and respected, and seen. I don't want them to get bullied, or hurt, or ever question their own worth, or feel depressed about climate change or rampant human suffering. As fanatical as it may sound, I'm guessing most parents feel the same way. And yes, our motives are selfish. Because we love them so damn much that the idea of anything bad ever happening to them is unthinkable. It would break us completely. Without them we wouldn't want to live.
When I write a novel I always try to get out of my own way and give myself to the characters, which can make it both a painful and revelatory process, but always expansive. Invariably I feel like I come out the other end a better, more experienced person somehow, a better husband, a better dad, a better friend, having learned lessons and overcome obstacles not just on the page, but in my heart and mind, just as sure as if the experience of the novel were real life. That's why I write in the first place, to live beyond the purview of my personal experience. And for the whole enterprise to work, I've got to allow myself to be vulnerable.
The toughest thing about writing Legends of the North Cascades was imagining situations where children were in peril, particularly Bella. Like my own kids, Bella is precocious, and extremely thoughtful, and empathic, and tends to take the world a bit personally at times. She asks the questions and says the things my kids might say or ask. She's got an active imagination and a voracious curiosity. But unlike my kids, Bella was born into a lousy situation, one that keeps getting worse, forcing her to confront things beyond her years, and as a result she's compelled to start acting like an adult long before she should ever have to. Likewise with Dave's character, I have a lot in common with him, in terms of his passion, yearning, and disillusionment, and especially in his intense love and sense of responsibility for his child. But as an Iraq war veteran, Dave's baggage is heavier than mine, his situation much more dire than my own, and it gets progressively worse, in part by his own doing. Who knows what decisions I might make under the same circumstances as Dave, suffering trauma, irredeemable loss, financial ruin, and constant physical peril? For Dave and Bella, while it seems like the final solution, living in a cave in the high country of the North Cascades only exacerbates the issues already tormenting them.
It was heartbreaking living inside Dave and Bella under such circumstances. But what carried me through and ultimately saved me was the same thing that saved them: their fierce love for each other, their dependence on each other, their unshakeable faith in each other despite how bad things might get. While the novel is unquestionably an adventure story, at its core it is the story of the love between parent and child, a love that is tested at every turn. And so it is with Dave and Bella's Ice Age counterparts, S'tka, the young mother, and N'ka, the fatherless child, as they try to eke out an existence alone in an icy world that seems intent on forsaking them.
I wrote Legends of the North Cascades in 2018, so when I chose self-isolation as a theme I wasn't being prescient. I didn't see what was coming for all of us in 2020 (and likely most of 2021). The fact is, no matter how different each of my novels may seem on the surface, I've got only a few themes that preoccupy my work as a whole. I've always written about self-isolation. Whether overtly or not, nearly all my characters are in one guise or another dealing with the fundamental conflicts that comprise the dictates of self versus humanity, individual versus collective, alone versus together. But never have I explored these themes quite so directly as in Legends of the North Cascades.
I love adventure stories. Having grown up on a heavy dose of Jack London's Yukon, I always wanted to write a novel with a rugged northern setting, and I have dabbled there in the past, such as in portions of my 2011 novel West of Here. But Legends offered me the perfect opportunity to fully immerse myself in a frozen wasteland, to virtually experience the thrill and urgency and peril of isolation and survival in a harsh environment, and to explore how these extraordinary conditions might test the love and trust of a parent and a child. The result, I hope, is a timeless story that will stick with readers for a long while and leave them altered in some small way, as I myself was changed by the act of writing the novel.
Because of Dave and Bella, S'tka and N'ka, and the brutal and unforgiving forces that shaped and tested them, whatever obstacles life might throw at me as a parent going forward, whatever circumstances fate might ask me to navigate to ensure the well-being of my children, I feel more prepared than ever to face them.