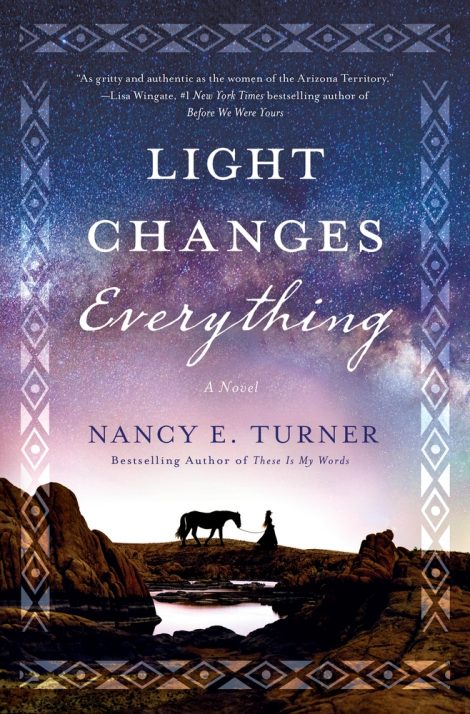 LIGHT CHANGES EVERYTHING
A Novel
---
Bestselling author Nancy E. Turner returns to the world of Sarah Agnes Prine through the wide-eyes of her irrepressible young niece, Mary Pearl.
It's the summer of 1907 and the sun is scorching down on Mary Pearl in the Arizona Territory. Mary Pearl and her sister Esther take their minds off the heat by sneaking banned Jane Austen novels from Aunt Sarah Elliot's lively bookshelf. Whispered read alouds preoccupy their nights, and reveries of getting hitched to their own Mr. Darcy à la Pride and Prejudice swirl through their day dreams.
In walks old-fashioned old-money suitor Aubrey Hanna,
Bestselling author Nancy E. Turner returns to the world of Sarah Agnes Prine through the wide-eyes of her irrepressible young niece, Mary Pearl.
It's the summer of 1907 and the sun is scorching down on Mary Pearl in the Arizona Territory. Mary Pearl and her sister Esther take their minds off the heat by sneaking banned Jane Austen novels from Aunt Sarah Elliot's lively bookshelf. Whispered read alouds preoccupy their nights, and reveries of getting hitched to their own Mr. Darcy à la Pride and Prejudice swirl through their day dreams.
In walks old-fashioned old-money suitor Aubrey Hanna, here to whisk seventeen year old Mary Pearl off her feet with a forbidden kiss and hasty engagement. With the promise of high society outings and a rich estate, Aubrey's lustful courtship quickly creates petty tension among the three generations of Prine women.
As autumn approaches all too quickly, Mary Pearl's Wheaton College acceptance counters quick marriage preparations. Days of travel by horse and by train carry her deep into a sophisticated new world of Northern girls' schooling. Seeking friendship but finding foes, Mary Pearl not only learns how to write, read, and draw, but also how to act, dress, and be a woman.
Light Changes Everything is the story of a resilient young feminist a century ahead of her time. Full of gumption and spirit, Mary Pearl's evocative coming of age tale is destined to be the next American classic.
Thomas Dunne Books
Hardcover
January 2020
304 Pages
9781250186010
Praise
"Years ago, I loved These is my Words, and I adored stepping back into to the world of the Prines through tough-as-rawhide Mary Pearl. Light Changes Everything is a novel as gritty and authentic as the women of the Arizona Territory. Nancy E. Turner brings the west and its people fully to life." —Lisa Wingate, #1 New York Times bestselling author of Before We Were Yours
"Nancy E. Turner (of the wildly popular Sarah Agnes Prine series) returns with her signature warmth and an Aunt Sarah to boot. I dare you not to be charmed by this sweet tale of a woman finding her way at the dawn of a new century. Light Changes Everything illuminates the heart of an American family and highlights its historic glow." —Sarah McCoy, New York Times bestselling author of Marilla of Green Gables
"The key characters of this lovely family saga are even more compelling than the story's title. The real, regional voice pulls the reader right into an emotional read that is poignant and ultimately wise. Light Changes Everything is a story that stays with you for all the right reasons."  —Karen Harper, New York Times bestselling author
"Mary Pearl Prine is a western original. Her spirit and pluckiness are infectious. Filled with Arizona Territory detail and language, Nancy E. Turner's Light Changes Everything, the story of a young woman too self-confident to be beaten down by frontier challenges, promises to become a Wild West classic." —Sandra Dallas, New York Times bestselling author
"Nancy E. Turner's tale of an endearingly plucky young woman in the wild Arizona Territory in the early 1900's is chock full of family feuds, intrigue, heartache, gumption, and adventure. Colorful, thoroughly enjoyable, and as fast-moving as a band of horses galloping across the desert, Light Changes Everything is a delight." —Kristin Harmel, international bestselling author of The Room on Rue Amélie
"Turner's satisfying, immersive, and often heart-pounding tale of one indomitable young woman's frontier life, touched by tragedy and hope, is realistically drawn, and readers will warm to her portrayal of Mary Pearl's chaotic but loving family life. Fans of the popular Sarah Agnes Prine novels and new readers alike will fall in love with the smart and spirited Mary Pearl." —Publishers Weekly
Discussion Questions
1. Do Jane Austen's books still have the power to sway personal relationships? Why do you think they were nearly hidden on a top shelf, out of reach?
2. Discuss the complexities in Mary Pearl's relationships with her mother and grandmother. How do the relationships between the three generations of women contribute to Mary Pearl's wish to move away? How did they change?
3. Why did Mary Pearl's brother, Clover, collaborate in her college "escape"?
4. Why didn't Mary Pearl's family understand what college meant to her? What is the significance of Mary Pearl's college choice?
5. Discuss the correlations between Calvert, the school "ghost," and Ezra after he was shot.
6. Why do you think Granny decided to dictate to Mary Pearl her memoirs at that moment?
7. What explains Aubrey's father's reaction to Aubrey's behavior?
8. Mary Pearl misses her school trip due to her own insistence that the family notify her of problems. Can you understand the mixed emotions she feels about her brothers' predicament?
9. Discuss Mary Pearl and Rachel's relationship. Do you think they can re-find sisterly love?
10. Mary Pearl rejected Nation Hollingsworth, but do you think she thought about him later?
11. Discuss the fate of Duende. Would you have taken the same actions as Mary Pearl? What did he represent in Mary Pearl's life, and in this story?
12. Do you think Mary Pearl's new appreciation for her grandmother might change the way the rest of the family reacts to the elderly lady?
13. Would you have kept the money Aubrey left on the table?
14. What did you think of Brody's challenge to Aubrey?
15. Imagine a time in which an adoption of an infant could take place by simply filing papers. How would this take shape in today's society?
16. Discuss the sheriff warning Mary Pearl about the day and time of Aubrey and Rachel's arrival.
17. Did you suspect Brody's affection for Mary Pearl sooner than she did? Were they destined to be together, or did their love grow over time?
Excerpt
CHAPTER ONE
Arizona Territory, Summer of 1907
I blame the beginning of the whole thing on Jane Austen. From where I was sitting on the back of my horse that morning, the only place where I could see anything clear, everything had changed once my Quaker ma found Pride and Prejudice under my pillow. Pa was raised on the back of a horse and thought of reading as something only girls did. Neither one of them had ever read the likes of Austen before.
I'd been admitted to Wheaton College without setting foot in a schoolhouse. My aunt Sarah Elliot had a large collection of books that lined every last wall, floor to ceiling, in her ranch house. One day last fall, after having read almost every book there, I was looking for something new and discovered a nearly hidden section of novels on a high shelf. The titles, Sense and Sensibility and Pride and Prejudice, sounded like essays on principles of virtue and meritorious living. Well, they weren't.
My sister Esther and I used to read these novels to each other as whispers late into the night. Jane Austen's books sure made us dream of finding a handsome man to make our lives good and rich, but this was the Arizona Territory. Most of the two-legged rascals we weren't related to were cowpokes and drifters, so I never looked at any of them to make my life any different than it was. Thing was, I didn't really like the characters or the stories. Just like so many other things I had read, the people were more tangled up about getting hitched and swooning over some lover or other than they were about the lack of rain or the cost of a new saddle. They never did anything actually worthwhile except get dressed up in fancy clothes and go to dances, but it gave us something to do on a summer night when the sun didn't set until nearly ten. I mostly liked real stories about people who did things that mattered. Inventing and discovering, that's what interested me.
Even in the early morning, I could smell rain in the air. Mosquitoes tried to make breakfast of my neck, so I pulled up my kerchief. I had a city bonnet in my parcels, but for now I was wearing what suited me, a new Stetson hat and a split riding skirt.
As Esther read aloud until she fell asleep with the book on her chest, I would lie in bed and wish my life could amount to more than just a romance. I wanted to draw pictures of people and animals and I had a sketchbook that had not a square inch left without a picture in it.
It was a shame that for me to get to go off to school like my brothers had done was about to cost me Ma's scorn in a way that felt as if she'd hate me forever. She'd picked me out a fellow, and I was leaving him as well.
Sprawled on the floor in Aunt Sarah's parlor, my siblings and I were taught the only schooling any of us ever got from that library, and it ran from astronomy and animal husbandry to skinning a snake and zebras on the African veldt. This education got my brother Joshua into medical school. Aunt Sarah's daughter April married young and lives in Tucson, while her two boys went to the University of Arizona to study geology, but dropped out after a year due to "lack of inclination." My brother Clover went to school for two years and he's set on keeping up Pa's pecan farm. My brother Joshua is off to study medicine in Chicago. Besides Esther, I have twin older sisters, Rachel and Rebeccah. Rebeccah likes to cut roses and make grafts of the stems. It sounds unusual out here in the Territory, but pretty much anything with a thorn will grow here, and so she tends her flowers and studies botany. Rachel embroiders. I hate that stuff, and the threads all tangle up in my hands. Give me the back of a horse running hell-bent, and I can stick a post with a knife or a bullet, either one.
I was the youngest girl; always the keeper of Ezra and Zachary, my two little brothers, the rottenest and smelliest little toads ever lived. All my blessed life I've heard, "Mary Pearl, get the boys out of the sugar box. Mary Pearl, change Zachary's diaper. Mary Pearl, mind those boys don't fall into the well."
I wanted to amount to something more than that. I was about to turn seventeen, and it was high time.
Often I felt so thrilled at the thought of going away to school, I could barely stand it. Then shivers would take hold of me as if I had volunteered to walk naked down Meyer Street at high noon. I thought of Ma, running off to marry Pa on their trip here from Texas, when he was just a boy from the next wagon. They'd fended off Comanches on that trip, but her mother had been killed. It was on that trip that Ma laid aside some of her Quaker notions and edged a little closer to Aunt Sarah. Aunt Sarah always carried a loaded rifle and a pistol in her pocket. I'm told, but I don't remember, that she's used them, too. She has a look on her face that even strangers notice and they don't question her. Ever.
My ma has never shot a gun, but she told me once that she was ready to do it to save her children. Those were the days our families would lay down their very lives for each other. So much has changed. My friend Elsa Maldonado's mother died. After that, Elsa spent many days at our house. Her pa tried to woo Aunt Sarah, but when she turned him down, he soured on the whole family. Elsa loved Sarah's boy Charlie, and we girls thought they'd be a great match together. It broke her heart the way her pa talked about Charlie after that.
A roadrunner skittered before us, shaking a skinny lizard, running alongside on the bank of the road for a good quarter mile. The August sun baked my back and Duende, my horse, danced and jostled high on his hooves. Brody Cooperand rode with us, too, since Clover was coming on the train with me, and so he could drive the wagon home once my sisters were finished shopping in town. He was one of the hands from Aunt Sarah's place, too, and I figured he might be sweet on Rebeccah. We got along down the road and found the summer rains had made the river run, so we rested for a bit at the muddy bank and let all the animals drink while Clove and Rebeccah set up a picnic lunch.
While we got ready to leave this morning, Mama wept in the rocker on the porch, and when I waved my hand, she up and went into the house. I knew Pa was there, and while he wasn't necessarily taking sides in this dispute, he'd allowed me to go and wrote checks for my tuition and my horse's board, joking that said horse had better keep his grades up as well, since he was being sent to college. When Mama fumed over that, he said, "Well, she's got to have transportation."
I figured Ma was actually more upset about Esther than about me.
Copyright © 2019 by Nancy E. Turner