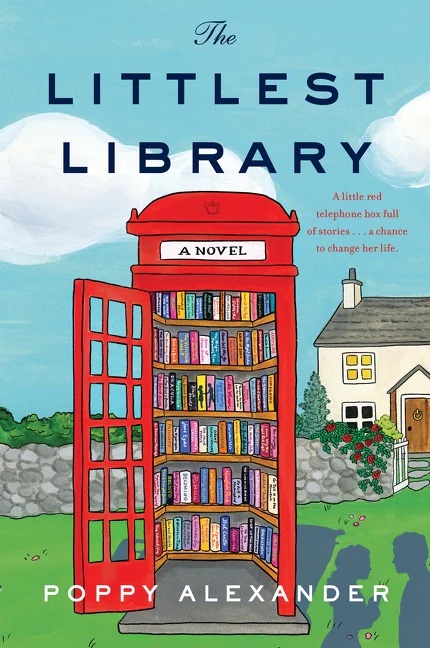 THE LITTLEST LIBRARY
---
A heartwarming literary-themed novel about a woman who turns an ordinary red phone box into the littlest library in England and brings together a struggling town.
A little red telephone box full of stories, a chance to change her life…
Jess Metcalf is perfectly content with her quiet, predictable life. But when her beloved grandmother passes away and she loses her job at the local library, Jess' life is turned upside down.
Determined to pick up the pieces, Jess decides it's time for a new beginning. Unable to part with her grandmother's cherished books,
A heartwarming literary-themed novel about a woman who turns an ordinary red phone box into the littlest library in England and brings together a struggling town.
A little red telephone box full of stories, a chance to change her life…
Jess Metcalf is perfectly content with her quiet, predictable life. But when her beloved grandmother passes away and she loses her job at the local library, Jess' life is turned upside down.
Determined to pick up the pieces, Jess decides it's time for a new beginning. Unable to part with her grandmother's cherished books, she packs them all up and moves to a tiny cottage in the English countryside. To her surprise, Jess discovers that she's now the owner of an old red phone box that was left on the property. Missing her job at the local library, Jess decides to give back to her new community–using her grandmother's collection to turn the ordinary phone box into the littlest library in England.
It's not long before the books are borrowed and begin to work their literary magic–bringing the villagers together… and managing to draw Jess' grumpy but handsome neighbor out of his shell.
Maybe it's finally time for Jess to follow her heart, let go of her old life, and make the village her home? But will she be able to take the leap?
Avon
Paperback
July 2022
336 Pages
9780063216938
Excerpt
Chapter One
"You're free!"
"That's one way of looking at it."
"Oh, come on," said Hannah. "You were buried alive in that place. How long's it been? Ten years?"
"Eleven. Since we both graduated. And I was very lucky to get that job."
"But ask yourself honestly—will you keep in touch with any of them?"
Jess sighed. She had worked daily with the unlikely ragbag of personalities in Bourton-on-the-Marsh Library. But even on the day it closed its doors for the last time she knew, beyond the fondness of familiarity, she had nothing in common with any of them. Not really.
"Exactly," said Hannah, smug in victory. "You've lost nothing."
"What? I've lost my job."
"Sure, but it's just a job—and a boring one at that—and it's not like you've . . ." Hannah faltered.
"It's not like I've got anyone to support," Jess finished for her. It was true, she didn't. Not anymore. It had been a year of crushing losses, as her friend knew better than anyone.
"You know you've always got me," said Hannah, stoutly, shoveling another spoonful of mush into her baby's face and then turning back to face the screen, seeking eye contact.
This was their near-daily ritual, with Hannah on the screen propped on the dresser in the kitchen and Jess sitting at the scrubbed pine table having her pre-supper glass of wine.
"It was so lovely having you at the funeral," Jess remembered, wistfully. "Such an amazing surprise."
"Where did you think I'd be?"
"I thought you'd be eleven thousand miles away. Seeing as you are."
"Thank God for airlines and the internet," said Hannah, raising her mug of coffee in acknowledgment of Jess raising her glass. "I do feel virtuous drinking coffee while you're knocking back the vino."
"Oi, less of the value judgments. When I start drinking wine for breakfast you have my permission to be officially concerned."
"So, what will you do? Nothing keeping you in Bourton-on-the-Marsh now, is there? It's about time . . ."
"It's my home. I've got the house."
"It's time to move on," said Hannah resolutely. "What would Mimi say? 'Home is where you lay your hat.' She always wanted you to go off and explore the world. Now's the time."
"'Pastures new,'" agreed Jess, doubtfully. "That's what she used to say."
"Exactly. 'Pastures new.'"
Jess was what her grandmother Mimi had always called a home-grown lass; Bourton-on-the-Marsh born and bred. Mimi was from France originally and Papa had always proudly declared that you could take the lass out of Paris, but you couldn't take Paris out of the lass. "Mimi" wasn't her name really, but it was the closest a two-year-old Jess could get to Mémé—French for Granny—and, in the end, it was what everyone called her. Mimi had settled in the UK without a backward glance after falling in love with Papa all those years
ago. Her grasp of English became near perfect and her French accent almost consumed by flat middle England vowels. That said, Mimi may have submitted to life in a small market-town far from home, but she certainly didn't capitulate. Her sometimes humdrum life was enlivened—as were the lives of all around her—by her relentlessly Parisian attitude; no outfit was complete without a jaunty scarf, no supper, however light and casual, was presented without a single bloom in a slim vase and a glass of good red wine. She was never without a slick of her signature bright-red lipstick and she had the permanently exciting—unsettling—tendency to give the impression she was just about to embark on a huge adventure.
Jess's life, on the other hand—with one, huge exception—had followed a pre-ordained path from local school to local college to local university and then, straight from there, to a local job in the local library: all safe, safe, safe. God, she was boring. Predictable.
As usual, Jess and Mimi did everything they could to avoid dangerous introspection over "that point" in her life: the event, just before her fourth birthday, which was so terrible it still had the power—nearly thirty years on—to stop a conversation in its tracks. This was why none of her colleagues in the library had known. She had barely any memory of her parents now, relying instead on the stories Mimi told her throughout her childhood. These stories were never about the car crash, of course. Instead, they were about when her mother was a little girl and how very like her mother she—Jess—was. The stories would generally finish with a rhapsody about what an extraordinary blessing it was for Mimi to have the privilege and pleasure of raising her daughter's child. To turn such a cataclysmic event into an opportunity for something good was typical of Mimi's relentlessly positive outlook. Despite Mimi's best efforts, though, these tragic events scarred Jess's impressionable four-year-old psyche, teaching the tiny girl that devastation inevitably followed joy just as night followed day.
As the years passed, there came a time when only Mimi, Jess, and Hannah—Jess's close friend from school—knew the crash story. Now, it was just Hannah and Jess.
Unlike Jess, Hannah had pulled herself free from the cloying mud of Bourton-on-the-Marsh four years ago; first, heading off backpacking and then staying to set up a brand-new life with her handsome New Zealand vet husband, leaving Jess becalmed in what Hannah referred to as Nowheresville.
At that point, Jess still had Mimi, of course.
Most people would have despaired at Mimi's terminal diagnosis. Jess did; it confirmed her theory of disaster growing out of happiness. Mimi didn't. She wouldn't, and—thanks to her relentlessly positive attitude—even Jess found moments of pure joy in Mimi's final months. There were weeks, days, sometimes just minutes, when the older woman's intense euphoria at being alive had infected Jess with a courageous optimism. At other times, the thought of facing the future without Mimi at her side filled her with stark terror. She did her best to put that to one side, to live in the moment, savoring the intensity of the time they had left together. Freed from the grueling treatments that had become futile, Mimi felt better than she had in an age. She made use of the renewed bursts of energy, using the time to clear steadily through decades of collecting, the silting-up with possessions that human beings do, without thought, whenever they live their lives in one place.
Every day Jess arrived home from work to two piles inside the front door, one for the charity shop and one for the dump. Occasionally she protested at Mimi expending her strength on such things, but her grandmother had been adamant.
"The last thing I want is for you to deal with this when I'm gone," she said repeatedly. But when it came to the books, Jess tried to put her foot down.
"You always told me books were sacred," she insisted, the first day she came home and found them by the door. Her voice wobbled only very slightly as she fought back sudden tears.
Mimi noticed, of course. She put out her hands and cupped Jess's face lovingly. In that moment, the tears Jess had kept hidden inside welled up and ran as if they would never stop, making rivers down her cheeks. Mimi cooed words of comfort, kissing her forehead and wiping away the tears with her thumbs.
"Don't worry, ma chérie," she had said. "All the books that matter are still here. They are yours to keep, and to take with you wherever you go."
"But I'm not going anywhere," Jess protested.
"Not now, but you will, and when you do—when you are ready—you will unpack these boxes and it will be like I am standing there beside you; all our memories, all our precious times together, wrapped up in these books . . . Trust me. You'll see."
But Jess did not see. She could not see how nearly thirty precious years spent with Mimi by her side could possibly be contained in the ten smallish boxes, each with Books in Mimi's distinctive copperplate handwriting on the sealed lids. How could any inanimate object possibly compensate her for the absence of the woman she had centered her life around? God knows she'd learned when she was four that people who constituted your whole life could be ripped away from you in an instant. At thirty-two she should be so much more able than her four-year-old self to make her way in the world alone. Some days—most days—it didn't feel like it.
Since Mimi died, the ten boxes had remained untouched, crouching in the corner of the newly decluttered sitting room in the little house they had shared for all those years. Jess allowed her grief at the loss to surface only in tiny increments. It was like a caged animal liable to consume her if she gave it too much freedom; and this, her own form of grief management, definitely didn't include exploring any of the ten boxes—simultaneously her most precious and most distressing possessions.
After the comforting rituals of her lonely evening were done, Jess lay in her cozy, deeply familiar little bedroom, staring at the vast night sky through the skylight. She could have moved into the big room at the front of the house, but she didn't. She couldn't. And now she never would, because Mimi was right. There was nothing keeping her here. Being a librarian in Bourton-on-the-Marsh was no longer an option and being a librarian anywhere else was a doubtful ambition; council funding cuts and the digital age were making traditional librarian skills increasingly obsolete. It was a case of evolve or die.
What would she do? And where would she go?
The hours of the night ticked by as she turned the problem this way and that, like a puzzle box, needing examination from every angle, hoping for the nudge or prod that would make it spring open.
By dawn, she knew.
The wait for nine o'clock seemed to last forever. By the time she could legitimately leave, she had polished the old range, done a load of washing, emptied the dishwasher, and swept the kitchen floor, even getting the little brush out to go under the dresser. A fitted kitchen would be easier to keep clean but not nearly as cozy, she and Mimi had always agreed.
Finally, the radio announced the nine o'clock news and Jess—her head muzzy with lack of sleep—was off down the high street to the estate agents.
She agreed to get the sale off to a flying start with an open house that Saturday. When slick Dave, the manager who wore a shiny suit and a large gold signet ring, proudly announced there would be at least six couples attending, she decided to absent herself rather than see strangers peering critically at her home. She couldn't bear to think of them turning up their noses at the solid deal furniture, the worn kitchen table where she and Mimi had sat to cook, eat, and do homework over the years, where Mimi had taught her how to knit and sew—Jess had been terrible at both—and where she and Mimi had just sat to talk, cradling mugs of tea, on rainy afternoons or late into the night. These potential buyers might dismiss her life together with Mimi, and that was fine, but she wasn't going to stay and watch them do it.
For a change Betsy, the battered old scarlet Mini Cooper that Mimi had adored, started immediately and by the time the first viewers arrived, Jess was miles away, driving with no purpose in mind other than to spend the day enjoying her thoughts and the glorious late winter sunshine, with its promise of spring.
Her instinct took her toward the West Country.
She had such happy memories of holidays there with Mimi, eating fish and chips on the seafront, watching as the seagulls regarded them beadily with their sharp yellow eyes and wheeled above and around them with menacing intent. When Mimi became ill, the camping holidays had stopped. There were plenty of great places you could get to and back in a day. When Mimi became too frail to walk the world shrank again, this time to places providing an easy drive, a nice garden with level access, and an on-site tea room serving a decent cup of tea.
That was then. Freedom beckoned today. Within a couple of hours, she was passing Bristol and then continuing on down to Exeter, wending her way through Dartmoor toward the little fishing villages on the south coast, shedding care and responsibility as she went. The weather was ominous now, though; the scudding clouds were crowding together, blotting out the light in the thin, blue February sky. Jess came to the brow of the hill she and Mimi loved for the spectacular view, but today she climbed to the peak, the engine laboring; and then she groaned. There was a tailback going right into the valley and beyond. It wasn't just slow, it was stationary. In a reflex action, Jess indicated left and swooped into a side turning she had never noticed before.