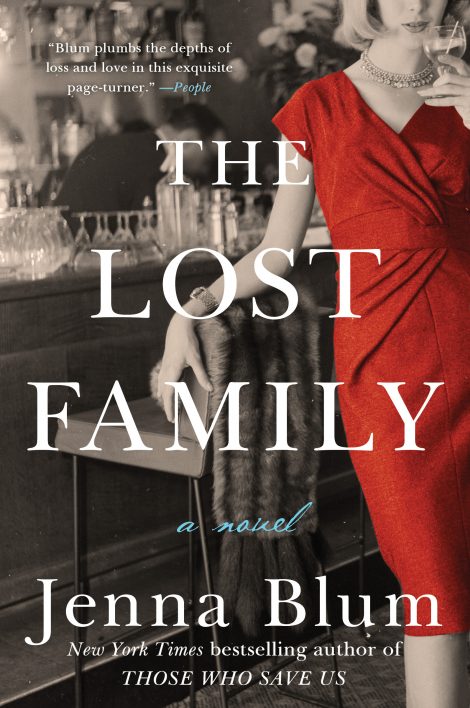 THE LOST FAMILY
---
The New York Times bestselling author of Those Who Save Us creates a vivid portrait of marriage, family, and the haunting grief of World War II in this emotionally charged, beautifully rendered story that spans a generation, from the 1960s to the 1980s.
In 1965 Manhattan, patrons flock to Masha's to savor its brisket bourguignon and impeccable service and to admire its dashing owner and head chef Peter Rashkin. With his movie-star good looks and tragic past, Peter, a survivor of Auschwitz, is the most eligible bachelor in town. But Peter does not care for the parade of eligible women who come to the restaurant hoping to catch his eye.
The New York Times bestselling author of Those Who Save Us creates a vivid portrait of marriage, family, and the haunting grief of World War II in this emotionally charged, beautifully rendered story that spans a generation, from the 1960s to the 1980s.
In 1965 Manhattan, patrons flock to Masha's to savor its brisket bourguignon and impeccable service and to admire its dashing owner and head chef Peter Rashkin. With his movie-star good looks and tragic past, Peter, a survivor of Auschwitz, is the most eligible bachelor in town. But Peter does not care for the parade of eligible women who come to the restaurant hoping to catch his eye. He has resigned himself to a solitary life. Running Masha's consumes him, as does his terrible guilt over surviving the horrors of the Nazi death camp while his wife, Masha—the restaurant's namesake—and two young daughters perished.
Then exquisitely beautiful June Bouquet, an up-and-coming young model, appears at the restaurant, piercing Peter's guard. Though she is twenty years his junior, the two begin a passionate, whirlwind courtship. When June unexpectedly becomes pregnant, Peter proposes, believing that beginning a new family with the woman he loves will allow him to let go of the horror of the past. But over the next twenty years, the indelible sadness of those memories will overshadow Peter, June, and their daughter Elsbeth, transforming them in shocking, heartbreaking, and unexpected ways.
Jenna Blum artfully brings to the page a husband devastated by a grief he cannot name, a frustrated wife struggling to compete with a ghost she cannot banish, and a daughter sensitive to the pain of both her own family and another lost before she was born. Spanning three cinematic decades, The Lost Family is a charming, funny, and elegantly bittersweet study of the repercussions of loss and love.
Harper Paperbacks
Paperback
June 2019
432 Pages
9780062742179
Praise
"An unsentimental, richly detailed study of loss and its legacy." — Kirkus Reviews (starred review)
"Blum avoids the sap of happy endings and easy resolutions in this perfect encapsulation of the changing times and turbulence of mid- and late-20th-century America." — Publishers Weekly (starred review)
"This exquisitely crafted and compassionate novel offers a lesson in honesty, regardless of how difficult the truth may be. It will offer plenty of discussion for book groups." — Library Journal (starred review)
"In…this gripping novel, Blum…displays her keen eye for character…Each unforgettable character in this deeply moving novel brings new meaning to the familiar phrase "never forget." Elie Wiesel's A Mad Desire to Dance (2009) and Michael Chabon's Moonglow (2016) also share.. a sense of hope in the face of tragic loss." — Booklist (starred review)
"Deftly executed, deeply moving, and full of heart, Jenna Blum's The Lost Family is an evocative look at the legacy of war and how it impacts one memorable family." — Jami Attenberg, bestselling author of The Middlesteins
"The Lost Family is an extraordinary read, the kind of book that makes you sob and smile, the kind that gives you hope…. It is compassionate, masterful and disturbingly contemporary."—Tatiana de Rosnay, bestselling author of Sarah's Key
Discussion Questions
1. Consider Masha's restaurant. How is running the restaurant important to Peter? In what ways does it help or hinder his attempt to bear his loss and grief and live a fuller life?
2. When Peter and June first meet at Masha's, what draws them to each other? Despite their very different personal experiences, what do they have in common?
3. Consider the various relationships different characters have with food. What's revealed by what and how each person eats? Which approach seems particularly healthy or not?
4. To "blot out unwelcome thoughts," Peter "took inventory, cataloging what the restaurant had in its storeroom." What are these thoughts? How does this activity help him? To what extent can work or distraction help with emotional difficulty? What are the limits of such an approach?
5. Note the many allusions to art and music throughout the novel. What does each add to the layers of meaning in the story? What's the value of art and music in one's personal life? How, in particular, might it serve in times of grief and suffering? Why did Peter try "not to listen to music at all"?
6. "If Peter's insides had matched his outsides, he would have looked like a Picasso. Like Guernica." What does this mean? In what other ways does Peter conceal elements of himself? To what extent is this normal and when might it become unhealthy?
7. Compare and contrast how Peter and June each feel about and present their physical selves, their bodies. In what ways does each change or not as they age? What factors determine how a person feels about his or her body? How is Elsbeth's relationship to her body influenced by her parents?
8. In what ways have Sol and Ruth been good for Peter or not?
9. In what ways do the memories of Masha and Vivian and Ginger influence Peter, for better or worse? Is his adamant decision to never speak of them helpful or hurtful? What are the best ways to heal from such profound grief and loss?
10. When June had finally seen Peter's scars, "the braille of [his] humiliation and helplessness," he thinks that "happiness…had made him careless." What does he mean? What is "the blessing of scars"?
11. After talking to June of his scars and the suffering that caused them, Peter's "heartened" that "she had handled it well." What is it in her response that is so effective and helpful? How is it that she could understand some of his profound experience? What's important in any response to another's suffering or grief?
12. Peter becomes concerned that his growing love for June "had punctured the sealed chamber into which [he] had put Masha and the girls." What is he afraid of? To what extent should these two loves be kept separate or not?
13. Sitting in Carl Schurz Park, Peter experiences the "calming effects of being near water." His daughter Elsbeth also "loved the water." What is it for each of them that is so valuable about water? Where else in the novel does water seem significant?
14. Peter realizes that "his worst, most damning trait…that defined him, the secret at his core…was his inability to act, his paralysis in crucial situations." Where has this demonstrated itself in his life? What might explain this behavior?
15. What is the "magnitude of discrepancy" June experiences with Peter as their relationship progresses? Consider her various responses to frustrations and unhappiness, from rearranging the furniture to being unfaithful. What does each reveal about what she wants and needs?
16. June believes herself to lack "natural maternal instinct" for Elsbeth and to simply "want other things." What does she desire in her life? Is this incompatible with having a child?
17. Regarding food—its preparation, presentation, flavor, etc.—Peter's "passion consumed him." Why is this? What might this reveal about his profound emotional experiences and burdens?
18. What kinds of difficulties does Elsbeth struggle with as she becomes a teenager? What particular emotional difficulties does she have with her mother? What is attractive to her about Julian? For what various reasons might she be so drawn to being photographed by him?
19. Are Julian's photographs justified as art? How does such subject matter connect to the theme of the body—in injury and health, shame and pride, ugliness and beauty— throughout the novel? To what extent is the body personal or public? Where do these lines blur?
20. How is it that Peter is eventually able to open emotionally to Elsbeth, to begin to share the story of his deep love and loss of Masha and the girls? What are the risks of such sharing? How does it work to heal?
Excerpt
1
Masha's
The first time Peter saw the girl was during the dinner seating at Masha's. She was sitting at the center table beneath the chandelier, her face spangled with light. It was what Peter's staff called the death seat because of what would happen to whoever was unfortunate enough to be occupying it if the chandelier, a two-hundred-pound fountain of dripping Venetian crystal, ever decided to fall. The girl—the young woman—was looking around the restaurant as if bored by her dining companion, a silver-haired fellow with thick horn-rimmed glasses and a head as square as a sugar cube, who was at least twice her age and was, at the moment Peter first noticed her, leaning in to whisper something in her ear. The girl wrinkled her nose and pushed her suitor, if that was what he was, away—and then, upon spying Peter, grinned in a way that was completely transformative, changing her expression from the somewhat sulky ennui of the New York girl-about-town, been there, done that already, into something altogether more sunny and sweet. Peter raised his eyebrows in return. The girl's light hair was short as a boy's—not a style Peter was fond of; she wore a white shift with fur at the collar and cuffs and red high-heeled boots whose tops disappeared beneath the tablecloth. Her eyes were outlined in thick curls of black. Peter was not, as a rule, a fan of these new fashion trends—although like every other man in Manhattan, he would have thanked God, had he believed in Him, for the miniskirt. Yet this girl held Peter transfixed.
He went about the business of making the rounds, as he did once a seating, clapping a shoulder here, lighting a woman's cigarette there. There was always a preponderance of pretty women at Masha's—more so during lunch, when tables were almost completely occupied by wistful bachelorettes and their determined mothers. This had been the case since the Times review came out the year before. The ladies praised the salads, but they were there for the single owner with the sad story. The dinner crowd consisted more of regulars, residents of this Upper East Side neighborhood on their way down to, or returning from, the city's events, theater and orchestra and opera and ballet. Still, there were enough romantic hopefuls mixed in that Peter had become wary and immune. Or so he had thought. Why this particular young woman had caught his interest now, he wasn't sure. He stole glances at her as he made conversation with the Lynns, who had concluded their evening with nightcaps at Masha's ever since it had opened; as he ignored the way old Mrs. Allison, holding court at Table 14, kept slipping her palsied hand beneath the table to feed scraps to her poodle, Lucius, who the staff routinely pretended wasn't there. Peter wasn't playing the game again—was he? Looking for people who were long gone? A fruitless exercise, he reminded himself severely. And cruel. And yet . . . The young woman in the death seat looked to be younger than forty, the age Masha would have been, and older than twenty—not by much, but enough.
Peter was about to make his way over and give the girl a special welcome to Masha's when there was the discreet stir at tables nearest the front door that meant Mr. Cronkite had arrived, that the hostess was taking his trench coat and leading him to his habitual table, the second banquette with its high red leather walls. Mr. Cronkite was alone, as he usually was when he dined at Masha's—en route from the CBS studio to his apartment on East Ninety-Fourth Street, on a night when his wife, Betty, wasn't there to share a meal with him. Peter held up one finger at Maurice, the waiter on Mr. Cronkite's station, to indicate he would bring the newscaster's bourbon over himself.
"How are you this evening, Mr. Cronkite?" he asked, setting the drink down—it always startled Peter, no matter how he thought he had grown used to it, to see how blue the man's eyes were, since on the television screen they appeared gray.
"Very well, and you, Mr. Rashkin?" said Mr. Cronkite.
"I can't complain," said Peter.
Mr. Cronkite favored Peter with the famous twinkle. "That makes you quite unlike much of our viewing audience," he said. "Tumultuous times, Mr. Rashkin. Tumultuous times. But we are no stranger to those, are we?" He toasted Peter with his highball glass. "A salute," he said.
"To your health," Peter responded. "May I bring you a menu? Or your favorite?"
"How could I pass up a Hamburger Walter?" said Mr. Cronkite, of the dish Peter had invented specially for him—ground chuck seasoned au poivre and cooked in brandy, with, as the menu said, No Vegetables At All. Mr. Cronkite gave Peter a wink. "One of the small sorry perks of bachelorhood, eh, Mr. Rashkin? Don't have to eat the peas."
"Indeed," said Peter. It was a little joke between them, the long and happily married Mr. Cronkite not being a bachelor and Peter being considered one of the city's more eligible—much to his dismay.
"I'll have Maurice bring that right out for you," he said to Mr. Cronkite and knocked a knuckle against the tablecloth in farewell.
Having ascertained that everything front of house was running exactly as it should, Peter headed toward the kitchen to supervise the plating of that evening's special, a Cornish hen served with horseradish mashed potatoes and cherries flambé—Peter had not been surprised that his customers loved food being set on fire tableside, since Americans tended to be pleased by potentially explosive things, but he had been startled to find how much he himself enjoyed it. He glanced again at the center table, the death seat. What was it about this young woman? Did she remind him of someone after all? Perhaps Twiggy; yes, with her close-cropped ashy blond hair, her almost skeletal slenderness, she did resemble the British model who sometimes came in with her entourage. This girl, too, was probably a model—her dinner, the warm Brussels sprout salad with Roquefort, was untouched. Perhaps Peter had seen her face in the subway, sliding past on a wall. The girl's dining companion had his arm around her now; he had hitched his chair closer, and as Peter watched, he offered her a sip of his Rusty Nail, holding his highball glass up toward the girl's mouth. Once again Peter considered going over, introducing himself, perhaps offering a complimentary dessert—but wasn't one suitor twice her age enough for the poor girl? She didn't need another. And Peter wasn't looking for entanglement. He stepped through the portholed door to his kitchen.
* * *
The kitchen at Masha's was tiny, not much bigger than a sailboat's galley, its cramped confines made all the more so by its inhabitants: Peter's sauté/grill chef, his prep chef, his sous-chef Lena, the dishwasher. In the early mornings, the pastry chef was sometimes there as well. Tonight the air was thick with the smells of poultry, fish, cabbage, potatoes, and the sounds of sizzling, running water, roaring ovens, the dishwasher churning, and the cooks yelling shorthand to each other—"Flounder up! Twelve needs potatoes. Eighty-six the chicken. Already? Fuck me." It was Peter's favorite place in the world. All his life he had felt safest in kitchens. He was the owner of Masha's, a restaurateur as well as a chef, yet it might have surprised his patrons and even some of his staff to know how hard it was for him to play the role—what an effort to circulate among the tables in his suit, making small talk. It was precisely because this didn't come easily to Peter that he was good at it; as his childhood speech tutor in Berlin had scolded him, Peter, you must project! He did—except now, instead of his voice, he amplified his personality. Still, it was a joy to him, the moment he looked forward to above all others, when he could exchange his suit for chef's whites and fall into the rhythm of chopping, sautéing, assembling, and sending food he had prepared, dishes he had created, out into the world.
So it was a surprise to Peter that tonight, as he hung his suit coat on the back of his office door, pulled on his white jacket, and took his usual spot next to Lena, he felt something was amiss. It was the light—the good overhead fluorescents, strong white bulbs in ceiling ice-cube-tray grids, seemed dim. Peter felt himself start to sweat. He blotted his forehead with a towel from the top of his stack and unrolled the satchel containing his knife. The prep chef had already set out Peter's mise en place; little bowls of shallots and parsley and garlic confit and lemon zest and kosher salt ringed his cutting board. But why was Peter having a hard time seeing them?
"Catch me up," he said to Lena.
"Twenty-two covers done," said Lena, breathing like a vacuum cleaner—she was a large lady, taller than Peter's six feet and wider than the stove; a refugee, like Peter, but from Leningrad. "Chicken is finished. Mushroom Burgundy kaput. Flounder is moving. Five hen left."
"Thanks," said Peter. "What's open?" he called.
"Eight tickets, boss!"
Peter squinted toward the slips of paper hanging from the magnetized rail. Was it his imagination, or was the room growing darker still?
"Lena," he started to say, "take charge, I'm not well—"
But she shouted over him, "Who fuck with fuse box? Is darker than Stalin's zhopa in here!" and Peter realized, with relief, that it wasn't just him—Lena was having trouble seeing too, and the rest of his staff were exclaiming perplexities in the coffee-colored air.
Lena turned on Rodrigo, the dishwasher. "I know you do this, toshchiy blyudok," she said. "I see you in storage closet earlier."
The dishwasher responded in rapid Spanish. Peter's English and German, even his Russian, were better than his Spanish, but after thirty years of kitchen work he knew Lena had called Rodrigo a skinny little bastard and the dishwasher had called her a sow.
"Lena," Peter said, "stop. Rodrigo, turn up your radio, please."
Everybody strained to listen except the sauté chef, who kept prodding and flipping now-invisible meat. Over a murmur from the dining room and the hiss of the grill, they could hear the battery-powered radio, tuned to 1010 WINS: "The electrical blackout is citywide, although the full scope has yet to be determined. Mayor Wagner has asked all New Yorkers to stay inside. The subways are not operational, but extra buses . . ."
"Somebody fuck with whole city's fuse box," said Lena, not without satisfaction. "Will be looting. Fires. Probably killings too."
"That will do, thank you," said Peter—although that had been his first instinct as well. He was all too familiar with what happened to civility when a city's lights went out.
He organized his thoughts, then issued a stream of orders. Get flashlights for the kitchen and extra candles for the dining room. Tell the headwaiter to lock the front door and open it only to let people leave—nobody in. The kitchen staff would close out their tickets and take no more orders. Peter would comp the patrons a round of drinks. To himself he added a footnote to give Mrs. Allison an extra meal in her doggie bag; that way, if the power remained out the next day, she would have something to eat. A waiter should escort her home, as well.
"And for God's sake open the walk-in as little as possible," he finished. "I'll go make an announcement."
He stepped to the door of the dining room again—tonight his patrons would have the unusual experience of seeing him in his whites. Many of them were gathered at the front window, peering out, trying to ascertain what was happening. The waiters and hostess were lighting extra candles on every table, setting the red-lacquered walls aglow and sparking the crystal chandelier to life. Mr. Cronkite, Peter saw, was gone—probably back to the newsroom, in case the power returned and CBS could address the crisis on air. The square-headed silver-haired man was still at the center table, scowling into his half-empty drink. But the young woman? Peter scanned the room, the knot of people at the window. She was nowhere to be seen.
He walked to the bar and tinked a spoon against a wineglass.
"Ladies and gentlemen," he said, "your attention please."
* * *
After everyone had left—after the patrons had been let out, old Mrs. Allison escorted by the headwaiter; after he had locked the night's receipts in the safe, to be gone over in the morning, when there was more light; after he had dismissed his staff—Peter poured himself a brandy and began his rounds. He did this every night after closing, ensuring that Masha's was secure; the only difference tonight was that he was using a flashlight. The beam was weak, after so much exercise in the kitchen earlier, but it was sufficient for Peter to sweep around the coat closet, the dining room, the kitchen, the walk-in refrigerator, his office, and the cellar—now even more dungeon-like without the illumination of the ceiling bulb. He checked the wine racks, the dry-storage bins and barrels, and the rat traps, thankful that the latter were empty. He made inventory notes in the little spiral-bound notepad he always carried in his back pocket: "onions, olive oil, paprika, matchbooks. New rubber mat for kitch." He went back upstairs, set his brandy down, and went to check the restrooms.
He had long since turned the radio off—he preferred silence, and if he hadn't thought the staff would mutiny, he would have banned music in the kitchen—but he was mindful of the news he'd heard earlier. Lena's predictions had been right: in addition to reports of long lines of people at phone booths, ferries, and buses, desperate to escape the stricken city, there were lootings and fires, some as close as Harlem. Since Masha's wasn't very far south, between Eighty-Ninth and Ninetieth Streets on Second Avenue, Peter wondered whether he should take extra precautions. Sleep in his office, perhaps. It wouldn't be the first time. In 1955, when Masha's opened, Peter had practically lived at the restaurant, returning to his apartment on East Ninety-Sixth Street only to shower and change clothes. He gave the men's room a scan and made a notation to order more paper towels—he'd ask Sol, his cousin and partner, whether they could try a cheaper service Peter had found in the Bronx or whether they had to keep using Sol's supplier. The flashlight went out.
Peter cursed. He knocked the metal cylinder against his palm, trying to jar the beam back on, but nothing happened. Peter navigated his way from the bathroom by touch, amazed as always by how walls, corners, doorways seemed to move once you couldn't see them. It was a lesson forgotten until now but familiar, learned during air raids, in basements, on U-Bahn platforms, in closets, and, of course, in the bunks. The smell of strangers' wool coats, unwashed hair, bodily secretions, breath—hunger in particular created a dead-mouse odor. The shuffling that might be feet, limbs shifting in very little space, or vermin. The unidentified movement inches from one's face. At least in the aboveground shelters there was usually some ambient light, a precious match lit to check a watch or tend a sick child, the outline of a night sky around a windowshade. But here in the hallway at Masha's, the lack of light reminded Peter of subterranean hideouts, of his narrow bed slot in Block 14 when the SS ordered the camp blacked out due to bombing raids. The dark in those cases assumed an unpleasant solidity, a gelid quality that made it impossible for Peter to see his palm when he touched his nose with it—assuming he was able to lift his arm from among the four other men to do so.
Peter sighed and felt along the hallway wall until he reached the dining room, where he groped for and lit a candle. He was drenched with perspiration beneath his chef's whites, his body crawling with it, a sensation he hated. He felt impatient with himself. It was all very well, even understandable, that the blackout had caused him to remember things he'd worked so hard to forget. That was how the body ticked, perhaps. But he had to exercise more control over his mind. He would not, could not, go back to the insanity he'd lived through right after he'd come to this country, when apropos of nothing—he could be applying butter to toast, petting a dog, walking through a park—time would suddenly seesaw and slide him back into Auschwitz. Or Theresienstadt. Or Berlin. He would not do it. He would not indulge these memories. "I refuse," said Peter to the dark.
As if in answer, there was a sound from back in the hallway, like the mewl of a cat. "Hello?" Peter called. The noise came again—myooou?—sounding as though it were coming from the ladies' room, which, Peter remembered now, he hadn't yet checked. It probably was a stray—he hoped. Sometimes the patrons or staff opened the window as far as it would go, three inches, and God knew what could have come in through the bars. Peter wouldn't put anything past this city. His neighbor at East Ninety-Sixth had once lifted the lid of his toilet to find a boa constrictor. And one morning Peter had come in before dawn to make stock and demi-glace only to find, waddling happily around the floor of his office, a skunk.
He lifted the candle and walked back down the hallway, feeling absurdly like the miser Peter had read about in his nighttime English-language classes, Ebenezer Scrooge. All he lacked was the nightgown and cap. "Hello?" he said again, opening the ladies' room door. "Is anybody here?" He shone the flame around the little pink-tiled room. It was flickering—the window was indeed open—but he didn't need its uncertain light to see the door to the second stall open and from it emerge, her hair rumpled and makeup mussed, the girl. The young woman from the center table.
* * *
Peter got her settled at the bar, gathering and lighting candles from nearby tables and pouring them both drinks—although he then realized the girl hadn't asked for one. She looked at it, sitting on the zinc bar amid a glittering semicircle of tea lights, which reflected in the mirror behind the liquor bottles and sent infinite glimmers into the dark.
"It's only brandy," said Peter. "I may pretend to wizardry in the kitchen, but I'm a poor bartender."
"As long as it's brown and strong," said the girl, "I don't mind what it is."
She tossed it back in a businesslike fashion and with a horselike huff. This accomplished, she banged the glass down and tapped its rim with a white-nailed finger.
"Hit me again," she said, and Peter did, taking a moment to translate the command. It had been a long time since he had stumbled over an idiom; this blackout had done something to him, uncoupled hard-earned language and opened unwelcome doors in his mind. He hoped the lights would come back on soon, though in a way that was irrelevant; it was disconcerting to discover how easily one's defenses were still undone.
This girl took her second brandy with more decorum, arcing her long neck down to the snifter in a way that put Peter in mind of a giraffe he had recently seen at a fund-raiser in the Central Park Zoo, delicately lipping leaves off a tree. Peter handed her his handkerchief.
"What's this for?" she asked. Peter pointed to his own face, smiling. The girl swung on her stool and confronted her reflection in the mirror.
"Oh God," she said and dipped Peter's handkerchief in her brandy to wipe her streaked makeup from her cheeks. She turned to him questioningly, and he nodded.
"You missed a spot, just there," he said and almost but not quite touched her left temple.
The girl leaned forward to take care of it. "Thank you," she said and started to pass Peter's handkerchief back. He shook his head, and her neck above her white fur collar mottled in a blush that could be embarrassment, or heat from the candles, or both.
"Oh, of course you wouldn't want it back this way," she said. "I'll have it dry-cleaned and sent to you."
"That won't be necessary," said Peter. You could return it yourself, he was about to say, when the girl let out a gusty sigh and ran her hands through her very short blond hair. Divested of her fashionable heavy makeup, she looked like a child—her lashes pale, her extraordinary high cheekbones lightly freckled—and, Peter thought, even more fetching this way.
"You must think I'm an awful baby," she said.
"Hardly," he said, "although you do appear quite young."
She smiled, the expression transforming her face with a sweetness that reminded Peter of everything American: sugary cereal, Crest toothpaste, fabric softener, milk.
"Go on," she said. "I'm twenty-five. Practically an old maid."
"An infant," said Peter. "If you stay out much longer, I shall have to call your governess."
Now she laughed and toasted him. "Cin cin."
"Prost," said Peter automatically. He winced and drained his brandy.
The girl watched him curiously over the rim of her snifter. "I'm sorry about all that hysteria in the ladies' room."
"I don't see why," said Peter. "If one must weep, the ladies' lounge seems the ideal place for it."
"I don't want you to think I'm a crybaby."
"Of course not," said Peter. "I'm sure you're usually tough as nails."
"I am," she agreed and finished off her drink. She pushed the glass toward Peter, who obligingly refilled it. "It was just a hell of a night."
"Your . . . gentleman friend?" Peter asked, hoping to be told he was a cousin—or uncle.
"No, it wasn't him," she said, and Peter was examining his feeling of deflation when she added, "He was a creep, but garden-variety. You know the type, the kind of guy who thinks just because he takes a girl out for drinks she owes him a roll in the hay. I wouldn't've even bothered with him—he was a blind date—but my friend Dominique said he was some bigwig producer with CBS, with contacts to Hollywood. Turns out he was just a lousy writer." She wrinkled her nose.
"I'm sorry to hear that," said Peter gravely. He wanted to laugh.
"Yes, well, around drink three or so he started putting the moves on me—he was a real smoothie, ol' Allen or Alfred or whatever his name was. First he did the yawn and stretch to drape his arm over my shoulder and cop a feel. Next thing you know he dropped his lighter and had to fish around under the table for it—and up my skirt. I swear he jammed his hand up there as if it were a cigarette machine or something."
"Good Lord," said Peter. "If I'd known, I would have done something about it."
"Would you?" The girl looked at him sideways, her first coquettish gesture of the night, Peter thought. "What would you have done?"
"There are plenty of cleavers back there," said Peter, indicating the kitchen. She laughed. "Or if you prefer a less dramatic solution, I could always have thrown the bum out."
The girl smiled. "I believe you would. You strike me as a perfect gentleman."
"Sadly, yes," said Peter. "So you were crying over this bum, Albert or Alfred? That hardly strikes me as being tough as nails."
"Oh, God, no," she said. "Not him. I did what I always do with creeps—told him I was going to the ladies' room, then stayed in there long enough so he'd leave. Only I must've had a highball too many, because I fell asleep—you know, you could use a chaise in there or something."
"I'll look into it."
"And when I woke up," she said, "everyone was gone and it was dark. As in pitch dark, as in I couldn't tell where the door was, as in I couldn't see my hand in front of my face. I dropped my lighter, and I couldn't find it, and I just . . ." She shrugged, which turned into a shudder. "Ugh, the dark," she said. "I've hated it since I was a little girl. My mom locked me in a rut cellar once and forgot me in there. She said it was for my own good, that there was a bad storm coming, and that it wasn't as long as I thought. But I know she forgot. And it was hours in that total darkness. Hours." She rubbed her arms, which were, like her legs, almost preternaturally long and white. "The dark still gives me the meemies."
"I know what you mean," said Peter.
"Do you?"
"I do."
The girl's eyes, wide and silver-blue, scanned Peter's face. "I believe you."
"I am unclear on one thing, however," said Peter. "What is a rut cellar?"
"What?" the girl said, then laughed. "Oh, sorry, root. 'Rut' is the way they say it where I come from."
"And where would that be? This place where mothers lock little girls in cellars?"
"Minnesota," the girl said. "Land of a Thousand Lakes."
"And rut cellars," said Peter, exaggerating the foreign word. He thought he knew what she meant now; his family's cook, Hilde, had kept a similar storeroom on the Charlottenburg estate where Peter had grown up, a dank underground space lined with hundreds of jars of rotkraut, Spargel—white asparagus—with dill, and pickles. The decades of preserves had been smashed in a single night's bombing, but they were the reason Peter still canned his own for Masha's.
The girl held out her empty snifter, and Peter replenished it and his. "To escaping the dark," he said, and they clinked glasses.
"Where are you from?" she said. "I'm guessing not the Bronx."
"I'm from long ago and far away," said Peter. The girl raised a half-moon eyebrow at him. He sighed. "Europe," he said.
"Not France, either. Are you from—"
"Germany."
The girl sat up a little straighter. "From before or after the war?"
"After. Just."
"I thought so. Your accent . . ."
"And here I thought I'd done such a good job erasing it."
"Oh, you have," she assured him. "It's very slight. But it's also something about the way you carry yourself. A little more formal."
"Like a headwaiter?" Peter said.
"Like the guy in that movie," she said, "you know the one . . ." She cast about, snapping her fingers in frustration. "The guy with all the kids and the whistle? You must know what I mean."
Peter shook his head.
"I think I've drunk more than I thought," she said. "Anyway. Do you ever . . . go back? Do you miss it?"
Only an American, thought Peter, and only a young American, could ask such a question. Did he miss Germany? Had they taught no history in her American school?
"I have not gone back," he said carefully, and then, "And you? Do you miss being in your land of lakes?"
To his astonishment, the girl's chin started to quiver, and then she began to cry. She unfurled one of her long arms down across the bar and dropped her head onto it and sobbed.
"No," she wept. "Not at all. Not—at—all! I got out of there as soon as I could—so I wouldn't turn into every other woman there. They all get married right out of high school, if they even finish, and by the time they're my age they have middle-aged spread and perms and six kids! I spent my whole life trying to avoid that!"
By which you mean your whole twenty-odd years, Peter thought. The girl's back heaved; she was so slender he could see the knobs of her spine through the white fabric of her dress, beneath its tracery of silver brocade. Her boy's haircut came to a tiny elfin comma on the nape of her neck. He reached his hand out to comfort her, then pulled it away.
"But here you are," he said reasonably. "Safe, all the way in New York."
She turned her face partially toward him, her cheeks and eyes swollen and streaming. "But that's just it," she cried, "I'm not safe at all. Now that Twiggy's here . . . ," and she released a fresh torrent of tears. "That's why they made me cut my hair like this," she said, yanking at it, "so I could compete with the British Invasion. It's not enough to be pretty anymore, or to show up early for every shoot, or to weigh ninety-nine pounds in your shoes—you have to be exotic, too. That's the new look! And I can't! I'm not! I can't compete with horrible scary Peggy Moffitt or beautiful Negresses like Donyale Luna. I had three bookings canceled this week. I'm going to get sent home to marry some farmer!" and she cried and cried.
Peter waited, and finally he did rest a palm on her back. He could feel the living warmth of it, and her vertebrae, too. She was so thin. He felt two things: first, exasperation that any woman should deliberately starve herself so, even for the sake of a career. He remembered, against his will, other women with equally short hair—though less artfully shorn—their bones protruding the same way; one, in the DP camp Peter had shared with her in Bremerhaven, died from eating a chocolate bar a well-meaning American soldier had given her too soon. How Peter should like to shake this girl, to remind her of what was important, to feed her crème brulée, foie gras, Brie en croute . . . Yet he admired her, too, for having the tenacity to leave her home at such a tender age and come to a hard city where she knew no one, to make her fortune; unlike Peter, she had done so by choice rather than necessity. If it had been a long time since Peter had touched a woman, aside from bumping elbows in the kitchen or a hasty coupling with a stranger no more meaningful than a sneeze and just as imperative, so too had it been ages since Peter had encountered any woman with an ambition beyond securing a handsome and well-situated husband.
I will someday be the first female chef in Berlin, in my very own restaurant, said a voice in his head. Oh, Petel, do you think it's possible?
Peter took his hand off the girl. It was slightly damp.
"Now listen here," he said. "I have met this Twiggy, and she is a fire in the pan, believe me. She won't last more than a few months."
The girl turned her face sideways and blinked. "Oh, you mean a flash in the pan."
"Yes, that's it. She is merely a trend, whereas you, your looks are timeless."
"You're too sweet," the girl said automatically. Slowly she sat up, wiping her face with the heels of her palms. "You've really met Twiggy? Wh-where?" she hiccupped.
"Why, here, of course. She and her friends descend on Masha's like a plague of locusts, order everything on the menu, and eat nothing of it. A colossal waste of food. Right before closing time as well."
The girl laughed. "Of course she wouldn't eat anything. She cuh-can't," she hiccoughed. "Occupational huh-hazard."
"She is quite louche," Peter said firmly. "You have nothing to fear from her." He held out his hand. "Don't talk for a moment. Stay still."
He ran a glass of water behind the bar, shook out a napkin over it like a magician performing a trick, and pushed it toward her. "Drink it," he said. "All of it. Through the cloth."
"Whu—"
"Please," he said, and the girl drank, watching him over the glass. Her long lovely throat worked above her fur collar. When she was done, Peter applauded.
"There, you see?" he said.
"No—," she said, then put a hand to her throat. "Oh, I do! They're gone. The hiccups. How did you know to do that?"
"My . . . somebody I knew long ago taught me," said Peter.
"Well, thank whoever it was for me," said the girl. "It's a neat trick."
She looked at her watch and slid from her stool. "It's so late," she said. "I have an eight o'clock booking. I really have to go."
She had made it almost all the way to the door before Peter, startled by her abrupt exodus, recovered himself and caught up with her.
"Wait," he said. "You can't leave."
She gave him a suspicious look. Although Peter stood six feet in his socks, her eyes were almost level with his. "And why not?"
"Your coat," he said.
She laughed. "Oh. Right."
Peter retrieved her jacket, the only one left in the cloakroom; it was a collection of blond fur that looked like a litter of stitched-together Pomeranians. He stood behind her as she slipped her arms into it; the garment was longer than her minidress, so once she had fastened it, it looked as though she were wearing only the coat and high boots. The illusion was bewitching, impossible to look away from. The girl stood by the door, waiting.
Peter felt in his pocket for his handkerchief, but the girl had left it on the bar. He reached past her to unfasten the lock; she smelled of cigarettes and Chanel No. 5 and, beneath those, something like fresh salted butter. Her carefully contrived sideburns came to little points in front of each ear.
"I don't think I can let you go," he said.
"Excuse me?"
"Not by yourself," Peter clarified. "I don't want to alarm you, but the news was full of warnings earlier—lootings, possible assaults. It's not safe for you to be out in the blackout by yourself."
"I'll be fine."
"I insist."
She turned fully, and Peter felt her breath, warm and brandy-scented, on his face. "You wouldn't be trying to put the make on a girl, would you?"
"Certainly not," said Peter. "Perhaps a little."
She grinned.
"I'll wait," she said.
She stood demurely while Peter extinguished the candles and got his own overcoat and ring of keys—he could return early to deal with the mess on the bar. He took her furry arm, and they stepped out onto the sidewalk together. Peter realized with surprise that he could see her without artificial light: although every shop and storefront along Second Avenue was as dark as Masha's, there was a full moon floating over the stricken city, a huge white thing like a prop from a Broadway musical.
Peter pulled the metal grate down over Masha's and locked it. "Now then, how shall we get you home?"
"I'll get a cab."
"I don't think so," said Peter. The longer they stood outside, the stranger the night became: there were no cars on the street, no taxis or buses or bicycles or beggars, the only movement a band of pedestrians hurrying northward carrying candles, like pilgrims. The November air smelled of cold, subway soot, and—faintly, from Harlem—fires.
"I'll walk you," Peter offered.
The girl laughed. "Don't be silly. I live all the way down in the Village."
"Even so."
"No way," she said. "I can't let you do that."
"Let me escort you to the St. Regis, then. There will be taxis there."
"All right," she said. "Or how about the Plaza? I'll get a horse and carriage!"
"Now you're talking," said Peter.
He offered her his arm again, but just then a taxi did come around the corner, a Checker cab with, like everything else in the city, its lights off. The girl jumped into the street nonetheless and windmilled her arms, a movement that caused her dress and coat to ride up and expose garters and a flash of panties that looked lavender. The cab screeched to a stop.
Peter held the door for her as she folded herself in. She grinned up at him. "Thank you again for everything."
"What's your name?" he asked.
"June. June Bouquet."
"Aw, come on," said the cabbie from the depths of the front seat.
"What?" said June Bouquet indignantly. "It's true! It's pronounced 'Bucket' where I come from."
"It suits you," said Peter. "June Bouquet. Lovely as spring."
He tapped the roof of the cab, and it slid away. Peter stayed where he was, watching until it turned a corner. He was struck by a number of peculiarities: the stillness, the blackened buildings standing silent like the surviving walls of air raids; the lack of streetlights, color, people, and noise; the enormous full moon. June herself, a bouquet of contradictions. Charming and fey, brash and fearful, young and ambitious, a model who drank like a sailor. Could that possibly be her real name? Had she been fibbing to Peter; was it a professional sobriquet? It didn't matter. The oddest thing of all about this night was that for the first time in a long time, much further back than he allowed himself to remember, Peter felt regretful about having let someone go.
Essay
The Lost Family is a novel about a German-Jewish Auschwitz survivor named Peter Rashkin, who emigrates to New York, starts a restaurant, and falls in love—only to find his new American family haunted by the wife and daughters he lost during the war. Really, Peter is like Ferdinand the bull, except instead of wanting to smell the flowers, all he wants to do is cook. He was training as a chef in Berlin when the Nazis came to power; in America, being in his kitchen at Masha's, his 1965 Manhattan restaurant named after his lost wife, is his happy place.
The menus in The Lost Family are a fusion of 1965-era favorites and German-Jewish comfort food, Peter and Masha's favorite childhood dishes: Masha's "Little Clouds" (cream puffs with chocolate fondue), Brisket Wellington, Chicken Kiev, and my favorite, Masha Torte—an inside-out German chocolate cake with cherries flambé. There's also a Hamburger Walter, invented for news anchor Walter Cronkite when dining at Masha's, served au Poivre with No Vegetables At All (my dad was a news writer for CBS and he told me this was how Walter liked his hamburgers).
I love food, and I had a joyous time creating and kitchen-testing all the recipes for Masha's menus in The Lost Family (there are two, spring and fall). I relied on my German friend Christiane's mother's recipes, my childhood memories of my Jewish grandmother's dishes, the Mad Men Cookbook and similar cookbooks from the 1960s, and ingredients from my garden. I worked in food service for many years as a waitress and a prep chef to subsidize my expensive writing habit, but I'm not a chef, so there were some notable cataclysms, for instance throwing ice cubes into the oven to create crispy baguettes for Peter's crostini (explosions) and dropping an entire Masha Torte on the floor (flaming explosion; we ate it anyway, and it was good!).
Yet part of me has always wanted to be a restaurateur. When I was a child I had a restaurant in my basement called Faster in which I held my parents hostage. For The Lost Family my fiancé and black lab were my taste testers, but they were much more willing than my parents and gladly ate all the recipes. The lusciousness of food, its importance as art form, comfort and sustenance, runs throughout the novel like the marbling of fat in a good steak. I hope you enjoy it, and the story of the Fabulous Rashkins, as Peter calls himself and his daughter when he's teaching her to cook, as well.