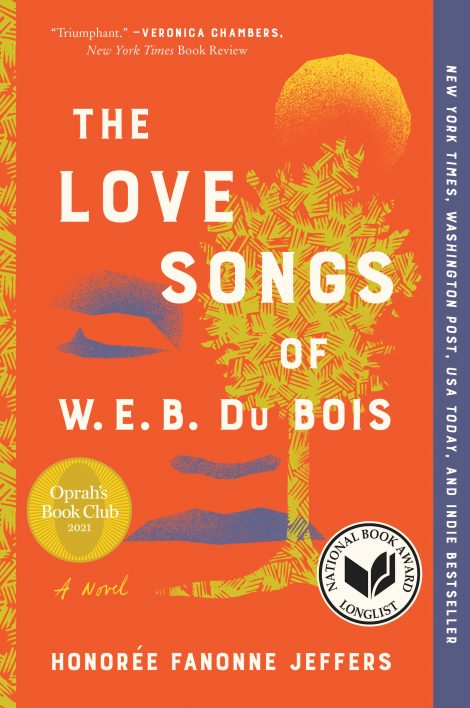 THE LOVE SONGS OF W.E.B. DU BOIS
---
The 2020 NAACP Image Award-winning poet makes her fiction debut with this National Book Award-longlisted, magisterial epic—an intimate yet sweeping novel with all the luminescence and force of Homegoing; Sing, Unburied, Sing; and The Water Dancer—that chronicles the journey of one American family, from the centuries of the colonial slave trade through the Civil War to our own tumultuous era.
The great scholar, W. E. B. Du Bois, once wrote about the Problem of race in America, and what he called "Double Consciousness," a sensitivity that every African American possesses in order to survive.
The 2020 NAACP Image Award-winning poet makes her fiction debut with this National Book Award-longlisted, magisterial epic—an intimate yet sweeping novel with all the luminescence and force of Homegoing; Sing, Unburied, Sing; and The Water Dancer—that chronicles the journey of one American family, from the centuries of the colonial slave trade through the Civil War to our own tumultuous era.
The great scholar, W. E. B. Du Bois, once wrote about the Problem of race in America, and what he called "Double Consciousness," a sensitivity that every African American possesses in order to survive. Since childhood, Ailey Pearl Garfield has understood Du Bois's words all too well. Bearing the names of two formidable Black Americans—the revered choreographer Alvin Ailey and her great grandmother Pearl, the descendant of enslaved Georgians and tenant farmers—Ailey carries Du Bois's Problem on her shoulders.
Ailey is reared in the north in the City but spends summers in the small Georgia town of Chicasetta, where her mother's family has lived since their ancestors arrived from Africa in bondage. From an early age, Ailey fights a battle for belonging that's made all the more difficult by a hovering trauma, as well as the whispers of women—her mother, Belle, her sister, Lydia, and a maternal line reaching back two centuries—that urge Ailey to succeed in their stead.
To come to terms with her own identity, Ailey embarks on a journey through her family's past, uncovering the shocking tales of generations of ancestors—Indigenous, Black, and white—in the deep South. In doing so Ailey must learn to embrace her full heritage, a legacy of oppression and resistance, bondage and independence, cruelty and resilience that is the story—and the song—of America itself.
Harper Perennial
Paperback
May 2022
816 Pages
9780062942951
Praise
INSTANT NEW YORK TIMES BESTSELLER
ONE OF BARACK OBAMA'S FAVORITE BOOKS OF 2021
AN OPRAH BOOK CLUB SELECTION
WINNER OF THE NATIONAL BOOK CRITICS CIRCLE AWARD FOR FICTION
FINALIST FOR THE PEN/HEMINGWAY AWARD FOR DEBUT NOVEL • LONGLISTED FOR THE NATIONAL BOOK AWARD FOR FICTION • A FINALIST FOR THE KIRKUS PRIZE FOR FICTION • SHORTLISTED FOR THE CENTER FOR FICTION FIRST NOVEL PRIZE • LONGLISTED FOR THE ASPEN WORDS LITERARY PRIZE • A NOMINEE FOR THE NAACP IMAGE AWARD
A New York Times 10 Best Books of the Year • A Time Must-Read Book of the Year • A Washington Post 10 Best Books of the Year • A Oprah Daily Top 20 Books of the Year • A People 10 Best Books of the Year • A Boston Globe Best Book of the Year • A BookPage Best Fiction Book of the Year • A Booklist 10 Best First Novels of the Year • A Kirkus 100 Best Novels of the Year • An Atlanta Journal-Constitution 10 Best Southern Books of the Year • A Parade Pick • A Chicago Public Library Top 10 Best Books of the Year • A KCRW Top 10 Books of the Year
"Epic…. I was just enraptured by the lineage and the story of this modern African-American family…. A combination of historical and modern story—I've never read anything quite like it. It just consumed me." —Oprah Winfrey, Oprah Book Club Pick
"Whatever must be said to get you to heft this daunting debut novel by Honorée Fanonne Jeffers, I'll say, because The Love Songs of W.E.B. Du Bois is the kind of book that comes around only once a decade. Yes, at roughly 800 pages, it is, indeed, a mountain to climb, but the journey is engrossing, and the view from the summit will transform your understanding of America. . . . With the depth of its intelligence and the breadth of its vision, The Love Songs of W.E.B. Du Bois is simply magnificent."—Ron Charles, Washington Post
"The Love Songs of W.E.B. Du Boisis epic in its scope. [It] traces the story of a family, the town in Georgia where they come from, and their migration outward over generations. The word epic is overused these days, but this book was meant to be an epic and it is. . . . This is one of the most American books I have ever read. It's a book about the United States. It's a book about the legacy of slavery in this country. . . . And it's also a book about traumas and loves that sustain over generations."—Noel King, NPR
"This sweeping, brilliant and beautiful narrative is at once a love song to Black girlhood, family, history, joy, pain . . . and so much more. In Jeffers's deft hands, the story of race and love in America becomes the great American novel."—Jacqueline Woodson, author of Red at the Bone and Another Brooklyn
Discussion Questions
1. The life and legacy of W.E.B Du Bois plays a central role in this novel, from the title, to the quotations at the start of each section, to the many conversations Uncle Root, Ailey, and others have about the great scholar. What was Uncle Root trying to teach Ailey through his many musings on Du Bois? What is the author trying to communicate to readers through the inclusion of Du Bois's words and history in the novel?
2. What role does colorism play in the book, both for Ailey and for the members of her family across generations? How does Ailey experience colorism in her family, in her personal and romantic setting, throughout her academic career?
3. Chicasetta, Georgia is a key location in Ailey's present-day story and in the "sorrow songs" of her maternal ancestors, who were once enslaved on the land their descendants now inhabit. What do you make of Chicasetta and the hallowed landmarks there: the Mound and Red Mound Church, Uncle Root's pecan tree, and the former Pinchard planation? What role do these places play in Ailey's understanding of her family's history and of her own place in the world?
4. Discuss the role education plays in the novel, particularly for Uncle Root and Ailey. How does Ailey's family history of education affect her own educational direction? How does her relationship to education inform her relationships with her family and her peers?
5. How do Ailey's experiences differ as she moves between predominantly white institutions like Braithwaite and North Carolina Regents University and Historically Black Colleges and Universities like Routledge? How does she feel she is perceived in these different institutions? How does she view herself with regard to these institutions and how do those perceptions change over the course of the novel?
6. As we follow Ailey's story, we also learn the stories of her Black and Indigenous ancestors in what would become Chicasetta. How do these ancestral experiences of oppression and resistance, bondage and independence, cruelty and resilience come to bear on Ailey's life? How do they inform the lives of the older generations in Ailey's family like Uncle Root, Dear Pearl, and Belle?
7. When Ailey and Dr. Oludara visit Moss Road Plantation, the caretaker glosses over the brutal history of the place and focuses instead on its architectural history. Throughout the novel, Ailey encounters many historical and family truths that are misrepresented or rewritten entirely. Recall some of these instances. What was the purpose of the lie? Who did it benefit? Who did it hurt?
Excerpt
I
If a man die shall he live again? We do not know. But this we do know, that our children's children live forever and grow and develop toward perfection as they are trained. All human problems, then, center in the Immortal Child and his education is the problem of problems. And first for illustration of what I would say may I not take for example, out of many millions, the life of one dark child.
—W. E. B. Du Bois, Darkwater: Voices from Within the Veil
Dream and Fracture
I'm three going on four, and there's a voice. Like that song my mama sings sometimes.
Hush, hush
Somebody's calling my name
But it's not my mama calling me. It's Lydia, my big sister. She's the one calling and I love her very much.
"Ailey, baby, it's time to get up. Come on now. We're going to Chicasetta today. Don't you remember?"
Her voice pulls on me, but somebody else holds on. Somebody's calling my name. It's the long-haired lady. I love her very much, but I don't know what she's saying. She's rocking me in another place. She's singing to me, but I don't know the words, and the long-haired lady tells me pee-pee. Go 'head, right now. Let it go.
But I don't want to. I don't want to pee-pee 'cause it's gone be a yellow wet spot in my bed and Lydia's gone feel sorry for me. She's gone say, "Oh, it's all right, baby sister. I'm not mad." But I don't want nobody to feel sorry for me. I want to be a big girl, but I can't hold it and the wet spot's here and I'm awake and the long-haired lady's gone.
* * *
I'm four going on five, and I'm riding in the brown station wagon. Mama's got her hands on the round thing, and we're going and going. I'm screaming for Daddy. Where is he? Lydia's touching my head, rubbing.
"Don't cry, baby," she says. "We had to leave him home. He has to work at the hospital to make money for us. Remember what I told you?"
But I don't remember.
Coco's in the back with all her books. She's nine already. Lydia's eleven going on twelve, but Coco's in the same grade. She's smarter than everybody, but Mama says she loves all her girls the same. And we are going and going, and I'm screaming, and Coco's pulling at my braid.
Mama turns that round thing and we're on the side of the road. We ain't going no more and the cars go by and make the station wagon shake.
She says, "Coco, give me that paper sack." She pulls out a chicken leg and I'm hungry. I reach for the chicken and Mama pulls back. "Are you going to be a good little girl?"
And I say yes, and she gives me the chicken and I eat it, and I love her very much, even though she yells sometimes. Then we are going and going for a long, long time. There's a long dirt road and there's a house and a bunch of people on a porch. A bunch of grown-ups and everybody stands and waves except for an old, white lady sitting in her chair, and I say, "Why's that white lady there? Is that Aunt Diane's mama?"
And Lydia tells me, "No, baby. We left Auntie at home. That's Dear Pearl, she's our great-grandmother, and she's only light skinned. Please don't hurt her feelings."
Mama's getting out the car and everybody here knows everybody, but I don't know nobody and I'm real, real mad. Then a man with white hair comes down into the driveway, and he looks white, too, but I remember what Lydia told me. I don't want to hurt his feelings.
I say, "Are you a Black man?"
Mama says, "You should remember him, Ailey, you're a big girl now."
The man says, "All right, now, give the child some time."
I say, "My name's Ailey Pearl Garfield. My mother's Mrs. Maybelle Lee Garfield and my father's Dr. Geoffrey Louis Garfield."
The man says, "My goodness! That's a lot of information."
He has eyes with all kinds of colors. Real strange eyes, but I think I remember him.
I say, "Is your name Uncle Root?"
He says, "What a brilliant child!"
He picks me up, and he holds me, and I feel safe, and I love him very much.
* * *
I'm six going on seven in the big kitchen in Chicasetta. I know everybody now. I know my granny's Miss Rose and she lives in one house. Her sister's Aunt Pauline and she lives in another house. Their brother's Uncle Huck, but he only comes out of his house once a week. He has a boyfriend that he kisses on the mouth, but I'm not supposed to know that. I know their mama is Dear Pearl and her brother is Uncle Root. I know my mama's brother is Uncle Norman. All the grown folks can tell me what to do, even if I don't want to listen.
It must be a Saturday or maybe a Sunday, because Baybay and Boukie ain't here. Aren't. They come during the week and play with me. Baybay's mama drops them off and we run and we play, but they don't talk proper. And my mama says I have to talk better, but sometimes I forget. In the kitchen my granny is putting biscuits and grits and sausage on a plate, and Mama tells her that's too much food. I'm already chubby.
Miss Rose says, "You leave this baby alone and let her eat in peace." She pours coffee for Mama, but my sisters and me can't have no coffee. Any coffee. We have hot chocolate.
Coco says, "Actually, there are stimulants in chocolate as well, similar to caffeine in the coffee."
Mama says, "Stop talking back to grown folks. Just be grateful for the plentiful food on this table and the hands that have prepared it."
It's time for the grocery store, 'cause Mama ain't gone eat folks out of house and home. Isn't. But Coco don't want to go to town. Doesn't. She wants to stay with Miss Rose to help make preserves. She promises she will be well behaved and try not to be rude.
Then, we are in the station wagon, I'm sitting between Lydia and Mama. I'm full of breakfast, and my mama and sister smell real good, like grown ladies do. I'm happy listening to the radio, but then that white lady sees us at the Pig Pen. She don't know that Lydia is with us. Doesn't.
Lydia don't look like none of us. Doesn't. Daddy's got brown eyes, but he looks like a white man. Mama's dark like chocolate and little and pretty. She makes her hair straight with a hot comb and blue grease. I'm dark, too, but not like Mama. I got red in my skin underneath the brown like my granny. Coco's eyes and skin match, like caramel candy. Her nose is wide like Mama's, and she's real short, too. Her hair's like Mama's, and it grows real long. Lydia's hair is long, too, but won't hold a curl. But in the back of her head, she's got a kitchen. It grows in curls like mine. That's how you can tell that she's a Black girl. She's got a gap in her teeth like Mama's too. Her skin is light but not like Daddy's. She looks like she went out in the sun and stayed a long time and got a tan. But Mama says Black folks don't get tans. We already got some color. And Mama don't care if folks are ignorant about her children. Doesn't. She carried all of us in her belly and we belong to her and we should love her very much.
It's cold in the store. When Mama pushes the cart up the aisle, the white lady waves at us. Mama waves back and says good morning, and the lady and her cart come our way. She's old like my granny and has a pink shirt and a jean skirt. Her brown shoes are ugly. I don't like those shoes.
The white lady says, "You are so good with children."
Mama says, "Thank you, ma'am. I try my best with these two. There's another one at home."
"How long have you been in service?"
"Ma'am?"
The lady touches Lydia's shoulder. "This one won't need a nanny soon, and my daughter has a little boy who'd just love you. Let me give you her number. She'll pay well." The white lady puts her hand in her purse and pulls out a pencil. She puts her hand in again and has a smooshed piece of paper, and Mama frowns, but then she smiles. She says Lydia is her daughter. They have the same teeth, but Lydia is getting braces next year.
"Gal, you're funning me!" The white lady shakes her finger close to my mother's face, and I say, "Ooh," 'cause you ain't never supposed to put your hand in somebody's face. Aren't.
Mama steps back. She's still smiling.
"I promise I'm telling the truth. This is my daughter, and I ought to know. I was there for the labor, all seventeen hours of it."
The lady points her finger at my sister. "Are you telling me this here is a colored child?"
Then Lydia starts singing our favorite song about how she's Black and proud. I start dancing, shaking my booty. Mama tries to grab my hand, but I run behind Lydia. The white lady turns pink. Then she pushes her cart away.
Lydia says, "I'm Black."
Mama says, "Don't you think I know that? And who're you talking to? You know better than to cause a scene in public!"
Mama walks away, and Lydia pushes the cart and puts our groceries back on the shelves. The bacon and the cereal and the mushy, light bread. At the checkout, she buys me a candy bar and says she'll hide it for me so Mama can't see, but in the parking lot the station wagon is gone.
Lydia holds my hand and we wait for Mama. We wait and wait, and then Lydia says we're going for a walk. My legs start hurting, and Lydia kneels and tells me climb on her back. She starts walking again. There is a house, and I think I remember this place. The red flowers. The bird in the tree: coo-coo, coo-coo. I climb off Lydia's back, but before we knock Uncle Root opens the door.
"Young lady, before you start, my name is Bennett, and I'm not in this mess. This is supposed to be my summer vacation, so I'm not getting in the middle of this. And I told your mama the same when she called and woke me from my very enjoyable nap. Come on."
We follow him through the living room and into the kitchen. Lydia sits in a chair and pulls me onto her lap. She puts her chin on top of my head, but her lap is too skinny. Her bones hurt my booty.
Uncle Root picks up the phone on the wall. "Hello? Miss Rose, I have your grandbabies." He waits and there's squawking.
"Say she's still mad, huh? This one over here is 'bout a wet hen, too. Well, what did Maybelle Lee expect? Children don't have any sense. Did she think they'd just wait at the store while she drove around? She should know better. If this was Atlanta, no telling who'd have these girls."
More squawking, and he makes a silly face. "All right, Miss Rose. Okay. All right. That's fine." He hangs up and tells us our granny says we should spend the night in his guest room.
Lydia says, "That sounds fine."
I say, "Yeah, that sounds fine."
"But first, young ladies, let's ride over to the Cluck-Cluck Hut. Get us some chicken and biscuits and French fries. Matter of fact, let's stop back by the Pig Pen for some ice cream. I got a pie in the freezer and we're about to have us a party. Power to the people!"
He raises his fist.
I say, "Ooh wee!"
Before it's time for bed, Lydia asks Uncle Root for another sheet to put underneath me. I'm scared she'll tell him what I told her about the long-haired lady, but Lydia don't say nothing. Doesn't. That night, the long-haired lady comes to my dream, but she only sits with me. In the morning there's no yellow stain. Lydia tells me that's what she's talking 'bout. Two nights in a row with no wetting the bed. Who's a big girl?
And I say, "I am!"
"Give me some skin, big girl!" I hit her hand hard and she turns her palm down: "Now, on the Black hand side!"
For breakfast, Uncle Root makes us cheese and eggs and pancakes topped with butter and syrup. He says he knows how to feed some hungry children. Don't play him cheap.
Then we are going and going in his long car back to the country. At the driveway, we all climb out of the car, but Uncle Root tells me to stay with him. Let my sister go first. The screen door opens, and Mama comes out to the porch and down the steps. My sister runs to her. She's crying, and Mama hugs her and rocks her side to side.
Lydia says, "I'm sorry."
Mama says, "It's all right, darling. It's okay."
* * *
I'm nine already, because my birthday was a week ago. I'm looking for Lydia to walk to the creek with me. It's Friday afternoon. Baybay James's mama came and got him and Boukie Crawford, and I'm bored. If my big sister comes with me to the creek, she'll break off pieces of the sugarcane and give that to me to suck until the juice runs out. But when I call her name, Lydia doesn't answer.
I run to Coco on the front steps. "Come on! Let's go to the creek! Let's go!"
"You sure are full of energy. You need to settle down."
Coco fusses like an old lady and looks like one, too. Her hair's braided and wrapped into two buns. She climbs up from the steps and calls through the screen door, asking can we walk to the creek?
A voice comes back. "You taking the baby?"
"Yes, Mama, I got her."
"All right, then. Y'all be careful."
Coco takes a long stick from the pile by the side of the house. There're blackberry bushes on the way to the creek, and the stick'll protect us from snakes. Then she decides which way. We can walk north, but then we'd hit the soybeans that Uncle Norman's planted. After that, there's a forest with trees and shadows, like in a fairy tale. That scares me, so we take the longer way, walking east through the peach trees until we come to the dirt road.
Now we have to choose again. If we take one direction we'll walk out to the highway, but that's not allowed. If we walk the other direction, we'll go past the burned-down plantation house and the old general store. That road will end at our family church, Red Mound. So we have to turn west again: that's the way to the creek. There, we see a light-green pickup truck parked on the grass, and Lydia on a blanket on the ground. Her long hair's out of her plaits. Her shirt and bra are off, and I see her breasts. There's a man standing over her. A grown man. Tony Crawford, Boukie's cousin. Tony goes to our church, and he is naked, and he's stroking his long, long penis.
Coco slaps her hand over my mouth and drags me by my hand back to the main road. She starts running, as I try to keep up. Slow down, I beg her. My legs are tired. She doesn't stop until the plantation house. I breathe fast, my hands on my knees.
"Coco, why was Lydia naked? And that man Tony, too?"
She sighs and stays quiet for a while.
"Okay, like, she was hot, Ailey. It's really hot today—and—and—that's why she had her shirt off. And—and—the man—he was trying to compete with Lydia. It was a game, okay? Just a game to see who could pee the farthest. And—and—boys urinate standing up instead of sitting down. With their penis. That's what that thing was."
"I know that. I've seen a penis before, lots of times. I saw Gandee's in the bathtub. He made me touch it, and it stood up like Tony's."
She socks my shoulder.
"Ow, stop, Coco! You're heavy-handed!"
"Don't you ever say that again about Gandee. Do you hear me? Ever, to anybody. It would hurt Mama's feelings real, real bad. She would cry all the time and wouldn't stop. And you don't want that, do you? Pinky swear?"
I think about that awhile. I like to think now. I don't like people pushing me around.
"What about Lydia? Would her feelings be hurt, too?"
"Definitely." Coco sticks out a short finger and I hook mine to hers and I swear I never will say a thing. On the walk back to the house, she starts talking to herself. She's like an old lady again, only she curses under her breath. She says she's glad that Gandee's dead. She damned sure is. That low-down motherfucker. That nasty asshole.
Lydia's gone at dinnertime, and Mama walks through the house, out the door, and into the field that Miss Rose says is her front yard. Mama calls my sister's name. She asks Coco and me, do we know where our sister has gone? No, ma'am, we say, but then it's dark. There are no streetlamps out in the country, only june bugs. She starts calling people on the phone, and Uncle Root and Uncle Norman and Aunt Pauline come to the house. Aunt Pauline sits with my mama on the plastic-covered sofa and reads out loud from her Bible about the Lord is her shepherd, and she shall not want, but my mama's still upset.
Then she calls my name and kneels down in front of me. She asks again, had I seen Lydia?
"Tell me, baby," Mama says. "It'll be all right. I won't be mad at you."
When she begins to cry, I tell her about what I saw at the creek, but I don't tell about Gandee, so maybe my pinky swear wasn't broken. Coco's mad at me. I can tell. She stares at me hard.
Mama tells me what a good girl I am, then she calls the sheriff's office, though my granny begs her not to. No telling what the law would do to a colored man, once they get hold of him, but Mama doesn't care. She calls anyway, but the sheriff says she needs to call back the next day. He couldn't do anything until Lydia's been missing for twenty-four hours.
Uncle Root starts calling Black folks in town, asking them about my sister. He tells them she's very light-skinned with long hair in two braids to her waist. She's tall, too, but she hasn't yet filled out, so she looks her age, which is fifteen going on sixteen. And have they seen her with Tony Crawford?
I'm not hungry at breakfast, and neither is Coco. We sit on the front steps of the porch and that's how we see Lydia in the passenger side of Tony's truck. Lydia opens the door, but Tony must have said something, because she stops before she kisses him on the mouth. That's what Mama sees when she comes out of the house, before Tony drives away. She yells down from the porch to Lydia. She tells her she better not move. My big sister stands, shaking, and Mama runs out to the field, through the peach trees. She comes back with a switch, and Lydia starts screaming.
The screen door slams, and my granny walks onto the porch.
"Wait a minute now, Belle. Let the child explain."
"What explanation? That nigger kissed her!"
The screen door slams again. This time, it's Uncle Root.
"Maybelle Lee. Don't do this, beloved. Please don't. This isn't like you."
But Mama starts stripping the leaves off the switch, and my big sister is screaming even louder.
"Cry all you want! Go ahead! But you're going to get this whipping. And let me tell you why. You're getting whipped because you scared the shit out of me. I was wondering where you were and whether you were alive or dead! My fifteen-year-old child . . ." Mama shakes the branch in my sister's direction. Tears leak from her eyes, but she doesn't wipe them away. ". . . and your granny didn't even want me to call the police! Said if I did, Tony Crawford might end up killed, because that's the way they do Black men in this town. But when I called the sheriff anyway, he told me fast girls run away all the time. That's what he called you! A fast girl! He didn't even care about you, because you were somebody's Black daughter. So I started to pray. That's all I could do, Lydia. Pray that nigger wouldn't kill my child. That she would come back home."
I'm standing in front of the porch and crying, and Coco's on the step behind me. She hugs me around the shoulders. Mama drops the peach branch and falls to the ground. She starts to holler like at church. To wave her hands like when the Spirit comes around, only Mama doesn't sound happy. She doesn't sound blessed by God, and Uncle Root runs down the steps and pulls her into his arms. He tells her not to cry. Please don't cry, beloved, but Lydia doesn't move from her place in the yard. And my sister's still screaming.
At church on Sunday, I sit between Coco and my granny. On the other side, there's Uncle Norman. Nobody else from our family is there. Nobody's been talking much since my sister came home. I feel bad this morning, so I wore a dress that Lydia made for me. I twirled in my dress to make her smile, but she didn't say anything and I hope she's not mad at me for tattling.
Before the sermon, Mr. J.W. leads us in a song. He's the head deacon, and he gives one line and then we give it back. But Mr. J.W. has a very bad voice, and even though I'm sad about my sister, I want to laugh. I cover my mouth, because I don't want to get in trouble.
Elder Beasley stands up from his chair. He goes to the lectern and flips through his Bible.
"The text that I take this morning comes from Genesis, chapter four, verses one through thirteen. Y'all got that?"
I have my own Bible. It's white leatherette. My granny gave it to me for my birthday, and I find the pages because I read really well. I'm proud of myself and I put my Bible on my lap and pretend I'm a grown lady. I wave at the air with the cardboard fan that has the picture of the blond Jesus and the lambs.
Elder Beasley reads to us about the story of Cain and Abel. How Adam knew his wife and then she conceived, and when Cain and Abel grew up, Cain killed his brother.
"Cain is a murderer, ain't he? There ain't no doubt about that. He is a low-down, nefarious criminal! He killed his own brother because he was jealous. He didn't have faith enough to say, all right, now, God has not seen fit to praise him. That's done made him mad, but he didn't say that, maybe, he needed to pray and ask, 'Lord, what do you want from me? Forget about my brother. What is it I can do? How can I get that favor you bestowed upon Abel? Am I doing something wrong? Help me, Lord. Give me just a little sign.' But, y'all, Cain didn't do none of that. No, he had to act a fool and take and kill his brother, and then he received his punishment.
"Some of y'all sitting up in here, you done had hard times. You struggling. You got bills to pay and no money. Some of y'all's children, they done fell in love with the world and they have disappointed their people. Some of y'all are raising grandkids that those children done left you with. I ain't calling no names. We don't need to do all that. I'm just telling you I know what you going through. That's what a pastor is for, but I'm not only your pastor. I'm your brother in Christ—"
The door to the church creaks open. Tony Crawford and his mama walk up the center aisle. When they pass me, I see his face swollen red and purple. One eye is closed, and Tony walks like he's real tired. Everybody in the church starts whispering, but Elder Beasley tells us, Amen, let us pray.
* * *