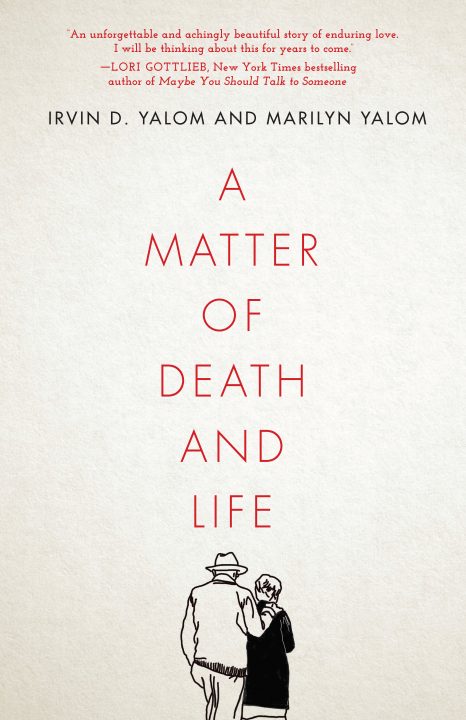 A MATTER OF DEATH AND LIFE
---
A year-long journey by the renowned psychiatrist and his writer wife after her terminal diagnosis, as they reflect on how to love and live without regret.
Internationally acclaimed psychiatrist and author Irvin Yalom devoted his career to counseling those suffering from anxiety and grief. But never had he faced the need to counsel himself until his wife, esteemed feminist author Marilyn Yalom, was diagnosed with cancer. In A Matter of Death and Life, Marilyn and Irv share how they took on profound new struggles: Marilyn to die a good death, Irv to live on without her.
A year-long journey by the renowned psychiatrist and his writer wife after her terminal diagnosis, as they reflect on how to love and live without regret.
Internationally acclaimed psychiatrist and author Irvin Yalom devoted his career to counseling those suffering from anxiety and grief. But never had he faced the need to counsel himself until his wife, esteemed feminist author Marilyn Yalom, was diagnosed with cancer. In A Matter of Death and Life, Marilyn and Irv share how they took on profound new struggles: Marilyn to die a good death, Irv to live on without her.
In alternating accounts of their last months together and Irv's first months alone, they offer us a rare window into facing mortality and coping with the loss of one's beloved. The Yaloms had numerous blessings—a loving family, a Palo Alto home under a magnificent valley oak, a large circle of friends, avid readers around the world, and a long, fulfilling marriage—but they faced death as we all do. With the wisdom of those who have thought deeply, and the familiar warmth of teenage sweethearts who've grown up together, they investigate universal questions of intimacy, love, and grief.
Informed by two lifetimes of experience, A Matter of Death and Life is an openhearted offering to anyone seeking support, solace, and a meaningful life.
Redwood Press
Hardcover
March 2021
240 Pages
9781503613768
Praise
"For over half a century, the eminent psychiatrist Irvin Yalom has dazzled the world with his stories of the human psyche packed with wisdom, insight, and humor. Now, with stunning candor and courage, he shares with us the most difficult experience of his life: the loss of his wife and steadfast companion since adolescence. Partners to the end, including in the co-writing of this book, they share an indelible portrait of bereavement—the terror, pain, denial, and reluctant acceptance. But what we are left with is much more than a profound story of enduring loss—it's an unforgettable and achingly beautiful story of enduring love. I will be thinking about this for years to come." —Lori Gottlieb, New York Times bestselling author of Maybe You Should Talk to Someone: A Therapist, Her Therapist, and Our Lives Revealed
"This beautiful, poignant, and uplifting memoir is a love story, a tale of two incredibly accomplished lives that were lived almost as one, the sum turning out to be so much greater than its parts. It will inspire you and perhaps move you to look differently at your life—it did that for me." —Abraham Verghese, author of Cutting for Stone
"The Yaloms are not just honest, but astonishingly generous with their readers. This book takes its immediate place in the canon of great end-of-life memoirs." —Caitlin Doughty, founder of The Order of the Good Death
"A Matter of Death and Life is both a sweet reminiscence and a path to discovery. Two eminent professors, authors, and lifelong partners grapple with aging, fragility, and death. In the process of honestly meeting the precariousness of life, they come to a deeper appreciation of its preciousness." —Frank Ostaseski, author of The Five Invitations: Discovering What Death Can Teach Us About Living Fully
"A Matter of Death and Life is so much more than a book. It is an indefatigable love story. It is a text that traverses past and present. It is exquisite, candid, and vulnerable—absent the too-common defenses of artifice and pomposity—as it approaches the untenable pain of separation and unyielding yearning of loss. Every person would benefit from multiple readings of this intelligently relatable book, both to confront dying as we inch toward our own mortality and, perhaps more importantly, the grief when one so beloved precedes us in death. I am deeply enriched for having absorbed this intimate narrative, as I wipe the tears from my eyes. Irv and Marilyn's love story, ending in the tragedy of endings, is yours, mine, and all of ours." —Dr. Joanne Cacciatore, author of Bearing the Unbearable: Love, Loss, and the Heartbreaking Path of Grief
"This is a remarkable book—as remarkable as its authors, Irv Yalom, the master existential therapist and widely read author, and Marilyn Yalom, an accomplished scholar and writer. Summoning immense courage, the Yaloms co-write the story of their emotional and moral caregiving for each other. A Matter of Death and Life is the culmination of the Yaloms' career-long quests for wisdom in the art of living and dying. It is a book that transforms the reader—I couldn't put it down." —Arthur Kleinman, author of The Soul of Care: The Moral Education of a Husband and Doctor
"This book is illuminating and vivid, a beautiful examination of the consolation of a life well-lived, and a beacon of hope to all of us who will be bereaved. And of course, it is an exposition of how we who are mortal learn to live with that very truth about ourselves." —Kathryn Mannix, Sunday Times bestselling author of With the End in Mind: Dying, Death and Wisdom in an Age of Denial
"The book has countless pieces of wisdom for anyone confronting death….The Yaloms' distinct voices are complements to each other and gifts to readers. A profound love story with lessons for how to live as well as how to die." —Kirkus Reviews (starred review)
Discussion Questions
1. From the onset, we know that Marilyn Yalom, an esteemed feminist scholar and writer, is facing a terminal illness. She convinces her husband Irv, a prominent existential psychiatrist who specialized in grief, to drop everything to write about their "final dance of life." How did their 65 years together make reading A Matter of Death and Life more relatable?
2. Did their professional experience—for instance, Marilyn's ability to describe the indescribable numbness of facing death and Irv's memories of past therapy sessions with bereaved patients—bring up specific ways for you to start talking about death and grieving in your own life?
3. Marilyn's Chapter 8 title, "Whose Death is this Anyway?", is a great example of how humor was so important to their facing life—and was always going to be part of how they faced death. Are there other places in the book where you found yourself laughing when you least expected it?
4. How have you used laughter to face hardships and even grief in your own life?
5. In Chapter 9, Irv discusses the "rippling effect" described in Saint Paul's epistles, which came to mind as he grappled with the ripples Marilyn's life has left for her loved ones. Does looking at the ripples of life help in grief? Or make it harder to accept?
6. In Chapter 12, one of Marilyn's friends creates a one-edition book titled Letters to Marilyn in which her talented friends share their appreciation for her and help Marilyn see the ripples of her life. When have you expressed or received the expression of ripples, and how might you show someone else their worth in a meaningful way?
7. The Yaloms share some practical and jarring information about facing death, such as in Chapter 16, where a doctor caring for Marilyn explains that she offers "physician-attended death" and not what is often termed "doctor-assisted suicide." Did their practical language mixed with intense love and commitment help make this idea easier to talk about?
8. In the chapters after Marilyn's death, Irv confronts his own professional experience as both a researcher and therapist who adheres to the idea that a year of birthdays, anniversaries, and the like help diminish the survivor's grief. As a grieving husband, he is less convinced and even worries about getting stuck in his sorrow. Does his human reaction and humility help you speak about your own doubts?
9. Similarly, Irv, a man of science and not a religious person, has never believed in an afterlife. Yet in the end he is comforted by the thought of "joining Marilyn"—even if he has no idea how or whether that can happen. What complexities of death do you want to discuss? And where do you ultimately look for comfort?
10. Irv dedicated his life to helping the bereaved in therapy and admits writing this book has changed him as a therapist. How has this book helped you with your own grief or in counseling others about grief?
Excerpt
PREFACE
We both embarked on academic careers after postgraduate training at Johns Hopkins, where I had completed a residency in psychiatry and Marilyn obtained a PhD in comparative (French and German) literature. We were always each other's first reader and editor. After I wrote my first book, a textbook on group therapy, I was awarded a writing fellowship from the Rockefeller Foundation at the Bellagio Writing Center in Italy to work on my next book, Love's Executioner. Shortly after we arrived, Marilyn spoke to me about her growing interest in writing about women's recollections of the French Revolution, and I agreed that she had ample excellent material for a book. All of the Rockefeller scholars had been given an apartment and a separate writing studio, and I urged her to ask the director whether there might also be a writing studio for her. The director responded that a writing studio for a scholar's spouse was an unusual request and, furthermore, all the studios in the main structure had already been assigned. But, after a few minutes of reflection, he offered Marilyn an unused tree house studio only a five-minute walk away in the adjoining forest. Delighted with it, Marilyn began work, with gusto, on her first book, Compelled to Witness: Women's Memoirs of the French Revolution. She was never happier. From that point on, we were fellow writers, and for the rest of her life, despite four children and full-time teaching and administrative positions, she matched me book for book.
In 2019, Marilyn was diagnosed with multiple myeloma, a cancer of the plasma cells (antibody-producing white blood cells found in the bone marrow). She was placed on a chemotherapy drug, Revlimid, that precipitated a stroke, leading to an emergency room visit and four days in the hospital. Two weeks after she returned home, we took a brief walk in the park just a block from our home, and Marilyn announced, "I have a book in mind that we should write together. I want to document the difficult days and months before us. Perhaps our trials will be of some use to other couples with one member facing a fatal illness."
Marilyn often suggested topics for books that she or I should undertake, and I replied, "It's a good idea, darling, something you should plunge into. The idea of a joint project is enticing but, as you know, I've already started on a book of stories."
"Oh, no, no—you're not writing that book. You're writing this one with me! You'll write your chapters and I'll write mine, and they will alternate. It will be our book, a book unlike any other book because it entails two minds rather than one, the reflections of a couple who have been married for sixty-five years! A couple very fortunate to have each other as we walk the path that eventually leads to death. You'll walk with your three-wheeled walker, and I'll walk on legs that can ambulate for fifteen or twenty minutes at best."
. . .
In his 1980 book, Existential Psychotherapy, Irv wrote that it is easier to face death if you have few regrets about the life you have lived. In looking back over our long life together, we regret very little. But that doesn't make it any easier to tolerate the bodily travails we now experience day to day, nor does it soften the thought of leaving each other. How can we fight against despair? How do we live meaningfully till the very end?
. . .
In writing this book, we are at an age when most of our contemporaries have died. We now live each day with the knowledge that our time together is limited and exceedingly precious. We write to make sense of our existence, even as it sweeps us into the darkest zones of physical decline, and death. This book is meant, first and foremost, to help us navigate the end of life.
While this book is obviously an outgrowth of our personal experience, we also see it as part of a national dialogue about end-of-life concerns. Everyone wants to obtain the best medical care available, to find emotional support in family and friends, and to die as painlessly as possible. Even with our medical and social advantages, we are not immune to the pain and fear of oncoming death. Like everyone, we want to preserve the quality of our remaining lives, even as we tolerate medical procedures that sometimes make us sick in the process. How much are we willing to bear to stay alive? How can we end our days as painlessly as possible? How can we gracefully leave this world to the next generation?
We both know that, almost certainly, Marilyn will die of her illness. Together we shall write this journal of what lies ahead in the hope that our experiences and observations will provide meaning and succor not only for us but for our readers.