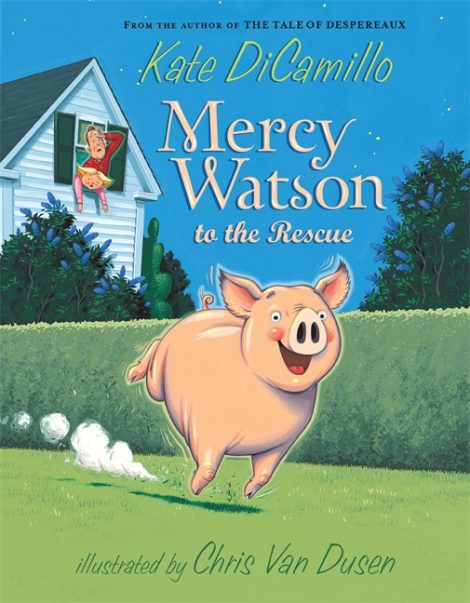 MERCY WATSON TO THE RESCUE
---
To Mr. and Mrs. Watson, Mercy is not just a pig — she's a porcine wonder. And to the portly and good-natured Mercy, the Watsons are an excellent source of buttered toast, not to mention that buttery-toasty feeling she gets when she snuggles into bed with them. This is not, however, so good for the Watsons' bed. BOOM! CRACK! As the bed and its occupants slowly sink through the floor, Mercy escapes in a flash – "to alert the fire department," her owners assure themselves. But could Mercy possibly have another emergency in mind — like a sudden craving for their neighbors'
To Mr. and Mrs. Watson, Mercy is not just a pig — she's a porcine wonder. And to the portly and good-natured Mercy, the Watsons are an excellent source of buttered toast, not to mention that buttery-toasty feeling she gets when she snuggles into bed with them. This is not, however, so good for the Watsons' bed. BOOM! CRACK! As the bed and its occupants slowly sink through the floor, Mercy escapes in a flash – "to alert the fire department," her owners assure themselves. But could Mercy possibly have another emergency in mind — like a sudden craving for their neighbors' sugar cookies? Welcome to the wry and endearing world of Mercy Watson — an ebullient character for early chapter-book readers in a series that's destined to be a classic.
The first adventure of this New York Times best-selling porcine wonder is available in paperback.
Candlewick Press
Paperback
December 2009
80 Pages
9780763645045
Praise
Chicago Public Library Best Books for Children and Teens
"Mercy Watson, a disarmingly charming pig adopted by a loving human family, makes her debut in this new series of chapter books for beginning readers."—School Library Journal
"Hilarity and hijinks abound."—Kirkus Reviews
"A lot of laughs and a 'buttery-toasty' warmth."—San Francisco Chronicle
Discussion Questions
1. Every night, the Watsons sing Mercy to sleep. The song makes Mercy feel warm inside, as if she had just eaten her favorite—hot buttered toast. What makes you feel warm inside?
2. Eugenia Lincoln thinks pigs belong on farms. Name other animals that could be both pets and found on farms.
3. Baby agrees with everything Eugenia says because she thinks it's easier that way. Why do you think that is? Is Baby right to do it?
4. Why does Mrs. Watson want Eugenia to call Mercy a porcine wonder? Do you think that's an accurate description of Mercy?
5. At the end of the book, Mercy takes a nap. Why do you think she was tired?