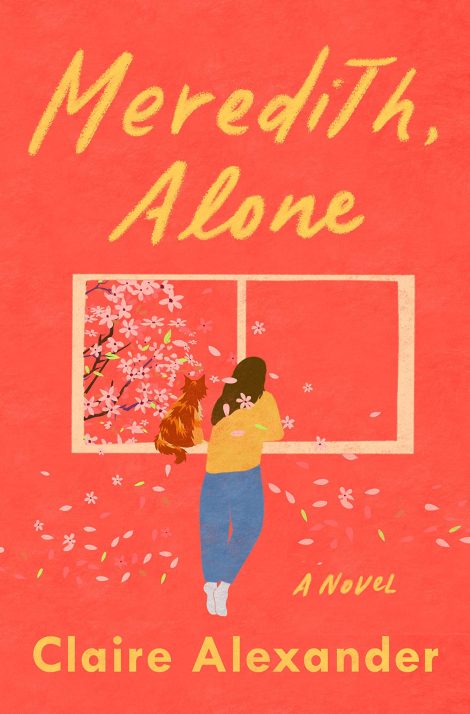 MEREDITH, ALONE
---
She has a full-time remote job and her rescue cat Fred. Her best friend Sadie visits with her two children.  There's her online support group, her jigsaw puzzles and favorite recipes, her beloved Emily Dickinson poems.  Also keeping her company are treacherous memories of an unstable childhood and a traumatic event that had sent her reeling.
But something's about to change. First, two new friends burst into her life.  Then her long-estranged sister gets in touch.  Suddenly her carefully curated home is no longer a space to hide.  Whether Meredith likes it or not, the world  is coming to her door…
She has a full-time remote job and her rescue cat Fred. Her best friend Sadie visits with her two children.  There's her online support group, her jigsaw puzzles and favorite recipes, her beloved Emily Dickinson poems.  Also keeping her company are treacherous memories of an unstable childhood and a traumatic event that had sent her reeling.
But something's about to change. First, two new friends burst into her life.  Then her long-estranged sister gets in touch.  Suddenly her carefully curated home is no longer a space to hide.  Whether Meredith likes it or not, the world  is coming to her door…
Grand Central Publishing
Hardcover
November 2022
368 Pages
9781538709948
Praise
"I laughed, I cried, and I bowed down to the brilliant author of this brilliant book."—Gillian McAllister, New York Times bestselling author of Wrong Place Wrong Time
"A gorgeous, charming novel…Sweet, moving, funny and hopeful, with a courageous heroine who sweeps you up in her story."—Jennifer Saint, bestselling author of Ariadne
"Executed with care, humor, and grace, this novel pokes at the bubble of solitude to show each of us that suffering has a sense of community and with that, the prospect of optimism."—Library Journal
"Alexander creates a winning heroine in Meredith and likable characters in her kind friends… An optimistic, feel-good novel."—Kirkus Reviews
"[A] satisfying debut. The endearing characters offer a sensitive portrayal of what it means to live with mental health issues… with heart to spare."—Publishers Weekly
"I shed tears. Very, very touching, sad, sweet and hopeful."—New York Times bestselling author Marian Keyes
Discussion Questions
1. Meredith says she's happy staying inside her home. Do you believe her? How long do you think she would have been able to keep up that kind of existence?
2. One of the topics explored in the book is mental health. With many famous people opening up about their struggles, the topic seems less stigmatized than before. Do you think this is true for non-famous people?
3. Sadie says that she and Meredith are "like salt and pepper." They're different but come together as great friends. Why do you think they fit so well? Is there truth that "opposites attract"?
4. Although Meredith has kept herself confined, she's able to socialize digitally. Are we different when interacting with people on-screen versus in person?
5. The book depicts an unstable childhood environment for Meredith and her sister. What coping mechanisms did they develop? Did that past life prepare Meredith for her present-day life? How?
6. What circumstances would lead you toward a self-imposed solitary lifestyle? Meredith has her survival kit to keep her going—there's Fred, jigsaw puzzles, Emily Dickinson poems, and cooking. What are your essentials (family is already included)?
7. Fred the cat is a great companion. Would another kind of animal have suited Meredith's needs? Is there symbolism in the fact that he was a rescue?
8. Has this book altered your views on human bonds? Has living in a pandemic made you think differently about living in isolation?
Interviews
Q&A with the Author
What inspired your creation of Meredith and her story?
I've always been interested in the distinction between loneliness and being alone. I'm someone who tends toward introversion, and I cherish my alone time. I think there's also a fine line between protecting your alone time as a self-care measure, and withdrawing so much from the rest of the world that it has a negative impact on your mental health.
I was thinking about all of this around the time I started an online writing course in October 2019. I didn't have a single word written before the course, so I vowed to at least have a character! And then Meredith—a woman who hasn't left her home for more than three years—arrived in my mind. She simply refused to leave. I had to tell her story.
I've always been an observer of people—I love trying to work out what makes them tick. So it's no surprise that character always comes first for me. I let them in, and I have to draw their stories out of them. On good days, they run off at the mouth! On not-so-good days, it's a slow drip.
How has living through the coronavirus pandemic impacted your perspective on Meredith's solitary lifestyle?
I still find it surreal that six months before we first went into lockdown here in the UK, blissfully unaware of the restrictions and difficulties ahead of us, I was writing a book about a woman who was self-isolating. Meredith came before COVID-19, but my own experience of living through the pandemic definitely affected my writing.
For starters, it gave me a much clearer picture of what Meredith's everyday life would be like. During the first UK lockdown, when we were instructed by the government not to leave our homes unless it was absolutely necessary, and to limit our daily outdoor exercise to one hour, I could relate to Meredith on another level. I would think, "What does Meredith do?" Unfortunately, I don't share her skill for baking or jigsaws. Speaking of which, it made me laugh that the entire world appeared to be buying jigsaws, six months after Meredith sat in her living room piecing together Gustav Klimt's The Kiss.
Do you have your own Sadie in your life?
I'm very lucky to have a couple of Sadies. In fact, my two best friends have been in my life since I was age three—too many years ago to count!
I also have a Celeste, of sorts. One of my fellow students on the 2019 writing course is now one of my best friends, and we've still not met in person. We chat every day, and she knows all my deepest, darkest secrets…
Meredith, Alone tackles dark topics and yet has plenty of humorous moments. How did you balance writing the dark with the light?
It was important to me to portray Meredith as a multilayered person—like all of us. She's living in a very unique situation and has mental health issues, but there's a lot more to her than that. I've had my own struggles with mental health but I don't want that to define me—it's one of many parts.
I definitely found myself rewriting more of the "darker" sections—I really wanted those parts to be authentic while not making Meredith too much of a "woe is me" character. Speaking as a reader, there needs to be nuance for me to feel that emotional connection. So I spent a lot of time trying to make sure I didn't spend too long on Meredith's darkest experiences, and also that the lighter moments didn't become flippant.
I didn't have separate beta readers for the dark topics versus the humorous moments, but I did have a range of readers. Some have personal experience of mental health issues, and some don't. That they could all relate to Meredith and found themselves rooting for her was hugely reassuring, and it also confirmed to me that, whatever we bring of ourselves to the experience of reading fiction, most of us look for those big universal themes of connection, courage, and survival.
It really does take a village to bring a book to fruition and I have my top-class agent and editor to thank for well-timed prompts to inject some humor to stop things from getting too dark.
How much research did you do on mental health and the effects of trauma?
I drew a lot on my personal experience of mental health issues and my time as a volunteer for a UK-based mental health charity. I also relied on the expertise (and generosity) of a wonderful therapist, GinaMarie Guarino. What I've learned about trauma is that it's not the same for everyone. And the process of dealing with it is hugely personal too.
What do you hope your readers will take away upon finishing this book?
That there's always someone there to help us through dark times—whether that's online or in person. That it's possible to move on from difficult times and create the life you want. That the simple things in life are what really matter. That showing vulnerability is vastly underrated. That love comes in many forms.
Tell us what you do when you're not writing.
I hang out with my three kids, who are currently ages three, eleven, and fourteen, and our two dogs. Swimming in the cold waters of the Firth of Clyde, a few minutes from my doorstep, is a special kind of heaven and a crucial component of my mental health toolkit. A blue campervan named Lottie is a new addition to our family, so we're looking forward to many road-trip adventures—swimming, reading, exploring, and thinking about my next book.
Essay
The Joy of Being Alone
Claire Alexander
As a university student in my late teens, I sometimes went to the movies on my own. I remember watching Gwyneth Paltrow as Jane Austen's Emma on the big screen in the small cinema that was walking distance from my flat. Just me, with a takeaway coffee and popcorn for company. Bliss.
My flatmates were more curious about what on earth possessed me to go to the movies alone—we'd have come with you, if you'd just asked, they said crabbily, as if I'd rejected them—than what I thought of the latest adaptation of Austen's novel of manners. (Would Emma Woodhouse have gone to the movies alone? I like to think so…in between humiliating and manipulating her friends.)
To me, it seemed a natural thing to do, although it clearly wasn't the norm—at least not in my peer group. But I've always craved alone time, and for me that doesn't necessarily mean sitting at home with the curtains drawn. Not that there aren't benefits in shutting the world and its perpetual noise out now and again. To quote Virginia Woolf, "In solitude we give passionate attention to our lives, to our memories, to the details around us."
Unsurprisingly, solitude and loneliness—and the disparity therein—are recurrent themes for writers. Ours is, in essence, a solitary existence. Whether we like it or not, writing requires a quiet place. As the poet Adrienne Rich declared, "The impulse to create begins—often terribly and fearfully—in a tunnel of silence."
I also need to be alone in the wider world to do justice to the one taking shape in my imagination. I've learned that inspiration often strikes when I'm alone in a crowd, which could be a noisy cafe, an art exhibition, or…yes, the fourth row from the back of the movie theater.
Michel Eyquem de Montaigne, a notable French Renaissance philosopher, wrote extensively about loneliness and was a vocal advocate of a solo existence. (He practiced what he preached, retiring from public life at the age of thirty-eight and becoming a near recluse in the southern tower of his Bordeaux castle.) In his essay "On Solitude," Montaigne suggests that "the greatest thing in the world is to know how to belong to oneself."
He continued: "Tis not that a wise man may not live everywhere content, and be alone in the very crowd of a palace; but if it be left to his own choice, the schoolman will tell you that he should fly the very sight of the crowd: he will endure it if need be; but if it be referred to him, he will choose to be alone."
From childhood, I've never felt entirely "normal," and my desire for solitude may have been a big part of that. Largely, my early millennial generation was raised to strive for popularity, to worry about party invitations, to believe that being liked was more important than being yourself, if that self just didn't quite fit with the other selves in the schoolyard.
Even though I enjoyed being alone, I had lots of friends and didn't often feel lonely. The truth is, the loneliest times in my life have been when I've been in a relationship, or surrounded by lots of people with little opportunity for "alone time." I'm not the only one. I volunteered for a mental health charity during the first year of the pandemic, chatting to people online who were struggling with their mental health. Many of them spoke of loneliness, even those who were in lockdown with their partners, their parents, their siblings, or their kids. Living in a house packed with loved ones, but feeling lonelier than ever.
On the other hand, many people discovered the beauty of a more solitary way of life only when they were forced to withdraw from the world. They enjoyed lockdown, they told me—in a virtual whisper, often sharing their guilt at this unexpected positive of a crisis that was ripping other people's lives apart. They liked being alone, having a break from the endless social cycle. The beauty of being still, being quiet, being introverted.
The distinction between loneliness and being alone was on my mind when I started writing Meredith, Alone—but not for the reason you might think. This may come as a surprise, but Meredith was a fully formed character, with 1,214 days of self-isolation under her belt, long before COVID-19 put our lives into a tailspin. Meredith was ahead of the curve, baking cakes and doing jigsaw puzzles, before the rest of us started wondering how we'd possibly fill our days within the four walls of our homes.
At the risk of sounding like one of those airy-fairy writer types, Meredith came from somewhere else entirely, a place deep within me. I was thinking about the idea of loneliness in relation to circumstances in my own life, and she popped into my head. The shadow of a woman, the seed of a story—one I wanted to do justice to. From that point, I couldn't leave her alone. Or maybe she wouldn't let me.
The ability to be alone without being lonely is an underrated skill. It requires mental strength, self-reliance, the ability to carve out a place of solitude rather than loneliness. I've learned to cherish my alone time, to protect it at all costs. It's a space for me to recharge after the relentless demands of solo parenting. It sparks my creativity, increases productivity, helps me keep things in perspective.
The key, I think, is choosing to spend time alone because we understand—and appreciate—the benefits, rather than feeling like we have no other option. This isn't easy in a culture where being alone is often misinterpreted as loneliness. But appreciation helps keep negativity at bay. I've learned over the years to identify when I'm most in need of alone time, and making those solitary moments a priority does wonders for my mental health. It's the true definition of self-care, with or without the candlelit baths and yoga sessions.
Of course, Meredith's situation is different. She hasn't crossed the threshold of her front door for more than three years. She has visitors, but not many. She's basically in long-term lockdown—by choice. But is she lonely? That's a question for you, my readers.