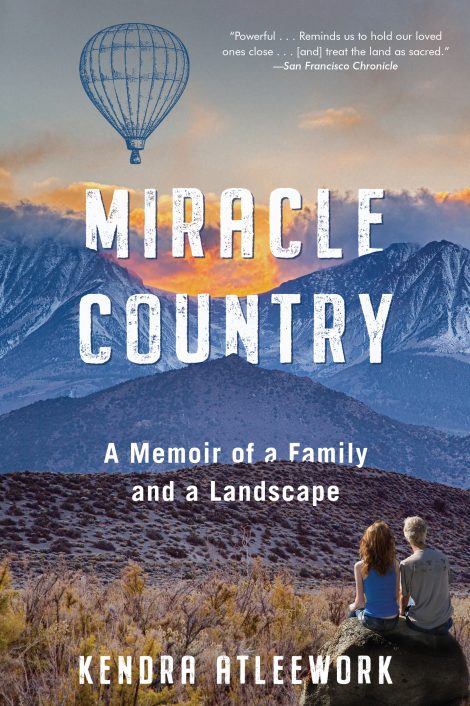 MIRACLE COUNTRY
A Memoir of a Family and a Landscape
---
WINNER OF THE SIGURD F. OLSON NATURE WRITING AWARD
Kendra Atleework grew up in Swall Meadows, in the Owens Valley of the Eastern Sierra Nevada, where annual rainfall averages five inches and in drought years measures closer to zero.
Kendra's parents taught their children to thrive in this beautiful, if harsh, landscape, prone to wildfires, blizzards, and gale-force winds. Above all, they were raised on unconditional love and delight in the natural world. After Kendra's mother died of a rare autoimmune disease when Kendra was just sixteen, however, her once-beloved desert world came to feel empty and hostile,
WINNER OF THE SIGURD F. OLSON NATURE WRITING AWARD
Kendra Atleework grew up in Swall Meadows, in the Owens Valley of the Eastern Sierra Nevada, where annual rainfall averages five inches and in drought years measures closer to zero.
Kendra's parents taught their children to thrive in this beautiful, if harsh, landscape, prone to wildfires, blizzards, and gale-force winds. Above all, they were raised on unconditional love and delight in the natural world. After Kendra's mother died of a rare autoimmune disease when Kendra was just sixteen, however, her once-beloved desert world came to feel empty and hostile, as climate change, drought, and wildfires intensified. The Atleework family fell apart, even as her father tried to keep them together. Kendra escaped to Los Angeles, and then Minneapolis, land of tall trees, full lakes, water everywhere you look.
But after years of avoiding her troubled hometown, she realized that she needed to come to terms with its past and present and had to go back. Miracle Country is a moving and unforgettable memoir of flight and return, emptiness and bounty, the realities of a harsh and changing climate, and the true meaning of home. For readers of Cheryl Strayed, Terry Tempest Williams, and Rebecca Solnit, this is a breathtaking debut by a remarkable writer.
Algonquin
Paperback
June 2021
320 Pages
9781643751412
Praise
A Washington Independent Review of Books Favorite Book of 2020
"Truly something special and refreshing. Kendra Atleework's powerful debut is the rare trifecta that seamlessly blends personal narrative with historical nonfiction and highly charged, activist-style rhetoric with rarely a misstep or heavy hand . . . Whether you're in it for the emotional roller coaster or want an armchair view of an area of California not on your radar, Miracle Country works on multiple levels. It reminds us to hold our loved ones close, conserve our resources, treat the land as sacred and stop putting our collective heads in the sand when it comes to climate change." —San Francisco Chronicle
"Drawing parallels between her upbringing and the region's history, [Atleework's] memoir celebrates her home and the region while lovingly portraying her family's eccentricities. Her ability to relay naturalistic majesty in exquisite detail is dynamic yet tender, resulting in captivating storytelling . . . A breathtaking environmental history. Atleework is a shrewd observer and her writing is a gratifying contribution to the desert-literature genre." —PopMatters
"Atleework captures how the history of the landscape affects how people feel in the present in prose charged with emotion . . . Miracle Country is a beautiful read, Atleework's prose steeped in her passion for the region and her striking observations. Even more, though, the memoir is important because it reveals Atleework's deep understanding of the region, of a life defined by an absence, and she points us to the power in this understanding—it can be a tool to stay safe in a desert or on a cliff, a way to connect with other people, a call to counteract climate change, or, as in Atleework's case, a reason to return home." —Ploughshares
"[A] shimmering memoir . . . A bittersweet tribute to home and family in breathtaking prose that will appeal to lovers of memoirs and history, as well as anyone who enjoys beautifully crafted writing." —Library Journal, starred review
"[A] beautiful debut . . . Atleework's remarkable prose renders the ordinary wondrous and firmly puts this overlooked region of California onto the map." —Publishers Weekly, starred review
"Atleework pays tribute to the drought-ridden California desert of her childhood in this gimlet-eyed memoir . . . Nature lovers will immerse themselves in Atleework's vibrant prose and meditative musings." —Booklist
"Can a book be both radiant with light and shadowy as midnight? Miracle Country can. I felt the thrill I once knew reading Annie Dillard for the first time. Kendra Atleework can really write. She flies with burning wings." —Luis Alberto Urrea, author of The House of Broken Angels
Discussion Questions
Would you like to host Kendra Atleework at your book club?
Kendra is offering free virtual author events for groups of eight or more. To arrange a session with your book club, bookstore, or library, please visit Atleework.com for details.
1. Every family creates its own culture, its own version of normal. What aspects of the Atleeworks resonated with your own idea of family?
2. In Miracle Country, California is presented as a land of optimism and innovation, of hope and forgetfulness, of tragedy and disaster. How does the Atleework family represent, and also differ from, the qualities of their home state?
3. The Los Angeles Aqueduct was built, and the water was taken from Owens Valley/Payahuunadu, because the people with power at the time had agreed to pursue "the greatest good for the greatest number." The author considers what "good" means and who gets to define that. Can you think of instances when you've observed something being taken for granted as good that might not have been?
4. Is William Mulholland, the engineer of the Los Angeles Aqueduct, a villain, or should he be forgiven for upholding the values of his time?
5. What do you picture when you think of California? How has the way you think about the desert changed after reading Miracle Country? How has this affected your ideas of California?
6. Kendra had to leave home and do her own research to learn the story of the Indigenous people of her valley, the Paiute/Nuumu. What do you know about the history and contemporary reality of Indigenous people where you live? Why do you think many people are not taught this about their own homes?
7. Kendra decides to move home to Bishop for many reasons. Which ones stood out to you the most?
8. Miracle Country is in part about living deeply in a place: committing to making it better and not just depleting it of resources and moving on. In what ways is your own home a deeply lived-in place? In what ways is it not?
9. Which family member's story or relationship to home most resonated with you the most? Why?
10. How would you describe Kendra's feelings about losing her mother by the time she moves back to Bishop? What are the different roles loss plays in Miracle Country? How does the author's attitude toward the loss of her mother change by the end of the book?
11. What role does Mary Austin play in the book? How does she help us understand the place and especially the women, like Kendra and her mom, who love it?
12. What emotions and ideas about your own home did Miracle Country stir?
Excerpt
From Miracle Country
By Kendra Atleework
Every family cultivates a culture and lives by its own strangeness until the strangeness turns normal and the rest of the world looks a little off. The Atleework children are alone in the world with this name because our parents made it up. Who needs a hyphen? Robert Atlee met Jan Work and there you have it. Our parents kept their respective last names, making us the only three. We're difficult to pronounce—AT-lee-work, somehow endlessly bungled—and embarrassingly easy to look up online. We got to know life without television, our only radio the valley's beloved country-western, thirty minutes from any town, a day's drive from what might be considered a city under, or at least in the shadow of, a series of large rocks.
Once, the five of us posed for a Christmas card photo, perched in the branches of our apple tree. The next year our parents put us in matching plaid shirts, we three Atleeworks looking like miniature lumberjacks, and the year after that we all sat on the sofa in plastic pig noses. At my middle school graduation, girls walked between rows of folding chairs in the gymnasium wearing leis of purple orchids while I carried a single orange blossom Pop had heisted from the flower bed in front of the school.
In our living room Pop hung a trapeze. We dangled from our knees. We bounced off the couches. We flew.
Our family matched the strangeness of the landscape my parents had chosen: uneasy, not a level place of right angles. Owens Valley clutches four little towns that line a single highway. With a population of about twelve thousand, sprawl and all, Bishop is the only incorporated place in Inyo, a county larger than New Jersey. A tourism website lists Inyo County attractions: deserts, martian landscapes, mines, abandoned cemeteries. Ten thousand square miles lie mostly free of humans, because, as the historian Marc Reisner tells us, California has a desert heart.
My father's map company is just him and his friend Mike and sometimes my brother or sister or me. He merges his knowledge of the landscape with the technical skills of a cartographer. sierra maps name tag pinned to his delivery shirt—blue, button up, short sleeved with a crinkled collar—he drives his van up and down the Eastern Sierra to the places that serve the birders and climbers and skiers and hikers and campers streaming by: ranger stations and mini-marts and outdoor gear stores on a two-hundred-mile corridor from Pearsonville to Bridgeport.
His maps show mountains and a flat valley floor. They suggest the crests of the foothills, ubiquitous granite, and the pale pinkish hunks of igneous rock called Bishop Tuff, sooty with desert varnish, produced during a prehistoric eruption that determined the shape and character of this place. They can keep a tourist from succumbing to a poor sense of scale in wild country. Spread on a table or over a lap, my father's map of the Eastern Sierra quilts together wilderness, national park, national forest. At the northeastern corner, black dashes form the state line, dividing Esmeralda and Mono Counties, where the Boundary Peak Wilderness of Nevada gives way to the White Mountains Wilderness of California. Near this border lies Mono Lake, Paoha and Negit Islands afloat in the big blue round.
The names of the streams and peaks call to be arranged into stanzas, full of rhyme and alliteration: Sand Canyon, Cardinal Pinnacle, Cottonwood Creek, Blind Springs Hill, Sherwin Crest, Round Valley, Onion Valley, Bear Creek Spire, Mount Starr. There are first names for these places, too. The Owens Valley Paiutes spoke a dialect used nowhere else in the country. Say it PIE-yoot, and know that these are the people indigenous to the valley, who first called themselves Nuumu. They called Mount Tom "Winuba." Many still call Owens Valley "Payahuunadu," the land of flowing water.
Some places my father nicknames. There's Robert's Ridge, where Pop's hot air balloon snagged in pines, the basket swinging over the ground, and he toted a passenger, an eighty-five-year-old woman with a pacemaker, down a steep pumicey slope. "She weighed eighty pounds," he remembers, "and I just carried her on my back like a backpack. She said it was the most excitement she'd had in twenty years." There's Mount Dave, after Pop's hot air balloon partner, where snowmobilers toss old helmets into a dead tree, and Will's Peak, nicknamed after a Swall Meadows neighbor killed in an avalanche on Mount Tom. Up a canyon to the north, he's called a peak after Jan.
In the photo albums Pop rescued from the redwood house, Mom naps on a lakeshore while we Atleeworks cover her to the neck in sand. She holds a piñata strung from a pole, a dinosaur fluttering with strips of green. She crawls through dirt and sagebrush on all fours, teeth bared in a snarl, an earnest bear. She climbs an apple tree. She lies back on the granite slope of Lembert Dome as she might stretch on a sofa, a wadded sweatshirt pillowing her head while we sprawl around her. She puts her arms around my waist and leans into me beneath a wall of red stone. She sits behind me on a yellow plastic sled, and we careen.
She used to make a little creature with her hand, her index finger the head and the rest the legs, which scurried around, talked in a high voice, and entertained me for years past the point that this should have been embarrassing. We called the creature our Little Bug. Oh, hello, Kendra! Little Bug cried. Will you be my friend? Will you take me with you on all your adventures? And I leaned down and whispered, as if only Little Bug could hear me, yes, yes, yes.