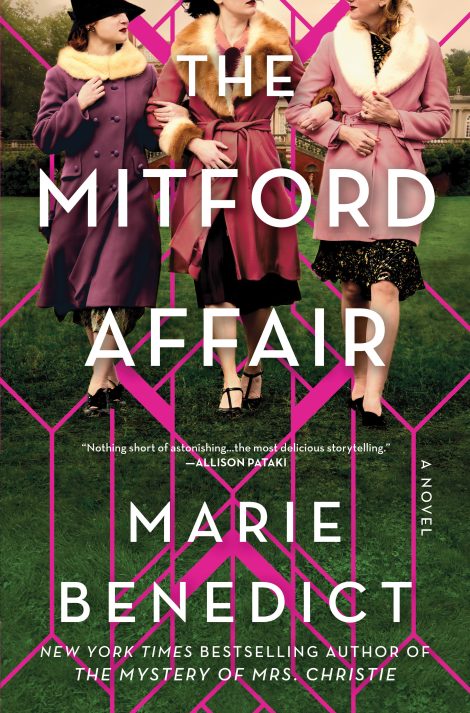 THE MITFORD AFFAIR
---
Between the World Wars, the six Mitford sisters—each more beautiful, brilliant, and eccentric than the next—dominate the English political, literary, and social scenes. Though they've weathered scandals before, the family falls into disarray when Diana divorces her wealthy husband to marry a fascist leader and Unity follows her sister's lead all the way to Munich, inciting rumors that she's become Hitler's mistress.
As the Nazis rise in power, novelist Nancy Mitford grows suspicious of her sisters' constant visits to Germany and the high-ranking fascist company they keep. When she overhears alarming conversations and uncovers disquieting documents, Nancy must make excruciating choices as Great Britain goes to war with Germany.
Between the World Wars, the six Mitford sisters—each more beautiful, brilliant, and eccentric than the next—dominate the English political, literary, and social scenes. Though they've weathered scandals before, the family falls into disarray when Diana divorces her wealthy husband to marry a fascist leader and Unity follows her sister's lead all the way to Munich, inciting rumors that she's become Hitler's mistress.
As the Nazis rise in power, novelist Nancy Mitford grows suspicious of her sisters' constant visits to Germany and the high-ranking fascist company they keep. When she overhears alarming conversations and uncovers disquieting documents, Nancy must make excruciating choices as Great Britain goes to war with Germany.
Probing the torrid political climate in the lead-up to World War II and the ways that seemingly sensible people can be sucked into radical action, The Mitford Affair follows Nancy's valiant efforts to stop the Nazis from taking over Great Britain, and the complicated choices she must make between the personal and the political.
Sourcebooks Landmark
Hardcover
January 2023
352 Pages
9781728229362
Praise
"Plunges readers into a world of glamorous, charismatic young British debutantes and then turns that shiny world on its head…the most delicious storytelling." —Allison Pataki, New York Times bestselling author of The Magnificent Lives of Marjorie Post
"An in-depth exploration of the complications and bonds of sisterhood. Benedict perfectly captures the anxiety and uncertainty of England's interwar years and serves as a timely reminder of the dangers of enigmatic autocrats. Fast-paced and eye-opening." — Fiona Davis, New York Times bestselling author of The Magnolia Palace
Benedict unflinchingly peels away the giddy facade, revealing the tragedy beneath the one-liners in this close look at the Mitfords' darkest hour: the family's embrace of fascism and flirtation with treason in the face of World War II." — Lauren Willig, New York Times bestselling author
"Marie Benedict brings to life a dark chapter of World War II. Through grit and perseverance, three sisters – each more dazzling and intelligent than the last – work their way into the highest echelons of power. What happens when one no longer recognizes the siblings she was raised with? When caring turns to callousness? When love turns to rivalry? When the only choice is willful blindness or whistleblowing? One woman must decide whether to betray her sister or her country in this meticulously researched page-turner. Masterful." — Janet Skeslien Charles, New York Times bestselling author of The Paris Library
Discussion Questions
1. Before reading The Mitford Affair, were you familiar with the famous (or infamous, depending on your perspective) Mitford sisters? If so, how has your understanding of these eccentric, beautiful, aristocratic sisters changed, if at all?
2. Nancy is concerned that Diana is considering divorce, particularly because her new partner will not be leaving his own marriage. Why is Nancy so concerned? What is behind Diana's decision?
3. Unity thinks that the only thing that distinguishes her from her sisters is her awkwardness. What are her strengths? Why don't others notice them?
4. Nicknames abound among the Mitford sisters. What purposes do these names serve?
5. What was the appeal of fascist rhetoric for people in Britain, and people like Diana and Unity in particular? What promises did the BUF make? Had they attained power, would they have been able to keep those promises?
6. Diana and Unity are reprimanded for attending the Nuremberg rally wearing bright lipstick. How were German beauty standards shaped by fascist ideas? What social issues are reflected in our modern beauty trends?
7. How do Nancy's concerns about privacy, reputation, and loyalty affect her conversations with her sisters? What finally goads her into taking a more active role against their dangerous beliefs?
8. While waiting to hear if she'll see Hitler during her time in Berlin, Diana has a moment of self-reflection and doubt that startles her. How do you think the events of the book would be different if she questioned herself more?
9. On a couple of occasions, as she tries to make sense of her sister's decisions against the complicated, incendiary developments happening across Europe, Nancy observes that political decisions are often based on personal motivations. What do you think this means in the context of Diana and Unity? Do you think that observation applies in modern times?
10. Though Nancy is clever enough to understand the danger of the radio station documents, her loyalty to Diana wins out for a long time. How does that compare to Diana's treatment of Unity?
11. Nancy asks herself, "Does [a single motivation] matter as long as we think we are acting on the side of right and truth? Or must we be on the actual side of right?" How would you answer those questions?
12. In the final chapter, Nancy suggests that she may have misappre- hended her sisters' actions and the reasons underpinning them. Did this make you reassess the chapters attributed to Diana and Unity throughout the book? Is it possible that those accounts do not reflect what actually transpired (in the fictional world of The Mitford Affair) but Nancy's presumptions and projections about her sisters' activities based on her own, very personal beliefs?
Excerpt
Chapter One
Nancy
July 7, 1932
London, England
The mellifluous sounds of the symphony float throughout the ballroom. Servants pour golden champagne into the cut-­crystal glasses. The fabled Cheyne Walk house exudes perfection down to the last detail, nowhere more than in its hostess.
There, at the center of the vast ballroom, stands the stunning, statuesque figure in a floor-­length sheath of platinum silk, a shade that echoes her silvery-blue eyes. Her diamond-­laden arms outstretched in welcome to her guests, she radiates serenity and unflappable, irresistible poise. If she were anyone else—­someone I didn't know as intimately as I know myself—­I would judge that sphinxlike smile a charade. Or worse. But I know she is precisely as she appears, because she is Diana, my sister.
I wrest my eyes from her and glance around the gleaming gilt and marble ballroom, expansive enough to easily hold the three hundred guests in attendance. As the dancers begin to pair up and then organize themselves, the revelers appear to emanate from Diana like the rays of the sun. It is a pattern that has repeated itself since our childhood; she always dazzles at the center, with us sisters fanned out around her like lesser beams. Never mind that the press considers all six of us Mitford sisters the very essence of the so-­called Bright Young Things, she is the star.
The evening feels more like a celebration of the fashionable new home of Diana and her handsome, kindly husband Bryan Guinness, than a ball introducing one of our younger sisters, Unity, into society. Where has Unity scampered off to? I wonder, as I scan the crowded space for the spectacularly tall eighteen-­year-­old. Never one to abide by social dictates, she seems to have disappeared into the background instead of lapping up the attention as would be expected at an event in her honor. Finally, I spot her tucked into a shadowy corner, deep in conversation with our sister Pamela and our one and only brother, Tom, that golden boy of ours. Of my six siblings that leaves out only Jessica and Deborah, but they're too young to mingle in society.
Even though she pretends to be listening, Unity is clearly watching the other partygoers rather than engaging with Tom and Pamela. At least here at Cheyne Walk, she won't be required to curtsy twice and retreat backward as she'd had to do before the king and queen when she came out at Buckingham Palace. Poor Bobo, as we call her among ourselves, is not known for her grace, and we sisters had clutched one another's hands and held our breath until she'd completed the act without tripping and catapulting herself into one of Their Majesties' laps. Even then, she barely managed the feat without several awkward lunges and an initial backward step where her heel caught on her hem, sending a horrific tearing sound throughout the famous receiving room.
A shimmer of silver crosses the ballroom, and I observe Diana sashaying through the crowds. I think how alike Diana and Unity appear from a distance, both tall with their features blurred and blond hair flashing. Not so upon close inspection, and not only because Diana wears a seamless column of silver, while Unity sports a gray-­and-­white gown that is somehow ill fitting despite numerous trips to the tailor. For the millionth time, I give thanks that I was born with jet-­black hair and green eyes instead of blue; I'd never want to come up wanting by comparison to Diana.
The music pauses, and I see Evelyn Waugh across the expanse. Delight and warmth course through me at the sight of my dear friend. Only the appearance of my unofficial fiancé would bring me greater happiness. But I know that's impossible, as Hamish declared himself unavailable for this particular function, providing yet another reason for my parents, whom we call Muv and Farve, to dislike him, apart from the multiyear, oft-­delayed nature of our engagement. What plans could your fey fiancé have made, Farve wondered aloud using a most derogatory description, that prevented him from attending the ball of his fiancée's sister?
In my darker moments, I wonder whether I shouldn't have accepted Sir Hugh Smiley's proposal instead; banal though he may be, our union would have saved me from my current financial worries. And I'd have spared myself the constant muttering by Muv that it was time for me to stop my unseemly roaming around society, as I'm nearing thirty and still unmarried.
Evelyn glances in my direction, and I raise my hand in greeting, eager to have him join the gaggle of friends assembled at my side. These men—­of which the poet John Betjeman and the photographer Cecil Beaton are but two—­are my chosen family. Why shouldn't they be? The qualities that Muv and Farve disdain in me, along with most men of my acquaintance, are adored by these fellows, who revel in my well-­read, quick-­witted observations, particularly if they aren't appropriate. They are the only group to which I've ever felt I belong, and so, of course, Farve despises these "dandies." Even amid my five sisters, I've always been something of the outsider. With each sister usually paired off or teamed up—­in childhood, Jessica with Unity, Pamela with Deborah, and Diana with Tom, like golden twins—­I've often been alone.
Before I fix a bright smile of greeting on my lips for Evelyn, I run my tongue across my teeth to ensure that no slick of deep-­red lipstick stains them. I smooth my gown, and then rehearse a few of the witticisms I've collected for him since we last met. Everything must be just so; none of us wish to risk Evelyn's humorous but biting censure. It's hilarious if wielded against those outside our circle, less so within.
But Evelyn comes no closer. In fact, he's changed course altogether, as if he's being pulled magnetically in the direction of Diana. A sinking feeling overtakes me, and I know this is my fault. Once, Evelyn had been my friend alone. When he was researching a book on high-­society hijinks and asked to meet Diana, whose beauty and charisma had made her the star of her debutante season and catnip for the journalists, I made the introduction at a tropical party she hosted with her husband on board a riverboat called the Friendship.
I hadn't been worried; I knew that Evelyn planned on disliking the young couple and making them the frivolous protagonists of his novel Vile Bodies. But all that changed when Evelyn came under Diana's spell. Now, he's so bloody mesmerized that I catch him wincing when I refer to my sister by the naughty nickname I've called her since infancy—­Bodley, a play on the name of the publishing firm Bodley Head, because her head has always been too large for her body. This small imperfection is nearly imperceptible to others because her beauty is so overwhelming.
I glance away quickly, not wanting Evelyn or the others to catch me staring. Gawking simply isn't done; it reveals an unacceptable weakness. To hide my misstep, I say, "Looks as though Lady Tennant's trip to Baden did not provide the 'cure' the spa so widely advertises."
Even though this provokes the snickers I expect, I loathe myself for stooping low to achieve it. How I sometimes wish I had more weapons at my disposal than my barbed tongue and pen. But then my friends pile on with their own observations, each cattier than the last, until I cry with laughter. Only when I dab my eyes dry do I first notice it.
Diana stands at the center of a group of men, a common enough occurrence. But her gaze isn't upon a single one of them. It's not even on her doting, wildly wealthy husband. Those silvery blue, incandescent eyes of hers are fixed across the crowded dance floor at the last person I'd expect.
Chapter Two
Diana
July 7, 1932
London, England
Diana steps back, away from those eyes and into the crowd. Her guests part as she passes through, and some of the revelers reach out to shake her hand or kiss her cheek. Fingertips graze her shimmering silver dress. If she believed in false modesty, she could tell herself she's sought after only because she's the hostess of this lavish affair, where a grand mix of her family and society friends gather alongside other Bright Young Things. But she has never any use for such untruths; she is Diana Mitford Guinness and the world just makes itself available to her. It always has.
Amid the cacophony of voices, she hears Winston Churchill, husband of Cousin Clementine, rail on about a Stanley Spencer oil painting she has hung on the wall. Apparently, its depiction of the Cookham War Memorial is inaccurate, a fact of which only old Winnie would be aware. Diana blocks out his bluster—­unusual, because she typically finds his political musings interesting, if disagreeable. She blocks out the sharp retort from his son, Randolph, as well; he's a great friend of her beloved and only brother, Tom, and she's long suspected Randolph fancies her.
Her handsome, adoring husband reaches her side. Aware of how striking they look together, Diana lifts her arms, heavy with diamond bangles, to cue the symphony and the dancers. Power surges through her as the musicians and partygoers follow her signal. All this is hers, she thinks for a fleeting, incredulous moment. The fabulously well-­appointed Cheyne Walk home, complete with Aubusson carpets even for the children's bedrooms. The eighteenth-­century country estate, Biddlesden, where they host any number of family and friends in season. Her two glorious little boys, Jonathan and Desmond, whom she's loved desperately from the moment they wailed themselves into her life. Her husband, Bryan, of course, heir to the Guinness brewing fortune and a barony. A veritable gaggle of friends, family, and acquaintances, always at the ready.
With all this, why is she so terribly bored? Not every minute, of course. Fleeting sparks of merriment present themselves in the form of diversions such as this one and the witticisms of dear friends like Evelyn Waugh. Occasionally, she derives satisfaction from reading a bedtime story to her boys. But a deep sense of aimlessness and unrest pervades her days.
Never mind all that, Diana tells herself. How unseemly to think such thoughts. She hasn't a right to be bored. There are Londoners right outside the gates on the brink of despair, sharing their disgust with her conspicuous excess in the face of worldwide depression. How dare she and Bryan spend their fortune on meaningless parties and acquisitions while so many struggle and starve with unemployment, they cry.
People think she's unaware—­or worse, uninterested—­in these angry throngs and their message, but she's not. Diana knows, down to a man, how many are assembled outside and precisely what they want. Beauty is not a barricade or a blinder to the truth. But what is she meant to do? Even the men of her acquaintance aren't prepared to dive headlong into the breach and shore up this floundering society, not even Bryan who has the money, the means, the connections, and the intellect to make a difference. And this knowledge sours her on him.
As the music slows, she feels the attention of the conductor and the dancers upon her again. Diana has nearly forgotten that the ballroom has paused, waiting for her to prompt the next dance. She raises her arm again, and the room animates, as if awakening from a collective slumber. As the strings play and the dancers twirl past her, Bryan, Evelyn, and a few select in the inner circle at the dance floor's center, she sees him again. Dark hair and eyes, he stares at her from the other side of the dance floor, his gaze never wavering even as one couple veers dangerously close to him. Her cheeks grow warm at the sight of him; she didn't think he would actually come. Sir Oswald Mosley, her M.
She returns his gaze, longer this time than the last. And suddenly, for the first time in recent memory, she feels very much alive.
Chapter Three
Unity
July 7, 1932
London, England
Unity wishes she'd brought her rat to the ball. Ratular would have fit perfectly in her handbag, and he would have provided a topic of conversation when an awkward silence descended, as inevitably happened. Not that the little pet would have had the chance to perform; indeed, no one seems to be interested in filling her dance card—­even though the Cheyne Walk ball is in her honor, for God's sake. At the very least, however, Ratular, with his soft fur and ticklish whiskers, would have provided much-­needed comfort. How she longs to crawl under the nearest table, as she does at home when the mood becomes too fraught.
Feeling uncomfortably constricted, she pulls at the strap of the gray-­and-­white Hartnell dress that Diana had specially designed for her this evening, not wanting her to wear her only other good ball gown—­the one she wore for her Buckingham Palace presentation with the brand-­new fur coat on top, all courtesy of Diana of course. No one else in her family has a spare pound to speak of. What an absolute brick Diana has been during this horrific deb season, Unity thinks. Much more helpful than her other sisters—­not that her favorite, Jessica, who they all refer to as Decca, could do much as she was too young for society—­but what of Nancy? Unity shoots her oldest sister a glance; she's preoccupied with her clever friends as usual, the ones with whom she never wants Unity to talk.
Blast, is that Nina Sturdee standing within earshot of Nancy? A shiver passes through Unity. The last thing she needs right now is a chat with one of her classmates from her short-­lived days at Queen's Gate School, or St. Margaret's for that matter. Some hateful girl who might remember that the staff found Unity ill-­suited for their institution and "counseled" her home to Farve and Muv, much to their chagrin. Unity has long known that the only reason Muv had made an exception from her insistence that her girls be educated at home was that she needed a break from Unity's uniqueness, as she put it. But tonight of all nights, she wants nothing more than to blend in—­or stand out in the respectable, even attractive way she is meant to. No mean feat when she stands nearly six feet tall.
Just then, she sees Diana stroll to the corner of the room, where a cluster of young men are downing drinks as if their lives depend on it. As she leans toward the tallest, gangliest of the set and whispers in his ear, Unity studies how the other three freeze. It's as if Diana's very presence in their midst has caused an Arctic drop in temperature. How Unity longs for that kind of effect on men. Or on one man in particular.
The tall, gangly fellow tears himself away from his friends—­with a modicum of reluctance, she notes—­and walks toward Unity. He is smiling, and as he grows closer, she must remind herself not to return it. The fillings in her upper incisors make her teeth look gray and her smile menacing. More like a grimace than a grin.
The horns and violins begin to play as he asks, "May I have this dance?"
She nods, still very aware of her teeth and wanting to move to the lower lights of the dance floor before speaking. They begin to twirl around the ballroom, and she's grateful Diana selected someone over six feet. Aside from very recent house parties and three balls, her experience with dancing is limited to the twice weekly lessons Muv insisted upon, and she's not certain how smooth her steps would be with a partner shorter than her.
"What sort of music do you like?" he asks, one of those questions her dance instructor has suggested as appropriate chitchat. She wishes she thought of it first.
"I have a particular fondness for opera." She answers honestly, unable to fake the acceptable sort of replies the instructor recommended. This misstep makes her nervous, and so she blathers on. "German ones in particular. My grandparents were great friends of the family of composer Richard Wagner; that's why my parents gave me the middle name of Valkyrie." His face is blank; not at all the sort of awed expression she hoped for. Is it possible he doesn't know who Wagner is, doesn't know his world-­renown stature? Perhaps he needs a bit of clarification, she thinks, and adds, "In honor of his most famous opera, the Ring cycle?"
"Ah," he says, then adds, "Interesting."
But his tone tells her that her conversation is the opposite of interesting; he finds her very dull indeed. So she tries a change of tack. "Do you like rats?"
He pulls away from her, staring at her face but not ceasing to dance. So she continues with the steps. After all, they are drawing close to Diana, and Unity does not want to disappoint her beloved sister.
But when they circle close enough to Diana to touch and Unity glances over at her for an approving nod, she realizes that her sister is oblivious to her presence. Diana is engrossed in a conversation with a man who is somehow familiar to Unity but she can't instantly place him—­and they are standing inappropriately close. And then, in a rush, his name comes to her; he is that fascist gadabout, as Farve calls him, Sir Oswald Mosley. Why in God's green earth would Diana be talking so closely to him?
Interviews
A CONVERSATION WITH THE AUTHOR
It's clear that despite her own beliefs, Nancy found it very difficult to act against her sisters, especially before the outbreak of war. When writing a character like Nancy, are you ever tempted to add more fiction or push her into a more active role than she took in real life?
Yes! In actuality, while the record reflects that Nancy did report about her sister's activities to MI5 and that report played a role in Diana's incarceration, I was not able to locate documentation that Nancy engaged in the more active spying activities that I depicted in the book, although she must have been collecting information on her sister's whereabouts and companions informally for years, particularly as the political landscape shifted. Consequently, I did add more action than I was able to verify in the record, in part because I found Diana and Unity's behavior so unbelievably appalling and Nancy's inaction in those earlier years difficult to fathom, aside from the obvious internal conflict. That said, hindsight is twenty-twenty, and of course, Nancy would not have been privy to everything we know now—but still! I didn't want to stray too far, however, from what the record reflects, and the book reflects that compromise.
What kinds of sources did you consult to learn about the Mitford sisters and their world? When looking at writing they published more broadly, like Nancy's books or Unity's articles, does the intended audience change the way you interpret their perspectives?
In some ways, the Mitford sisters are the best chroniclers of their own histories and the most crucial sources, even though there are myriad books written by others about them. Between them, they've penned many books and countless shorter pieces—a mix of biographies about each other, biographies about others, autobiographies, non- fiction on a variety of topics, articles, and, of course, Nancy's famous semi-autobiographical post-World War II novels, The Pursuit of Love and Love in a Cold Climate, and her less famous novels as well. Each of these books, in its own way, shares different slices of the Mitford sisters' lives. That said, given the sisters' penchant for larger than life tales and the way their writings shifted depending on the nature of their audiences, those writings need to be taken with a grain of salt—and often, I found myself turning to their actual letters to one another as a rich and engrossing source of information about them.
Diana and Unity seem to get involved with fascism largely to further other agendas in their personal lives. Can we divorce our politics from our personal lives? Should we?
In part, the way in which politics and political figures affected the Mitfords and their relationships with one another drew me to this part of their history; it is so very timely in some ways. The further I delved into the almost unbelievable manner in which Diana and Unity became fascinated, even obsessed, with fascism, the clearer it became that, for these two sisters, politics was intensely personal. This notion, in fact, is a theme in Nancy's writings. And the more I considered it—the more I examined the world around me through that lens—the truer it seemed to be for most people; did people really land on a political belief system first and build a worldview around it as I'd sort of always thought, or did they have a personal worldview and select a political perspective based on it, I began to wonder. Throughout the writing of this book and beyond, I've speculated as to whether it's even possible to divorce the personal from the political, and I haven't yet arrived at an answer.
Unity's suicide attempts drastically altered Nancy's perspective. Do you think she would have been so willing to assist Churchill without seeing consequences that hit so close to home?
As I was investigating Nancy's life and her sisters' actions while building this story, I found Nancy's inability to act for so long—knowing what she knew—so frustrating! But then I thought about my own siblings, and I realized that it would take something truly momentous for me to put them and their futures at risk by reporting any questionable activities to the authorities (not that they engage in questionable activities, mind you!). I am not surprised that it took the nearly fatal suicide attempt by Unity to push Nancy to act against Diana, but that doesn't mean I didn't find Nancy's passivity disheartening. I do think that, even if Unity hadn't taken that drastic, terrible act of shooting herself, Nancy would have eventually disclosed Diana's plans as the war progressed and the scope and scale of Hitler's evil revealed itself. I hope so, anyway.
Between the three sisters, did you have a favorite perspective to write? Who was the most difficult to understand from the inside out?
Without question, I found Unity's point of view the most challenging to comprehend and write about. Even without the benefit of hindsight, I wondered how she could possibly be intrigued by a politician as odious and evil as Hitler! I found it extremely difficult to look at him and the Nazis through Unity's eyes and see anything other than wickedness. But as often happens while writing historical fiction, I have to remind myself that she didn't know all that we know—even still, I found it incredibly difficult to adopt her mindset, no matter how fictional. I probably enjoyed writing Nancy's story the most, although there was something appallingly compel- ling about stepping into Diana's world. But boy, was I happy to step out of it!
One of the big questions throughout the book is, to whom do we owe our loyalty. Do you think there is a way to remain loyal to someone without supporting their ideas and ambitions?
Loyalty must have its limits, I think, particularly if remaining loyal to someone will put others—particularly large numbers of others—at risk of harm. Of course, we all have to draw our own lines around our loyalty to those individuals and institutions holding very different beliefs from our own and acting upon those beliefs. I think that, in The Mitford Affair, Diana crossed Nancy's line when her actions (and inaction) nearly killed Unity—and Nancy realized that many, many more people might be similarly impacted if Diana's plans reached fruition. But, of course, as the book posits, how well can we really know someone's beliefs and decisions? How certain do we have to be before we put aside our loyalty?
What's next for you and your writing?
I hope to continue excavating from the past the most important and fascinating women of history—women whose stories deserve to be told and legacies celebrated—until such novels are no longer necessary because both modern and historical women are no longer in the shadows.