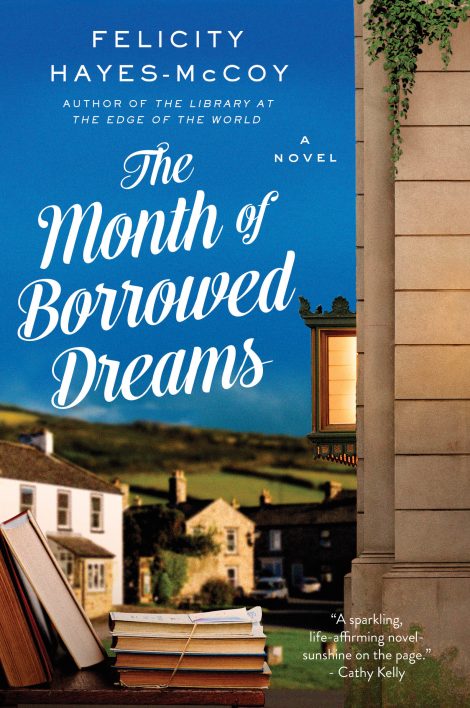 THE MONTH OF BORROWED DREAMS
Finfarran Peninsula: Volume Number 5
---
Return to USA Today bestselling author Felicity Hayes-McCoy's Finfarran Peninsula with this enchanting novel in the vein of Jenny Colgan, Maeve Binchy, and Nancy Thayer—humming with the rhythms of modern rural Irish life—in which librarian Hanna Casey and her family and friends face new challenges and possibilities.
On the Finfarran Peninsula on Ireland's west coast, the blue skies and warmer days of summer are almost here. At the Lissbeg Library, Hanna Casey has big plans for the long days ahead. Beginning with the film adaptation of Brooklyn, she's starting a cinema club, showing movies based on popular novels her friends and neighbors love.
Return to USA Today bestselling author Felicity Hayes-McCoy's Finfarran Peninsula with this enchanting novel in the vein of Jenny Colgan, Maeve Binchy, and Nancy Thayer—humming with the rhythms of modern rural Irish life—in which librarian Hanna Casey and her family and friends face new challenges and possibilities.
On the Finfarran Peninsula on Ireland's west coast, the blue skies and warmer days of summer are almost here. At the Lissbeg Library, Hanna Casey has big plans for the long days ahead. Beginning with the film adaptation of Brooklyn, she's starting a cinema club, showing movies based on popular novels her friends and neighbors love.
But the drama that soon unfolds in this close-knit seaside village rivals any on the screen.
Just when Lissbeg begins to feel like home, an unexpected twist leaves Hanna's daughter, Jazz, reeling and may send her back to London.
Aideen worries that her relationship with Conor won't survive the pressures of their planned double wedding with overbearing Eileen and manipulative Joe.
Saira Khan throws herself into helping a troubled new arrival to Finfarran.
Hanna enjoys getting closer to Brian until her ex-husband Malcolm returns, threatening her newfound contentment.
As the club prepares for the first meeting of the summer, they'll all face difficult choices. But will they get the happy endings they deserve?
Harper Perennial
Paperback
November 2021
384 Pages
9780062889522
Praise
"A sparkling, life-affirming novel—sunshine on the page."—Cathy Kelly
"Heartwarming."—Irish Independent
Discussion Questions
1. The Month of Borrowed Dreams centers on a public library in rural Ireland where librarian Hanna Casey has started a club to show film dramatizations of well-loved books. According to its author, Felicity Hayes-McCoy, Lissbeg Library with its warm, neighborly atmosphere and patrons from differing backgrounds and generations could be found in any small town anywhere in the world. Do you agree?
2. Hanna worries when her daughter Jazz breaks up with her boyfriend. Louisa, Hanna's exmother-in-law, frets about her adult son Malcom. And Hanna's mother, Mary, interferes in Hanna's life even though Hanna is a divorcee with a daughter in her twenties. The author tells us that, despite resenting Mary's behavior "at times Hanna harbored a sense of fellowfeeling for her mother. It was hard not to wade in with solutions when you saw your child in trouble." Do you think this is true? Have you known anyone in a similar situation?
3. Towards the beginning of the book, Hanna tells herself that "people so often projected their own dilemmas and dreams onto books they borrowed that sometimes she felt librarians ought to have specialist training in counselling." Are you a librarian, or do you know of any, who feels that way? Are there other jobs – such as hairdressing – that put people in that position with regard to the public?
4. Each of the main characters in The Month of Borrowed Dreams identifies in some way with a character from the film of Brooklyn (based on the novel of the same name by the Irish author Colm Tóibín). Do you find yourself doing this when you watch a film or read a book? Is there a particular fictional character that you identify with – or one that's completely unlike you, whom you'd secretly love to be?
5. Were you drawn in by the book's descriptions of Finfarran's landscape and seascapes? Without them, do you think the story might have affected you differently?
6. One of the book's central plotlines concerns Aideen and Conor's planned double wedding with Eileen and Joe. Did you have, or have you ever been to, a double wedding? Do you think they're a good idea? Have you ever met someone like Eileen, a bossy character with a heart of gold?
7. Neither Conor nor his dad Paddy like the idea of accepting money from Joe's prospective father-in-law, and they insist on regarding his investment in the McCarthy farm as a loan. Do you understand their reluctance? Does it have to do with the length of time the McCarthy's have farmed their land? What do you think of the relationship between Conor and his brother Joe?
8. Aideen and Eileen have very different ideas about the perfect wedding. Why do you think that's so? Which of the two girl's ideas do you prefer?
9. What do you think of Saira Khan's relationship with Rasher? Does it develop as the story goes on? Do you understand Rasher's nervousness when he first meets her? What characteristics does Saira have that make her a good counsellor?
10. "There's decent people up and down the length and breadth of this country that never got a hand-out in their life. Never asked for it and wouldn't get it if they did ask. Because of the likes of you." Nugent isn't racist. He dislikes Rasher because he assumes that anyone living on the streets is a scrounger likely to want welfare payments. What do you think of this kind of prejudice? Do you think police officers like Nugent can be helped by retraining? Were you aware of how much help libraries can give to people down on their luck or trying to improve their prospects of employment?
11. Towards the end of the book, when Pat and Rasher meet in the nuns' garden, Pat talks about her children who have busy lives and whom she seldom sees. Then she remarks that the mother of the heroine in Brooklyn, is "left at home in a town that was grey and cold" and says she'd sad that the younger film club members don't seem to be aware of that aspect of Brooklyn: "… but the young are like that, Rasher. They have to be. They don't think." At the end of their conversation, she asks Rasher to call his own mother, to let her know he's safe and well. Do you agree with Pat's conclusion about young people? Do you think Rasher will call home?
12. What do you think of Fury as a character? Is he a lonely man or do you see him as selfsufficient? What do you think of his relationship with The Divil?
13. Can you describe Fury's relationship with Brian? Do you think that sharing a physical task makes it easier for people to talk to each other – gardening, for example, or quilting, or building a wall together, as Brian and Fury do?
14. Aideen says there's a difference between "… real dreams and ones you've just borrowed from things in celebrity magazines." Do you agree that there's a difference? Do you think Conor and Aideen are right to want to make their own dreams?
15. If Fury were working for you, would you find his idiosyncrasies attractive or annoying? How is his bossiness different to Eileen's? Are there well-respected tradespeople with a similar role to Fury's in your community? Do you empathize with his respect for craftsmanship from the past?
16. Hanna is furious with her cheating ex-husband and worries about how badly their divorce has affected Jazz. Yet in Chapter Two, looking back on her wedding night, "neither worry nor guilt had flooded her mind … Instead she'd seen sage-green painted walls, smelt beeswax and remembered moonlight. The thought of her perfect bedroom and of blossom shining on the pear trees had, for a moment, blotted out all sense of the years in between." Have there been bad times in your life which, nevertheless, have left you with sweet memories?
17. Rasher can't understand why Saira volunteers for unpaid work at the hallway house. In fact, she helps out in order to give something back to the country that's welcomed her as an immigrant. What do you think of her philosophy? Do you have people in your own community who always step up and offer to help when others are in need? What kinds of characteristics or upbringing make such a person?
18. The psalter is central both to Hanna's library and to the Finfarran peninsula's ancient roots. The nuns' garden, which is central in The Month of Borrowed Dreams, is also at the center of Lissbeg town. How has the author used the book and the garden to throw light on the story she tells in her novel?
19. Having been cheated on and lied to by Malcolm, Hanna is distraught to find that Brian hasn't told her he has a son. When Brian says there's no comparison between Malcolm's behavior and his own, Hanna replies that "There is because I feel there is. There is because God alone knows what else you've kept from me." Do you understand her anger? Would you feel the same way? Can you accept Brian's explanation? Do you see why, in the end, Hanna accepts it?
20. At the end of The Month of Borrowed Dreams Hanna realizes that the past can't be changed, which frees her to make a choice that allows her to enjoy the future. In the final chapters, speaking of herself, she says to Jazz that she's "needed to discover how to be happy", and tells Brian that their relationship is fine as it is: "I don't want to be married. I want to be happy." Which other characters in the novel find ways to be happy with what they've got, instead of wasting their time chasing borrowed dreams?
Excerpt
Chapter One
At first Hanna Casey's idea for a monthly film club in Lissbeg Library hadn't worked. She'd decided that the members would see a film at one meeting and discuss the book it was based on at the next, having borrowed it from the library in the weeks between. And, as it turned out, plenty of people were happy to come to the films. The club was a great idea altogether, they told her, the way you could save yourself the cost of something like Netflix. Also, they loved the tea and biscuits.
But, as time went on, there was a lot of muttering about being too busy to read, and suggestions that, compared to a film, a book could be fierce heavy going. After a while a good many people stopped coming.
So Hanna put up a notice. 'Due to popular demand,' it said, a film would now be screened at each meeting, not every second one. Across the bottom, in smaller writing, members were informed that meetings would begin with a brief discussion of the film shown the previous month.
Conor, her library assistant, was scathing. 'God, you'd think they'd manage to read a book when you gave them the full four weeks.'
'Well, some people did and they still will. Others won't, so they'll purposely turn up late and miss the discussion. But they'll come through a library door, and that's the point, Conor. So don't go looking at them sideways.'
She knew he wouldn't, though. Conor might be in his early twenties but he was absolutely reliable. He just liked things to be organised and expected plans to be followed.
In hindsight Hanna realised it had been daft to expect much interest in the nuance of adaptation, particularly when there was a great stretch in the evenings and the whole Finfarran Peninsula was gearing up for summer. Easter had come early, and March and April had been chilly enough for her to light a fire each evening when she got in from work. But while May had begun as a blustery month it was now as mild as milk.
This was the time of year Hanna loved best. Having left Finfarran at nineteen and spent most of her adult life in London, she was intensely aware of new life springing up in the fields. Driving to work between ditches smothered in tangled weeds and flowers, she could feel a sense of potential and promise she'd lost in those long city years. Perhaps it was because she'd moved on at last from a difficult divorce, or because a new relationship, begun in shyness and uncertainty, was now flowering as happily as the primroses up on the ditch.
And she wasn't just projecting her own feelings onto the world around her. It truly was a glorious time of year. According to Conor, whose family farm was a few miles beyond the town of Lissbeg, there was grand bite in the grass at last and the lambing was going great guns.
This month the film club was going to watch the film of Brooklyn, Colm Tóibín's bestselling novel about love, emigration, and choices, set in 1950s Ireland and New York. Hanna locked the library door at five thirty as usual, and went back to her desk. There were always bits and pieces of admin to be dealt with towards the end of a week, and she was glad of the time to catch up with them before the club met at seven. Conor, who had shot off early on his Vespa, would be back soon with very clean hands and damp hair, having helped his older brother, Joe, with the milking and taken a hasty shower.
After tidying her desk and shutting down her computer, Hanna went to the kitchenette to make a coffee. Often, on film club nights, she'd nip over to the Garden Café for a wrap or a salad, to save herself the trouble of making a meal later on. Tonight her daughter, Jazz, was coming to Brooklyn so they'd planned to eat together after the film. Like many others who'd joined with initial enthusiasm, Jazz had become an erratic club member, more likely to miss a meeting than to turn up, but today she'd sent a text saying she'd be working late in the office and might as well come to the film when she was done.
As Hanna waited for the kettle to boil, she calculated the number of chairs she'd need. Brooklyn would pull a crowd. With a rural Irish setting, three 2016 Oscar nominations, and a BAFTA Best British Film award, it should appeal to a wider audience than a classic like Death in Venice, which she'd chosen the previous month.
There'd probably be greater interest in borrowing the book as well. Even though they'd loved the film, more than a few film club members had picked up Mann's Death in Venice, seen it was a translation from the German, and put it back on the shelf. But Colm Tóibín was a writer everyone had heard of, and the fact that he had a pronounceable name would give him a head start. She'd learned that, if nothing else, from her screening of Dostoyevsky's The Brothers Karamazov.
By a process of osmosis the town had agreed that a brief discussion starting at seven meant the film would begin at seven thirty, though a hard core always came early to get first go at the biscuits. Tonight, long before Conor had set out the chairs, Ann Flood from the pharmacy was hovering near the tea urn, where the plates of digestives and rich teas were augmented by chocolate fingers.
Among the early arrivals was a knot of readers eager to discuss Death in Venice, and one was determined to make it tête-à-tête. Fixing Hanna with a beady eye, she bore down on her inexorably in a whirl of scent and beads. Avoiding the clawlike clutch at her arm, Hanna smiled brightly. 'Conor's about to bring in the cups. Do help yourself as usual.'
She moved away to greet the next influx, which included a group of pensioners, Conor's fiancée, Aideen, and a couple of guys who worked in the council offices over the way. As she smiled and shook hands with the newcomers, Hanna could hear the disgruntled enthusiast behind her announcing that cheap tea always turned her stomach.
The council offices were housed in a block that had once been Lissbeg's convent school, where the library was accommodated in the former assembly hall. When she'd left her English husband and returned to Ireland, the fact that she herself had been a pupil here had added to Hanna's sense of disorientation. Working in the dark-panelled room where she'd giggled and whispered as a schoolgirl had somehow brought back a teenage sense of inadequacy, making her prickly and aggressive at a time when she'd badly needed friends. And at first she'd actively disliked her job, not only because of its setting. She had left school with the dream of a career as an art librarian in London, so ending up in Lissbeg local library had felt like failure. But now both the library and her attitude towards it had changed.
Previously enclosed by a grim grey wall that encompassed the school and the convent, the buildings had been developed to provide offices, low-rent workshops, and studios for start-up businesses, and a public space with a café in the former nuns' garden. In the process, the library had been extended to include a state-of-the-art exhibition space as well as the airy, modern reading room that Hanna used for the film club.
Those changes had vastly improved her workplace. The dark-panelled hall had been linked to the new spaces by glass partitions, so the library, which used to rely on ugly strip lighting, was now lit by daylight from two sides. And because the exhibition space displayed a medieval psalter, which had proved a magnet for tourists, the library's amenities had been improved as well. Along with the digital screens installed in the exhibition space, Hanna's reading room had been equipped with blackout blinds and a projector, and a screen that still gave her a secret thrill whenever she hit the button to lower it from the ceiling.
Admittedly, the kitchenette where she and Conor made tea and hung their coats was still the size of a shoebox, but that was nothing compared to all the rest.
Now she moved to the front of the room. There were plenty of vacant seats at the back; a few couples had gathered in the centre; and a phalanx of pencils and notebooks was twitching in the front row. Dead centre was Mr Maguire, a retired local schoolteacher. And on a chair that had somehow migrated to the right, Ann Flood, with a teacup at her feet, was unwrapping a chocolate finger.
Hanna was about to kick off the discussion when Mr Maguire sprang to his feet and swivelled to face the audience. In his well-manicured hand a copy of Death in Venice bristled with brightly coloured sticky notes. It was a Knopf hardback edition, Hanna noticed, so he definitely hadn't borrowed it from the library. She could see the guys from the council offices, who'd known him in their schooldays, looking resigned.
'The first question is why the director perversely chose to make the hero a composer when the author made him a writer. Any meaningful comparative discussion must begin from that starting point. So let's take it from there.' With the air of a man who had set out his stall, Mr Maguire sat down again.
Hanna looked at the faces around her, whose expressions ranged from bafflement to boredom. From his position at the back of the room, Conor flashed her a grin.
A woman with a gauzy scarf over her dark hair leaned forward, and Hanna heard herself responding rather louder than she'd intended. 'Yes! Saira! Did you want to say something?'
There was a gleam of amusement in Saira Khan's eyes. She was a quiet woman in her forties with a daughter who'd recently gone off to college, leaving her with spare time on her hands. 'Actually, I thought the film threw new light on the book.' She turned to Mr Maguire. 'And it's good to have one's assumptions about a work of art challenged. Don't you think?'
Mr Maguire was squaring his shoulders when Aideen, Conor's fiancée, raised her hand. She was sitting in the centre row beside her cousin Bríd. 'I dunno if I should say this because I haven't read the book.'
Several people who clearly hadn't read it either looked encouraging. Aideen hooked a curl behind her ear. 'If they hadn't changed the hero from an author to a composer, would the music in the film have made sense? Because the music was the best bit, I thought. And the costumes. And the light on the water. I mean, I've been to Italy – not Venice, Florence. Me and Conor went there. The light's amazing. And, in the film, the way the music and the pictures work together is fantastic.'
In a pained voice, Mr Maguire asked Hanna if they weren't straying from the point. 'I believe we're here to discuss a classic work of modern literature.'
Aideen turned scarlet and Conor immediately spoke from the back of the room. 'Well, I have read the book and it seems to me that Aideen's hit the mark. Spot on.'
Hanna was torn between sympathy and annoyance. Conor hadn't read Death in Venice – he'd told her so that morning when he'd returned the copy he'd borrowed. He'd had a couple of goes at reading it, he'd said, but he'd been up with the sheep all hours for weeks and kept falling asleep.
Now his eyes met Hanna's over the heads of the audience. With his damp spiky hair and sunburned face, he was an unlikely picture of chivalry, but his blazing stare dared her to undermine his stance. She could think of no other circumstance in which he was likely to challenge her, but where Aideen was concerned he was Galahad and Lancelot rolled into one. So, feeling she had no option, she said his point was well made.
With the arrogance of a man who'd spent forty years in undisputed authority, Mr Maguire ignored the interruption and told Saira Khan that, unlike literature, films weren't Art. 'And books are made to be read, not fiddled about with.'
Hanna mentally counted to ten and refrained from asking why, in that case, he'd bothered to join the club.
Saira Khan's eyes gleamed again, but before anyone else could speak, the door opened to a stream of new arrivals. It was five to eight and Lissbeg had arrived in force to see Brooklyn – a brilliant film, as someone declared loudly, though how come the tea was all gone?