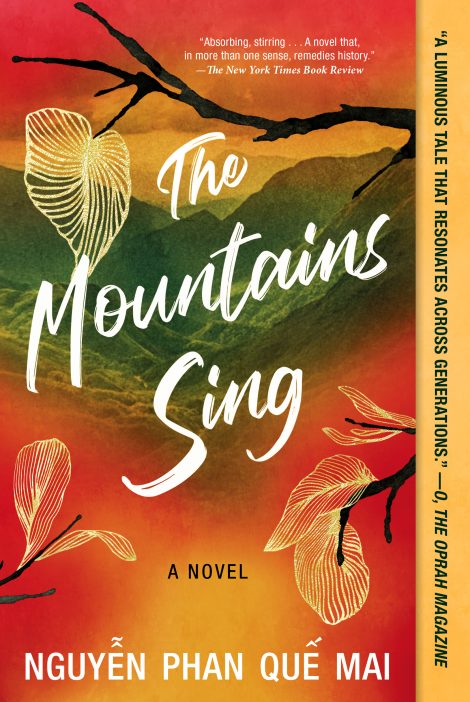 THE MOUNTAINS SING
---
With the epic sweep of Min Jin Lee's Pachinko or Yaa Gyasi's Homegoing and the lyrical beauty of Vaddey Ratner's In the Shadow of the Banyan, The Mountains Sing tells an enveloping, multigenerational tale of the Trần family, set against the backdrop of the Việt Nam War. Trần Diệu Lan, who was born in 1920, was forced to flee her family farm with her six children during the Land Reform as the Communist government rose in the North. Years later in Hà Nội, her young granddaughter, Hương, comes of age as her parents and uncles head off down the Hồ Chí Minh Trail to fight in a conflict that tore not just her beloved country,
With the epic sweep of Min Jin Lee's Pachinko or Yaa Gyasi's Homegoing and the lyrical beauty of Vaddey Ratner's In the Shadow of the Banyan, The Mountains Sing tells an enveloping, multigenerational tale of the Trần family, set against the backdrop of the Việt Nam War. Trần Diệu Lan, who was born in 1920, was forced to flee her family farm with her six children during the Land Reform as the Communist government rose in the North. Years later in Hà Nội, her young granddaughter, Hương, comes of age as her parents and uncles head off down the Hồ Chí Minh Trail to fight in a conflict that tore not just her beloved country, but her family apart.
Vivid, gripping, and steeped in the language and traditions of Việt Nam, The Mountains Sing brings to life the human costs of this conflict from the point of view of the Vietnamese people themselves, while showing us the true power of kindness and hope.
The Mountains Sing is celebrated Vietnamese poet Nguyễn Phan Quế Mai's first novel in English.
Algonquin Books
Paperback
March 2021
368 Pages
9781643751351
Praise
A New York Times Editors' Choice Selection
A Winner of the 2020 Lannan Literary Awards Fellowship
A She Reads Best Historical Fiction and Best International Book of 2020
A Book Riot Best Book for Book Clubs
A Best New Historical Fiction Novel:  BuzzFeed Books * Goodreads
A Best Book of 2020: NPR's Book Concierge * PopMatters * Washington Independent Review of Books * Real Simple * The Buzz Magazine * NB Magazine * BookBrowse * Paperback Paris * Writer's Bone * Global Atlanta
"A luminous, complex family narrative . . . The Mountains Sing affirms the individual's right to think, read, and act according to a code of intuitive civility, borne out of Vietnam's fertile and compassionate cultural heritage." —NPR
"A Vietnamese poet conjures history and fate in a luminous tale that resonates across generations as one family grapples with the psychic residue of war." —O, The Oprah Magazine
"A sweeping story that positions Vietnamese life within the ​rich and luminous history of national epics like The Tale of Kiều and The Iliad. Expansive in scope and feeling, The Mountains Sing is a feat of hope, an unflinchingly felt inquiry into the past, with the courageous storytelling of the present." —Ocean Vuong, author of On Earth We're Briefly Gorgeous
"This multigenerational tale chronicles the Trần family as a Vietnamese woman visits Hanoi and reflects on the life lessons shared by her late grandmother." —USA Today, "Five Books Not to Miss"
"The Mountains Sing is an epic account of Việt Nam's painful 20th century history, both vast in scope and intimate in its telling. Through the travails of one family, Nguyễn Phan Quế Mai brings us close to the horrors of famine, war, and class struggle. But in this moving and riveting novel, she also shows us a postwar Việt Nam, a country of hope and renewal, home to a people who have never given up." —Viet Thanh Nguyen, Pulitzer-Prize winning author of The Sympathizer
"A mesmerizing, devastating, searing and utterly authentic and deeply human novel. Cannot recommend highly enough!" —Lynn Novick, co-director of The Vietnam War documentary
"Lyrical, wrenching, sometimes painful to read, but ultimately glorious in affirming the resilience of the human spirit. In these traumatic times in which we are facing hard times as a global community as well as a nation, it is life-affirming to be reminded that many in our human family have endured difficult histories before and come through with kindness, kindredness, love, hope, and wonderful novels that will make your heart—as well as the mountains—sing!" —Julia Alvarez, bestselling author of In the Time of the Butterflies and Afterlife
"The author and poet, known in her native Vietnam as Nguyễn Phan Quế Mai', tells a comprehensive multigenerational tale, beginning in 1920s Vietnam and continuing through modern wartime. However, the larger history takes a back seat to family dynamics, demonstrating how different generations weather the burdens of conflict." —The Washington Post, "Ten Books to Read in March"
Discussion Questions
1. There are many major historical events featured in the novel. How much did you know about these events before you read The Mountains Sing? Did the story show you a new side to any events you were already familiar with?
2. Many of the characters in The Mountains Sing experience terrible things, and some of them must make difficult choices. Each of them handles their experiences differently. The Sơn ca helps Hương on her journey. What other objects, mem-ories, people, or conversations help each character to endure and recover?
3. How does Grandma Diệu Lan help her children after their return? What might her relationships with her children reveal about family relationships in Việt Nam?
4. War stories are often told from a male perspective. In The Mountains Sing, Hương and Grandma Diệu Lan take turns narrating their stories. How might the novel differ if it had male narrators? Why do you think the author chose to have women and girls tell the story instead?
5. Which character did you feel the most sympathetic toward? The least? Is that different from which character you like the most and least, and if so, why?
6. "I was determined to sing on. I learned then that as long as I have my voice, I am still alive," says Grandma Diệu Lan. Give examples of music and poetry that are represented in the novel. How important do you think music and poetry are in the Vietnamese culture? How important are they in your own culture?
7. In addition to descriptions of war and pain, The Mountains Sing features many descriptions of gorgeous landscapes, interesting city sights, and delicious foods. Were there any locations that you would like to visit or have visited? Any foods you would like to try or have tried?
8. According to Hương, proverbs are the essence of Vietnamese wisdom, passed orally from one generation to the next, even before the written Vietnamese language existed. Two examples are Trong cái rủi có cái may (Good luck hides inside bad luck) and Ác giả ác báo (Cruelty dispensed, cruelty returned). Do these proverbs ring true for you? Were there other proverbs that resonated with you as particularly true or meaningful?
9. In The Mountains Sing, Vietnamese names and words appear with their full diacritical marks. For Vietnamese speakers, these marks are necessary to interpret meaning : for example, the words ma, mả, má, mà, mạ, and mã all have separate meanings (ghost, grave, mother, but, young rice plant, and horse, respectively). Nonetheless, it is unusual for an American novel to include the marks. Did their inclusion affect your reading experience? How?
10. Hương thinks that if people are willing to learn about other cultures, there will be no war on earth. Do you think Hương feels differently about America and American people because of her reading? What books have made your world bigger?
11. Grandma says, "If our stories survive, we will not die, even when our bodies are no longer here on this earth." The Mountains Sing is inspired by some of the experiences of the author's family. What stories from your own family can be written into a novel? Do you know of any fictional stories that remind you of your own family story?
12. Had you previously read other books from or about Việt Nam? How is the Việt Nam portrayed in The Mountains Sing similar to or different from the Việt Nam you already knew?
Excerpt
Hà Nội, 1972–1973
Grandma is holding my hand as we walk to school. The sun is a large egg yolk peeking through a row of tin-roofed houses. The sky is as blue as my mother's favorite shirt. I wonder where my mother is. Has she found my father?
I clutch my jacket's collar as the wind rips through the air, swirling up a dust cloud. Grandma bends, putting her handkerchief against my nose. My school bag dangles on her arm as she cups her palm against her face.
We resume walking as soon as the dust settles. I strain my ears but hear no bird. I search, but there isn't a single flower along our path. No grass around us, just piles of broken bricks and twisted metal.
"Guava, be careful." Grandma pulls me away from a bomb crater. She calls me by my nickname to guard me from evil spirits she believes hover above the earth, looking for beautiful children to kidnap. She said that my real name, Hương, which means "fragrance," would attract them.
"When you come home today, you'll get our favorite food, Guava," Grandma tells me.
"Phở noodle soup?" Happiness makes me skip a step.
"Yes. . . . The bomb raids have stopped me from cooking. But it's been quiet, so let's celebrate."
Before I can answer, a siren shatters our moments of peace. A female voice blares from a loudspeaker tethered to a tree: "Attention citizens! Attention citizens! American bombers are approaching Hà Nội. One hundred kilometers away."
"Ôi trời đất ơi!" Grandma cries for Heaven and Earth. She runs, pulling me along. Streams of people pour out of their homes, like ants from broken nests. Far away, from the top of the Hà Nội Opera House, sirens wail.
"Over there." Grandma rushes toward a bomb shelter dug into the road-side. She pulls up the heavy concrete lid.
"No room," a voice shouts out from down below. Inside the round pit just big enough for one person, a man half kneels, half stands. Muddy water rises to his chest.Grandma hurries to close the lid. She pulls me toward another shelter.
"Attention citizens! Attention citizens! American bombers are approaching Hà Nội. Sixty kilometers away. Armed forces get ready to fight back." The female voice becomes more urgent. The sirens are deafening.
Shelter after shelter is full. People dart in front of us like birds with broken wings, abandoning bicycles, carts, shoulder bags. A small girl stands alone, screaming for her parents.
"Attention citizens! Attention citizens! American bombers are approaching Hà Nội. Thirty kilometers away."
Clumsy with fear, I trip and fall.
Grandma pulls me up. She throws my school bag to the roadside, bending down for me to jump onto her back. She runs, her hands wrapping around my legs.
Thundering noise approaches. Explosions ring from afar. I hold on to Grandma's shoulders with sweaty hands, burying my face into her body.
"Attention citizens! Attention citizens! More American bombers are approaching Hà Nội. One hundred kilometers away."
"Run to the school. They won't bomb the school," Grandma shouts to a group of women lugging young children in their arms and on their backs. At fifty-two years of age, Grandma is strong. She dashes past the women, catching up with those ahead of us. Bounced up and down, I press my face against her long, black hair that smells like my mother's. As long as I can inhale her scent, I will be safe.
"Hương, run with me." Grandma has squatted down in front of my school, panting. She pulls me into the schoolyard. Next to a classroom, she flings herself down a vacant shelter. As I slide down next to her, water rises to my waist, gripping me with icy hands. It's so cold. The beginning of winter.
Grandma reaches up, closing the lid. She hugs me, the drum of her heart throbbing through my blood. I thank Buddha for the gift of this shelter, large enough to fit us both. I fear for my parents on the battlefields. When will they come back? Have they seen Uncle Đạt, Uncle Thuận, and Uncle Sáng?
Explosions draw closer. The ground swings, as if it were a hammock. I press my palms against my ears. Water shoots up, drenching my face and hair, blurring my eyesight. Dust and stones rain through a small crack onto my head. Sounds of antiaircraft fire. Hà Nội is fighting back. More explosions. Sirens. Cries. An intense burning stench.
Grandma brings her hands together in front of her chest. "Nam Mô A Di Đà Phật, Nam Mô Quan Thế Âm Bồ Tát." Torrents of prayers to Buddha pour from her lips. I close my eyes, imitating her.
The bombs continue to roar. A minute of silence follows. A sharp screeching noise. I cringe. A powerful explosion hurls Grandma and me against the shelter's lid. Pain darkens my eyes.I land feet-first on Grandma's stomach. Her eyes are closed, her hands a budding lotus flower in front of her chest. She prays as the thundering noise disappears and people's cries rise into the air.
"Grandma, I'm scared."
Her lips are blue, trembling from the cold. "I know, Guava. . . . I'm scared, too."
"Grandma, if they bomb the school, will . . . will this shelter collapse?"
She struggles against the confined space, pulling me into her arms. "I don't know, darling."
"If it does, will we die, Grandma?"
She hugs me tight. "Guava, if they bomb this school, our shelter might collapse on us, but we'll only die if Buddha lets us die."
Essay
Climbing Many Mountains
In 1983, when I was ten years old, I went secretly to the post office in my hometown to mail a letter to Hà Nội. The letter contained my entry for a writing competition. When a notice arrived announcing that I had won a prize, my parents were shocked. Due to the long history of Vietnamese writers' experiences in my country, my parents reminded me of their wish that their only daughter would not become a writer.
I had to put aside my dreams of writing to do a variety of jobs to earn a living and help support my family. But the writer in me always listened to other people, always asked questions about their experiences during the war, and memorized their stories. In my teenage years, I began to travel to my parents' villages to talk with our elder relatives and family friends so I could imagine how life had been for my grandparents, who had either died or been killed before I was born. Gradually, the more I began to understand Việt Nam's painful past, the more people shared with me the events of their lives.
Unbeknownst to me, at that young age I was already carrying out the research for The Mountains Sing. It was only with time and distance and my ongoing academic research that I could comprehend the complexity of Việt Nam's history and its relation to other nations. My extensive exchanges with Vietnamese and American combat veterans, as well as volunteer work with victims of the war, has expanded this understanding.
The Mountains Sing embodies my yearning to know my grandmothers, and to bring to life the underrepresented women and children who often suffer the consequences of wars the most but must hide their sorrows to become pillars of strength and comfort for returning soldiers. Through Grandma Diệu Lan and her granddaughter Hương in the novel, I could talk to them, trace their footsteps, and imagine their dreams and hopes.
It may seem ironic that I have chosen to write this novel, by far my most personal work to date, in English, which is also the language of invasive military powers and cultures. But this language has given me a new voice and a way to fictionalize the turbulent events of my country's past, including those that have not yet been sufficiently documented in Vietnamese fiction, such as the Great Hunger or the Land Reform. I am also responding to Hollywood movies and novels written by those Westerners who continue to see our country only as a place of war and the Vietnamese as people who don't need to speak—or, when we do, sound simple, naïve, cruel, or opportunistic. The canon of Việt Nam war and post-war literature in English is vast, but there is a lack of voices from inside Việt Nam.
When I first learned English in eighth grade, I didn't know that one day it would be the language that would save The Mountains Sing. Khương Dụ, the small northern village where I was born, did not have an English teacher. Bạc Liêu, the southern town where I grew up, didn't have many people who could speak English. For me, a student who also worked as a rice farmer and street vendor, the Western world was mysterious, existing only in the black-and-white movies I would occasionally catch a glimpse of while selling cigarettes in the town's cemetery, which also served as our only open-air movie theater.
I didn't know any English words until well into secondary school, when one afternoon my eldest brother brought home a notebook. He told me he had just learned English from someone and would teach me. I was so excited I could barely swallow my dinner. That night, after I had lit the oil lamp (we had electricity only occasionally) and put on long pants and a long-sleeved shirt to ward off the zillions of mosquitoes, my brother solemnly brought out his notebook. He opened the first page and pointed at a strange-looking word. "Sờ cu lờ," he said, and then looked at me, expecting me to repeat after him.
"Sờ . . . sờ . . ." I said, and brought my hand to my mouth.
"Sờ cu lờ," he said again.
"Sờ . . . sờ cu . . ." I repeated and burst out laughing. I couldn't help it! The words that had just escaped my mouth sounded like the Vietnamese phrase for "to touch a male's genitals."
So ended my first English lesson. Because I hadn't been able to stop laughing, my brother slapped his notebook shut and stormed out of the room. His face was as red as a gấc fruit.
"Brother! Teach me, please," I called after him, but he didn't turn back.
Later, much later, I found out my brother was trying to teach me a very important word: "school."
I didn't dare ask him to teach me again, but occasionally I would steal his notebook when he was gone, hide under the mango and coconut trees that circled our fish pond, and stare at the English words. I sensed that behind those strange-looking words existed some magic doors, and if I managed to push them open, I would be able to enter the big, wide world.
And now, with The Mountains Sing, I am taking my baby steps into that world. It took me seven years to write and edit, hundreds of revisions, many sleepless nights, tears, and countless moments of doubt. I doubted that I was a good-enough storyteller. I doubted my ability to express complicated thoughts and emotions in English. But I never doubted my decision in 2006 at the age of thirty-three to return to my dream of becoming a writer.
By turning to the first page of The Mountains Sing, you will open the door into an authentic Việt Nam where proverbs are sprinkled throughout daily conversations, where lullabies and poems are sung. You will experience the colors, richness, and complexity of our culture, beginning with our Vietnamese names and language, which appear in full diacritical marks. Those marks might look strange at first, but they are as important as the roof of a home. The word "ma," for example, can be written as ma, má, mà, mả, mạ, mã; each meaning very different things: ghost, mother, but, grave, young rice plant, horse. The word "bo" can become bó, bỏ, bọ, bơ, bở, bờ, bô, bố, bồ, bổ (bunch, abandon, insect, butter, mushy, shore, chamber pot, father, mistress, nutritious).
Just like Hương in The Mountains Sing, for several of my childhood years, books were my only friends; they allowed me to escape from desperation and poverty. My family had moved from the north to the south of Việt Nam; it was just a few years after the war, and despite the country's unification, the north-south tension ran strong. While living amidst this tension I understood the deep wounds that divided our country and families. Many of these wounds have still not healed, even though nearly forty-five years have passed since the war's ending on April 30, 1975.
Tremendous progress has been made in terms of reconciliation between Việt Nam and the United States, but the wounds that divided our country and families, both at home and in the diaspora, remain profound and painful. For that reason, The Mountains Sing places our people at the center of the Việt Nam War in the hopes that we will be open to difficult but necessary conversations that can help one another heal. And at the same time, I hope the story of Hương and Diệu Lan helps international readers discover our common humanity, as in the words of Hương: "Somehow I was sure that if people were willing to read each other, and see the light of other cultures, there would be no war on earth."