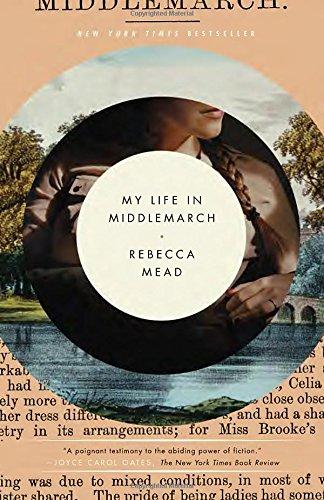 MY LIFE IN MIDDLEMARCH
---
New York Times Bestseller
New York Times Book Review Editor's Choice
A Library Journal Best Book of the Year
Featured on the Entertainment Weekly "Must" List
One of The Guardian's (UK) Ten Best Books of the Year-So-Far
"My Life in Middlemarch is a poignant testimony to the abiding power of fiction." —Joyce Carol Oates, The New York Times Book Review
A captivating combination of biography,
New York Times Bestseller
New York Times Book Review Editor's Choice
A Library Journal Best Book of the Year
Featured on the Entertainment Weekly "Must" List
One of The Guardian's (UK) Ten Best Books of the Year-So-Far
"My Life in Middlemarch is a poignant testimony to the abiding power of fiction." —Joyce Carol Oates, The New York Times Book Review
A captivating combination of biography, reporting, and memoir, My Life in Middlemarch traces a New Yorker writer's passion for George Eliot's masterwork—the eight-volume "study of provincial life" that is regarded by many as the greatest English novel. Rebecca Mead first found solace in Middlemarch when she was a young woman growing up in an English coastal town. As she gained admission to Oxford, moved to the United States to become a journalist, experienced several love affairs, and then became a wife and mother, Mead found herself reading and rereading Middlemarch. With its complex portraits of love and marriage, aspiration and failure, and the foundations of morality, the novel proved to be a lush source of self-discovery for Mead. Yearning to retrace Eliot's life, including her years in Coventry (which probably inspired the fictional town of Middlemarch), Mead delved into Eliot's upbringing, her unconventional relationship with George Henry Lewes, and her celebrity as one of the most popular authors of her day. The result is an homage to the joy of fiction and the gifts bestowed by our best-loved fiction writers.
A wise and revealing exploration of the ways in which literature shapes our lives, My Life in Middlemarch will delight your reading group. We hope the questions that follow will enrich your journey.
Broadway Books
Paperback
January 2015
320 Pages
9780307984777
Praise
"My Life in Middlemarch has a third major theme as well — the enduring power of literature. 'Reading is sometimes thought of as a form of escapism, and it's a common turn of phrase to speak of getting lost in a book,' Mead writes. 'But a book can also be where one finds oneself; and when a reader is grasped and held by a book, reading does not feel like an escape from life so much as it feels like an urgent, crucial dimension of life itself.' Anyone who agrees with that sentiment is likely to enjoy this engaging book." —Associated Press
"In this deeply satisfying hybrid work of literary criticism, biography, and memoir, New Yorker staff writer Mead brings to vivid life the profound engagement that she and all devoted readers experience with a favorite novel over a lifetime….Passionate readers, even those new to Middlemarch, will relish this book." —Publishers Weekly (starred)
"[Mead] performs an exhilarating, often surprising close reading of the novel, which Eliot began writing at age 51 in 1870. And she takes a fresh look at Eliot's daringly unconventional life, visiting the writer's homes and casting light not only on the author's off-the-charts intellect but also her valor in forthrightly addressing complex moral issues, cutting sense of humor, 'large, perceptive generosity,' and the deep love she shared with critic and writer George Henry Lewes and his sons. Mead injects just enough of her own life story to take measure of the profound resonance of Eliot's progressive, humanistic viewpoint, recognition of the heroism of ordinary lives, and crucial central theme, 'a young woman's desire for a substantial, rewarding, meaningful life.'" —Booklist (starred)
"Rebecca Mead has written a singular and inventive tale about her favorite book, and how it has changed — and changed her — over many years of reading and re-reading. Anyone who has ever loved the characters in a novel as dearly as we love our own families will recognize the passion, the devotion, the intimacy and the joy of returning again and again to a revered classic. Both a memoir and a biography, both an homage and a homecoming, My Life in Middlemarch is a perfectly composed offering of literary love and self-observation. I adored it, and it will forever live on my bookshelf next to my own precious paperbacks of George Eliot." —Elizabeth Gilbert, author of Eat, Pray, Love and The Signature of All Things
Discussion Questions
Explore the parallels between George Eliot's life and Rebecca Mead's. In their relationships and in their careers as writers, do they share a common approach to the human experience? Did the social constraints of Eliot's gender put her at a disadvantage compared to contemporary writers, or did the constraints enhance her imaginative powers?
Discuss your own experience with Middlemarch, whether you've been a lifelong devotee or have only glimpsed it through Mead's lens. Which storylines and relationships resonate the most with you? Which characters are the most intriguing to you?
What motivates Mead to retrace Eliot's life? How does her research reshape her view of Eliot's imaginary communities?
Browse the memoir's chapter titles (which mirror the titles of the eight books in Middlemarch) as well as the epigraphs. What makes these lines equally appropriate for Mead's modern world? Which epigraph could make an apt motto for your life?
What came to mind when you read Virginia Woolf's characterization of Middlemarch as "one of the few English novels written for grown-up people"? Are happy endings and the marriage plot the stuff of childish fantasy? How does Eliot rank against Jane Austen, the Brontës, and Woolf as English women writers who contributed to your growth?
How do the various locales featured in My Life in Middlemarch—from New Haven and New York to Coventry, Oxford, and London—reflect the inner worlds described in their corresponding scenes? For Eliot and Mead, where is home?
As you read Mead's exploration of Dorothea Brooke Casaubon, who wrestles with the yearnings of youth and must eventually confront the passionless marriage that marks her adulthood, how did these scenes compare to your own transformation, during and well beyond adolescence? Which books helped you find your way?
What freedoms and limitations did Eliot experience because of her unconventional relationship with George Henry Lewes? In your opinion, how did he and his sons (biological or not) affect Eliot's approach to writing about male characters? From the duped scientist Tertius Lydgate to the feckless Fred Vincy, what broad observations can we make about the men who populate Middlemarch?
What does Mead's memoir help us understand about motherhood in its many forms (including Eliot's experience as a quasi-stepmother)? Is Eliot's portrayal of motherhood in Middlemarch realistic or overly pessimistic?
Mead describes her pilgrimages to the archives that hold Eliot's journals, manuscripts, and other documents, including Yale's Beinecke Library, the New York Public Library, and the British Library. In addition to fact-gathering, what does Mead gain by spending time with pages that were touched by Eliot's own hand? Does the digital age spell the end of that experience?
Mead raises the question of Eliot's spirituality after she left the church. If her characters are a guide to us, how does Eliot seem to have approached the role of fate versus free will in shaping our destinies?
The eight books of Middlemarch were released by Blackwood as a series. How does reading those elaborate plots compare to watching a wildly popular television series? What special benefits does the written word provide?
After her dashed hopes with Herbert Spencer and the impossibility of marrying Lewes, was Eliot's marriage to John Walter Cross a sort of victory?
Consider Middlemarch's renowned closing line, which appears in the first paragraph of "Finale." Which unhistoric acts, hidden lives, and unvisited tombs did you think of as you read those words?