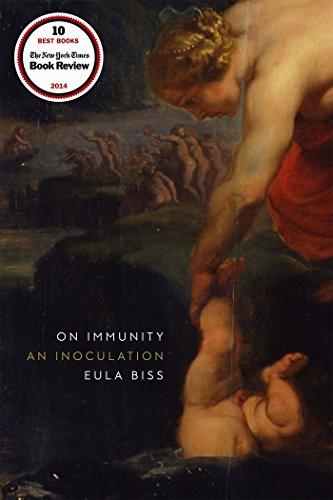 ON IMMUNITY
An Inoculation
---
A New York Times Best Seller and Finalist for the National Book Critics Circle Award

Named a Top Ten Book of the Year by the Chicago Tribune, Entertainment Weekly, Los Angeles Times, Newsday, New York Magazine, the New York Times Book Review, NPR's Science Friday, Publishers Weekly, and Time Out New York
In this bold, fascinating book, Eula Biss addresses our fear of the government, 
A New York Times Best Seller and Finalist for the National Book Critics Circle Award

Named a Top Ten Book of the Year by the Chicago Tribune, Entertainment Weekly, Los Angeles Times, Newsday, New York Magazine, the New York Times Book Review, NPR's Science Friday, Publishers Weekly, and Time Out New York
In this bold, fascinating book, Eula Biss addresses our fear of the government, the medical establishment, and what may be in our children's air, food, mattresses, medicines, and vaccines. Reflecting on her own experience as a new mother, she suggests that we cannot immunize our children, or ourselves, against the world. As she explores the metaphors surrounding immunity, Biss extends her conversations with other mothers to meditations on the myth of Achilles, Voltaire's Candide, Bram Stoker's Dracula, Rachel Carson's Silent Spring, Susan Sontag's AIDS and Its Metaphors, and beyond. On Immunity is an inoculation against our fear and a moving account of how we are all interconnected—our bodies and our fates.
Graywolf Press
Paperback
September 2015
224 Pages
9781555977207
Praise
"Subtle, spellbinding. . . . [Biss] advances from all sides, like a chess player,
drawing on science, myth, literature to herd us to the only logical end, to
vaccinate."—The New York Times Book Review
"By exploring the anxieties about what's lurking inside our flu shots, the air,
and ourselves, [Biss] drives home the message that we are all responsible
for one another. On Immunity will make you consider that idea on a fairly
profound level."—Entertainment Weekly, Grade: A
"This elegant, intelligent and very beautiful book . . . occupies a space between
research and reflection, investigating our attitudes toward immunity
and inoculation through a personal and cultural lens."—Los Angeles Times
Discussion Questions
On Immunity is dedicated to "other mothers," and
Biss refers to her conversations with "other mothers"
throughout the book. Is On Immunity a book specifically
for mothers? For all parents? For everyone?
In the beginning of On Immunity, Eula Biss is uncertain
about whether or not to fully vaccinate her child, and some of the
other mothers she consults in the book choose not to vaccinate their
children. By the book's end, Biss is decidedly pro-vaccination. How
did she arrive at this position?
Why do you think Biss expresses empathy towards "anti-vaxxers"?
Biss states, "Those of us who draw on collective immunity owe
our health to our neighbors" and "The health of our bodies always
depends on choices other people are making." Beyond vaccination,
what choices do other people make that your health depends on?
As Biss writes, the people who choose not to vaccinate their children
are "more likely to be white, to have an older married mother with
a college education, and to live in a household with an income of
$75,000 or more." How is vaccination a class issue?
Have your opinions on vaccinations changed or shifted since reading
the book? Why or why not?
How do the myths of Achilles and Narcissus help inform questions of
individual responsibility vs. community responsibility?
Why do you think Biss chose to begin the book with the myth of
Achilles and end it with the myth of Narcissus?
Biss examines ways in which language relieves or reinforces our
medical anxieties. Are there certain words or metaphors that have
influenced how you approach your health care decisions?
Biss notes a historic association between vampires and vaccinations.
She quotes author Eric Nuzum, who says: "If you want to understand
any moment in time, or any cultural moment, just look at their
vampires." What do today's portrayals of vampires say about our
moment in time?