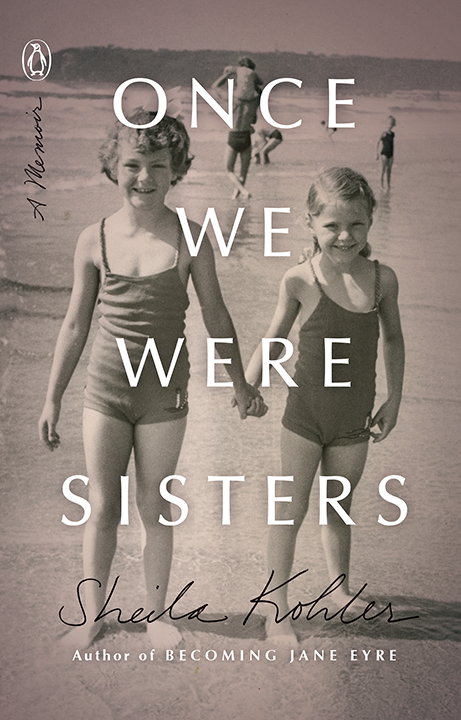 ONCE WE WERE SISTERS
---
When Sheila Kohler was thirty-seven, she received the heart-stopping news that her sister Maxine, only two years older, was killed when her husband drove them off a deserted road in Johannesburg.  Stunned by the news, she immediately flew back to the country where she was born, determined to find answers and forced to reckon with his history of violence and the lingering effects of their most unusual childhood—one marked by death and the misguided love of their mother.In her signature spare and incisive prose, Sheila Kohler recounts the lives she and her sister led. Flashing back to their storybook childhood at the family estate,
Penguin Books
Paperback
January 2017
256 Pages
9780143129295
Praise
"In this intimate, exquisitely written memoir, the author's first work of nonfiction, she explores the impenetrable bond that can exist between sisters. . . . In spare, delicate prose, Kohler brings a seasoned novelist's skills to this deeply moving, compelling memoir." —Kirkus Reviews (starred review)
"Sheila Kohler has written a beautiful and disturbing memoir of a beloved sister who died at the age of thirty-nine in circumstances that strongly suggest murder. Like all of Sheila Kohler's prose work, Once We Were Sisters reveals its story by degrees, amid a richly sensuous milieu of South African white privilege and repression. It is a tragic tale, with echoes of cultural sexism and misogyny, yet a triumphant story of a young woman's liberation from this culture and her emergence as a writer. Highly recommended." —Joyce Carol Oates, National Book Award-winning author of Them
"Young Sheila Kohler abandons the time-warp of 1950s South Africa and heads for Europe on a voyage of self-discovery. Her quest to find out what it is that she desires—a quest that will last decades and is recounted with the seriousness it deserves, lightened with touches of dry comedy—ends in the discovery that she is and has always been a writer. The most striking parts of this rich and poignant memoir—rich above all in sensual experience—reflect on the necessary cruelty of the writer's art, sacrificing the truth of the world to the truth of fiction." —J.M. Coetzee, author of Disgrace and winner of the Nobel Prize in Literature
Interviews
A Penguin Books Conversation with Sheila Kohler, Author of Once We Were Sisters
For many years, you've drawn on your life and your family's history while writing novels and stories—what made you decide to explore these stories in a memoir now?
I suppose there were several reasons. First of all my nephew and nieces are now all adults, indeed, many have their own children at this point. I felt they were old and mature enough to read what I had to say if they wanted to without too much pain. My brother-in-law is dead. In some basic way I felt that I owed my sister an account of the truth as I saw it, and I can only hope it might be helpful to others, too, who might have lived something similar. It seems to me that only the truth of the heart in whatever form it is written can really reach others who might have made the same journey.
Reflecting on the ways you've rewritten Maxine's story in your fiction, you write, "so many versions of the truth are possible, which enable me to tell the same story in so many different ways." Do you feel that you've reached a sort of final truth by writing her story as nonfiction?
No. There is no final truth to any story which is why I have even felt I have permission to write my own version of Sonya Marmeladov's story, taking up the prostitute, one of Dostoevsky's characters in "Crime and Punishment" in a new novel.
The background of apartheid in South Africa is important in Once We Were Sisters. How did you experience apartheid as a child?
It was very confusing, because the people we loved, the ones who took care of us, taught us about the world around us, the black servants in the house, were not treated as full human beings. We saw them humiliated, and because we loved them, this humiliated us equally. Prejudice of this kind is damaging to all.
Men—your father, Michael, Carl, and John—and their actions unsurprisingly have huge, rippling effects on your life (and your mother's and Maxine's), but they seem barely present in the book. It's as if they affect events from offstage. Is this intentional?
You are a very perceptive reader. I think you are right, and I don't think this was intentional or a writer's strategy but simply a reflection of the reality of my life. I have been surrounded by women: my mother and my aunts and my sister, and then my own girls who were and remain so important in my life. Men, particularly men in suits, which John never wore, remain in a way strangers, exotic beings despite my dearest husband who is very much part of my present life.
Some of the powerlessness that the women in your family felt in their marriages seems to stem from their time and place—women in the 1950s and 1960s, in upper-class white South African society. Do you think that the stories of your marriages would play out differently today?
I certainly hope so, and I do think the 50's was a particularly bad time for women. My mother, who was a young woman in the 20's really had an easier time in a way. Still, I believe there are some fundamental characteristics of men and women that never change—and the dangers of being a young vulnerable woman exist today as they always have.
As your work makes very clear, the question of what you could have done to prevent Maxine's death has haunted you for decades. Have you come to any resolution about what you would do differently if you could do it all over again?
In my mind, of course, I would stay by her side, never leave her, hire a bodyguard, an army to protect her. I would get a gun! I think, though, that the situation remains a very difficult one in reality and I am not sure we can ever protect another from him or herself.
Did your family know that you were writing this book? If so, what have family members' reactions been?
My nephew and nieces wrote and gave me information, things I did not know about their father's life and work. I think they wanted to contribute in some way and perhaps protect their father's image. My grandson found the galleys in my room and read the book one night. I asked him if he was shocked, and he maintained it would take much more to shock him!
Do you have any advice for readers, or writers, who have lost a close relative?
Every situation is so different. Certainly, I have found that writing about the loved one, keeping them alive on the page is helpful, but nothing in the end, particularly in a case like the one in my book, will ultimately heal or bring closure to such a deep and tragic loss.
What do you hope readers will most respond to in Once We Were Sisters?
I hope readers will respond to the bond between the sisters, to the love that exists not just between sisters but between friends, mothers and daughters, women and men. I can only hope that my words might take my readers away from their own sorrows, or at least distract and even amuse for a while, that they might get caught up in the story and that they might, at the same time, find themselves in my pages and realize how similar we all are in a way, all part of the same family.