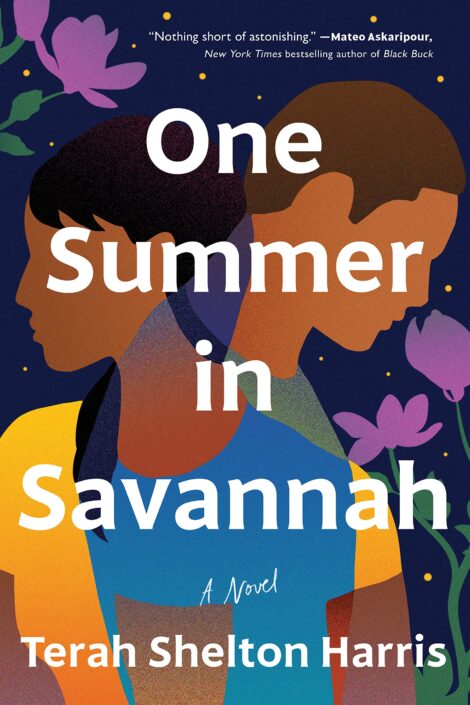 ONE SUMMER IN SAVANNAH
---
A compelling debut that glows with bittersweet heart and touching emotion, deeply interrogating questions of family, redemption, and unconditional love in the sweltering summer heat of Savannah, as two people discover what it means to truly forgive.
It's been eight years since Sara Lancaster left her home in Savannah, Georgia. Eight years since her daughter, Alana, came into this world, following a terrifying sexual assault that left deep emotional wounds Sara would do anything to forget. But when Sara's father falls ill, she's forced to return home and face the ghosts of her past.
While caring for her father and running his bookstore,
A compelling debut that glows with bittersweet heart and touching emotion, deeply interrogating questions of family, redemption, and unconditional love in the sweltering summer heat of Savannah, as two people discover what it means to truly forgive.
It's been eight years since Sara Lancaster left her home in Savannah, Georgia. Eight years since her daughter, Alana, came into this world, following a terrifying sexual assault that left deep emotional wounds Sara would do anything to forget. But when Sara's father falls ill, she's forced to return home and face the ghosts of her past.
While caring for her father and running his bookstore, Sara is desperate to protect her curious, outgoing, genius daughter from the Wylers, the family of the man who assaulted her. Sara thinks she can succeed—her attacker is in prison, his identical twin brother, Jacob, left town years ago, and their mother are all unaware Alana exists. But she soon learns that Jacob has also just returned to Savannah to piece together the fragments of his once-great family. And when their two worlds collide—with the type of force Sara explores in her poetry and Jacob in his astrophysics—they are drawn together in unexpected ways.
Sourcebooks Landmark
Paperback
July 2023
464 Pages
9781728265742
Praise
The Target Book Club pick for July 2023
"An unforgettable portrayal of familial tragedy, bravery, and redemption. Harris delivers a powerful heartrending debut about what it means to forgive the unforgivable." ― Kim Michele Richardson, New York Times bestselling author of The Book Woman's Daughter  
"Terah Shelton Harris's daring debut is nothing short of astonishing. To write a novel that has the capacity to uplift you while it tears your heart to shreds is a balancing act few can achieve, but Harris does with ease and endless empathy. We are brought face-to-face with the most difficult questions―of family, forgiveness, and how to make a way forward―but if we can muster the courage of characters like Sara and Jacob, we will find answers that sustain us for years to come. The best writers are brave writers, and Harris has proven herself among those ranks." ― Mateo Askaripour, New York Times bestselling author of Black Buck
"A poignant and nuanced exploration of forgiveness when stakes are high and outcomes uncertain. In this beautifully written debut, Harris grants us entry into the hearts of two wounded characters for whom running away from family secrets has offered no real escape. This layered story of love and courage reminds us that sometimes the way forward requires looking back." ― Kelly Mustian, author of The Girls in the Stilt House
"Steeped in poetry, place, and compassion, Terah Shelton Harris's moving debut novel One Summer in Savannah will turn readers' hearts inside out as her characters navigate the vagaries of forgiveness and the boundaries and boundlessness of love." ― Julie Carrick Dalton, author of The Last Beekeeper
"Terah Shelton Harris blew me away with One Summer in Savannah. The grace and ease of her storytelling is a thing to behold. I found myself rooting for Sara, Alana, and Jacob. This book, put simply, is a masterclass, a lyrical meditation on trauma, forgiveness, compassion, and love. Harris is definitely a writer to watch!" ― Catherine Adel West, author of The Two Lives of Sara
"One Summer in Savannah is a powerful and thought-provoking novel. Terah Shelton Harris beautifully explores courage, strength, and the power we can derive from all that surrounds us: in the words of a poem, in those we love, in ourselves. Sara's journey in moving past her torments, finding love, and finding peace for herself is equal parts inspiring and enchanting" ― Shauna Robinson, author of The Banned Bookshop of Maggie Banks
"Every once in a while, a book comes along that touches the reader at the very core. One Summer in Savannah is that book. Terah Shelton Harris's provocative debut is beautifully written, absorbing, and brimming with emotion and insight. A poignant, touching, and timely novel that asks the question: what does it mean to truly forgive? This is unequivocally a best book of 2023." ― Rochelle B. Weinstein, USA TODAY bestselling author of This is Not How It Ends
"A gorgeously written, tender examination of love, loss, and the heart-wracking journey towards forgiveness and self-discovery. Terah's elegant prose draws you into intricately woven lives and nuance of emotions she explores through unforgettable characters. A gentle reminder of the self-healing power of forgiveness and the courage it takes to push darkness away, while letting true love (and poetry) fully fill the cracks of our broken lives." ― Lola Akinmade Åkerström, international bestselling author of In Every Mirror She's Black
Discussion Questions
1. Poetry plays an important role throughout the book. Why do you think Sara's father only speaks in poetry? Do you think poetry has the ability to communicate more than simple words can?
2. Throughout the book, Jacob struggles to forgive his brother. Some say family should always be forgiven, no matter the transgression. Do you believe there are some things that cannot or should not be forgiven?
3. Do you believe you can still truly love someone even if you can't forgive them for their past actions?
4. Do you think Daniel deserved to know of Alana's existence? Did Sara have an obligation to tell him he had a daughter?
5. In the United States, no federal law explicitly restricts the parental rights of men who father a child through rape, meaning, depending on the individual state's law, the man or his family could petition for visitation or even custody of the child. Do you think this is fair or just?
6. Why do you think Birdie cannot or will not accept what Daniel did, even after he explicitly admits to her that he raped Sara?
7. Do you agree with Jacob's decision to reveal Sara's secret to Daniel despite his having promised her he wouldn't?
8. The love of a mother for her child is often described as an impossible love. In what ways does this play out for Sara? For Birdie?
9. Homemade Pizza Fridays are an important tradition for Sara's family. What was your favorite family tradition as a child? Did that tradition carry through to the present?
10. In a conversation between Jacob and Daniel, Jacob asks if Daniel thinks love is worth walking away from family for if they're unaccepting of the relationship. Do you think it is?
11. On one Pizza Friday, Sylvia poses a question: "Would you rather be able to reverse one decision you make every day or be able to stop time for ten seconds every day?" What would your answer be?
Interviews
A CONVERSATION WITH THE AUTHOR
What inspired you to write One Summer in Savannah?
Inspiration for One Summer in Savannah stems from the 2015 Emanuel African Methodist Episcopal Church shooting. Days after that terrible tragedy, some of the survivors and relatives of those killed walked into a South Carolina courtroom and forgave the shooter. At that moment, I realized I knew nothing about forgiveness. I assumed that there were crimes, acts, that were unforgiv- able. But when they forgave him, they challenged me to look inward and create my own definition of forgiveness, and I knew then that I wanted to explore that by writing a book that challenged readers on what they believe is or isvnot forgivable.
One Summer in Savannah is also inspired by the #MeToo movement and all of the brave women who have stepped forward after years, decades, and who spoke their truth and shared their stories with the world.
How did you come up with the characters Sara and Jacob? Did the characters come first? Or the plot?
The plot, always. I know what my story is about, the overall theme, and how it ends before I write one word. Once I have the plot, the characters start to come alive. One Summer in Savannah has always been Sara's story to tell, but as I began to write, I realized that I was missing an entire side of the story. That's where Jacob comes in. Jacob's perspective allows the reader to see and understand the complete picture.
Where did the idea for Hosea only speaking in poems come from? How did you go about finding the perfect poem every time to serve as Hosea's dialogue?
I love poetry, and I knew that I wanted to somehow incorporate it into this book. From the beginning, I wanted Hosea to communicate to the world differently. Hosea's character is loosely based on my grandfather, who suffered a stroke and lost his ability to speak. But that didn't stop him from finding a way to communicate with us and for us to learn how to understand him. In Hosea's case, why not use poetry as his way of communicating?
Originally, I had most of his dialogue as poems, but as I began to write, the poems took over entirely. I thought my early readers would have a problem with it or difficulties understanding him, but they didn't. In fact, they loved it! All the poems in Hosea's dialogue are in the public domain, so that played a huge part in the selection. But like Hosea, I'm a fan of Whitman, Yates, Angelou, Cummings, and Dunbar.
Why did you decide to place this story in Savannah? What do you love about Savannah?
The decision to place One Summer in Savannah in Savannah came from Jacob's cottage, based on a real cottage I saw for sale on Hird Island. I knew immediately that's where Jacob would live, and because of that, I based the entire story in Savannah.
I could live in Forsyth Park! I also love the antebellum architecture and cobblestone streets.
What do you think is next for Sara, Jacob, and Alana?
I wrote a somewhat happy epilogue (a letter Alana wrote to Birdie) but decided not to include it. I'm drawn to (and write) stories with bittersweet endings and didn't want to wrap One Summer in Savannah up in a cute bow. It just would not have been fair to the topic. As Sara says, life is hard and so will their life be moving forward. Unfortunately, their happy ending is not immediate. Yes, Sara and Jacob decided to be together, but they still face obstacles. First, they will mourn the deaths of Hosea and Daniel. Next, they will have to find a way to incorporate Birdie into their lives after so many years of strife between them while balancing how to handle Alana's genius.
Years later, they will find their footing and that eventual place of contentment. I envision Sara and Jacob having their own child, another girl, another genius. This time, pregnancy will be much more fulfilling for Sara. I also see Jacob finally embracing his desire to teach, but two of his students will be Alana and his daughter. As for Alana, she will solve the equation by the time she's sixteen. Solving it leads to the definition of time, a subject that has always captivated her. Fame doesn't change her because Sara and Jacob have allowed her to be a normal girl. Oh…and she still loves to swim!
What was your path to becoming a writer?
I knew early on that I wanted to be a writer. When I was younger, I had always written poems and stories, but my love for writing materialized in Julie Cook's sixth-grade class. Back then, we had a period called DEAR, Drop Everything and Read. But Mrs. Cook also allowed us to write. So, I did and wrote my first book, The Class Party. I wrote for my college newspaper and spent decades as a freelance writer. But it wasn't until a few years ago that I decided to try my hand at writing novels.
What is your writing process like?
I need absolute quiet so I can focus and turn inward. I spend a lot of time in my head, so I need to work without distractions—my characters demand it. Before I begin a new book, I need to know how it ends. Once I have that worked out, I write the beginning and go from there. I don't write linearly. I write whatever scene comes to me that day, then I put all the scenes together.
I handwrite most of my books. I can't explain it, but the words flow better that way. I have stacks of notebooks, but I prefer to write on scrap pieces of paper with a dully sharp- ened pencil. I work full-time, so I try to handwrite about five hundred words a day during the week and a few thousand on the weekends. I write in my car on my lunch breaks or at stoplights.
What are some of the books that have influenced or inspired your own writing?
I consider As I Lay Dying by William Faulkner a literary masterpiece, and its influence is the basis for my next book, a family drama centered on the death of the patriarch. Everything I Never Told You by Celeste Ng is the perfect execution of third-person omniscient present and the blending of multiple POVs and also serves as inspiration for my next book.
I've been obsessed with reading my entire life, and when I'm not writing, I read approximately a hundred books per year. I enjoy reading widely across all genres and can honestly say I find inspiration in almost everything I read. Whether it's a character trait or word choice or sentence structure. Working as a librarian in charge of collection development, I'm responsible for selecting and purchasing all the adult material for my libraries. This job (which I absolutely LOVE!) keeps me apprised of new books and allows me access to them.