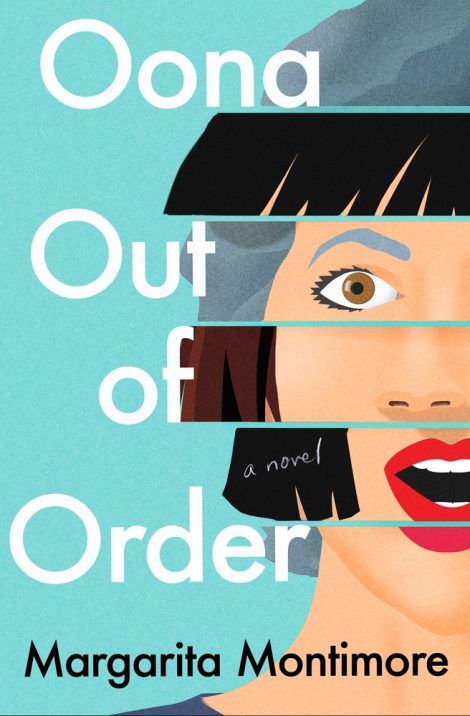 OONA OUT OF ORDER
A Novel
---
Oona Out of Order is a remarkably inventive novel that explores what it means to live a life fully in the moment, even if those moments are out of sequence.
Just because life may be out of order, doesn't mean it's broken.
It's New Year's Eve 1982, and Oona Lockhart has her whole life before her. At the stroke of midnight she will turn nineteen, and the year ahead promises to be one of consequence. Should she go to London to study economics, or remain at home in Brooklyn to pursue her passion for music and be with her boyfriend?
Oona Out of Order is a remarkably inventive novel that explores what it means to live a life fully in the moment, even if those moments are out of sequence.
Just because life may be out of order, doesn't mean it's broken.
It's New Year's Eve 1982, and Oona Lockhart has her whole life before her. At the stroke of midnight she will turn nineteen, and the year ahead promises to be one of consequence. Should she go to London to study economics, or remain at home in Brooklyn to pursue her passion for music and be with her boyfriend? As the countdown to the New Year begins, Oona faints and awakens thirty-two years in the future in her fifty-one-year-old body. Greeted by a friendly stranger in a beautiful house she's told is her own, Oona learns that with each passing year she will leap to another age at random. And so begins Oona Out of Order…
Hopping through decades, pop culture fads, and much-needed stock tips, Oona is still a young woman on the inside but ever changing on the outside. Who will she be next year? Philanthropist? Club Kid? World traveler? Wife to a man she's never met?
Surprising, magical, and heart-wrenching, Margarita Montimore has crafted an unforgettable story about the burdens of time, the endurance of love, and the power of family.
Flatiron Books
Hardcover
February 2020
352 Pages
9781250236609
Praise
A Most Anticipated Book (Parade, Book Riot, PopSugar)
Goodreads Staffers' Top Three Books of the Year
"Oona Out of Order is beautiful and heartbreaking, a novel about the nature of time and how life marches on, that you simply must read." —PopSugar
"Looking for a lighthearted read? Maybe something that will remind you all to live your best life? …A charming, quirky story about aging and self-discovery." —Book Riot
"Witty, humorous, heartwarming. Imbued with musical and cultural influences spanning decades and reminiscent of Liane Moriarty's What Alice Forgot and Kate Atkinson's Life After Life, Oona Out of Order is a delightfully freewheeling romp." —Booklist (starred review)
"A heartfelt novel that celebrates its implausibility with a unique joie de vivre." —Kirkus Reviews
"Margarita Montimore has written a dazzling novel. This madcap opera, the story of Oona Lockhart's life told in full with scope and breadth in and out of sequence but never out of tune, is the perfect read for this moment. Modern, emotional, funny, ferocious, and spun with enough light and magic to fire up the Vegas strip, Oona Out of Order lands like a meteor." —Adriana Trigiani, author Tony's Wife
"A fascinating and beautifully crafted tale which explores identity and relationships in one woman's unpredictable and radically-changing world. Unputdownable and uplifting, what Montimore has penned is a treasure that will remind you of the importance of living life fully in the present." —Kim Michele Richardson, author of The Book Woman of Troublesome Creek
"Oona Out of Order is haunting—a fascinating, sometimes heart-wrenching exploration of life lived moment-to-moment." —Emily Colin, author of The Memory Thief
Discussion Questions
1. Discuss the novel's epigraph: "Time heals all. But what if time itself is the disease?" How do you interpret that question? How does the novel seek to answer it?
2. In the prologue, Oona reflects that her condition is the closest thing she could imagine to immortality. What do you think she means? Do you agree?
3. Oona has a "no spoiler" approach to time travel and takes precautions to reveal certain things about her future but keep others secret via her annual letters. Do you agree with her approach? If you were to switch places with Oona, how much of your future would you reveal and what would you add/remove from the letters?
4. Family is a major theme in Oona Out of Order. How does Oona and Madeleine's relationship change over the course of the novel? What about Oona's ideas about her own family?
5. To counteract living her life out of sequence, Oona spends much of the novel searching for constancy. Who/what are some of the constants she manages to establish throughout her leaps?
6. Oona experiences a variety of romantic connections throughout the course of the novel. How does her perception of her relationship with Dale change over the years? How does her unique marriage affect her views on romantic relationships? What about other men she's involved with? Do you think it will be possible for Oona to have a sustained romance despite her leaping? Why or why not?
7. The time travel in Oona Out of Order serves as a way to explore imposter syndrome—her leaps often leave her in situations where she feels unprepared for the role she's in and what's expected of her. Which situations do you think she handles effectively and which could she have handled better?
8. There are moments when Oona laments mistakes she's made in her life and considers trying to fix them. What mistakes do you think she has made? Do you think she was better off trying to prevent them or learn from them?
9. As each leap brings new challengers into her life, Oona often struggles with a desire to return to her younger self. How does she try to combat nostalgia to live more fully in the present?
10. Oona and the people closest to her often describe her life as "bittersweet." Do you agree that her time travel makes her life feel more bittersweet than it would if she were living "in order"? Why or why not?
11. Discuss the evolving role of music in Oona's life. How does her relationship to it change from the first chapter to the last, and why?
12. Near the end of the novel, Kenzie tells Oona that he is sometimes jealous of her time traveling. Do you understand his feelings? Are there aspects of Oona's condition that appeal to you?
13. How much of Oona's destiny do you think is predetermined? Do you think she's capable of changing her future? What do you think this book ultimately says about fate vs. free will? Do you agree or disagree?
14. Did you have a favorite section in the novel? Why?
15. Assuming her "time sickness" will persist, what do you imagine the next few years might look like for Oona?
Excerpt
1
The party flowed with cinematic choreography: plastic cups and beer bottles tilted back in a syncopated rhythm; clusters of guests bobbed heads and danced to a new wave soundtrack as if the floor were a giant trampoline, a ribbon of tipsy laughter running through the room. It might have been only a basement in Brooklyn, with mirrored walls and tan carpeting, but tonight it was their Studio 54, their Palladium, their Danceteria. A group of fifty with the noise and energy of hundreds—most on their college winter break—they'd come to celebrate New Year's Eve and Oona Lockhart's nineteenth birthday. And they showed up in style: in leather and frills, spangles and mesh, eschewing subdued fabrics for ones that glistened, glimmered, popped with color. The looks flirted with glam, goth, new wave, and punk, even as those who wore them refused to be labeled as one thing.
In the corner, Oona knelt beside the stereo, sifting through a crate of records. She paused to check her watch, an anniversary gift from her boyfriend, Dale. It had no second hand, which gave the illusion of time moving slowly, sometimes even stopping. A single black diagonal line bisected the silver face dotted with tiny black stars: 9:15 P.M. In less than three hours, it would be 1983 and she'd be a year older.
She stood, a record in either hand, as Dale—tall and sleepy-eyed, favoring his Brazilian mother's golden complexion, curly pompadour gelled back at the sides—ambled over. The sight of him quickened her breath.
"Hey, gorgeous. Whatcha got there?" He pointed at the records.
"I can't decide which one to play next. Yaz or Talk Talk?" Shoulders tight, she raised and lowered the records as if weighing them.
"I've never seen anyone look so serious about picking a record. It's adorable." He gave her a quick peck on the cheek. "How about I take over as DJ and you go dance? I'll play them both."
While she allowed him to take the records, her shoulders remained stiff. "Okay. I just need to bring down more napkins and ice—"
"I'll take care of that, too. Your only job is to enjoy the party." A wink belied his stern tone.
Suddenly, one floor up, there was a crashing thud and shatter. Everyone stopped dancing and gazed up at the ceiling. Was it a noisy intruder? Something thrown through a window? Oona and Dale rushed to the foot of the stairs.
"Stay here, I'll see what it is," Dale said to her.
"I'll come with you." Forced assertiveness as a cold dropping sensation overtook her. Not again, please.
He paused on the stairs, turned around. "I'm sure it's nothing. But if it'll make you feel better, I'll go find Corey to check it out with me."
"Found him." She pointed over his shoulder.
At the top of the stairs Corey's lanky frame was hunched over in dread, his black liberty spikes casting geometric shadows on his face. "Dude, I'm so sorry. I was showing off some dance moves for these girls and the rug got in my way. I fell on top of your coffee table and it, um, broke. Nobody's hurt, but I'm a dumbass. I'll clean up the mess, replace the table. Promise." Cowering behind Corey were two petite girls wearing too much mascara and lamé dresses like liquid metal.
Dale thundered up the rest of the steps. As his chest puffed out with a slow indrawn breath, Oona crept up behind him and touched his back. Finally he sighed and said, "Hey, it's not a real party until something breaks, right?" He stepped aside, waved through Corey and the girls. "I'll clean it up. Just try not to break anything else."
The contrite trio headed downstairs as Oona followed Dale to the kitchen.
He grabbed a broom and dustpan and grumbled, "The guest of honor shouldn't be doing cleanup. I can handle the mess."
"Let me help. I've barely seen you since the party started." She pulled a trash bag from under the sink.
"I know." Softened by her kindness, Dale dropped his voice to a sexy husk. "Good thing we saw plenty of each other earlier."
They shared a suggestive chuckle. "I think at one point the mailman saw plenty of us, too." She leaned in and nuzzled against his neck, breathed in his tangy scent of Drakkar Noir and Dep hair gel. "Serves us right for leaving the curtains open."
"And still less embarrassing than your mother walking in on us last week," said Dale.
"Oh, it got even more embarrassing after you left." She flinched, remembering. "Once she made sure I was still taking the pill, she offered to let me borrow her copy of The Joy of Sex."
"I love it." Dale's booming laugh forced his head back. As much as she would've liked to join in, she could muster only a weak smile.
Having a liberal mother had its advantages, but Oona would've preferred more boundaries. Her father, a banker, had provided those until she was eleven (weekly chores, study plans, limited TV time), but once he died, she'd had to set certain rules for herself. Which left her mother, a flight-attendant-turned-travel-agent, in a role more friendly than parental. She often teased Oona about taking things too seriously, whether it was her college courses or band practice, or even her relationship with Dale, urging her daughter to be young and frivolous once in a while. As if you couldn't be serious about something and still enjoy it. As if being young meant being foolish.
"I have an idea," said Dale, dropping the broom and dustpan with a clatter. Running over the scales of her sequined dress, he teased the zipper down a few inches and murmured, "How about we go upstairs?" He kissed her exposed shoulder and walked his fingers beneath the hem of her dress, up her thigh. "We could lie under the stars…"
The "stars" he spoke of were indoors, his bedroom ceiling strung with a nest of cables and telephone wires he'd scavenged from his father's electronics store and splattered with phosphorescent paint, creating a three-dimensional cosmic effect. The first time Oona had seen that ceiling, it made her gasp in wonder; two years on, she still found it awe-inspiring. To say nothing of the man running kisses down her neck.
"Tempting, but it would be rude to the others." Reluctantly she stopped his hand from moving any farther up her leg. "With school and the band, it's been ages since I've seen anyone besides you, Corey, and Wayne."
"We saw a bunch of people at CBGB's just a couple of weeks ago."
"Yeah, but we were so busy playing the holiday showcase and meeting with Factory Twelve's manager, we barely got to talk to our friends."
"Considering what came of it, I don't think they minded. You know what a tour like this could do for our band? After opening for the Pretenders, Factory Twelve got signed to Chrysalis, and their first single just hit the Top Forty."
"They're still not the Pretenders, though. I mean, it's not like we're going to be playing stadiums."
"Right…" The word drawn out as he took a step back, his eyebrow inching up. "But we've never played for more than a couple hundred people—we've never even left the tri-state area. And Factory Twelve could still become huge. Opening for their spring tour is the kind of break most bands never see. I thought you were excited about it."
"I am. I just— I'm not…" She fought to keep a stammer out of her voice. "It's exciting, but it's intimidating. Visiting new cities, playing bigger venues…"
"It's more than that," he said with a knowing nod. "You don't have to keep it from me, you know."
Her stomach plummeted. Did he know? "Keep what from you?"
"You're still shaken up from the mugging after Wayne's party. I saw how you jumped at the crash earlier. You thought it was a burglar. And you're worried about touring, scared something bad might happen again."
Copyright © 2020 by Margarita Montimore