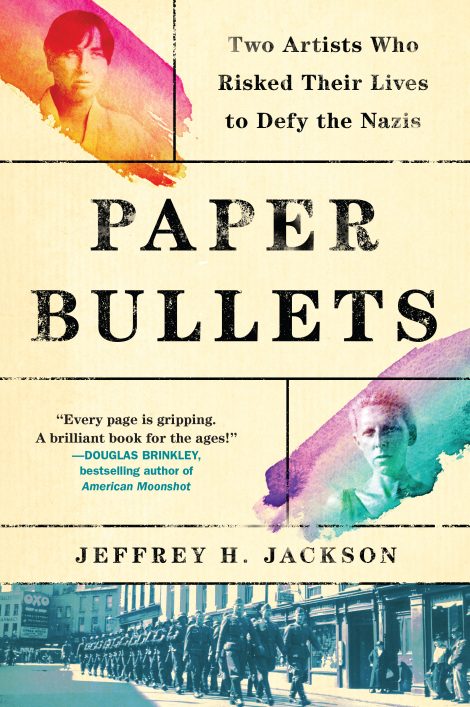 PAPER BULLETS
Two Artists Who Risked Their Lives to Defy the Nazis
---
Paper Bullets is the first book to tell the history of an audacious anti-Nazi campaign undertaken by an unlikely pair: two French women, Lucy Schwob and Suzanne Malherbe, who drew on their skills as Parisian avant-garde artists to write and distribute "paper bullets"—wicked insults against Hitler, calls to rebel, and subversive fictional dialogues designed to demoralize Nazi troops occupying their adopted home on the British Channel Island of Jersey. Devising their own PSYOPS campaign, they slipped their notes into soldier's pockets or tucked them inside newsstand magazines.
Hunted by the secret field police, Lucy and Suzanne were finally betrayed in 1944,
Paper Bullets is the first book to tell the history of an audacious anti-Nazi campaign undertaken by an unlikely pair: two French women, Lucy Schwob and Suzanne Malherbe, who drew on their skills as Parisian avant-garde artists to write and distribute "paper bullets"—wicked insults against Hitler, calls to rebel, and subversive fictional dialogues designed to demoralize Nazi troops occupying their adopted home on the British Channel Island of Jersey. Devising their own PSYOPS campaign, they slipped their notes into soldier's pockets or tucked them inside newsstand magazines.
Hunted by the secret field police, Lucy and Suzanne were finally betrayed in 1944, when the Germans imprisoned them, and tried them in a court martial, sentencing them to death for their actions. Ultimately they survived, but even in jail, they continued to fight the Nazis by reaching out to other prisoners and spreading a message of hope.
Better remembered today by their artist names, Claude Cahun and Marcel Moore, the couple's actions were even more courageous because of who they were: lesbian partners known for cross-dressing and creating the kind of gender-bending work that the Nazis would come to call "degenerate art." In addition, Lucy was half Jewish, and they had communist affiliations in Paris, where they attended political rallies with Surrealists and socialized with artists like Gertrude Stein.
Paper Bullets is a compelling World War II story that has not been told before, about the galvanizing power of art, and of resistance.
Algonquin
Hardcover
November 2020
336 Pages
9781616209162
Praise
"Every page is gripping, and the amount of new research is nothing short of mindboggling. A brilliant book for the ages!" —Douglas Brinkley, Rice University Professor and bestselling author of American Moonshot: John F. Kennedy and the Great Space Race
"This is a Nazi resistance story like none you've ever heard or read, a story with two unlikely heroines who risked their lives in their subversive—and often wildly creative—struggle to face down evil. Paper Bullets prompts us to explore the boundaries of art, love, gender, and politics—and to question the true meaning of courage." —Hampton Sides, bestselling author of In the Kingdom of Ice and On Desperate Ground
"A captivating tale of queer love and resistance during World War II… Jackson's research is impeccable and his writing is lively… Paper Bullets is a gem of a historical text about two women who stood up to power defiantly, living on their own terms." —Foreword Reviews, starred review
"A remarkable story of creative courage . . . exceptional and inspiring." —Booklist, starred review
Discussion Questions
1. Although Lucy and Suzanne found community among other same-sex couples in Paris, they often saw themselves as outsiders from mainstream society because of their sexual orientation. How did their sexuality inform their resistance?
2. How is Paper Bullets a love story? How important was the relationship between Lucy and Suzanne in their decision to resist the German occupation?
3. How did the combination of Lucy's Jewish identity and her queer identity affect how she thought about the Nazis? How did these parts of her identity help give her the ability and willingness to act?
4. What does Lucy and Suzanne's story suggest about why and how people chose to resist German occupation? In the same situation, we all like to think we would do the same, but in reality, we would most likely not. What made Lucy and Suzanne different? What gave them the power to put themselves at great personal risk, especially given their privileged backgrounds?
5. As the war went on, Lucy and Suzanne escalated their actions, even as the German occupation dug in. Why do you think they became bolder in their resistance?
6. What does Paper Bullets suggest about how art and life inform one another? How important was Lucy and Suzanne's work as artists to their decision to resist?
7. Lucy and Suzanne crossed gender boundaries to become the Soldier with No Name. How important was the idea of transgression to their story?
8. Unlike so many World War II stories, this one involves German soldiers who were relatively kind, at least to Lucy and Suzanne, if not to those whom they saw as deserters from the army. What allowed Lucy and Suzanne to empathize with some of the occupiers?
9. Lucy and Suzanne's notes infiltrated the "private transcript" of the German occupation forces. What "public" and "private" transcripts do you experience in your life? How might you react if someone got "inside your head" in the way that Lucy and Suzanne did?
10. What does Paper Bullets suggest about the importance of who controls information and how it can shape our perceptions of reality? Does Lucy's "indirect effect" help explain the ways in which information flow today can work its way into our consciousness?
11. Why do you think Suzanne has largely been forgotten in the story of their lives together?
12. Why would residents of Jersey want to repress the experience of resistance after the war?
13. How can Lucy and Suzanne inspire people today to stand up for their beliefs?
Excerpt
Prologue: "They Have Not Caught You This Time"
On the morning of July 25, 1944, Lucy Schwob and Suzanne Malherbe went into St. Helier to do some shopping. The trip was part of their regular routine. Outside the offices of the Jersey Evening Post, they glanced up at the large clock at the top of the building. Suzanne leaned in and whispered to Lucy to keep watch. Then Suzanne scanned the long row of police cars the Nazi occupation forces always parked along Charles Street—a reminder of how heavily the Germans censored the island's only newspaper.
Suzanne took a small piece of paper out of her pocket and began moving carefully toward one of the police cars as Lucy stood by on lookout duty. Suzanne stuck the gummed paper on the windshield. "The cowardly bureaucrats of the police, who live on lies and shameful cruelty, will be destroyed by the Soldiers with No Names," the note read.
No one seemed to be paying any attention to the middle-aged women in Burberry trench coats with bright scarves tied around their heads. Suzanne quickly attached papers to a few more windshields and casually strolled away, her Wellington boots thumping on the pavement. If anyone asked the women what they were doing, their shopping bag would provide a ready alibi.
After finishing their secret mission, along with some mundane errands, they met up with their housekeeper, Edna Le Neveu, and boarded one of the wood-burning buses to head back home on the other side of the island. Lucy held a package of cigarette papers they had just bought at the newsstand. These papers were destined to become a new batch of notes for the Nazis. In her pocket, alongside more of their notes, Suzanne could feel the bright blue Milk of Magnesia bottle. It did not contain the digestive medicine, however, but instead an overdose of the powerful barbiturate Gardenal, in case the Germans caught them in the act.
Jersey native Edward Le Quesne was also on board as the bus bumped along its route overlooking St. Aubin's Bay. Le Quesne had worked as a plumber for many years and served in the leadership of his union. He was elected as a deputy in the States, the island's governing body, where he rose to president of the Labour Committee and became a member of the Superior Council during the war. An avowed pacifist, Le Quesne remained one of the most popular politicians during the occupation because he was occasionally willing to run afoul of occupation regulations. Earlier in the war, he had been arrested by the Germans for possessing an illegal radio.
With no warning, the bus came to an abrupt halt, and a fair-haired soldier climbed aboard. Everyone off the bus!
Le Quesne, grandfatherly at sixty-two years old, with round glasses and a receding hairline, fumbled off the vehicle. Random inspections like these were "an experience we have to tolerate under Nazi rule," he noted with resignation in the diary that he kept on paper made from the covers of tomato packing crates. Most people were used to this treatment. Le Quesne had done nothing wrong, so he was more annoyed than fearful. Lucy clutched her parcel a bit tighter.
Outside, the soldier approached each commuter. Suzanne noticed his bright blue eyes. Le Quesne remembered the litany of commands and questions: Please show me your papers. How old are you? What is your occupation? Where were you born? Where do you live? How many children do you have? With his critical eye, the German carefully looked over each passenger's documents until satisfied, saying very little other than what was necessary to get his answers. If something was suspicious, or if passengers had forgotten their documents, Le Quesne observed, they were told: "Someone will visit you in your home."
Then the soldier approached Lucy and Suzanne. Lucy recalled the scene several years later in a scrapbook of notes that might have formed the basis of a memoir if she had lived long enough. She titled these reminiscences "The Mute in the Middle of the Muddle." Show me your registration card, the German demanded. He stood in front of Lucy, glaring at her. A look of recognition crossed his face when he saw a familiar name. Schwob. What kind of name is that? The document listed French as her national origin. She explained nervously that she was an orphan and raised by a Frenchman. Perhaps you are Alsatian? Maybe, she replied, but admitted that she didn't really know. Lucy stated that she had been on Jersey for some thirty years.
Nearly everything she had just told the German about herself was a calculated lie. She invented a new backstory for herself, and not for the first time.
Her fabrication—perhaps planned, perhaps on the spot—was important because Lucy had a lot to hide. It obscured the fact that she and Suzanne had both grown up as the daughters of wealthy and prominent residents of the western French city of Nantes. Lucy's mother's family was Catholic, but her father's family was Jewish. The Schwobs had enjoyed coming to Jersey during regular vacations in Lucy's youth, and she and Suzanne had visited together in the early 1920s. But Lucy had certainly not lived on the island for three decades.
Her invention also left out the women's nearly twenty years of living in Paris as part of the cutting-edge art world, she as a writer and Suzanne as an illustrator. The two collaborated on experimental photography and photomontage, and their sometimes-alarming images challenged conventional notions of beauty, art, and expectations about how women were supposed look. They worked alongside surrealists to push artistic boundaries and create what the Nazis would come to denounce as the "degenerate art" that supposedly undermined Western civilization. In those years, Lucy and Suzanne also befriended communists, immersing themselves in intense political debates about the fate of Europe.
By the 1930s, Paris had become a city roiling in the turmoil of the Great Depression and radical politics as right-wing groups chanted anti-Semitic slogans and fought with left-wingers in the streets. Artists took sides too, squaring off in the pages of journals and around the tables in cafes.
But the battles became too much, and Lucy's years-long struggle with illness—poor eyesight, a chronic kidney disease, intestinal problems, and recurring migraines—stressed her nerves to the breaking point. She had grown dependent on Gardenal to help manage her insomnia, although she frequently read or wrote her way through long nights and into early morning hours. Suzanne took good care of Lucy, but life in the French capital was overwhelming, and they decided to return to the island to find quiet.
Around fifty thousand people lived on Jersey's forty-five square miles when the women arrived in 1937 to make it their permanent home. For thousands of years, since at least the Bronze Age, people have resided on Jersey, the largest of the seven inhabited Channel Islands in the English Channel just off the Normandy coast of northern France. In the 1930s, much of its land was still devoted to tomato and potato farming. Lucy and Suzanne could open the back door of their newly purchased house facing St. Brelade's Bay and walk together through their lush garden. They gazed southward across the green waters, back toward France, only some twelve nautical miles away. The crisp sea air and the rolling fog soothed them, and they spent peaceful days tending the garden, swimming, writing, and painting. They could hear the waves lap against the shore only a few yards from their house.
Jersey had endured many conquerors and foreigners over the centuries, including Romans, Vikings, and Gauls. The Normans established some of the island's longest-lasting families after the conquest of 1066 brought Jersey into political contact with England. All the Channel Islands became essentially self-governing in 1204, although they remained under the English Crown. (In 1664, King Charles II gave his brother, the Duke of York, a swath of land in the New World. The duke deeded the territory to Vice Admiral Sir George Carteret to settle a debt, and he named the land New Jersey, after his ancestral home.) The French tried to invade Jersey in the 1780s, but British forces held them off, and the island eventually found peace with its closest neighbor through trade and tourism. When the Germans dropped their bombs on Jersey and nearby Guernsey in June 1940, they ended more than 150 years of peace.
Perhaps most important, Lucy's lie to the interrogating soldier hid the true nature of her relationship with Suzanne. By the end of July 1944, they had become well practiced in keeping secrets. Lucy, forty-nine, and Suzanne, who had just turned fifty-two, had fallen in love when they were teenagers. They had been lovers for several years by the time Lucy's divorced father married Suzanne's widowed mother in 1917, making them stepsisters as well. Although friends in Paris knew of their partnership, the two women kept their true connection hidden when they arrived on Jersey. They simply told the conservative island residents that they were sisters.
As the minutes ticked by, Lucy waited patiently next to the bus and watched the soldier scrutinize her documents. Suzanne and Edna were close by but could do nothing to help. Lucy, perhaps coughing or stumbling a bit, played sick for the German's benefit, brushing off her acting skills from her Paris days, when she took part in avant-garde theater productions.
The soldier noticed that her Alien Registration Card listed her occupation as independent and her marital status as single.
Are there any men living in the house?
One, Lucy replied, George Le Neveu, the husband of her "nurse," as she referred to Edna. George was a well-known local who worked for the Germans at their social club in the hotel across the street from Lucy and Suzanne's home.
Finally, the soldier handed back Lucy's papers. When he wrapped up his examination of all the passengers, everyone reboarded the bus. An acquaintance riding with them tried to break the nervous tension created by the ordeal. "They have not caught you this time," she said, laughing, unaware of what Lucy's parcel of cigarette papers was destined for.