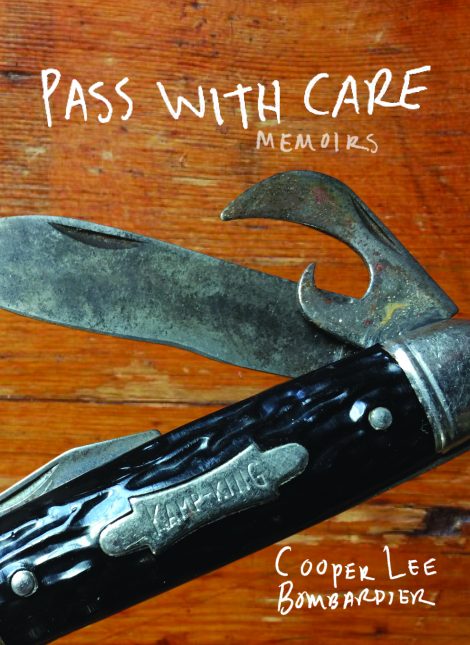 PASS WITH CARE
---
Pass with Care is the story of one person's quest for identity, meaning, and manhood—told through the transgender experience of becoming a writer.
Cooper Lee Bombardier weaves together a lyrical blend of personal essays, poetry, and interview transcripts, set against the backdrops of working-class New England, the queer punk scene of early '90s San Francisco, and the gritty deserts of New Mexico. By documenting trans history through his life in the arts, trans elder Bombardier lends much-needed insight into the lives, coming out, and transitions of older transgender people.
Pass with Care: Memoirs offers a bridge between queer and trans generations,
Pass with Care is the story of one person's quest for identity, meaning, and manhood—told through the transgender experience of becoming a writer.
Cooper Lee Bombardier weaves together a lyrical blend of personal essays, poetry, and interview transcripts, set against the backdrops of working-class New England, the queer punk scene of early '90s San Francisco, and the gritty deserts of New Mexico. By documenting trans history through his life in the arts, trans elder Bombardier lends much-needed insight into the lives, coming out, and transitions of older transgender people.
Pass with Care: Memoirs offers a bridge between queer and trans generations, revealing a unique reckoning with what it means to become a man today.
Dottir Press
Paperback
June 2020
300 Pages
9781948340212
Praise
"Pass with Care is a fantastic essay collection—wise, humble, and funny. The book ranks as a major addition to the body of trans literature. But it is, more importantly, a brilliant book about the construction of identity. Period. Cooper Lee has done the hard work of becoming a writer here. He refuses to romanticize his struggles. Instead, he plucks meaning from the rush of those struggles, and does so with courage and joy. A pure delight."—Steve Almond, author of Against Football, Candyfreak, and William Stoner and the Battle for the Inner Life
"Life is difficult for everyone. But trans people have a unique set of difficulties, which they must navigate in extremely challenging—often dangerous—circumstances. This is not news, at least not to anyone who's thought about it. What is news is Cooper Lee Bombardier's beautiful and revelatory memoir of his experience as a trans person. Funny, honest, and soulful, this book educates without preaching and entertains without cheapening. It's a marvel, and so is its author."—Tom Bissell, author of Apostle and co-author of The Disaster Artist
"Pass with Care pairs heart-in-hand vulnerability with the split-knuckle candor of venerated queer voices like Dorothy Allison and Saeed Jones. In singular blue-collar lyricism, Bombardier brings the trans-masc experience into view—gritty as a classic honkytonk song, and as unforgettable, too."—Lily Burana, author of Grace for Amateurs: Field Notes on a Journey Back to Faith, I Love a Man in Uniform, and Strip City
"Cooper Bombardier's Pass with Care is a memoir of becoming, an essay collection as layered and lovely as the life it describes: from working-class kidhood to '90s dyke utopia to life of letters, I cheered this hero on at every turn."—Melissa Febos, author of Abandon Me and Whip Smart: The True Story of a Secret Life
"Cooper Lee Bombardier's Pass with Care is much more than a memoir. It seamlessly weaves the up-close perspective of autobiography with the more sober, distanced judgment of a seasoned scholar, activist, and ethicist. The result is a loose kind of poetry, often breathtaking in its beauty, sexy and funny even as its observations cut deep. Bombardier's a warm, charismatic guide to the complexities, absurdities, furies and pains of a life lived in the face of a society that insistently binarizes gender when it already knows that gender is hardly divisible by merely two."—Jonathan D. Katz, author of Masculinities: Liberation Through Photography Jonathan David Katz and John Waters: Indecent Exposure
"Cooper Lee Bombardier writes from the heart about childhood and physical presence, work, romance, love and friendship. His stories and essays capture the guilt of a working-class child who wants more, and they describe the all-too-unusual experience of art-making and writing while holding a job. Transitioning from butch female to male, Bombardier discovers the fraught meanings of masculinity with open eyes. Pass with Care is an insightful trans memoir. It's also a brilliant book about ambivalence, class in America, self-acceptance, discovery."—Chris Kraus, author of Summer of Hate and After Kathy Acker
"This is a volume of juxtapositions and repositions looking for a self/other relationship of balance. Cooper is deep, he searches, he travels, relates through different forms, different voices, an emotional gravitas as the only constant. This is a book about a maturation of context, changing societies motored by the force of individuals determined to be seen and recognized, and then understood, heard and then seen/unseen. He works to separate the ever-changing issues of being a complex person with the ever-changing experience of being trans, so that trans and person become one and Cooper and person become one, as the land and cities shift. Pass with Care is moving in both senses of the word."—Sarah Schulman, author of Maggie Terry, The Cosmopolitans, and Conflict is Not Abuse
"Blessed are those who get to watch a man become a man on the page and feel pride and joy at his offerings in Pass with Care. Each sentence is a story, entering room after room of shed skin and raw truths tethered to the squared problems of language imposed on trans bodies. Bombardier's moxie, grace, kindness, and ferocity as a writer and thinker are unmatched and lasting."—Sophia Shalmiyev, author of Mother Winter
"In these clear-eyed, intelligent, intimate essays, Cooper Lee Bombardier writes fearlessly and profoundly about gender, identity, and class. Whether examining the loneliness of men, the fierceness of the dyke community in 1990s San Francisco, or the intricacies of his own gender transition, Bombardier leads with curiosity and vulnerability, unveiling a story of possibilities and resilience, and shining a light on a self who has learned "how to make freedom." A much-needed, wonderful collection."—Carter Sickels, author of The Prettiest Star and The Evening Hour
"Cooper Lee Bombardier's tender and fierce writing brings class and gender, art and life together with big heart and tough intelligence. I've long been influenced by his voice and am so excited to watch Pass with Care enter our crucial contemporary canon."—Michelle Tea, author of Against Memoir, Black Wave, and Valencia
Discussion Questions
1. Pass with Care: Memoirs is written as a blend of personal essays, poetry, spoken word performance, memoir, and journalism. Of these elements, which one resonated the most with you? Which did you think was the most effective?
2. Throughout the book, we travel with Cooper from his hometown outside Boston, to San Francisco, to the desert, and up to the Pacific Northwest. In what ways does his understanding of masculinity evolve with his surroundings?
3. In "Manhood is Boring," Cooper says that he's learned "how goddamn lonely it is to be a man. People don't talk much to men." Were you surprised by this observation? Why or why not?
4. A theme in various essays has Cooper expressing some version of "I don't want to disappear." What does not being seen mean in the context of Pass with Care?
5. What emotions did you experience while reading the book? How did you find yourself responding to the vulnerability with which Cooper discusses his experiences—virtues, flaws, mistakes, and all?
6. Throughout, Cooper narrates moments of being the target of bad treatment and someone who has hurt people, even if not intentionally. How does his complex narration inform your sense of who perpetrators are? How does it inform your understanding of victims?
7. How does Cooper's experience of Tomboy girlhood and later manhood inform or complicate feminism, especially with regard to violence and aggression?
8. When Cooper writes of becoming a pariah among his community in New Mexico, he observes of his "accusers" that "self-righteousness is social currency." What do you think that means? What does Cooper want from his "accusers"?
Excerpt
A Trans Body's Path in Eight Folds
"Thou wast not born for death, immortal Bird! No hungry generations tread thee down." –John Keats, "Ode to a Nightingale"
One: right concentration
A trans body sightsees at Carlsbad Caverns. It pays admission and enters the gap-toothed maw. Eyes are open but not working at first, seeing only the green opposite of the hot, white outside. Soon, the trans eyes forget the world's way of seeing, in favor of its own vision in the cool balm of dark. It feels a kinship with the stalactites fanging down from the dark ribbed roof, growing and changing ever so slowly, drip by drip—an inch a century, if that. The waiting and the long unfolding to become, molecule by molecule. In the yellowing glow of a miner's headlamp, the trans body spelunks toward nature's confirmation of the impossible made manifest, and vows to cultivate the patience of a cave.
Two: right action
A trans body visits a lover in a high desert town in the American Southwest. While running near to panting from altitude on a community center treadmill, this trans body spots another trans body on an adjacent treadmill, two machines over. A wash of warm recognition floods the one at the sight of an other. The trans body runs in place and listens to punk rock through headphones while shaping a way to connect with the other trans body. Hello, it imagines saying, me too. Or, I am your people. Too stiff? Too awkward? I am so happy you and I are here together in this place, of all places. How many more of us might be here? Slowing the treadmill down to run, tripping on the flapping, black rubber belt, the trans body knows it cannot make any reach toward the other. More likely than a welcomed connection, it could be received as an affront, a highlighting of some failure of detail—or worse, a dangerous positioning of crosshairs on the back of the other. One trans body might go undetected, but two trans bodies begin to shape an identifiable pattern. Two trans bodies dismount treadmills, sweating, alone.
Three: right speech
A trans body meets another trans body for coffee. In the span of drinking a twelve-ounce Americano, one trans body is smudged out and rendered invisible by the other. Countless people wield the power to erase a trans body, but nothing wounds to the same extent as when it happens by the hands of another trans body. A trans body rents a place with a friend. The friend leans on the trans body sometimes, as if they were spouses, or two old trees bordering a field who fell into each other in a windstorm—hard to tell who is holding the other up. The friend sometimes shakes out tired assumptions about "X" or "Y," like wet wash about to be pinned to a line that only extends in two finite directions. One day, the friend-spouse directs the trans body to do something in a highly divided public space. When the trans body reminds the housemate-friend why this suggested action would not be ideal, how it would expose, embarrass, or worse, imperil a trans body, the spousemate says, Sometimes I forget you are trans, sharp with darts of exasperation, like the trans body's transness is the most difficult thing in the world for the housemate (and friend) to bear, and yet the easiest thing in the world to forget.
Four: right view
A trans body is denoted "A" at birth, but by surviving over half a lifetime of social misadventures, zigzagging rat-maze bureaucracy, hustling the system, defying critics and naysayers huddled in worn camps around smoldering embers of damp fires, performing emotional sorcery, the application of rudimentary medical technology, and a highly honed ability to charm service workers and gatekeeping personnel at each level of the salt-sea lock, a trans body is able to exist in relative comfort as "B." This trans body's ability to live as "B" magnetizes to itself praise and blame in equal and alternating currents. This trans body's comfort in inhabiting "B" does not stand as a referendum on "A," nor upon A1, A2, A3…B1, B2…nor does it deny the existence of "C." It simply feels like if it has to choose a climate—say, the sandstone, hot, dry desert or the gray-green, damp, pine woods—it chooses woods. The trans body still loves the desert for its own magic light, but a place only feels like home when it is home.
Five: right intention
A trans body telegraphs thinly coded messages over the wire. The information is everywhere, but the connections are fleeting when they are soldered together at all. Birds fly out with destinations imprinted in their minds and scrolls tied to their feet. Sometimes they land, and other times they never come home to roost, eliciting neither hope nor surprise. They do the work of gossip but are much cuter, albeit in an archaic way. The messenger birds are too troublesome for white, urban, middle-class young adults to co-opt. Far offshore, there are other trans bodies bobbing like tiny ships in dark water, their little red lights blinking out, I'm here, I'm here, I'm here. Within the empty shape of a few beats, a slower light arcs out from atop a rocky cliff, slicing the black water apart from the blackening sky like a cake, its beam refracted through the thick-scaled Fresnel prisms of the lighthouse lamp. In a brief whip and sweep away, it answers back, Alone, alone—blink, sweep—alone, alone. On land, the fallen are called bodies, but at sea, the lost are called souls.
Six: right effort
A trans body goes to the low-cost clinic on indigent status and performs a show. The most complex and personal interstices of self and body are reduced to carved, primary-colored wooden blocks and ABCs. The trans body has been trans longer than the doctor has been a doctor. The teacher pretends to be a student. The trans body is a bad kid in school who says what you want to hear to avoid detention. This trans body trains the doctor to see it as a patient and its need as deserving of care, much in the same way wolves once trained humans to see them as dogs.
Seven: right livelihood
A trans body lives and dies a young trans life within the cold, blue frame of a screen. Another trans body takes shape in the late afternoon of midlife, confounding those around in concentric ripples that dissipate with distance. Ejected and unwanted, as burnt as toast from the chrome slots of society, a trans body walks a rain-soaked alley bearing a heavy bindlestiff as an exhausting punishment for noncompliance. One trans body bikes the bridge and stops at the midpoint to stare at the river below and listen for the call of sirens, while another trans body's fist connects with the jaw of a would-be attacker. Another trans body jostles past on a downtown sidewalk, unnoticed, while another stands at a podium, grasping a bronze trophy of recognition. A trans body cradles a child in tender arms. Despair and hope pulse through a trans body in equal measure. Beneath flesh, the bones of the trans body are as likely as the non-trans body to receive the frequency of either vibration. Only the path of sound differs.
Eight: right mindfulness
The trans body asks for something so internal and deeply known to be named, something that longs for a witness in the clean light of day. The trans body asks for an expansion of what is perceived to be conceivable, to be included in the taxonomy of the "real." The human mind often discovers that what we thought to be one thing is indeed another, and that new knowledge is embraced with joy—Pluto is not a planet, we are a galaxy among countless others, we can listen to the sound of a comet streaking a fiery brushstroke across the silence of space, we can measure the code of our DNA against the matrix of the trees. Human hearts and imaginations swell at what is possible. A trans body asks that the wonder of the world contains it within all of the world's resplendent glory.
Interviews
Why did you write this book?
I wrote this book to link together how my thinking of self and of gender has transformed alongside my path to becoming a writer. I wanted to place pieces of my work specific to my transition and trans identity side by side to see a progression of gender over time: these pieces span over twenty years of writing about my gender and my experiences of having a gender, which every one of us does. Through parataxis, a narrative arc of memoir appears through the pieces to connect them as an ongoing and continuously evolving story. Also, most trans memoirs that I read are about a singular timeframe, and we seem to forget as a collective culture that we as humans continue to grow and change until we die. This too is true for trans people, and as I am now officially a trans elder, by rights of just continuing to survive, I think it is interesting to look at how the work has changed, and how the questions have changed as I have grown older.
Ultimately, it might be about the biggest transition of all: aging.
Writers I've Interviewed/Reviewed:
Carter Sickles
Vivek Shraya
Nikki Darling
Sophia Shalmiyev
Everett Maroon
Thomas Page McBee
Fleishman
Cooper
Sabrina Chap
Annie Sprinkle
Michelle Tea
Susan Stryker
Jordy Jones
Jennifer Joseph (Manic D. Press)
Beth Lisick
Ann Marie O'Malley
Masande Ntshanga
Zoe Whittall
Random Fun Facts:
I've been photographed by several artists and appear on the cover of The Drag King Book by Del LaGrace Volcano and Jack Halberstam (this photo also appears in Halberstam's book In a Queer Time and Place) and in Del's book Sublime Mutations. I was photographed by Phyllis Christopher for the cover of Diesel Fuel by Pat (Patrick) Califia, by Adrain Chesser, for his "I Have Something to Tell You," exhibit and book, and was photographed by Jeffrey Horvitz for PQ Monthly; a lumberjack-themed shoot called "Oh, Pioneers."
The Drag King Book photo of me by Del LaGrace Volcano made an appearance on the show Strange Universe, and more famously, on Sex and The City's "Boy/Girl/Boy" episode, 2000.
I was in a punk band with Michelle Tea in the 1990s called Dirt Bike Gang, and I had a country cover band with Storm Miguel Flores, Bill Basquin, and a rotating cast of musicians called Whiskey Dick.
I toured with Sister Spit on the first national tour in 1997 for 6 weeks around the US, and on a couple of shorter West Coast jaunts, and have performed with them occasionally when they've come to my town in recent tours.
I appear on both Sister Spit "albums": Greatest Spits– 2001, Sister Spit Spoken Word Compilation, Lady Records and I Spit on Your Country-1997, Sister Spit Spoken Word Compilation, Mouth Almighty/Mercury Records. I created the cover art for both recordings.
My work appears in 13 anthologies.
Some People I've Shared a Stage With (not exhaustive):
Amber Dawn
Leslie Feinberg
Michelle Tea
Ali Liebegott
Daphne Gotlieb
Bucky Sinister
Carol Queen
Jennicet Gutierrez
Raquel Gutierrez
Denise Beneviedes
Eileen Myles
The Indigo Girls
Harry Dodge
Lynn Breedlove
Sini Anderson
Cheryl Strayed
Steve Almond
Lidia Yuknavitch
Samiya Bashir
Zahir Janmohammad
Marci Blackman
Ivan Coyote
Bitch and The Exciting Conclusion
Nomy Lamm
Anna Joy Springer
Dorothy Allison
Brontez Purnell
Thea Hillman
Storm Miguel Flores
Mo B. Dick
Cat Fitzpatrick
Casey Plett
Tom Leger
Sybil Lamb
Natalia Vigil
Celeste Chan