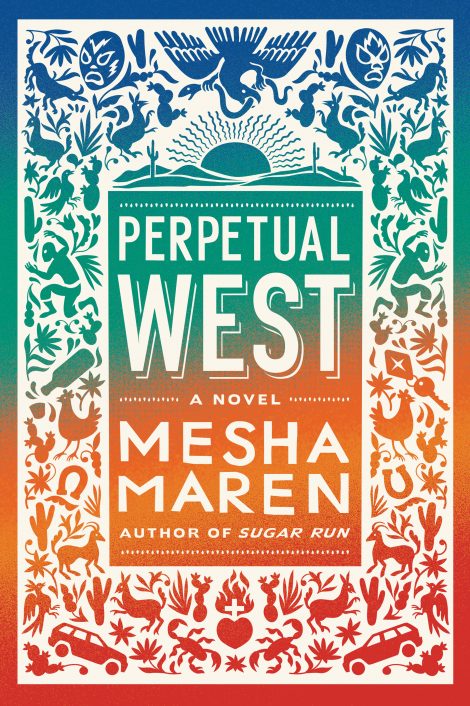 PERPETUAL WEST
---
The riveting new novel by the critically-acclaimed author of Sugar Run, Perpetual West is a brilliant and evocative story of borders—between countries, between lovers, and between facets of the self.
When Alex and Elana move from smalltown Virginia to El Paso, they are just a young married couple, intent on a new beginning. Mexican by birth but adopted by white American Pentecostal parents, Alex is hungry to learn about the place where he was born. He spends every free moment across the border in Juárez—perfecting his Spanish, hanging with a collective of young activists,
The riveting new novel by the critically-acclaimed author of Sugar Run, Perpetual West is a brilliant and evocative story of borders—between countries, between lovers, and between facets of the self.
When Alex and Elana move from smalltown Virginia to El Paso, they are just a young married couple, intent on a new beginning. Mexican by birth but adopted by white American Pentecostal parents, Alex is hungry to learn about the place where he was born. He spends every free moment across the border in Juárez—perfecting his Spanish, hanging with a collective of young activists, and studying lucha libre (Mexican wrestling) for his graduate work in sociology. Meanwhile Elana, busy fighting her own demons, feels disillusioned by academia and has stopped going to class. And though they are best friends, Elana has no idea that Alex has fallen in love with Mateo, a lucha libre fighter.
When Alex goes missing and Elana can't determine whether he left of his own accord or was kidnapped, it's clear that neither of them has been honest about who they are. Spanning their journey from Virginia to Texas to Mexico, Mesha Maren's thrilling follow-up to Sugar Run takes us from missionaries to wrestling matches to a luxurious cartel compound, and deep into the psychic choices that shape our identities. A sweeping novel that tells us as much about our perceptions of the United States and Mexico as it does about our own natures and desires, Perpetual West is a fiercely intelligent and engaging look at the false divide between high and low culture, and a suspenseful story of how harrowing events can bring our true selves to the surface.
Algonquin
Hardcover
January 2022
384 Pages
9781643750941
Praise
A Most-Anticipated Book of 2022: Oprah Daily, Electric Literature, Literary Hub, LGBTQ Reads
A February 2022 Indie Next Pick
"Perpetual West is an ambitious novel rendered in striking, sensual prose. Maren creates a vivid, precise, and complex sense of place; she shows us how cultural and physical geography shape who we are, what we do, and how the world understands us." —Dana Spiotta, author of Wayward 
"Mesha Maren has followed up Sugar Run, her extraordinary debut, with another, perhaps more extraordinary, success. Perpetual Westmaintains the best parts of Maren: drama, knockout sentences, violence, and complicated love; a successful blend of noir, high literary styling, and cultural criticism. It is, however, a bigger book, balancing several big ideas at once. There's colonialism, wrestling, kidnapping, sexual identity. This is a brave book, one only Mesha Maren could have pulled off."—Gabriel Bump, author of Everywhere You Don't Belong 
"Like a love child of Kate Chopin and Alice Walker raised by Cormac McCarthy, Maren with Perpetual West takes us through a luscious queer odyssey from Virginia to Mexico daring us to ask ourselves what makes us who we are. Is it where we come from? Or where we're going?"—Jeremy O. Harris, author of Slave Play 
"Maren employs a sweeping and lyrical narrative voice reminiscent of Sharon Harrigan, Jeffrey Eugenides, and Paulette Jiles and isn't afraid to let readers sit with the discomfort of addiction, deception, and loss. Immersing readers in areas of Mexico not often seen and peppered with academic inquiries, Perpetual West is nothing short of haunting."—Booklist, starred review  
"Exhilarating . . . Maren masterfully crafts flawed yet deeply empathetic protagonists . . . Enhancing her dynamic cast is Maren's remarkable ability to create a sense of place with just a few phrases and sentences . . . An immersive experience . . . A chimerical storyteller, Maren writes with candor and grit."—Terry Hong, Shelf Awareness
"A complex novel full of suspense in the tradition of Under the Volcano. Maren takes our modern mythos of the border and weaves a story that is entirely her own."—Fernando A. Flores, author of Tears of the Trufflepig 
"Meticulously observed . . . [Maren] does an expert job of showing Elana and Alex's separate arcs, and their story dramatizes border life in a nonclichéd fashion . . . An admirable . . . vehicle for examining the gulf between the two countries' cultures and people."—Publishers Weekly
"Perpetual West is a remarkable story of all the borders we cross to finally become our true selves. In this vivid and stunning novel about falling in love, finding your way, and fighting for what you want, Mesha Maren masterfully redefines the American dream and what it means to belong."—Crissy Van Meter, author of Creatures
Discussion Questions
1. Perpetual West opens with Alex and Elana driving toward the border at El Paso / Juárez, the place where Alex was born. Alex states that he wanted to come to this area in order to "join himself." What do you think he means by this?
2. Both Rubi and Vivi ask Elana where her people are from and how she relates to her heritage. Mateo's wrestler persona is strongly connected to Juárez, but he was not born there. Who has the right to define themselves by a place? What does it even mean to be from a place? What is your relationship to place and your identity?
3. Concepts of identity are important for all three main characters. Elana is attempting to shift her identity away from her father and her husband. Where does she shift it to? How do Mateo and Alex identify, and does this change throughout the book? Is identity something we can have control over? Is it something we find, or something that finds us?
4. What role does performance play in this novel? Characters reference the "movie version" of events, there are also Vivi's plays, and lucha libre has a very performative aspect to it. What is gained and what is lost in the dramatization of events? Have you ever felt as if your performance of your self was more popular than your authentic self?
5. What role does religion play in Perpetual West?
6. What do you make of Neto's dream of employing men who would otherwise travel to the United States for work? What are Neto's intentions?
7. Sibling relationships play crucial roles in the novel (Elana and Simon, Neto and his brothers). Do you relate to any of these sibling relationships? In what ways do our siblings show us aspects of ourselves that no one else can?
8. Toward the end of the novel, Alex discusses with Mateo the fact that he doesn't believe it is possible to really know yourself. He calls the idea of knowing oneself "stupid, pointless" and "impossible." Do you agree? Disagree?
9. Elana questions the ways in which we think we know someone, namely through external markers such as the movies and bands and books they like. What do you think? How well can you really know another person?
10. What do you think of Elana's essay on passivity and complacency and female bodies and choices?
11. What do you make of Alex's theory of "perpetual west" and the US's relationship to Mexico?
12. Alex argues that Americans rely too much on the individual and individual choices, and that they fail to take into account the larger political situation. Do you agree or disagree?
13. How do you interpret the novel's final scene? What do you think happens to Alex, Elana, and Mateo?
Excerpt
ONE
August 2005
They came by way of the Blue Ridge. Crossed the first state line at Kingsport and tracked the whole of Tennessee. Memphis at night in the rain. The Mississippi charging angry under them. Past the bluffs were floodplains, Arkansas, and then nothing but Texas. They came by way of the Stay-Inn Motel, Krystal, Taco John's, and Dixie Cafe. Burger wrappers shifting under their feet. Receipts on the floorboard like a poem of their journey: Aquafina, Butterfinger, medium coffee. They came by way of brown grass and thirsty names. Sulphur Springs, Mineral Wells, Sweetwater, Big Spring. They came for their schooling, for his past, her getaway.
When they reached the border it was late August, evening, and still hot outside, but the sunlight was thinning. It fell through their car windows in long slashes that illuminated the dust on the dashboard, the cracked windshield, and expired inspection sticker—details that the police would eventually note in their report after finding the Honda abandoned in the Candy Club parking lot, but that was still four months away. On this August day the evidence suggested only that Elana and Alex were too poor to fix the windshield and too distracted to keep the inspection up to date. Behind them, a slope of treeless mountains hunched in shadow and before them, past the squat concrete bunker of the Paso del Norte border station and the brown gulch of the Río Grande, Juárez rippled with headlights and neon signs.
Alex drove or, rather, he sat in the driver's seat and stared at the line of Jeep-Toyota-Chevy-Mitsubishis behind them and the equally jammed vehicles in front. After days of whip-by miles, they'd arrived in a funnel. US stagnancy and, to the south, the flash of Juárez. Elana sat in the passenger's seat with Wuthering Heights open in her lap.
"Maybe we should stop and eat before we get to Jorge's," Alex said.
Elana's eyes traced the same page, the same few lines, over and over again, but the point was not really reading. She'd read Wuthering Heights at least four times before.
"Just grab some tacos and a beer," Alex said. "There won't be any beer at the mission."
Elana found it funny that he should worry about beer. He hadn't drunk alcohol at all until he turned twenty-one, just two months ago, but now he'd incorporated it into his vision of how to be an adult. Adults drank beer at the end of a long day.
"We should find our way to the mission before it gets dark," Elana said, without looking up.
Alex fished a cassette out of the shoebox that sat between them and pushed it into the tape deck. The staccato drums and frenetic screams of Orchid reeled out and formed a screen between them. They'd kept the Honda more for its tape deck than anything else. The air conditioner was long gone, the gas mileage was not great, the heater worked only half the time. Alex turned up the volume. The line of cars inched toward the border, but the maroon van directly in front of them did not move. Alex edged closer to it.
"You don't want to stop for one beer?"
Elana looked at him, holding her finger on the sentence she'd been reading.
"After eight hours of driving."
She blinked.
"You're afraid," he said.
The cars beside them jerked ahead. Alex lifted his foot off the brake. He looked at Elana again. The Honda rolled forward and: smack. Elana's arms slammed against the glove box as the windshield darkened above her, tum- bling with movement. A series of dull thuds. The back doors of the maroon van swung on their hinges and box after box of Froot Loops, Cheez-Its, Hamburger Helper, Chips Ahoy!, Honey Nut Cheerios, and finally, a case of Pepsi wheeled out and landed on their windshield in an explosion of dark sugar.
Alex pulled up the emergency brake and leapt out. Elana opened her door slowly, watching as a blonde woman emerged from the passenger's side of the van.
Alex pushed the boxes out of the way, inspecting the point of impact. No one in the border station up ahead seemed to have noticed, though there was a growing cyclone of noise, horns honking and voices barking, as cars swerved around them. Elana watched the blonde woman light a cigarette.
A man came around from the driver's side of the van, paunchy and sunburnt.
"Damnit," Alex said, glancing over at him. "I'm sorry, I should've been paying better attention, shouldn't have been so close to your bumper." Alex touched the place where the Honda had dented the metal and suddenly the sunburnt man was moving fast. The look in his blue eyes, wet and vulner- able, like physical pain.
"Don't touch my van, boy," he said, and as he drew close to Alex, his expression changed from pain to disgust. It was the look of rusted wheels beginning to turn inside his brain and he did not seem to have any control over it.
"Chester?" the blonde said quietly, stepping forward. There was fear in her voice and she was looking at the man with a strange focus.
Alex stepped back, hands out at his sides.
"I never wanted to come down here in the first place," the man said, his eyes still locked on Alex. "But Lindy says it's a good idea. Start over fresh, she says, south of the border!"
The woman looked away before he even turned to her. The cigarette in her hand was shaking.
"A white horse. Isn't that right, Lindy? Something about dreams of white horses you had."
He had not touched her, but her body shrank as if she'd been slapped. She dropped her cigarette and looked down at it. "And you're the idiot who thought we could use our EBT down in Mexico," she said, barely loud enough for Elana to hear.
"What'd you say?" The man lunged.
"Nothing." She hugged her skinny arms across her chest.
For a moment Elana thought the man might hit her, but he just watched,
his eyes focused on her ass as she bent over and picked up a bag of dill pickle potato chips.
Elana looked over at Alex. His face was tight and his hand gripped the door of the Honda, but none of them moved except for the woman tossing the boxes and bags into the open van.
Up ahead, against the pinkening skyline, a white and red and green billboard announced: ¡HOLA AMIGOS! WELCOME TO JUÁREZ! And behind, the final rays of sunlight struck the glass buildings of the El Paso business district, burnishing them in liquid opalescence.
Essay
BORDER DREAMS
An Essay by MESHA MAREN
In the low light from the bus window the ring looked fragile. A pale blue wink in the man's palm.
"You should take it," he said. "It was meant for true love."
I can't remember his name now, Billy or Bobby or Brian, but surely, I knew it then. We'd grown close in that way that travel can cause, especially forty-seven- hour Greyhound bus travel when you are twenty-one years old. By Atlanta we'd swapped destination stories. He was headed to Big Spring to open a car repair shop with his brother. I was going to El Paso to reunite with the woman I loved, Lia, who had signed up for a college exchange program just across the border in Juárez.
By the time we entered Texas the next afternoon, Billy and I had both admitted our stories weren't as neat and clean as all that. Billy's brother didn't know he was coming. Until two days before, Billy had been happily engaged and working at Jiffy Lube, saving money to buy a double-wide. When he found his fiancée in bed with her ex, he'd taken her ring and hopped on the bus. I admitted to him how I felt like I was always chasing after Lia—always a few steps behind, trying to catch up and get near her, never quite sure how near she wanted me. I told him only the tip of it, though, playing it off and letting the real fear settle lower down.
"Take it," Billy said, and tipped his hand to me.
The ring was tiny and so light but as I tucked it into my jeans, I worried about omens and bad vibes, the weight of someone else's lost dream.
When the bus pulled into El Paso at 1:30 in the morning, Lia was waiting for me. She kissed me and threaded her arm through mine.
"We can cross the border up here," she said. She had come to Juárez a month before me to start classes while I worked to save up money. I did not plan on go- ing to college.
El Paso was dark and quiet but already I could see the lights of Juárez up ahead. I thought to tell her about Billy but it felt like a bad way to start off.
"I want you to meet someone," she said, smiling at me as we walked across the Puente Santa Fe, the Rio Grande a dribble below us.
I was exhausted.
"I know you're probably tired," she said, "but it's not far."
She had told me about him over the phone, her new friend, a punk who ran an info shop and community center with a bunch of other radical working-class kids in a colonia outside downtown. Her voice had kicked up each time she said his name, Tubi. He'd just started training to become a professional wrestler and worked nights at a little cigarette-liquor-sex-toy shop on the tourist strip.
The lights inside the shop were all neon pink and red. Lia let go of my arm. Tubi, she said. A guy with lank green hair looked up and smiled a big beautiful smile and then she was moving away from me and I knew it, I really did, but I was so tired, scared, and hungry that I didn't let myself admit it for another three weeks. Even then it was just an inkling. It wouldn't be until almost Christmas that I would scream at Tubi in the early-morning beer-bathed Juárez streets.
I wanted to write about this time in my life beginning all the way back on that bus with Billy, the oil wells pumping out the window and our fears floating around us only half said. I took notes every day that year as my heart broke and my brain exploded. I took notes as Lia drifted away from me, took notes as I waitressed in Café Mayapan and volunteered with La Mujer Obrera, a community-organizing center in El Paso run by labor rights activists who had formerly worked as seam- stresses in pre-NAFTA denim factories. I took notes about the US/Mexico relationship and the ways that we wounded our neighboring country, the vicious repercussions of trade deals and immigration policies and the hundreds of thou- sands of guns sold south each year. I was learning and feeling so much so fast. I remember wanting this period of my life to be over already, the growing pains of it, but at the same time, I wanted it to never end—or maybe more so, I want-
ed to capture it somehow before it did end. I wanted to capture how all of this new political awareness was wrapped up in bittersweet love and the thundering propulsion of youth, drunk nights of immortality and heavy mornings of new consciousness, the way that everything felt so personal and so enormously beyond me all at once.
I stayed there at the border even after Lia's program ended and she left. I stayed because I knew there was still more for me to learn and because there was some- thing both incredibly new and at the same time familiar about Juárez and the way that Juárenses love their home so deeply despite the difficulties. It reminded me of my home in West Virginia, the way that outsiders act like it is only a place to get away from, only a place to leave behind. It reminded me how loving a place that is hard to love can make you love it with an extra ferocity.
I tried to put all of this into words while I was there in El Paso and for years afterwards. I tried to write it as it happened, from my perspective, and it was terri- ble. I couldn't make it sing, couldn't make it taste like it had then. I put it away for a very long time and wrote a novel, Sugar Run, instead. It stayed with me, though, everything I had learned from Tubi and the women at La Mujer Obrera, the neon nights and limestone mountains, ska bands and border guards and mistransla- tions and the heartsick glory of being twenty-one, in love, and newly politicized. When I finally decided, in the fall of 2015, that I had to try once more to write about it, I Facebook-searched Tubi. And there he was, that same huge smile, only now he was a professional wrestler signed with Mexico's second-largest promotion company. When I reached out, he remembered me.
The following summer I traveled to Juárez. Tubi showed me all the arenas where he had trained, and he spoke openly about how much the cartel violence had affected him, his family, the wrestling world, and all of Juárez. He invited me to Mexico City to watch him fight and I spent six weeks shadowing him there. It was during this time, as I walked the streets of Colonia Doctores, that the char- acter Mateo, the wrestler in Perpetual West, began to emerge for me. And it was through the conversations I had with Tubi that I realized what I wanted to write about was my own truth but told slant. What I wanted to explore was an idea in conversation with novels like A Sport and a Pastime, The Sheltering Sky, and Under the Volcano, a question perhaps best articulated by Pico Iyer when he said of The Quiet American, "the novel asks every one of us what we want from a foreign place, and what we are planning to do with it."
In Perpetual West I was finally able to take my own experiences and filter them through a fictional lens until they broke apart and came together again. I was able to not only capture the powder keg of young love and new political awareness but also inspect and explode American cultural myths and fantasies about Mexico and the border. I was able to ask Iyer's question of Elana, an English major dis- illusioned with academia and struggling to form an identity for herself outside the roles of daughter and wife, and Alex, a graduate student in sociology who is studying lucha libre and hungry to learn about Juárez, where he was born. I was able to ask again and again: what do Americans want from Mexico, and what do we plan to do with it?