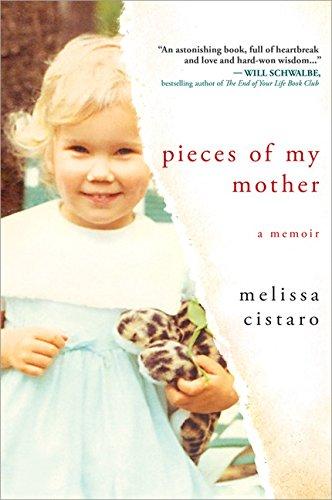 PIECES OF MY MOTHER
A Memoir
---
One summer, Melissa Cistaro's mother drove off without a word. Devastated, Melissa and her brothers were left to pick up the pieces, wondering why their mother abandoned them. Decades later, Melissa finds herself in Olympia, Washington with her dying mother and just days to find out what happened that summer and confront the fear she could do the same to her kids. She never expects to stumble on a cache of letters her mother wrote but never sent her, which could hold the answers she seeks. Haunting yet ultimately uplifting, Pieces of My Mother reveals how our parents'
One summer, Melissa Cistaro's mother drove off without a word. Devastated, Melissa and her brothers were left to pick up the pieces, wondering why their mother abandoned them. Decades later, Melissa finds herself in Olympia, Washington with her dying mother and just days to find out what happened that summer and confront the fear she could do the same to her kids. She never expects to stumble on a cache of letters her mother wrote but never sent her, which could hold the answers she seeks. Haunting yet ultimately uplifting, Pieces of My Mother reveals how our parents' choices impact our own and how we can survive those to forge our own paths.
Sourcebooks
Hardcover
May 2015
320 Pages
9781492615385
Praise
"This is an astonishing book, full of heartbreak and love and hard-won wisdom. Melissa Cistaro writes beautifully not just about her search for the mother who abandoned her, but about the myriad ways parents and children don't and do connect. Told in vivid scenes and through the texts of letters her mother never sent, Cistaro chronicles a journey that goes way past forgiveness to true understanding." —Will Schwalbe, bestselling author of The End Of Your Life Book Club
"Sometimes we are defined as much by the person who is missing as the person who is there. Melissa Cistaro has a story to tell and one you don't hear every day. I was deeply moved from word one." —Kelly Corrigan, bestselling memoirist of The Middle Place, Lift, and Glitter & Glue
"Melissa Cistaro's imagery is startling and vivid, her story brutally honest and devoid of judgment. Pieces of My Mother is a story that lingers in the heart long after the last page is turned." —Hope Edelman, bestselling author of Motherless Daughters and The Possibility of Everything
"Full of hope, regret and lessons learned, Pieces of My Mother is a unique and compelling look at how profoundly mothers affect our lives. Whether absent or hauntingly close, longing for a mother can force a child into maturity beyond her years, and garner her with a lifetime of longing. This book is as lyrical as it is honest, as humorous as it is heartbreaking." —Monica Holloway, bestselling author of Cowboy & Wills and Driving with Dead People
Discussion Questions
Melissa's mother had an entire cache of letters that she never sent; do you have letters or thoughts that you never sent to someone?
What did you think of Melissa's mother at the beginning of the book? What about the end, once you learned more about her?
Melissa worries that she may have inherited a "leaving" gene from her mother. Do you ever worry about traits that you may have inherited from your parents?
Pieces of My Mother moves back and forth from Melissa's childhood to present day. Did you like/dislike this narrative element?
What did you think of Melissa's brothers, and their relationship with their mother? Do you think it was different than the relationship that Melissa had with her mother?
Melissa's mother periodically returns while her children are growing up. Which visit was most memorable to you and why?
Throughout most of Melissa's life, her mother remains a mystery that she constantly tries to piece together. Is there someone like that from your life?