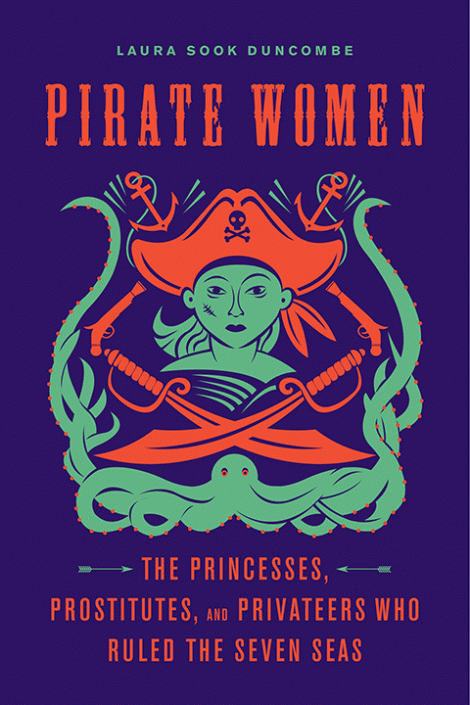 PIRATE WOMEN
The Princesses, Prostitutes, and Privateers Who Ruled the Seven Seas
---
In the first-ever Seven Seas history of the world's female buccaneers, Pirate Women: The Princesses, Prostitutes, and Privateers Who Ruled the Seven Seas tells the story of women, both real and legendary, who through the ages sailed alongside—and sometimes in command of—their male counterparts. These women came from all walks of life but had one thing in common: a desire for freedom. History has largely ignored these female swashbucklers, until now. Here are their stories, from ancient Norse princess Alfhild and warrior Rusla to Sayyida al-Hurra of the Barbary corsairs; from Grace O'Malley, who terrorized shipping operations around the British Isles during the reign of Queen Elizabeth I;
In the first-ever Seven Seas history of the world's female buccaneers, Pirate Women: The Princesses, Prostitutes, and Privateers Who Ruled the Seven Seas tells the story of women, both real and legendary, who through the ages sailed alongside—and sometimes in command of—their male counterparts. These women came from all walks of life but had one thing in common: a desire for freedom. History has largely ignored these female swashbucklers, until now. Here are their stories, from ancient Norse princess Alfhild and warrior Rusla to Sayyida al-Hurra of the Barbary corsairs; from Grace O'Malley, who terrorized shipping operations around the British Isles during the reign of Queen Elizabeth I; to Cheng I Sao, who commanded a fleet of four hundred ships off China in the early nineteenth century.
Author Laura Sook Duncombe also looks beyond the stories to the storytellers and mythmakers. What biases and agendas motivated them? What did they leave out? Pirate Women explores why and how these stories are told and passed down, and how history changes depending on who is recording it. It's the most comprehensive overview of women pirates in one volume and chock-full of swashbuckling adventures that pull these unique women from the shadows into the spotlight that they deserve.
Chicago Review Press
Hardcover
April 2017
264 Pages
9781613736012
Praise
"Thoroughly researched and enthrallingly written, Duncombe shows love and mastery of the subject in equal measure."—Jason Porath, author of Rejected Princesses: Tales of History's Boldest Heroines, Hellions, and Heretics
"A refreshing, well-written, and timely perspective on women pirates and why we're fascinated by them—and why too often they're overlooked except as objects of titillation."—Benerson Little, author of The Golden Age of Piracy: The Truth Behind Pirate Myths and historical consultant for Black Sails
"Duncombe's well-researched account will appeal to history and women's studies aficionados, lovers of myth and lore, and all interested in viewing the past through a new lens."—Booklist
Discussion Questions
1. The author uses a quote by Carol Christ in the introduction that claims, "Without stories a woman is lost when she comes to make the important decisions in her life . . . Without stories, she cannot understand herself." Do you agree or disagree with this quote? How have stories helped you make important decisions, if at all?
2. The author includes several pirates in the book whose stories are known to be untrue. How do these stories compare to some of the more verifiable pirate stories? Are they noticeably different?
3. What might compel a person to create a pirate story? What details would be important to that story?
4. The author notes that many details of these women's daily lives are lost to time. What are some things that you would most like to know, if one of their diaries was discovered?
5. If you could interview any of these pirates, who would you want to speak to, and why?
6. Many of these women left undesirable situations at home to begin their pirate careers. What modern-day situations might tempt a woman to consider a life at sea?
7. Historically, women were thought of as bad luck on board a ship. Why do you think that was? How do you think that impacted these women as they started out as pirates?
8. The last chapter of the book deals with pirate film adaptations. Are there any pirates in the book you would particularly like to see on-screen?