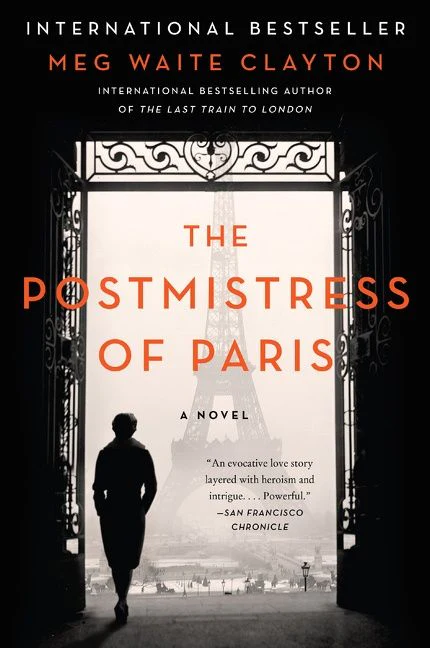 THE POSTMISTRESS OF PARIS
---
The New York Times bestselling author of The Last Train to London revisits the dark early days of the German occupation in France in this haunting novel—a love story and a tale of high-stakes danger and incomparable courage—about a young American heiress who helps artists hunted by the Nazis escape from war-torn Europe.
Wealthy, beautiful Naneé was born with a spirit of adventure. For her, learning to fly is freedom. When German tanks roll across the border and into Paris, this woman with an adorable dog and a generous heart joins the resistance. Known as the Postmistress because she delivers information to those in hiding,
The New York Times bestselling author of The Last Train to London revisits the dark early days of the German occupation in France in this haunting novel—a love story and a tale of high-stakes danger and incomparable courage—about a young American heiress who helps artists hunted by the Nazis escape from war-torn Europe.
Wealthy, beautiful Naneé was born with a spirit of adventure. For her, learning to fly is freedom. When German tanks roll across the border and into Paris, this woman with an adorable dog and a generous heart joins the resistance. Known as the Postmistress because she delivers information to those in hiding, Naneé uses her charms and skill to house the hunted and deliver them to safety.
Photographer Edouard Moss has escaped Germany with his young daughter only to be interned in a French labor camp. His life collides with Nanée's in this sweeping tale of romance and danger set in a world aflame with personal and political passion.
Inspired by the real life Chicago heiress Mary Jayne Gold, who worked with American journalist Varian Fry to smuggle artists and intellectuals out of France, The Postmistress of Paris is the haunting story of an indomitable woman whose strength, bravery, and love is a beacon of hope in a time of terror.
Harper Paperbacks
Paperback
October 2022
416 Pages
9780062946997
Praise
AN INTERNATIONAL BESTSELLER
A NEW YORK TIMES EDITORS' PICK
A GMA BUZZ PICK
AN INDIE NEXT PICK
AN AMAZON BEST OF THE MONTH PICK, LITERATURE AND FICTION
A PEOPLE MAGAZINE PICK
"Clayton expertly renders the story of a courageous American woman's role in the French Resistance during WWII. . . . Clayton's lyrical, thought-provoking prose breathes life into her characters. This sterling portrait of a complex woman stands head and shoulders above most contemporary WWII fiction." — Publishers Weekly (starred review)
"This gripping historical love story from Clayton brings readers into the courageous lives of those struggling just to stay alive and those risking everything to help."  — Booklist
"A true gem . . . and a testament to the power of good."  — Portia Kapraun, Library Journal (starred review)
"An evocative love story layered with heroism and intrigue — the film 'Casablanca' if Rick had an artsy bent … powerful."  — San Francisco Chronicle
"A sweeping tale of perseverance and courage set against the backdrop of Nazi-era Europe, The Postmistress of Paris is the very best kind of historical fiction: a complex and intriguing story that both highlights a little-known moment in the past and resonates powerfully in the present, reminding us that bigotry can only be vanquished when people are willing to take a stand." — Christina Baker Kline, #1 New York Times bestselling author of Orphan Train
Excerpt
Part I
JANUARY 1938
Once back in Paris, I learned that most Americans were scurrying home. I decided to stay on. I had lived in France for eight years and felt a part of her. I had learned to love her people, her history, her landscapes, and her old stones. If the French could take it, so could I. Besides, too many extraordinary things were in the making, and I didn't want to miss out.
—Mary Jayne Gold, Crossroads Marseille, 1940
We should have left France after Max was arrested the first time, but we couldn't imagine a world other than Paris.
—Leonora Carrington, Villa Air-Bel by Rosemary Sullivan
Monday, January 17, 1938
IN THE SKY OVER PARIS
The sky out the glass roof of her Vega Gull was as crimson as the airplane. Beyond the windshield and the gray whirl of propeller, ten thousand tons of iron stood laced against the setting sun. Nanée called over the roar of the Gypsy Six engine, "La Dame de Fer à son Meilleur Niveau—that's the kind of art I love," to Dagobert, her sole passenger, who wagged his unkempt poodle tail as they circled the Eiffel Tower. The Iron Lady at Her Best.
She flew on up the looping Seine, headed back to Paris for the Exposition Internationale du Surréalisme, three hundred artworks depicting gigantic insects, bizarre floating heads, and dismembered or defiled bodies she knew were meant to be thought-provoking but always left her feeling unsophisticated and far too American. Midwestern. Not even from Chicago but from Evanston. She loosened the white silk scarf at her neck as she initiated a controlled descent from a thousand feet to eight hundred, six hundred, five, to buzz her empty apartment on avenue Foch. She loved Paris, if only its winter nights weren't so long when you were twenty-eight and living alone.
She throttled back to idle and extended the flaps over the Bois de Boulogne, descending to two hundred feet as she approached the park's lake, its small cascade and charming little Emperor's Kiosk. Up here in the air, there was no grumbling about Prime Minister Chautemps excluding socialists from the French government, no brother killing brother in Barcelona, no Hitler claiming to be eager for peace while all of Europe trembled. She dipped a wing for a better view, to see the trickle of water over rocks into frozen lake and—
Oh lord! A span of black wings stretched to white-feathered tips at ten o'clock. A red bill opened in a call of warning inaudible over the engine as she slammed the throttle wide open and yanked back the yoke, snapping to the right and climbing to avoid crashing into the black swan already diving to avoid her.
But the nose of the plane was rising too quickly. Vertical speed fifteen hundred feet per minute. Through the windshield: nothing but sky.
The airspeed indicator plummeting toward stall speed.
The wings buffeting as the plane began to lose lift.
The stall horn sounding its alarming blare.
She pushed the yoke forward, rolling out of the turn, sending the nose dipping in an effort to recover from the stall.
Dagobert tumbled forward as the altimeter unwound and the plane shot downward, the view now pure propeller and frozen lake.
The ice!
So little room to maneuver.
Poor Dagobert whimpering.
The airspeed indicator at forty-five knots.
Fingers aching from her grip on the yoke.
"It's okay, Daggs."
Her whole body tensed, about to splinter.
Fifty knots.
Fifty-five.
She willed the airspeed indicator to move faster so she could pull up again without stalling before she crashed into the ice.
Faster, damnit!
Sixty.
Sixty-five!
Pulling back on the yoke again.
The pitch of the nose rising now.
The attitude indicator moving toward level.
So low she was nearly skimming the frozen lake.
Her knuckles pale with her tight grip but, yes, she'd stopped the stall. She was flying straight and level.
The airspeed indicator now at seventy knots.
She retracted a notch of flaps, the plane sinking a little and her stomach with it. She pulled back a bit more on the yoke, maintaining altitude.
Dagobert looked up anxiously from the floorboard.
Another notch of flaps. A little more on the yoke. Initiating the climb out.
Four hundred feet. Five hundred.
A last notch and they were in a stable climb to six hundred, with time now to recover from anything new that might go wrong.
Back at a thousand feet, she circled, waiting for her damn heart to stop trying to escape her damn chest. The Seine looped soothingly from the west to the south and on to the east, to another view of the Eiffel Tower, more distant now.
The frozen lake that might have been her cold grave, and that of Dagobert and the swan too, circled back into view.
"All right," she said to Dagobert, still crouched on the floorboard, as rattled as her own nerves.
She descended toward the lake again, this time to a less daring five hundred feet, to run along the length of the water, past the waterfall and to the left of the island and the Emperor's Kiosk, its little blue dome so hopeful.
And there he was, at the north tip of the lake—the black swan, settled safely on the ice.
She ought not to have been flying so low, but that was what she loved: the high, open sky, yes, but also the rush of earth.
That daughter of yours would rather be wild than broken. Don't you worry she'll end up alone?
"But I'm not alone, am I, Daggs?" She patted the bucket seat beside her, shaking off her father's words. "I have you."
Dagobert reluctantly scrambled back up, then hunkered down on the seat, head on paws. She tugged on one of his velvety ears, and he shook his head that way he did whenever she messed with them.
"I didn't mean to scare you, but I couldn't bear to hurt him," she said as she banked eastward, toward the landing strip at Le Bourget. "And this is his world. He belongs up here."
SHE BROUGHT THE plane to a stop on the tarmac and climbed from the cockpit onto the wing, already pulling off her goggles and leather helmet and shaking out her hair. She lifted Dagobert from the plane, the poor dog still trembling a little, and kissed him on his cold black nose. She set him on the wing, then pulled out her skis and her slim traveling case. Only then did she dare glance to the clock on the domed airport tower. She was impossibly late.
She slid down to the tarmac, leaned her skis against the wing, and set her case on it, beside Dagobert. He watched attentively as she popped it open to its mirror-lined top, swapped her flight jacket for a purple wool with gilded beads and buttons, and added her fur-cuff bracelet. Damn, it was cold, but at least there was nobody to see her. She looked in the mirror, then shrugged off the jacket and bracelet and tossed them on the wing. She dug out a reliable old black Chanel dress and pulled it over her head, slipped her blouse off underneath, and let the silk fall into place over her leather flight pants. Better. Not warmer, but better. She added her flight jacket again, for warmth. Could she just wear the leather pants and boots with the dress? It was a Surrealist exhibit, after all.
Dagobert settled in, resting his head on his paws as she swapped her wool stockings for silk ones. She pulled on heels. Added pearls. More pearls. Even more. She clipped the strands together with an oversize safety-pin brooch, silver with a red Bakelite accent, then unfolded a fabric crumple into an elegant hat. She touched perfume to throat and wrist and wrapped her flying scarf back around her neck. Not better, but warmer. She added the fur bracelet again, its brass underside cold. She applied lipstick, then took Dagobert's face in her hands.
"I don't want to go either, but it's for Danny." Danny Bénédite, her French brother; she'd lived with his family when she first came to study at the Sorbonne years ago. Danny did so much good for so many.
She kissed Dagobert twice in the French way, leaving red lipstick on his face. "All right," she conceded. "I'll drop you by the apartment."
Dagobert licked the fur of her bracelet.
"That's Schiaparelli, Daggs."
Dagobert's look: she could wrap him around her wrist any time she wanted, and at a fraction of the cost.
She lifted him from the wing and set him on the tarmac. "You are terrifically soft and beautiful," she said, "but you would never sit still on my wrist."
IN THE GALERIE des Beaux-Arts courtyard, Nanée eyed Salvador Dalí's Rainy Taxi, a vine-covered 1933 Rolls-Royce with a male mannequin-chauffeur wearing a shark's head and goggles in the driver's seat and, in the back, a gowned, sopping-wet female one covered in live snails. A gallery attendant handed her a flashlight and opened the grated door to a "Surrealist street" lined with more female mannequins dressed—largely undressed—according to the fetishes of prominent artists, with a velvet ribbon gagging a mouth, a birdcage over a head. Unsettling laughter haunted the main hall, a dim, dusty grotto of a room with hundreds of coal sacks hung from the ceiling, a double bed in each corner, and a floor that was somehow all pond and leaves and moss without actually being wet. The source of the laughter was, she found, a gramophone devouring mannequin legs, titled Jamais. Never. Nanée was inclined to agree.
A crowd was gathered around a display of photographs hung on freestanding revolving doors at the dim room's center. And there was Danny, all neatly-slicked-back hair and round black glasses, long nose, tidy mustache over a narrow, dimpled chin, with T beside him even smaller than her husband, her boy-cut dark hair and huge hazel eyes more handsome than beautiful.
Nanée threw her arms around Danny, then exchanged bee kisses with T. La bise.
"Don't you look posh?" T said.
Nanée, who'd forgotten to take off the flight jacket and scarf, said, "Do you like it? I'm calling this look 'Aero-Chanel.'" She smiled wryly. "Sorry I'm late. The winds were fierce."
"When are the winds in your life not fierce?" Danny teased.
The French writer André Breton stood in front of the revolving-door photographs, clasping and unclasping his hands as he finished an introduction and asked everyone to join him in welcoming Edouard Moss.
"Edouard Moss!" The Edouard Moss photos Nanée knew were from newspapers and magazines: an adorable girl in pigtails enthusiastically saluting Hitler; a man having his nose measured with a metal caliper; a clean-chinned son taking scissors to his Orthodox Jewish father's beard, the forgiveness in the father's face heartbreaking and raw. Edouard Moss's photojournalism as well as his art would have set Hitler against him, forcing him to flee the Reich.
"I thought you would like Edouard," Danny said.
"'Edouard'? That's awfully chummy, isn't it?" Nanée teased. Danny took such pleasure in befriending the artists he helped, quietly using his position with the Paris police to arrange French residency permits for refugees like Edouard Moss.
T straightened the flap on one of Nanée's flight jacket pockets. "I thought you would like Edouard," she said.
Edouard Moss stepped forward then, his tie askew and his dark hair charmingly unkempt. A square face. A mole at the end of his left eyebrow. Thin lines etching his forehead and mouth. He held the hand of a two- or three-year-old girl with carefully braided caramel hair and a much-loved mohair kangaroo. But it was the photographer's eyes that caught Nanée off guard, willow-green and weary, and yet so intense that they left her sure it was in his nature always to be watching, to be aware, to care.
He frowned as he noticed one of the photographs on the revolving-door display—not the centerpiece merry-go-round horse at a frightening angle, distorted and angry, but a smaller print, perhaps the back of a naked man doing a push-up; Nanée so often couldn't tell with Surrealist art, except when they wanted you to know that they had, for example, chopped a woman's body in half. The photograph, improbably tender, left Nanée awash in something that felt like shame, or pity, or remorse. Grief, she might have said if that didn't seem so ridiculous. The sight of all that skin, the shadow masking his derrière . . . It felt so personal, like the back of a lover lowering himself to join his vulnerable body with hers.
Edouard Moss said something to André Breton, his voice too low to hear but his expression insistent. When Breton tried to respond, Moss cut him off, leaving Breton to nod his lion head for an assistant to remove the push-up man photograph.
As the gallery quieted, Nanée whispered to Danny, "I have champagne if you want to bring your friends to celebrate afterward." She couldn't say why she extended the invitation; she'd meant only to put in an appearance and duck out early, to go home to her apartment and fresh pajamas. But she always did have champagne.
She returned her attention to Edouard Moss.
"Mutti!" the little girl with him called out, her face lighting up in surprise and delight.
Nanée looked around, sure the child's mother must be right beside her.
She turned back to Edouard Moss, who was staring for such an impossibly long, disconcerting moment that the crowd turned to see what he saw. They were all looking at Nanée.
He offered an awkward, apologetic smile—to the people waiting or perhaps simply to her—then squatted to the girl's level and took her little face in his hands.
It ripped Nanée's guts out, that simple movement, a father lowering himself to his daughter's level. But maybe they weren't father and daughter. The girl might be a niece, or even the child of a friend. So many parents who couldn't or wouldn't leave Germany themselves were sending their children to live with family elsewhere.
"Non, ma chérie," he said to the girl, his voice a cello baritone with only a hint of German accent. "Souviens-toi, Maman est avec les anges."
Remember, Mama is with the angels.
"Mutti ist bei den Engeln," he said.