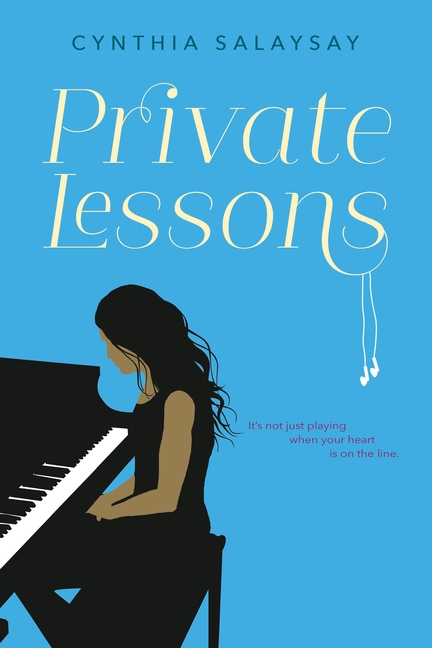 PRIVATE LESSONS
---
After seventeen-year-old Claire Alalay's father's death, only music has helped her channel her grief. Claire likes herself best when she plays his old piano, a welcome escape from the sadness — and her traditional Filipino mother's prayer groups. In the hopes of earning a college scholarship, Claire auditions for Paul Avon, a prominent piano teacher, who agrees to take Claire as a pupil. Soon Claire loses herself in Paul's world and his way of digging into a composition's emotional core. She practices constantly, foregoing a social life, but no matter how hard she works or how well she plays, it seems impossible to gain Paul's approval,
After seventeen-year-old Claire Alalay's father's death, only music has helped her channel her grief. Claire likes herself best when she plays his old piano, a welcome escape from the sadness — and her traditional Filipino mother's prayer groups. In the hopes of earning a college scholarship, Claire auditions for Paul Avon, a prominent piano teacher, who agrees to take Claire as a pupil. Soon Claire loses herself in Paul's world and his way of digging into a composition's emotional core. She practices constantly, foregoing a social life, but no matter how hard she works or how well she plays, it seems impossible to gain Paul's approval, let alone his affection. Author Cynthia Salaysay composes a moving, beautifully written portrait of rigorous perfectionism, sexual awakening, and the challenges of self-acceptance. Timely and vital, Private Lessons delves into a complicated student/teacher relationship, as well as class and cultural differences, with honesty and grace.
In a standout debut for the #MeToo era, a young pianist devotes herself to her art — and to the demanding, charismatic teacher she idolizes.
Candlewick Press
Hardcover
May 2020
320 Pages
9781536209600
Praise
"At its heart, this is a coming-of-age novel and in that regard it succeeds quite nicely, but it also delves into other, more significant areas as well. It is a novel of acceptance as Claire tries to navigate a different sort of social circle at the expense of past relationships and expectations, and the consequences when desire for validation becomes obsession. It is also a novel of sexual awakening. In her debut novel, Salaysay does an excellent job of exploring all these facets and handles them with a sense of honesty and realism that allows Claire to shine as a fully-realized, completely believable character." —School Library Journal (starred review)
"Salaysay's debut novel beautifully explores topics not often addressed in YA fiction…Salaysay gets so much right, including the difference between public school in middle-class, heavily Asian Fremont and the rarefied, primarily white private-school world of San Francisco. Claire's need for affection and acceptance leads her into entirely believable and utterly sad encounters, while the strength she musters carries her through to an uplifting conclusion." —Booklist (starred review)
"An honest and insightful coming-of-age story. Claire's journey is alternately painful and empowering, infused with subtle grace and pulled along by the driving and redemptive love of music." —Sara Zarr, author of The Lucy Variations
"A compelling, nuanced #MeToo novel about the intense relationship between a piano student and her charismatic teacher that explores the notions of consent and personal boundaries. Salaysay writes fearlessly about a toxic power dynamic, cultural differences, and the perils of falling in love." — Barbara Dee, author of Maybe He Just Likes You
Excerpt
Chapter One
I've done everything I could to make Paul Avon like me. I listened to every sonata and concerto and prelude and fugue and fantasy I could for a whole week before my audition. I packed a change of clothes and my toothbrush so I could freshen up right after school before I left for the train. Resprayed down my primary cowlick with hair spray. Checked my shoes for gunk. There isn't anything left to do but be myself, which honestly doesn't seem like enough.
"Paul's very good. One of the best in the area," my piano teacher said at our last and, I hope, final lesson. "But he's definitely not the teacher for everyone. He's picky. Hard to please."
I'm on the BART train to San Francisco, where he lives, Liszt and friends leaning against my thigh in my backpack. I didn't know what to bring, so I'm bringing what seems like the whole canon. The houses slide past the window, fading in color as the light fails. Then down, down underground, where the train starts a high- pitched scream as it descends under the bay. We're underwater. I know this is supposed to be normal — everyone in here looks calm — but I white knuckle it. All I can think about is the tunnel collapsing and filling with water.
If it weren't for college applications, I would never have gotten up the nerve to come. My guidance counselor was the one who suggested I try piano competitions. It was at my first one — I went alone, in case I had a breakdown — that I heard Paul's name.
Everyone — guidance counselors and science teachers and basically every auntie who comes to the house — expects me to have a bright future.
"You need to shine," Tita Alta said at dinner after one of mom's prayer groups. "Grades aren't enough for the Ivies or good scholarships."
My mother said something in Tagalog, and Tita Alta nodded. Another family friend touched Tita Alta's shoulder to get her attention. "Didn't your daughter was homecoming queen?" she asks. Her English is very Filipino.
Tita Alta nodded. "Nag-aaral siya sa Princeton. Third year."
Awed looks, all around the table. Princeton.
The only thing I knew about Princeton is that F. Scott Fitzgerald went there. But I looked into it and it doesn't seem to be an artsy place. Not for me.
By the time I get off at Civic Center, it's four thirty. Rush hour. It smells different here, of mildew and ice. Preppies on bicycles act suicidal, weaving themselves into the car lanes. Women in heeled booties and skinny jeans stare hard in front of them, talking into the air, phones in hand. I check my own phone, read a map, and find my way uphill, toward Alamo Square. Homeless people on park benches. People wearing camping gear like it's high fashion. Even though San Francisco is considered diverse, there are still many more white people here than at home. But there are so many kinds of people here — glamorous and poor, tailored and casual — that I feel anonymous. No one seems to pay any attention to me.
Past the museums, past city hall. The store signs are smaller compared to at home, and not so garishly lit. Cakes, anointed with whipped- cream pompadours, fill a shop window. Another store sells seashells, coral. The houses become flouncy. The air is so wet, it feels like a cloud is seeping through my clothes, like it's going to rain, even though it's May already. San Francisco has its own weird seasons. I haven't been here much, but it's always colder than at home.
I turn a corner onto a postcardish street, with cheerful candy- colored houses of pastel and lace. I know which one is his before I read the address because I hear Chopin doing his bright best, gushing out the first- floor window of a cherry ice- cream- pink house. Prelude no. 1. It instantly puts me at ease.
I should knock, but instead I look at my feet, listening.
My shell of a heart has creaked open. He plays like it's burbling out of him, all gushy and sudsy, like he has to restrain the notes from coming out all at once. It almost makes me forget how nervous I am. That I'm not supposed to be here. My mother, who has no idea where I've gone, feels miles away.
I feel a little bad I didn't tell her, but I know she just would've made me even more nervous if she'd come with me.
The prelude ebbs away, over before I wish it to be, and I knock.
"Hello!" Paul says through the open window, his face hidden. I'm surprised how normal he sounds. "Can you wait outside? Just finishing up here."
"Okay," I call, probably too loud.
I sit on the steps, listening, pulling my socks back up — the elastic has blown, and they've been sliding into my shoes the whole way over. The music starts again like a blaze. It sounds so ridiculously good, I want to laugh. He makes it seem easy. Not for the first time, I wonder if I should even have come.
I get absorbed in my phone, and soon the door opens. A girl with blond hair in a loose bun and a navy peacoat with the collar turned up waves at me, then takes the handful of steps in a jump. I'm stunned. That was her playing. She looks like a J. Crew model. And she looks my age.
"You must be Claire," says Paul, the words flowing out glycerin- smooth. He has an earnest, curious expression. Shots of gray in his thick sandy hair. Even though he has glasses on, I can see how startlingly blue his eyes are. They're curved like apostrophes, downward over sharp cheeks. I shake his offered hand. It's soft and warm, without calluses. "You need tea, I think. You look cold," he says.
I hide my hands in the pockets of my hoodie and follow him into the house. He isn't wearing any shoes, just black argyle socks. "It's warmer at home."
"Where did you come from?"
"Fremont."
"All the way out there?" He walks deeper into the house, leaving me standing in the hallway.
Bookshelves stretch all the way to the ceiling, filled with sheet music, their tall, recognizable spines — ivory Peters editions, goldenrod Schirmers, and evening- blue Henles — lining most of the three walls, casting the room in a greenish, underwater glow. The fourth has a large picture window, curtained to protect the pianos — Steinways, both of them baby grands, their curved bellies facing each other, wings folded. The brown one is weathered and scratched. The other gleams a black ebony. On the shelf behind it is a bruised violin case, and in the corner sits a small glass writing desk. Two low- slung chairs face each other in the middle of the room with a table between them.
I sit down in one of them and it puts me in a slouch, my feet dangling like a child's, so I sit back up again, balancing on its edge and touching the floor with my toes.
"I hope you like cream and sugar. I took the liberty." He hands me a mug, sets a plate of cookies on the table, and settles into his chair, looking at me like I'm a strange bird. He cradles his mug close to his chest, his fingers looking impossibly long, stretched over the curve of the cup. Paul is rangy, wearing loose pants, his shirttail out. "So, Fremont. What's that like?"
"Pretty boring." Fried chicken places next to drugstores next to Indian chaat houses next to pho spots next to grocery stores. And behind it, bland hills.
"Really? That's too bad."
"I guess so." The first sip of tea burns, but I try not to let it show, swallowing quickly. If he knows I've scalded my tongue, I can't tell, but his eyes are sharp and dead on me, so I'm guessing he does. "You must be Filipino, then."
I shrug a yes. I don't see why that matters.
"And you'd like to play more seriously?"
"Well, I'm no prodigy. This is just, you know, for school. Scholarships and stuff." An answer grown-ups would understand.
"You know it isn't easy, teaching people if they aren't serious about it. It's not just about playing fast or the right notes — you have to really want it in order to truly play well. To be an artist. And if you're just doing everything you can to get into college — chess, horseback riding, volunteering with veterans — all that, then maybe this isn't for you." His eyes wrinkle behind his glasses as if to soften the criticism.
"I don't do any of those things."
"Sorry about that last bit. I didn't mean to be harsh."
"I do want this."
"Why?" I feel my burnt tongue. "Because playing feels beautiful." The last word is hard to say. No one says that word at school, and I don't say it to anyone. I can't remember the last time I've said it, and here I am, saying it, all cheesy.
It's true though. Songs don't feel like they really die. They feel like they just go back where they came from. And when I play, it's like I'm a part of that.
His eyes don't leave mine. I get the sense he's drinking me in, along with his tea. He must be thinking about walking me right out the door.
"How long have you been playing?"
"Since I was seven."
"That's a bit late. Have you been to competitions?" "Mm- hm. I did one. The California Piano Teachers' Association, South Bay."
"How was it?"
"Okay, actually! I got third." I look down. I personally think third is pretty good. But maybe he doesn't think so.
"Nice!" His tone is warming again. "And what did you play?"
"Bach, Ravel, Beethoven." He gives a swift smile.
"Let's start with Bach, then. But first you should wash your hands."
I look at them. They don't look dirty. He raises an eyebrow.
"Everyone has to wash their hands before they play," he says.
Copyright © 2020 by Cynthia Salaysay
Essay
Authors Note
Private Lessons came in the wake of a bad breakup. It was not an easy, picture-perfect time—I felt fragile. I had to get a new place to live, a new job, and new friends, but there was a lot of beauty in my life all the same. I was growing healthier and happier, and I was discovering that I could write. I had always wanted to be a writer. Now I had the grit and determination to do it.
Claire's story appeared in my life one morning in my new apartment, about a year after my breakup. I was ecstatic to find that I could write on and on about a young girl who falls in love with a manipulative piano teacher. To her I gave the difficult lessons I learned from being in an abusive relationship. I also gave her the quiet strength it took to heal.
Claire sees herself as ordinary; she feels the color of her skin is ordinary. It is a surprise to her that people don't feel the same way about her. As a Filipino-American, she experiences slights and indignities that let her know that she doesn't fit in. She's seen as smaller, exotic, perhaps submissive. Though none of the people who see or treat her this way would describe themselves as racist, these impressions, coupled with knowing that her immigrant family has fewer resources than other families, have consequences on her psyche.
I really wanted readers to look deeply and with compassion at Claire's life, in part so that they could feel how racism makes her feel, but more importantly because I wanted readers to feel what abuse does and take her side—-the side of the abused instead of the abuser. Sexual abuse and harassment is often spoken of with fear and disgust. Our society continues to question the victim, as if they're at fault, out of fear and avoidance of the subject itself. People don't want it happening to them, and they don't want to be blamed for it, either. This book is in response to that.
Claire grows tremendously as she begins the slow work of healing. She has the love and support of her family and friends, and she continues to feel magic at the piano. It is her lifeline and comfort, how she chooses to express her deepest feelings and let them go. She gives everything to it, and it gives back, too, and for that she feels reverence.
This is a story of abuse, one that I hope will spark conversations and help girls look more deeply at themselves and their own relationships, and also a story of empowerment. I hope that readers find their own courage, confidence, and strength.