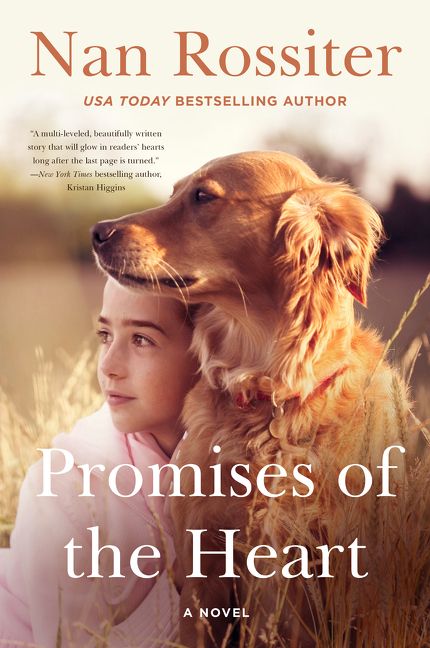 PROMISES OF THE HEART
A Novel
---
The first novel in a new series from bestselling author Nan Rossiter tells the moving story of a couple struggling to start a family and the young foster girl with a heart condition who changes their lives forever.
Can the course that they've set for the future handle a slight detour…?
Macey and Ben Samuelson have much to be thankful for: great friends, a beautiful—if high-maintenance—Victorian house on idyllic Tybee Island, and a rock-solid marriage. The only thing missing is what they want the most. After her fifth miscarriage in six years,
The first novel in a new series from bestselling author Nan Rossiter tells the moving story of a couple struggling to start a family and the young foster girl with a heart condition who changes their lives forever.
Can the course that they've set for the future handle a slight detour…?
Macey and Ben Samuelson have much to be thankful for: great friends, a beautiful—if high-maintenance—Victorian house on idyllic Tybee Island, and a rock-solid marriage. The only thing missing is what they want the most. After her fifth miscarriage in six years, Macey worries that the family they've always dreamed of might be out of reach. Her sister suggests adoption, but Macey and Ben aren't interested in pursuing that path…until a three-legged golden retriever named Keeper wags his way into their home and their hearts.
Harper Wheaton just got kicked out of another foster home and it won't be the last if she keeps losing her temper. She's not sure why she gets mad; maybe because no family seems to want a nine-year-old girl with a heart condition. She loves her social worker, Cora, but knows that staying with her forever isn't an option. Will she ever find a family to call her own?
As a physician's assistant, Macey meets lots of kids. Harper Wheaton's a tough one, but Macey knows the little girl has already struggled more than most. It gets Macey and Ben to thinking about all the children who need homes. Then Harper goes missing, and one thing is suddenly crystal clear: life is complicated—but love doesn't have to be.
Harper Paperbacks
Paperback
April 2020
384 Pages
9780062917737
Praise
"Promises of the Heart is a multi-leveled, beautifully written story that will glow in readers' hearts long after the last page is turned." – Kristan Higgins, New York Times bestselling author of Good Luck with That and Life and Other Inconveniences
"Another trademark Nan Rossiter story, crafted with the tools that sustain us: heart, hope, and family! A touching novel that explores the meaning of faith and family as one couple's search to complete their home merges with one child's need of a life-saving second chance. Once again, Nan Rossiter weaves together a multi-layered tale of the endurance of love and a reminder that the things we most wish for can come true, if we're open to receiving them in unexpected ways. These characters stayed with me long after the last page was turned!" – Hannah McKinnon
Discussion Questions
1. At the beginning of the book, Macey's heart seems set against adoption. What reasons does she give? Do you agree with her thinking? Why or why not?
2. Through Harper's experience, we get a glimpse of the foster care system. Does this justify Macey's wariness about becoming a foster parent?
3. How do Ben's and Macey's personalities differ? Do you agree with the adage that opposites attract?
4. Harper has been bounced from one foster home to another, and, as a result, she has an attitude that makes her difficult to place. Around Cora, though, she acts differently. What changes do you notice in her personality with Cora? Why do you think she's willing to open up?
5. Harper and Macey both struggle with not being able to control the things that are happening in their lives. What are some of these events and how do they cope?
6. Why does Harper run away? What does she learn from this experience and why does she decideto return to Cora's?
7. Macey and Maeve are as close as two sisters can be, but like any sisters, they have their differences. In what way(s) do these two differ?
8. Although Grandy passed away when Macey was a young girl, she plays a significant role in Macey's life and in the book. In what way(s) does she influence Macey and how does she affect Macey's decisions? What does Grandy's voice represent for Macey? Reflecting on your own life, do you have a loved one—living or dead—whose voice you carry with you?What role does their voice play in your life, and why do you think that is?
9. Ben's unwillingness to take chances is often a bone of contention. What are some examples of this and in what ways does he change? What thoughts/events trigger these changes?
10. Much like Ben, Harper is very cautious, but she slowly opens up to the Samuelsons. What key moments lead up to her ultimately taking a chance on being adopted? How do the changes she goes through complement Ben's?
11. Harper is like Macey in many ways. In fact, Ben says that if they'd had a biological daughter she'd be just like Harper. What does he mean?
12. What role does Keeper play in the story? Do you think Harper would have adjusted to her new home without him? Why do you think Harper loves animals so much?
13. Faith and giving are two central themes in the book. In what ways do characters give and how are they blessed in return?
14. The book begins and ends with the image of a candle in the window. What does the candle symbolize? How is Ben's original explanation of the tradition of keeping a single candle in a window realized?
15. Have you ever felt nudged by an angel to step out of your comfort zone to do something positive? Did you? Why or why not? Do you regret your decision?
Excerpt
Part I
1.
MACEY SAMUELSON STOOD ON THE WRAPAROUND PORCH OF THE OLD Victorian home she and her husband, Ben, had been restoring for the past nine years. She gazed at the long silky garlands of Spanish moss hanging from the oak trees in the yard and crossed her arms stoically. She had been through this before, and she would get through it again, but her heart was still a big ache—a phrase her little sister, Maeve, had used when they were kids to describe the way her chest felt when Grandy died, and now a term they both used when they felt the unbearable sorrow of loss.
Placing a hand on her abdomen, Macey dreaded what was to come and, despite her resolve to not cry, felt tears welling up in her eyes. She looked at the still-illuminated screen on her phone. It read, BEN, and then, CALL ENDED. They'd been through this before, and as soon as he had heard the quiver in her voice, he'd said, "I'll be right there."
It had been raining for days, the result of lingering bands of a tropical storm that had stalled off the Georgia coast, making the Savannah skies look just like she felt—weary, somber, and hopeless. In high school, Macey had been voted class optimist, but now, after her fifth miscarriage, she felt anything but. Each time she got pregnant, her heart swelled with hope. Maybe she'd carry to full term this time, instead of barely two months. Maybe she and Ben would bring home a sweet, healthy baby—a baby for whom a nursery was already painted and furnished. They'd even picked out names: Harper for a girl, and Emmett, after her grandfather, for a boy. But now Macey's heart was so broken she couldn't even think about trying again, and at thirty-six, she felt like time was running out.
Feeling the familiar dull pain, she curled up on the porch swing and pulled a pillow against her abdomen. How long would it take for her body to realize the baby had died? Dr. Baxter had asked her if she wanted to schedule a D and C, but she'd declined. It wasn't that she didn't believe her doctor when she'd confirmed that morning that there was no heartbeat. It was just that . . . well, what if she was wrong? What if the baby just had a really quiet heartbeat? Or was tucked into a position that made the heartbeat hard to hear? She knew, of course, deep down, that the chances were nearly impossible, but she had to be absolutely sure. She could hear Grandy's voice telling her gently that things that are impossible with men are possible with God, and she wanted to hold on to that one last thread of hope and let her body make the final call. It was the only way she'd be sure.
"Oh, Grandy," she whispered. "Why does this keep happening? Don't you have some strings you could pull?" As if on cue, the wind chime she and her grandfather had made from flattened silver spoons tinkled above her head. She looked up, smiled wistfully, and pictured her grandmother bending God's ear just as intently as she had bent Grandpa's.
"That's too much, Emmett," Grandy had often scolded, eyeing her husband's piled-high bowl of ice cream they'd made with the peaches they'd picked that afternoon. "It's not good for your cholesterol."
"Oh, Millie," he replied, winking at his two little granddaughters. "We have fresh peaches only once a year. I'm sure a little extra ice cream won't kill me."
"There's enough in that bowl for all of us!" Grandy admonished, but her childhood sweetheart just grinned at her impishly as he licked his spoon.
Macey and Maeve couldn't have loved their grandparents more. Some of their most precious childhood memories were of long summer days at their farm, helping with all the chores, so when Grandy died in her sleep one snowy winter night, leaving their bereaved grandfather to fend for himself, they all felt the loss keenly. And even now, almost thirty years later, that big ache had never lifted.
Macey wished she could talk to her grandmother now—she would know just what to say. Grandy would pull Macey into a long hug and gently whisper it was all part of God's plan . . . that she'd understand someday. But the words sounded hollow when Macey said them to herself. She would never understand this. She and Ben just wanted to have a family. They wanted to fill their big Victorian home with the sound of giggles and the pitter-patter of little feet. They wanted to look at each other over mugs of steaming coffee, piles of wrapping paper, and a passel of happy, toddling little people on Christmas morning.
"Is having a family too much to ask?" she whispered.
Macey heard Ben's pickup in their driveway and wiped her eyes. She sat up, bracing herself for the all-too-familiar sorrow in his eyes. She knew they would get through this, but how much more could they bear? The only affection they seemed able to muster these days was holding hands, and when they did stir the embers and make love, it was bittersweet. It isn't supposed to be this way, she thought—young married couples are supposed to look forward to making love. They're supposed to steal romantic moments when their kids aren't around, or laughingly try to be quiet when they are. They aren't supposed to be worried about what might happen. Loving each other isn't supposed to be so shadowed with fear.
Macey looked out at the line of ancient willows planted along the river and watched their long slender leaves swirling like gold confetti up into the stormy sky. She'd always loved willow trees—when she and Maeve were little, they'd sat out on their grandparents' front porch and watched the willows dancing in their yard. "No matter how fiercely the wind blows," Grandy explained, "they just bend and sway, and their deep roots are so wide and strong, they rarely fall. They may lose a few branches," she added, "but if you leave them on the ground, they'll take root and become a new tree."
Macey watched the weeping willows now and pictured their roots winding deep into the earth, seeking moisture and life, while high above, their long wispy branches danced with the storm.
"Oh, Grandy," she whispered, "help me be more like a willow."