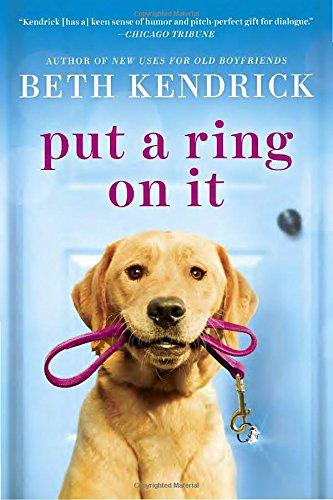 PUT A RING ON IT
---
The author of New Uses for Old Boyfriends returns to the Delaware seashore town of Black Dog Bay, where one woman learns to put passion before practicality…
Brighton Smith doesn't do outrageous. As an insurance actuary, it's her job to assess risk and avoid bad investments. But when her fiancé calls to confess he's married someone else on a whim ("I looked at her and I just knew!"), she snaps…
That night, at a local bar, Jake Sorensen—hot, rich, and way out of her league—buys Brighton a cocktail. At midnight, she kisses him.
The author of New Uses for Old Boyfriends returns to the Delaware seashore town of Black Dog Bay, where one woman learns to put passion before practicality…
Brighton Smith doesn't do outrageous. As an insurance actuary, it's her job to assess risk and avoid bad investments. But when her fiancé calls to confess he's married someone else on a whim ("I looked at her and I just knew!"), she snaps…
That night, at a local bar, Jake Sorensen—hot, rich, and way out of her league—buys Brighton a cocktail. At midnight, she kisses him. And by dawn, they're exchanging vows at a drive-through chapel.
Brighton knows Jake is a bad bet, but she doesn't care. After a lifetime of playing it safe, she's finally having fun. Until the whirlwind romance gives way to painful reality…and Brighton finds out the truth about why a guy like Jake married a girl like her. With her heart on the line and the odds stacked against them, Brighton must decide whether to cut her losses or take a leap of faith that this love affair is one in a million.
NAL
Paperback
November 2015
320 Pages
9780451474186
Praise
"Kendrick's impeccable sense of comic timing and flair for creating unforgettable characters make this effervescent novel a smart bet."—Booklist (starred review)
"Light and lovely perfection!"—Roxanne St. Claire, New York Times bestselling author
"Exceptionally entertaining and wonderfully original…Kendrick writes with a wicked sense of humor and great wisdom."—Chicago Tribune
Discussion Questions
Brighton and Colin have a huge fight about a zipper merge that, you know, isn't really about a zipper merge. What small things do people do (or not do) that ultimately turn into deal breakers?
Does love at first sight exist? How long should people know each other before making a major commitment such as marriage?
Are there friendships in your life that you can pick up right where you left off after months or years apart? What makes those relationships so resilient?
It's karaoke night at the Whinery. What are you singing at the top of your lungs?
Brighton and Jake have very different perspectives on money, stability, and spending. Does the way we think about money say a lot about the way we view ourselves?
If you were Jake Sorensen–level rich, would you work? What would you do?
Do you have the equivalent of "twelve-?dollar strawberries" in your own life? What items or events are worth splurging on?
Brighton tells Jake she loves him, then flees when she hears him coming back up the stairs. What do you think he would have said to her that night if she'd stayed?
Will Genevieve and Javier have a successful marriage? How would they define "successful"?
If you could design a piece of jewelry to mark a significant event in your life, what would it look like and what kinds of materials would you use?
If you were going to write a follow-up story about Kira, what would her story be?