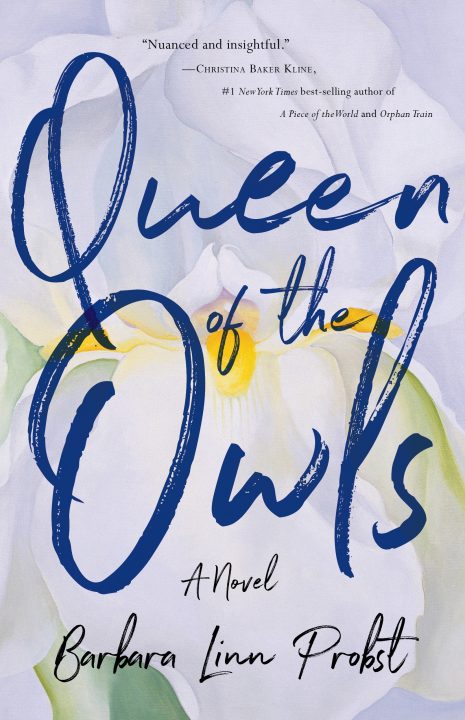 QUEEN OF THE OWLS
---
A chance meeting with a charismatic photographer will forever change Elizabeth's life.
Until she met Richard, Elizabeth's relationship with Georgia O'Keeffe and her little-known Hawaii paintings was purely academic. Now it's personal. Richard tells Elizabeth that the only way she can truly understand O'Keeffe isn't with her mind―it's by getting into O'Keeffe's skin and reenacting her famous nude photos.
In the intimacy of Richard's studio, Elizabeth experiences a new, intoxicating abandon and fullness. It never occurs to her that the photographs might be made public, especially without her consent. Desperate to avoid exposure―she's a rising star in the academic world and the mother of young children―Elizabeth demands that Richard dismantle the exhibit.
A chance meeting with a charismatic photographer will forever change Elizabeth's life.
Until she met Richard, Elizabeth's relationship with Georgia O'Keeffe and her little-known Hawaii paintings was purely academic. Now it's personal. Richard tells Elizabeth that the only way she can truly understand O'Keeffe isn't with her mind―it's by getting into O'Keeffe's skin and reenacting her famous nude photos.
In the intimacy of Richard's studio, Elizabeth experiences a new, intoxicating abandon and fullness. It never occurs to her that the photographs might be made public, especially without her consent. Desperate to avoid exposure―she's a rising star in the academic world and the mother of young children―Elizabeth demands that Richard dismantle the exhibit. But he refuses. The pictures are his art. His property, not hers.
As word of the photos spreads, Elizabeth unwittingly becomes a feminist heroine to her students, who misunderstand her motives in posing. To the university, however, her actions are a public scandal. To her husband, they're a public humiliation. Yet Richard has reawakened an awareness that's haunted Elizabeth since she was a child―the truth that cerebral knowledge will never be enough.
Now she must face the question: How much is she willing to risk to be truly seen and known?
She Writes Press
Paperback
April 2020
330 Pages
9781631528903
Praise
One of the most anticipated books of 2020: Working Mother
May 2020 "Book of the Month" for the Pulpwood Queens
"A nuanced, insightful, culturally relevant investigation of one woman's personal and artistic awakening, Queen of the Owls limns the distance between artist and muse, creator and critic, concealment and exposure." ―Christina Baker Kline, #1 New York Times best-selling author of A Piece of the World and Orphan Train
"This is a stunner about the true cost of creativity, and about what it means to be really seen. Gorgeously written and so, so smart (and how can you resist any novel that has Georgia O'Keeffe in it?), Probst's novel is a work of art in itself." ―Caroline Leavitt, best-selling author of Pictures of You, Is This Tomorrow and Cruel Beautiful World
"Queen of the Owls is a powerful novel about a woman's relation to her body, diving into contemporary controversies about privacy and consent. A 'must-read' for fans of Georgia O'Keeffe and any woman who struggles to find her true self hidden under the roles of sister, mother, wife, and colleague." ―Barbara Claypole White, best-selling author of The Perfect Son and The Promise Between Us
"Probst's well-written and engaging debut asks a question every woman can relate to: what would you risk to be truly seen and understood? The lush descriptions of O'Keeffe's work and life enhance the story, and help frame the enduring feminist issues at its center." ―Sonja Yoerg, best-selling author of True Places
"Readers will root for Elizabeth―and wince in amusement at her pratfalls―as she strikes out in improbable new directions … An entertaining, psychologically rich story of a sometimes giddy, sometimes painful awakening." ―Kirkus Reviews
"A gifted storyteller, Barbara Linn Probst writes with precision, empathy, intelligence, and a deep understanding of the psychology of a woman's search for self." ―Sandra Scofield, National Book Award finalist and author of The Last Draft
"Barbara Linn Probst captures the art of being a woman beautifully. Queen of the Owls is a powerful and liberating novel of self-discovery using Georgia O'Keeffe's life, art, and relationships as a guide." ―Ann Garvin, best-selling author of I Like You Just Fine When You're Not Around
"Obsession, naivety, seduction, desire, self-deception, love, and courage―all emotions subtly and powerfully revealed in this story of Elizabeth, mother, wife and intellectual, as she follows her idol, artist Georgia O'Keeffe, along a path to herself. A thought-provoking novel that readers will want to savor and share." ―Jenni Ogden, author of Nautilus Gold Award-winning A Drop in the Ocean
Discussion Questions
1. Did Richard use Elizabeth? What did you think of his declarations about consent and ownership of one's art? Did Elizabeth have the right to demand that he take down the photographs?
2. A turning point for Elizabeth is when she finds the theme for her dissertation and thus no longer "needs" to pose in order to understand O'Keeffe. She decides to pose anyway. Do you think that her motive for posing actually changes in that moment, or was that her real motive all along? Might she have more than one reason, conscious and subconscious?
3. What do you think of Elizabeth and Ben's marriage? Were you hoping they might work things out? What would have it taken for that to happen? At what point did you begin to feel that they couldn't happen? Do you think Elizabeth tried hard enough?
4. Elizabeth juggles many roles, among them wife, mother, sister, and academic. How well do you think she fulfills each of them? Does her understanding of each role change over the course of the story?
5. Do you think O'Keeffe was a feminist? What role does feminist art play in the novel?
6. Elizabeth herself is offered various narratives to elevate or explain what she did. Ultimately she decides to embrace and enact the narrative she wants. Do you think a person can live without some sort of narrative? What does it mean to live an authentic life?
Excerpt
She edged forward, closing the space she'd ceded to the waiter, and met his eyes, those grey ovals rimmed with charcoal.
The smell of freshly-ground coffee rose up around them, wrapping her in a thick aromatic haze.
Then Richard spoke again. "I think O'Keeffe's paintings inspired Stieglitz's cloud photos. And I think modeling for him inspired her, in her own work."
Elizabeth inhaled, drawing the scent of the coffee into her lungs. "Yes, I think so too. Her work absolutely exploded after she started posing. Those flower paintings? They were all from the 1920s. She hadn't done anything like that before. She wasn't able to, until she'd modeled for him."
"Maybe posing freed her," Richard said. "Or maybe it was Stieglitz's passion."
Elizabeth felt the heat spread across her skin. "You mean, as a photographer? He photographed her endlessly, you know, once she came to New York."
"Weren't they lovers?"
"Not at first."
Richard eyed her intently. Flustered, Elizabeth kept talking. "It was part of how their relationship was intensifying. He started by photographing her hands and face, these amazing close-ups. After a while they did become lovers, and the portraits changed. There's this quote from one of O'Keeffe's letters about how he began to photograph her with a new heat and excitement." Her flush deepened. "Those were her words. It was quite mutual, apparently. A mutual intoxication."
Richard raised his coffee cup. "Mutual intoxication makes for great art."
Elizabeth watched his throat as he drank. She thought of Stieglitz, learning Georgia's body through his camera. Deliberately, with a fire that ignited them both.
When I make a photograph, I make love.
Then Richard set the cup on the table. "So. I'll repeat my question. How are you going to actually understand O'Keeffe?"
By doing research. Obviously. That was how you got a PhD.
"Not by writing about her paintings," he said. "You know that."
Elizabeth tried to keep her tone light. "Oh? And what do you suggest?"
"You have to do what she did."
"Hardly. I'm not artistic. I can't paint to save my life."
"That's not what I'm talking about."
His gaze bore into her like a laser. She wanted to say, "Then what are you talking about?" But she knew. She'd known from the first time they had coffee together.
The noise in the café receded. The swirl of people, the clang of the espresso machine, the coldness of the marble against her skin—everything drew back, grew silent.
She had to reveal herself. Be seen.
The very thing she wanted, and the very thing she feared.
Images of Georgia tumbled across her brain. A woman in a white skirt, looking up from her work. The same woman in an open robe, drowsy and disheveled.
The air in the coffee shop was thick as a mattress, pressing against her from all sides. Elizabeth brushed back her hair, the glinting highlights and flattering haircut that Ben hadn't noticed but Richard had. She felt her hair against her neck. Imagined that neck bare. Imagined her whole body, bared to him.
She made herself ask. "What are you talking about, then?"
His expression was sharp and clean, like the edge of a blade. "You have to know in your whole self and not just your mind."
Her whole self. All her body parts, favorite and un-favorite.
She yearned to give words to what he was offering. A portal to another way of knowing, when nothing separated you from the thing known.
Say it for me.
"You have to do what O'Keeffe did."
"You mean, pose?" Her voice cracked.
"I mean pose."
"For you."
"For yourself. I'd just be the one holding the camera."
She thought of the long hours Georgia had given over to posing—letting Stieglitz arrange her body the way he wanted, holding each position for minutes at a time. If Stieglitz was creating his art, Georgia couldn't create hers. And yet, by giving him her time and her body, she found her own beauty. Out of that, her art changed. In being seen, she saw.
Interviews
Interview with Barbara Linn Probst
Author of Queen of the Owls
In one sentence, what's your book about?
Queen of the Owls is the story of a woman's quest to claim her neglected sensuality and find her true self hidden behind the roles of wife, mother, sister, and colleague.
Okay, you've hooked us! Now tell us a bit more.
Elizabeth, the story's protagonist, has always defined herself by her intellect. She's chosen the logical, responsible path—and avoided the sensuality she believed was beyond her reach. During the course of the story, she comes to know and embrace a fuller self, body and beauty as well as brain. There's a price to pay, but Elizabeth knows she can't go back.
Queen of the Owls is, in a word, the story of a woman's transformation—timeless, yet diving deep into contemporary issues of privacy, consent, feminism, and the power of social media to upend our lives.
What do you want readers to get from the book?
I'd like readers to take away a feeling of hope and possibility—to see, through Elizabeth's story, that embracing the parts of yourself you've denied can bring a new wholeness.
Tell us about the role of Georgia O'Keeffe in the book. Why O'Keeffe?
The idea of framing the story around the art and life of iconic American painter Georgia O'Keeffe really just "appeared" to me! I've always loved her paintings; they called to me in a way that felt very connected to the question of what it means to be a woman. And in doing research for the book, I learned so much more about her life and work—which, in turn, enhanced the story in ways I hadn't anticipated.
O'Keeffe has been a figure of endless fascination for over a century, not only for her artistic genius, but also because of how she lived. She was the quintessential feminist who rejected the feminists' attempts to turn her into their matriarch, the severe desert recluse who created some of the most sensuous art of all time.
Although the story is framed around the art and life of Georgia O'Keeffe, O'Keeffe isn't a character in the book—yet she's present as Elizabeth's inspiration, the person whose blend of austerity and voluptuousness Elizabeth longs to emulate. In seeking to understand O'Keeffe, Elizabeth comes to understand herself.
Art worked well as a vehicle for Queen of the Owls because the story is about Elizabeth's yearning to be truly seen. And through being seen, to be known.
What does your protagonist have to overcome in Queen of the Owls?
Elizabeth's search for authenticity is a complicated one, as she tries to fulfill her roles as wife, mother, sister, and academic—to do right by those she cares about, while doing right by herself. It's not a matter of extracting herself from an abusive marriage or breaking free from a family that wants to stifle her. There are no villains; it's Elizabeth herself who has created the life she now finds so unfulfilling.
She takes a step outside the confines of that life, and everything begins to unravel. It's here that her real "challenge" becomes evident. As Elizabeth tries desperately to regain "control," it's clear that the only way she can attain her true goal is through that very unraveling. What she has to overcome, in other words, is her misbelief about who she is and who she can be.
What unique challenges did writing this book pose for you?
One of the most demanding aspects of writing Queen of the Owls was the range of research I needed to do. As a first step, I needed to learn far more about Georgia O'Keeffe than would ever find its way into the final book. I read everything I could find, went to see her paintings, talked to experts, visited the places where she lived and worked. I needed to immerse myself in her life and art in order to feel, understand, and convey what that might have brought Elizabeth.
What made this uniquely challenging was that Elizabeth's interpretation of O'Keeffe had to be shaped by her own emotional needs—subjective, rather than "factual"—yet I couldn't say anything inaccurate. If I'd been writing historical fiction, the integration of factual material would have been more direct. But here I was treading a subtle line.
What has been the most rewarding aspect of having written Queen of the Owls?
Ah. Time for bit of self-disclosure …
One of the reasons that writing Queen of the Owls has been so meaningful to me is because it represents a fictionalized version of my own journey. Like Elizabeth, I grew up labeled a "brain" and had to embark on my own journey to wholeness. (Nope, I never posed nude. Sorry!)
I think all good fiction is like that—not a thinly-disguised memoir and definitely not catharsis, but a process of digging deeply into the emotional truths you've learned through your own experience and then "translating" those emotional truths into a fictional world. If you're lucky, that fictional world will touch others and have an enduring meaning for them too.
Essay
Searching for Georgia O'Keeffe
Originally appearing on Novel Network
When I began my study of iconic American painter Georgia O'Keeffe, whose art and life frame Queen of the Owls, I had no idea that I would learn as much about myself as I would about O'Keeffe.
Georgia O'Keeffe, who died in 1986 at the age of ninety-eight, remains the most influential female American painter of all time. Her Jimson Weed/White Flower No. 1 (1932) holds the record for the highest price ($44.4 million) ever paid for a work by a woman artist. (And yup that's me in front of the painting! More photos like this one on the Gallery Page of my website at www.BarbaraLinnProbst.com)
O'Keeffe is best-known for her desert landscapes and oversized flowers, but she also spent nine weeks in Hawaii, where she produced a unique set of paintings. When I learned about this little-known interlude in her life, I became intrigued.
So too, Elizabeth, the protagonist of Queen of the Owls, wants to understand how O'Keeffe's time in Hawaii changed her—not only as a painter, but as a woman. Elizabeth's academic adviser tells her: "You don't have to be right. You just have to be scholarly. Cite your sources, back up your arguments." But Richard, the charismatic photographer who disrupts Elizabeth's carefully-constructed world, sees it differently. "You'll never understand anything that way. You have to get inside her skin, do what Georgia did."
It doesn't take long for Richard's real message to become clear. Elizabeth needs to go beyond books and words. She needs to pose nude, as O'Keeffe did.
Owlish Elizabeth has always relied on her intellect, yet she's mesmerized by the embodied knowledge that Richard seems to offer. Filled with longing and dread, she takes a step she never imagined, and her life begins to unravel.
Right about now, you may be starting to wonder if Elizabeth is me, not-so-thinly disguised, and if "learning about myself" means that my journey mirrored Elizabeth's. If that's what you're thinking, you're correct, at least in part.
Not that I posed nude. (Sorry.)  But I did try to understand O'Keeffe's experience through my senses and flesh, and I did submit to the camera's gaze.
I began my search for understanding in the obvious ways. I read every book and article I could find. I traveled to the O'Keeffe Research Center in Santa Fe to examine newspaper clippings and archival material that wasn't available online. I studied photographs of O'Keeffe and read her correspondence with Alfred Stieglitz. I spoke with experts: the director of the Georgia O'Keeffe Museum, the curator of the landmark exhibit of O'Keeffe's Hawaii paintings, a scholar who'd written about O'Keeffe's relationship with feminism.
I went to see O'Keeffe's paintings. Luckily, there were several exhibits during the time I was working on Queen of the Owls, so I travelled to see them for myself. I even arranged for a private showing of one of O'Keeffe's masterpieces that wasn't on public view. I wanted to follow the advice that Elizabeth imagines Georgia would have given her: "Look at the paintings. Let them speak for themselves."
Next, I went to see some of the "real things" that O'Keeffe painted. I visited Ghost Ranch and saw the desert landscapes she captured in her paintings—red hills against an impossibly blue sky, the fragile beauty of the jimson weed in a dry gulch. In Hawaii and at New York's Botanical Garden, I saw many of the flowers that O'Keeffe depicted in her Hawaii paintings—the bright red heliconia, the plumeria and pink banana plant. In fact, they're all quite small, unlike the oversized flowers in the paintings. I began to sense the intention behind O'Keeffe's words: "I decided that if I could paint that flower on a huge scale, you could not ignore its beauty."
I visited Sun Prairie, Wisconsin, O'Keeffe's birthplace, and saw the land and sky that shaped her when she was a child. I went to her home at Abiquiu to see how she lived in her later years. Her furniture, dishes, clothes, garden. The sharp desert rocks and the view from her window—experiences I never could have had, just by reading and talking.
I even went to Hawaii. By a lucky coincidence, there was a writers conference on Kauai that I wanted to attend. One of my strongest impressions, as soon as I stepped off the plane at Lihue's patio-like airport, was of the tropical air—its thickness and softness, a completely different kind of heat than I'd experienced in New Mexico. I couldn't help thinking that it must have been startling for O'Keeffe too. The sensation of one's skin—walking, breathing, existing—as different from New Mexico as the verdant green hills were from the rust-colored rocks.
My whole body felt different in Hawaii, languid and porous. Embodied knowledge, just as Elizabeth was seeking.
But even that wasn't enough. I had to understand the book's central act—when Elizabeth offers herself to Richard's gaze.
I don't mean to imply that an author has to do and experience everything her characters do and experience. In many genres—like horror, fantasy, and historical fiction—that would be impossible, and no one would expect someone who writes thrillers to engage in every stunt and close escape. Yet there does need to be a kernel of lived experience that can be expanded, embellished, translated, for the sake of the story.
For Queen of the Owls, it was the experience of being exposed. Seen.
As it happened, I needed a professional headshot for my new website, so I hired a photographer and spent a whole afternoon with him as he shot nearly a hundred photos. As someone who's always disliked—and avoided—having my picture taken, this was a first for me. Despite my reticence, and despite my initial attempts to look the way I thought an author ought to look, rather than like myself—somehow I let go and let myself be revealed.
I surrendered. I agreed to be seen.
I was fully clothed, yet the emotional core of my experience was the same as what I wanted for Elizabeth. And from that interior place, later, I was able to write the scenes the story required. No trip to a museum or historical site to show me the way. No O'Keeffe biography or exhibit. Only myself.
As I said: I had no idea what I was getting into when I decided to learn about Georgia O'Keeffe in order to weave her into my narrative. Nor did I guess that my own journey through "ways of knowing" would parallel the journey of my protagonist. Had I limited myself to articles and interviews and descriptions of O'Keeffe's paintings, Queen of the Owls would have been a different book, less authentic and more contrived. And I would have been a different sort of writer.
Thankfully, that didn't happen.
In Hawaiian, the word for thank you is mahalo.
Mahalo for the gift of the journey.