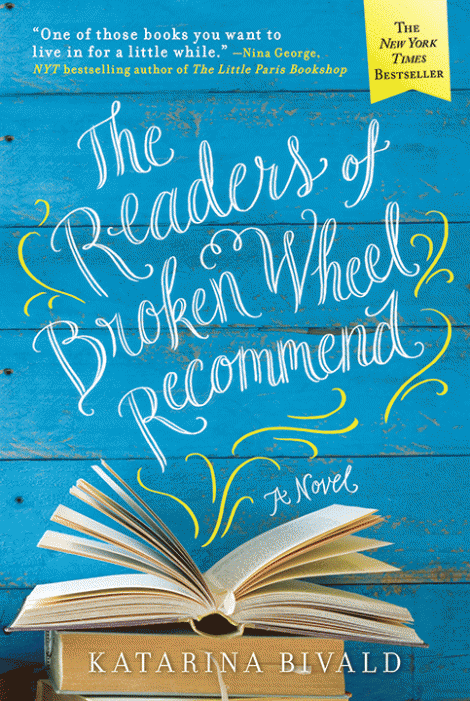 THE READERS OF BROKEN WHEEL RECOMMEND
---
New York Times Bestseller!
A Reading Group Choices Favorite Fiction Book of 2016
#1 Indie Next Pick
#2 LibraryReads Pick
Amazon Best Book of the Month
The International Bestseller
An Indie Regional Bestseller
A National Indie Bestseller 
Once you let a book into your life, the most unexpected things can happen…
Broken Wheel, Iowa, has never seen anyone like Sara, who traveled all the way from Sweden just to meet her book-loving pen pal,
New York Times Bestseller!
A Reading Group Choices Favorite Fiction Book of 2016
#1 Indie Next Pick
#2 LibraryReads Pick
Amazon Best Book of the Month
The International Bestseller
An Indie Regional Bestseller
A National Indie Bestseller 
Once you let a book into your life, the most unexpected things can happen…
Broken Wheel, Iowa, has never seen anyone like Sara, who traveled all the way from Sweden just to meet her book-loving pen pal, Amy. When she arrives, however, she finds Amy's funeral guests just leaving. The residents of Broken Wheel are happy to look after their bewildered visitor—there's not much else to do in a dying small town that's almost beyond repair.
You certainly wouldn't open a bookstore. And definitely not with the tourist in charge. You'd need a vacant storefront (Main Street is full of them), books (Amy's house is full of them), and…customers.
The bookstore might be a little quirky. Then again, so is Sara. But Broken Wheel's own story might be more eccentric and surprising than she thought.
A heartwarming reminder of why we are booklovers, this is a sweet, smart story about how books find us, change us, and connect us.
Sourcebooks Landmark
Paperback
January 2016
400 Pages
9781492623441
Praise
"Heartwarming…"—People Magazine
"A manifesto for booksellers, booklovers, and friendship… one of these books you want to live in for a while."—Nina George, New York Times bestselling author of The Little Paris Bookshop
"Charmingly original….sweet, quirky."—Bethanne Patrick, The Washington Post
"Warm-hearted."—Woman's Day
Discussion Questions
1. Sara and Amy develop a close relationship through exchanging letters. Have you ever had a pen pal? How might a friendship conducted entirely through writing be different than an in-person relationship?
2. Even though we never met Amy in person, we get to know her through her letters to Sara. How did her letters influence your understanding of Amy and Sara's relationship?
3. How might Sara's visit have been different if Amy had been alive when she arrived?
4. Why do you think everyone in Broken Wheel felt so responsible for looking after Sara when she arrived?
5. Broken Wheel is a dying town, and a bookstore brings it back to life. How accurately do you think The Readers of Broken Wheel Recommend portrays small town America? Have you ever been to or lived in a place like Broken Wheel?
6. There is a strong rivalry between Broken Wheel and Hope. How do you think the residents of Hope viewed the people of Broken Wheel? How were their perceptions changed once the bookstore opened?
7. Sara arranges the books in her shop through unconventional genre names, including "Sex, Violence and Weapons" and "For Friday Nights and Lazy Sundays." What are some creative categories you might use to group your favorite books together?
8. Why do you think Sara was so reluctant to return to Sweden? What was missing from her life that she found in Broken Wheel?
9. How did you feel about the progression of Sara and Tom's relationship? Were you happy with the status of their relationship at the end of the book?
10. Why do you think Caroline and Josh felt so much pressure to keep their relationship a secret?
11. The Readers of Broken Wheel Recommend focuses on how books can change lives. How have books affected your life? Is there one book in particular that changed the way you see the world?
12. If you were to open a bookstore, what are some of the books you would absolutely have to have for sale?
13. Where do you think Sara, Tom, and the rest of the residents of Broken Wheel will be in five years? What do you think will have changed, and what will stay the same?