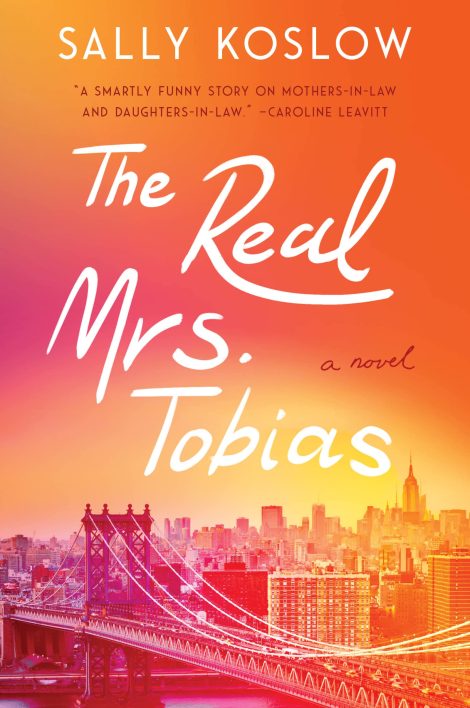 THE REAL MRS. TOBIAS
---
A sharply funny and big-hearted multi-generational story about the deeply complicated relationships between mothers- and daughters-in-law, told through three women who marry into the same family, a treat for fans of The Nest and Fleischmann Is in Trouble. 
It's 2015 in New York City, and three women all known as Mrs. Tobias—Veronika, the matriarch, her daughter-in-law Mel, and Mel's daughter-in-law Birdie—are trying to navigate personal difficulties, some of which are with one another. Veronika and Mel, despite having little in common, are both psychotherapists who are more skilled at helping other people than solving their own problems.
A sharply funny and big-hearted multi-generational story about the deeply complicated relationships between mothers- and daughters-in-law, told through three women who marry into the same family, a treat for fans of The Nest and Fleischmann Is in Trouble. 
It's 2015 in New York City, and three women all known as Mrs. Tobias—Veronika, the matriarch, her daughter-in-law Mel, and Mel's daughter-in-law Birdie—are trying to navigate personal difficulties, some of which are with one another. Veronika and Mel, despite having little in common, are both psychotherapists who are more skilled at helping other people than solving their own problems. Birdie, still dealing with the culture shock of moving to New York City and marrying into the Tobias clan, is pushed to her limit when her husband gets into trouble. No amount of badgering from his steely grandmother, smart-mouthed mother, or disillusioned wife can convince him to own up to what he's done. Overwhelmed, Birdie bolts—along with the couple's young daughter—to her Midwestern hometown, hoping that space, warmth and wisdom from her own feisty grandmother will help her find a path forward. And though Birdie begins to find comfort in unexpected places—a local bookstore and the arms of her old boyfriend—her absence stirs up long simmering troubles back home forcing the Tobiases to reconsider their relationships to each other, and ultimately, what it means to be a family.
Will the three Tobias-women-by-marriage ever find themselves—and a way back to one another? A timely look at how women hold families together.
Harper Paperbacks
Paperback
September 2022
336 Pages
9780063223745
Praise
"With a shrewd eye and a light touch, Sally Koslow weaves a story about three strong women whose memories, dreams, and desires conflict and intersect as they navigate a series of family crises. Warm, witty, and heartfelt, The Real Mrs. Tobias is a cinematic, fast-paced treat."—Christina Baker Kline, #1 New York Times bestselling author of The Exiles and Orphan Train
"With razor-sharp prose, witty humor and depth, Sally Koslow's The Real Mrs. Tobias takes us down the MIL Road . . . the one that should come with a warning. You will laugh, you will cry, you will empathize—and if you happen to be a Daughter-In-Law—you will say, Better her than me. Yet just when you think there is no way back, Koslow's page-turner will prove that while family ties can strangle, they also can keep you bound together through love, loss, secrets, and healing."—Lisa Barr, author of Woman on Fire
"This power struggle between mothers- and daughters-in-law over how to handle a wrenching family secret is told with emotional intelligence and Koslow's signature wit. Tart and nutritious, as refreshing as a raspberry vinaigrette."— Jenna Blum, New York Times bestselling author of The Lost Family and Woodrow on the Bench
"Sally Koslow mines the turmoil and joy of an extended family with insight, humor, and tenderness." — Hilma Wolitzer, author of Today a Woman Went Mad in the Supermarket
"Sally Koslow channels Nora Ephron in this lively tale of obligation versus desire and the politics of family power. Deftly written with equal parts intelligence, pathos, and humor, The Real Mrs. Tobias is a pure pleasure to read." — Therese Anne Fowler, New York Times bestselling author of It All Comes Down to This
Discussion Questions
1. Micah's accident kickstarts The Real Mrs. Tobias's action. How might he have responded differently to this event? Do you feel any character gives him good advice?
2. Who is the better mother-in-law, Veronika or Mel? The better daughter-in-law, Mel or Birdie? Would you suggest that either one modify her behavior? Who do you think is the best mother in the book: Veronika, Mel, Birdie, Luanne, or Joy-Ellen?
3. Culture clash is an underlying issue in the marriage of Birdie and Micah. Have you observed that this is a common problem in intermarriages? How is it best resolved?
4. Which relationship do you feel is trickier: mothers and sons or mothers and daughters?
5. Does Mel's relationship with her daughter, Jordan, differ from the one she maintains with her son, Micah? Who seems closer to her daughter, Mel or Luanne?
6. Is Mel an effective psychotherapist? Why or why not?
7. Both Mel and Birdie had children at what currently is considered to be a young age in the United States. What do you think are the advantages and disadvantages to early parenthood versus later parenthood?
8. The Tobias and Peterson families illustrate different approaches to involvement in the lives of adult children. Which family strikes you as closer, the Tobiases or the Petersons?
9. When Delia suffers injuries from an accident, Norah, her employer, assumes support— financial and emotional—for her care. Do you agree with Norah's husband and mother-inlaw that she oversteps boundaries?
10. For which family, Tobias or Peterson, does religion strike you as being more central to identity?
11. In Veronika's position, would you share a difficult medical diagnosis with your spouse?
12. Mel agrees to meet with Dr. T. What is her motivation? Do you feel this meeting shows good judgment?
13. Do you agree with Mel that it's preferable for Jordan and her baby to share a biological connection?
14. Which role do you think women find more rewarding, grandmother or mother?
15. Which role do you think is the trickiest, being a mother-in-law or a daughter-in-law?
16. Do you think that expectations for the roles of mothers-in-law and daughters-in-law have changed over time?
17. In your experience, do you believe that mothers-on-law are unfairly criticized?
18. Describe the lives of the characters a year after The Real Mrs. Tobias ends.
Excerpt
Chapter 1
Mel
THE AROMA OF ROAST CHICKEN MINGLES WITH A TOP NOTE OF Diorissimo as potent as if lilies grew in the foyer. The scent of my in-laws' hospitality.
"Darling," my father-in-law says as we kiss on both cheeks. "Looking gorgeous."
He is a courtly throwback able to call a woman darling without being slapped with a sexual harassment suit. Only men born before 1950 have this ability. Once, David and his son—my husband, Jake—were both beyond six feet, though thanks to a herniated disc, my father-in-law is slightly stooped, on his way to becoming a leprechaun. If I wear heels, as I am tonight, we meet eye to eye. His are twinkly, and his headliner of a nose prominent. If David weren't such a natty dresser, he might have walked out of a folktale by Sholem Aleichem. I adore him, and the sentiment is returned. I have my issues with Veronika, my flinty mother-in-law. With David? Never.
"Come in, come in," he booms. There are kisses for Jake, too, to whom David says, "Your mother is in her cathedral." The kitchen.
"Are the kids here yet?" Jake asks.
"They texted—they'll be late." David hangs Jake's sports coat and I toss my denim jacket on a chair. "After you say hello to your mother, join your old man for a drink." My father-in-law and I may have a mutual admiration society, but the invitation is directed only at Jake. "We can watch the World Series later. You have to give it to the Red Sox. That team is the rat's pajamas."
I follow Jake as he pushes open a swinging door. On the other side it's 1992, when his parents installed white laminate cabinets. As my husband greets his mother, he says, "Loaded for bear?" This idiom, which Jake learned at an Adirondacks boys' camp along with a wicked butterfly stroke and a comprehensive off-color vocabulary, is their code-speak when he senses that Veronika, his mother, is in a mood.
"For the record, I'm not angry with your son," she scoffs, "just concerned."
"Who can tell the difference?"
I can. If a vein throbs above Veronika's left eyelid, she is in the full flower of fury. And there it is. "Hello, Mother," I say. "These are for you." I offer up a bouquet twice as big as her head. Cosmos, dahlias, freesia, hydrangeas, ranunculus.
"Thank you."
Veronika's split-second wince tells me she'd have preferred chocolates or wine. Her eyes scan my vest and choker. When I last wore this getup, scored at a craft show, she remarked that I looked like an escapee from a Renaissance Faire. I laughed as if it were a joke. It wasn't.
"Anything I can do to help?" I ask.
"Please find a vase for the flowers. First closet on the right. The taller Lalique is best."
I know where Veronika keeps her vases. I've visited this apartment for twenty-five years, and little changes beyond books, always hardcover, alphabetized by author. At my apartment, books are arranged by color; my mother-in-law has told me this is an insult to authors.
I walk through a hallway hung with family photos identically framed in black with wide ivory mats. Many document Veronika's beauty, which has evolved from dainty to dignified, as if she'd willed each feature to come into sharper focus. There is only one of her as the child it is hard to believe she ever could have been: 1947, when Veronika and her mama arrived in America. After the war her mother's hair had grown in silvered, though by the time I knew her she was a Marilyn blonde. In the picture, you can feel the day's elation as mother and daughter begin life in a new country. There are formal portraits of Jake; our twins, Jordan and Micah; and one from my wedding, taken at an angle that makes my nose look enormous.
My marriage didn't kick off to the most auspicious start. I was aware that my mother-in-law never quite saw the point of me when her son could choose from an urban sorority of intellectual spitfires and trust fund princesses—her friends' daughters or Jake's classmates—about whom Veronika would remark in my presence with convulsive admiration. "Meryl Grossman had a breast reduction—you'd never recognize her!" "Nicole Adelman got into dentistry school!" "Linda Moskowitz, Rita's daughter, said, 'Be sure to tell Jake hello from me,'" adding, "She's an actuary."
I felt sure Veronika saw me as a pebble on the beach you'd never bother to add to your collection and that Saint Paul, my hometown, was populated exclusively by big, pale people eating big, pale portions. During college I lived with my parents, commuting across the Mississippi to the state's vast university where students, overwhelmingly from Minnesota, cheered for Gophers. Only these many years later do I have sympathy for Veronika's viewpoint, because from day one my daughter-in-law, Birdie, struck me as an equally unlikely partner for Micah, my son.
Had I been Birdie's mother, I might have pointed out her folly in squandering a chance to enter an esteemed master's degree program in writing—a program even I knew about—in order to move from Iowa to New York City to be with a boy, because despite his chronological age, when they met, Micah wasn't quite a man. At first, in rare solidarity, Veronika and I considered Birdie to be no one to take seriously, if we considered her at all. For a brief interlude we bonded, agreeing that Birdie was too submissive. Too perfect a physical specimen. Too other. As tightly made as a hospital corner and not on brand, given that Micah's preceding girlfriends had rings dangling from their noses as well as, I'm betting, places we'd just as soon not see.
Birdie is a woman who, because she is an introvert, refuses to believe she can intimidate people. Now, as I look at an image of her with Micah, I understand the spell she cast, because my daughter-in-law, more than I suspect she realizes, shimmers with the ultimate superpower: sex appeal.
Soon after they met, Micah stammered that a baby was on the way. History was repeating itself, since this had been my story, too, though I'm not claiming I have Birdie's ooo-la-la-ness. Micah—like my husband, Jake—entered into fatherhood far too young. I imagine people must wonder if any of us ever learned the facts of life and how babies are made.
Alice, my granddaughter, changed everything. I hear her now, squealing and asking, "Can I ring?"
Jake and I greet her at the front door, with David a step behind. We hug and kiss in a mockery of normal while I wonder, Can Alice sniff out that something's off? Has Birdie been crying? Has Micah been shouting?
"Sorry we're late," he says.
"Accident on the bridge," Birdie adds, though every intuitive cell in my body tells me they got a late start because somebody had a tantrum, and it wasn't Alice.
When Veronika enters the foyer, Alice hands her a picture. I am sure I am not alone in my gratitude for the distraction generated by a three-year-old with an affection for Magic Markers.
"Oh my, it looks just like me," Veronika says, bending low, using her apron to wipe her hands, flawlessly manicured in the pink of poached salmon. "Thank you, Alice. Later, will you help me find a place to hang this lovely portrait? Now it's time to eat."
Veronika herds the family into the dining room. Resting on a carpet, valuable and Chinese, is a table set with Dansk dishes. My mother-in-law will have no Meissen or Rosenthal china—nothing German—in her home. A Chagall lithograph with its requisite dancing cow faces the table where white tapers stand in sterling-silver candlesticks next to David's father's elaborately embossed Kiddush cup.
The cutlery is Grande Baroque, and its legend is Tobias lore. Long before Veronika became a lionized psychoanalyst and David's simple haberdashery multiplied into a tiny kingdom, she picked a silver pattern after she visited Altman's eighth floor from ten to twenty times, depending on the telling. After she filled out service for eighteen, one utensil at a time bought with money she'd saved, Veronika moved on to pickle tongs, iced tea spoons, and vegetable forks that weigh more than the squash and broccoli they convey to plates. To this day, I know she takes pleasure in keeping each piece tarnish-free. Possessions complete her. They represent substance, abundance, tenacity. At least that's what I, Melanie Glazer, M.S.W., think.
Yes, I remain a Glazer. This was not a decision I overthought. It simply struck me as quaint to morph into "Mrs. Tobias" when Jake slipped a gold band on my finger. Though I am proud to be his wife, that is not my sole identity, nor is becoming a Tobias going to make me feel more married.
Tonight's preliminaries speed by. Dinner starts with Veronika kindling the Shabbos candles, where in Hebrew, you can hear her Eastern European roots. David, in a velvet yarmulke embroidered with BAR MITZVAH OF JACOB DOUGLAS TOBIAS, chants a quickie blessing over the wine. Veronika passes the platter with two challahs to Micah and, as if he were nine, insists he bless the bread. He plops the yarmulke by his place setting on his head and does what she asks. After his grandfather belts out "Amen," every Tobias but Veronika pounces on the bread like an aquarium seal jousting for feed. My mother-in-law serves lavishly, yet barely eats herself.
"Would you help me with the soup, please?" she asks David.
I spring up from my chair. "I'll do it."
"No, Melanie, you sit." I knew she'd say this. I asked anyway.
I turn to Alice. "How was Matilda's birthday party?" I pride myself on name-checking my granddaughter's buddies. Hazel, Emil, Piper, Madeline, Quentin, Sunny, Felix, William, Genevieve, Finn, and Matilda.
"Not Ma-til-da, Gran. Tilda."
"Tilda." I stand corrected. "Was her party fun?"
"I got a goodie bag with a wand! And stickers!"
"Did you wear your tutu?" Jake asks.
"Of course." Alice rolls her blue eyes. "Guess which—the pink or the purple?"
"Pink?"
"Purple!" Point, Alice.
I am all in favor of raising rowdy, confident girls. I inadvertently raised one of my own, the stout-hearted Jordan, who would be here if she weren't traveling for her business. But I confess to having given Alice armfuls of rhinestone bracelets, more than one tiara, and high-heeled plastic shoes. While I try to pacify mom-clients' fears of the Princess Industrial Complex, for me Alice is a novelty on whose behalf I ignore my cautionary advice about our nation's Pepto Bismol–pink ecosystem. It's simple. Pink is pretty. Why else would Eloise have wanted a pink, pink, pink room at the Plaza? I want Alice to feel pretty. As a child, I never did.
Birdie and Micah sit still, their daughter between them, a pigtailed Switzerland on whom the conversation refocuses, again and again.
"What's your teacher's name?"
"Your favorite part of preschool?"
"Do you think Kermit will ever marry Miss Piggy?"
"Who's Kermit and Miss Piggy?" Alice asks.
Perhaps Kermit and Miss Piggy have retired to Boca.
"Soup course coming through, choo choo choo," David says as he pushes a tea wagon. The family sips away their portions and moves on to entrées while Jake explains how cashmere is collected from Mongolian goats. (Carefully, we learn. Goats bite.) I long to report on a client, but know I can't. This is why we therapists come off as dull as dust; the interesting aspects of our work can never be shared.
"Has anyone seen the show at MoMA?" Veronika breaks in to ask. I have. There was much to look at but nothing to remember, so I'm relieved when she offers up a ten-minute analysis with sidebars. Birdie says conspicuously little. Micah, less. At least we aren't subjected to a PowerPoint about the real reason we've gathered. We know what's coming, and it isn't a cheese course.
Alice topples Birdie's red wine. "Uh-oh spaghetti-os!" she shouts. Rivulets shoot out onto the ivory damask tablecloth, with each adult scrambling to undo the damage. I proudly find club soda to mix with salt and blot the stain.
Veronika informs me that I'm wrong. "It's white wine that gets out red. It's all about the enzymes."
Enzymes never were my thing.
"I'll cut you more chicken," Jake tells Alice when the mess is largely obliterated.
"But none of that," Alice says, accusing the kugel. "It has stuff in it."
Birdie answers Alice with, "Honey, those are apples. You like apples."
"Show us all what you learned in ballet!" I goad Alice into performing a string of twirls that end with a curtsy and take the applause that follows as a sign to start the coffee—one of the few tasks Veronika allows me to perform—while others clear the plates and wrap leftovers. We work in silence as Veronika fills the dishwasher, because no one else knows how to do it right. I deliver milk and sugar to the table while David presents a cherry pie on Veronika's favorite cut-glass stand, a doily strategically covering its hairline fracture. She brings out green Majolica dessert plates, a pie server, and cake forks. I wait for her recitation on how cake forks are different than salad forks, but she claps and announces, "Time for dessert." Down to business.
Alice casts a skeptical eye on the pie. "No cookies?" she asks. When she visits our apartment a few blocks away, I stock up on black-and-whites.
"Try some, please," Birdie urges. Normally, neither she nor Micah force dessert on their daughter. Tonight, they'll do anything to stonewall.
"No, I want to watch TV," my granddaughter whines, acting uncharacteristically bratty. As sure as a bird fleeing an oncoming tsunami, she must sense that something's off.
"What do we say?" Veronika prompts, surely to Birdie's annoyance.
"May I watch, please?"
David ushers Alice into Jake's former bedroom, a shrine to boyhood with its well-preserved sports ephemera and Cornell pennant.
As if an interrogator has snapped on a spotlight, Micah shifts in his seat and squinches his eyes. Birdie displays her standard erect posture, but I hear her not-so-silent yoga breathing. Finally, after the pie has been cut and the coffee and tea poured, Veronika places her refolded monogrammed napkin to the left of her plate and begins. "Let's not pretend we don't know why we're here. Micah and Birdie, we're all family, which makes your problems our problems."
Like it or not, we will meddle.
My shrinking shrink mother-in-law sits as tall as her five-foot-one inches allow. In the mirror hanging over the burnished walnut buffet, with the chandelier too bright, every one of her almost seventy-five years show. I notice a droop in her chin that wasn't there the last time I looked. And yet, Veronika remains exquisite, her beauty rivaled only by her tenacity.
"Mother is right. It's time we talked about the issue at hand," I say.
Veronika, the self-appointed head of the family and possessor of the Tobias nuclear codes, offers me a look of withering disdain and grinds on. "There are few situations that can't be resolved, given love and determination. How can we help?" This needle won't hurt a bit.
Micah fidgets with a fork, glowering. David's index finger traces figure eights in the tablecloth. I suspect that Jake wants to hit the pause button on this discussion before it starts, but at forty-four he's not going to start telling his mommy what to do.
"Nana, Birdie and I appreciate your concern, but this is our business." Micah speaks quietly, though I hear an edge. I am proud of my son.
"You need to take control before this problem takes control of you," Veronika counters. "Think of how much better you'll feel if you go to the authorities and explain what happened."
Birdie chimes in with, "This is all we've been talking about." She brushes away her bangs. "We'll get everything straightened out." Leave us the fuck alone.
I wish I'd coached Birdie. She might have said, "Perhaps I've given the wrong impression—we're not looking for advice, especially not from you." Veronika would have been as startled as if her pie server had taken a bow.
"I'm sorry, sorrier than I've ever been in my life," Micah adds, "but no good can come from reporting an accident with no witnesses."
Jake plunges in. "The criminal attorney I've spoken to agrees. Micah's situation is like a tree no one hears topple in a forest. There's no reason to go running to the police."
"Except his ethical obligation," Veronika insists, talking over Micah as if he weren't sitting directly across the table. "How will he be able to live with himself if he doesn't turn himself in?"
"I don't know for sure if I hit a person. I might have hit a"—Micah grapples for a word—"a garbage can. And going to the police isn't going to help the person I hurt, if that's the case."
"There are two issues here, ethical and legal—possibly hitting someone and leaving the scene of the accident," Veronika says. "Neither is trivial."
Micah's voice rises. "But confessing to hitting a person—if it was a person—when there was no witness—not a one—why would anyone do that? My confession would hurt me, and by extension, Birdie and Alice. So, Nana, will you . . ."
Shut up?
"Will you stop?"
Does Micah realize he's shouting?
"No, I won't stop. Your accident is the tip of the iceberg, and you aren't working together." Veronika turns toward Birdie. "It takes two horses to pull a cart. You need to make your husband understand this."
Warrior Princess Birdie doesn't move.
"And where does my great-granddaughter fit into the picture? Have you considered Alice? You can't raise a child in a maelstrom. She'll act out. I guarantee it."
"Could you back off?" Micah says, quieter now.
I rake my son's face for a clue to what he's thinking and feeling, but someone has replaced him with an animatronic Micah, his heat and rage gone. I'm also pissed that by appointing herself both judge and jury, Veronika is usurping my role. Micah is my son. I, the Dynamic Opposition, decide to use my words.
"Young marriage is hard," I say as I note my mother-in-law's astonishment at being displaced. Because I listen to my clients rant and sputter all the live-long day, in civilian conversation Jake claims I interrupt and don't let others speak. Perhaps I drive him as bats as a woman who's invented her own religion, but I am compelled to say what's on my mind. "The first few years are the hardest, especially when you are no more prepared to be a husband and father than to govern a developing nation. You're working everything out, not just what you want from your relationship, but how to merge backgrounds while you're both still growing up."
So what if I sound like I'm ad-libbing a graduation address?
"Birdie, I imagine it hasn't been easy to live far away from your parents." Russ and Luanne Peterson have never visited from Iowa. She's told me her father refers to his daughter's borough as Crooklyn. "Jake and I want to remind you that we're here for you," I add as a garnish.
"Mel, I appreciate this," Birdie says, "but Micah and I are working things out on our own. We're talking about seeing a therapist."
"Excellent," I say, though my inner cynic has little belief in couples' counseling, my least favorite therapy to conduct. No matter how reflective two people might be, by the time they haul ass to a therapist's office, nine times out of ten the relationship is on its way to extinction, rendering the exercise little more than a time suck.
Yet Veronika says, "Good—because this incident could rear-end your marriage,"
"Is that a threat?" Micah asks.
"A prediction."
More questions, more toothless advice, more defensive posture from my son until Alice returns and announces, "I'm tired. Can we go home?" This is the get-out-of-jail-free card for which her parents have most likely prayed. Within minutes, the three of them have fled tonight's dinner-palooza.
My mother-in-law accepts my offer to help clean up. While she finishes loading the dishwasher and prepares the morning's coffee, I wipe down counters, Swiffer the floor, fold the damp dishtowel in thirds and hang it on the handle of the stove, sure that Veronika will refold it. We perform this choreography silently and efficiently. In the den, David is dozing in front of the ballgame he'd been watching with Jake. My husband and I wish Veronika good night.
Had this been an evening with friends, a postmortem would be our virtual after-dinner cognac, one of marriage's finest perks. But instead of "Can you believe that bitch's remark?" or "Did you see how much he drank?" all I say is, "I'll give it to Birdie—she didn't cry." In her place, I would have.
"Was I as big a baby as Micah when we got married?" Jake asks.
In truth, no. Jake grew up the moment Jordan and Micah arrived, twenty-three minutes apart, in that order. Like a penguin, he intuitively fulfilled his fatherly destiny while I had to teach myself motherhood as if it were Italian, memorizing parenting books and seeking advice from every mom I met, including strangers at playgrounds.
"Did your mother really say 'no one in the family has gotten a divorce'? What about my brother?" Fred's marriage lasted less than two years, but most likely, Veronika has forgotten I had a brother, may he rest in peace.
"And her own brother-in-law?" Jake asks. Uncle Ezra, David's older brother, died in the bed of a woman who wasn't his wife.
Though if there were only one spot in a lifeboat, I'd be a ninny to test Jake's loyalty, I savor the rare occasion when we are on the same page, aligned against Veronika. On the point of my mother-in-law's condescension, I am as resolute as Jake is defensive of her virtues, but squawking to him about Veronika guarantees the accusation that I am oversensitive. I'm willing to say I may be. Yet I can't resist asking, "Do you think your mom can spook Micah into going to the police?" As a therapist, I abhor that strategy. As a mother, I hope it might work.
Jake dodges the question and asks, "Do you think he and Birdie should stay together?"
"Absolutely."
The person I cannot lose is Alice. I love that child with a vengeance. Alice is my blood and my joy. Before she arrived, I never once had fantasized about becoming a grandmother. What woman turning forty does? But because I had kids insanely early, and Micah did the same, along came grandmotherhood, the Powerball of marriage. From the first time I held Alice, not only was I that grandma—gaga—I realized she offered a chance for a do-over where I could try to correct all the flubs I made in Motherhood 1.0.
I have a single grandchild, but the difference between one and none is infinite.
Losing Alice? Non-negotiable.