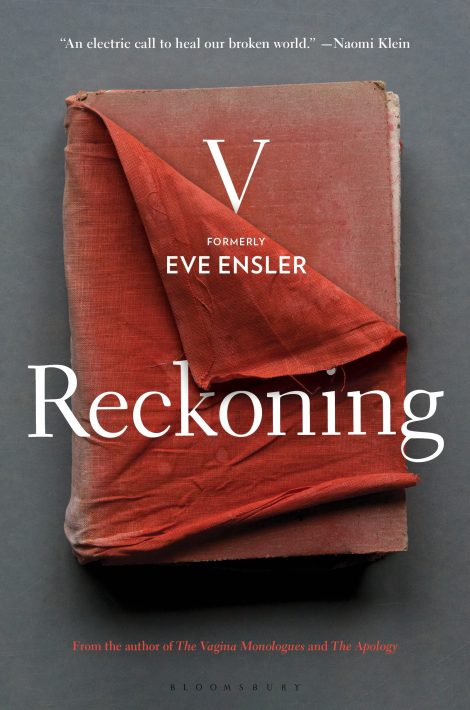 RECKONING
---
The work of a lifetime from the Tony Award-winning, bestselling author of The Vagina Monologues-political, personal, profound, and more than forty years in the making.
The newest book from V (formerly Eve Ensler), Reckoning invites you to travel the journey of a writer's and activist's life and process over forty years, representing both the core of ideas that have become global movements and the methods through which V survived abuse and self-hatred. Seamlessly moving from the internal to the external, the personal to the political, Reckoning is a moving and inspiring work of prose,
The work of a lifetime from the Tony Award-winning, bestselling author of The Vagina Monologues-political, personal, profound, and more than forty years in the making.

The newest book from V (formerly Eve Ensler), Reckoning invites you to travel the journey of a writer's and activist's life and process over forty years, representing both the core of ideas that have become global movements and the methods through which V survived abuse and self-hatred. Seamlessly moving from the internal to the external, the personal to the political, Reckoning is a moving and inspiring work of prose, poetry, dreams, letters, and essays drawn from V's lifelong journals that takes readers from Berlin to Oklahoma to the Congo, from climate disaster, homelessness, and activism to family.
Unflinching, intimate, introspective, courageous, Reckoning explores ways to create an unstoppable force for change, to love and survive love, to hold people and states accountable, to reckon with demons and honor the dead, to reclaim the body, and to see oneself as connected to a greater purpose. It reimagines what seems fixed and intractable, providing a path to understand one's unique experience as deeply rooted in the world, to break through one's own boundaries, and to write oneself into freedom.
Bloomsbury Publishing
Hardcover
January 2023
272 Pages
9781635579048
Praise
A Publishers Weekly Top 10 Memoir of the Season
"No reader will be left unshaken and uninspired." ―Jane Fonda
"An electric call to heal our broken world." ―Naomi Klein
"V's explosive truth-telling is as provocative as it is intense. The result is a raw and relevant oeuvre." ―Publishers Weekly, starred review
"Riveting … This far-reaching, deeply affecting collection will garner avid attention and ignite passionate discussion." ―Booklist, starred review
"Deeply felt, thoughtful, and lyrical, [Reckoning] offers a reflection on the connectedness of the personal and political and the need for all humanity to reckon fully with its past in pursuit of a more just world. An elegant and timely book." ―Kirkus Reviews
"A book of true inspiration from beginning to end, emanating from a great spirit and a talent of extraordinary vision." ―Gabor Maté MD, author of The Myth of Normal
Excerpt
An Excerpt from Reckoning
by V (formerly Eve Ensler)
America has never been big on reckoning. Here we live in the always almost about to arrive future. We are a country that is driven by five essential verbs: produce, extract, consume, erase, win. Reckoning and all the attending particulars—like reflection, understanding, and accountability—require an expanse of time and attention. They demand stillness, a stretch of emptiness.
Living in the United States has always felt like living inside a criminal on the run. We are a people running. Running from new house to better house, iPhone to iPhone, state to state, always dissatisfied, always hungry. Running from families, from trauma, from bad feelings, from grief. Running from knowledge and responsibility. Running from the original crime—the guilt and shame of how this country began, stolen from the Indigenous. Running from four hundred years of slavery and all the attending violence and degradation toward Black people.
Living in the United States has always been a breathless experience. And that was even before the time of COVID, the time when the lack of breath became collectively catastrophic. COVID itself was a respiratory virus that put thousands on ventilators and took the final breath from millions worldwide. COVID, the time of a white cop's knee on the neck of George Floyd literally squeezing the breath out of him over nine diabolical public minutes. COVID, the fires in California choking the breath of the earth with smoke—millions of birds suffocating, falling from the sky.
Before COVID, our world was already speeding up, seized by more nimble technologies that drove us, connected us, tweeted us, and canceled us. Our collective body running faster and faster, always the sense that something, someone was nipping at our heels, about to catch us and consume us. And perhaps it finally has. Perhaps COVID slowed things down long enough for our ghosts to fully grab us. I know mine have been out and about all through this involuntary viral retreat.
As this was happening, the world was cracking apart. All that we as a country had attempted to ignore, bury, or deny was glaringly front and center, suddenly magnified and burning. All the inequities, the uncaring, the cruelty at the heart of the U.S. Empire were manifest in real time. We witnessed the ease with which the Trumpian government allowed hundreds of people to become sick and die, then thousands, then hundreds of thousands in a country with all the modern advances and achievements. There was no forethought, no plan, no worry even, nothing to catch or save the dying multitudes who perished so quickly that there was no time to acknowledge or mourn their passing. Due to systemic inequities, Black and brown people were getting the virus at three times the rate of white people and dying twice as fast. Health care workers were left exposed and unprotected, sent into work wearing garbage bags instead of gowns. Women were used to save us and easily sacrificed. The shattered veins of racist patriarchal capitalism were bleeding everywhere.
COVID ushered in this reckoning full force, and for those who had designed their lives to avoid such a radical confrontation, the virus landed as a shock.
What exactly does it mean to reckon and why is it so critical right now? Reckoning demands remembering, acknowledging, and accounting. It requires a certain humility, a willingness to take stock and look deeply and unflinchingly at what is often right in front of us, but we refuse to see. It means determining both one's personal and collective responsibility and how and when they intersect. And it inherently compels the action of admitting mistakes, apologizing for misdeeds and bad actions, changing course if that's what's required.
Reckoning is an anomaly in this age of radical disinformation. It's the antidote to fake news, spinning lies, right-wing attempts to bury our country's disturbing history. We are in the midst of an almost perverse pushback against teaching anything of our true past that might make our children feel disturbed or guilty. This is absurd, infantilizing, and dangerous. We, and our children, will ultimately drown in the polluted sea of diabolical amnesia. It's only in our willingness to face the music, walk through the fire, confront the truth head-on that we are born into ourselves, one another, and a livable future.
To do so, we must reckon with myths and narratives that guide our lives and need revision. To reckon with loss and contradiction. To reckon with grief. There is so much unfelt, unshared, unprocessed grief.
To do so, I have needed to write. It was how I found myself, how I knew I might exist outside the confines of those oppressive and violent forces who had already, at a very young age, determined me to be bad and unworthy. I wrote into an alternative persona and thus initiated a dialogue between the internal and external I that offered agency and identity to the part of myself I will call survivor.
Writing saved me from suicide, from madness. Or at least it made something out of the madness. Writing was witness. It was prosecution, confession, excavation, deliverance. The articulation of words was a kind of bricklaying, building something, even momentarily to stand on, making meaning out of the chaos and violence. I could create beauty. I could find family. For without a mirror of our being, how do we know we exist? The writer Mark Matousek once observed, "You learn the world from your mother's face." But what if her visage is opaque and ungiving? What if she does not have eyes for you, or energy? What world do you find or learn then?
Word by word I have eked my way into existence. Each line of a poem, each essay, each play, article, book has been a bulwark against my imminent disappearance. And as you might imagine, an existence built on the accumulation and arrangement of syllables, nouns, and verbs is a most precarious proposition. For the risk, of course, is that the reader will not understand or value or respect what the writer has written, tossing the writer into the fiery and ragged pit of further rejection and loneliness.
One is always failing at writing. One is always one step, one word, away from writing what one actually meant to say. And that gap, that cavern of impossibility, is in some ways more debilitating than any original pain. For it is ongoing proof of one's singular stupidity, incompetence, and failure to make any meaning at all.
Writing is dangerous business. Virginia Woolf descended into depression after she finished each book, believing it was a total failure—until the last book, when after writing it, she walked into a pond with stones in her pocket and never came back. And I would be lying if I did not confess how often I have reread something I have written and felt the desire to mutilate every ounce of my own flesh. I tell myself a rather pathetic tale that one day I will be the writer I dreamed of being. Perhaps this is the single delusion that has kept me going and stopped me from loading my pockets with stones. "This one, this one will be it. When the words match the meaning, the desire, the infinitesimal detail of reality. When I have finally outrun the fissures of memory loss and fragmentation of intelligence wreaked on me as a child through battery and rape. When I have written myself, and my words, back whole and the language has a luminous specificity and reeks with divine grace and clarity. This next one will be the one."
But I am almost seventy now. Time is running out. Someone once said you have to be madly grandiose to write, to believe others would truly be interested in your thoughts. But it could also be that writing is survival. A way of cornering the mess, refusing to be swept away in another's tyranny, a cry in the dark.
We do our best. Uttering as close to the bone as possible.
Venturing further and further into the dark room of truth calling us to be its accomplice. Saying what every cell in our body urges us not to say. Breaking through the guardrails, taboos, and the thorny unspoken.
Including admitting here on the page that at my core for much of my life, I have felt like nothing. Absolute nothing. Reckoning with the knowledge that these years on earth have been perhaps a heroic and often-failed attempt to come from nothing—to unwrap the bandages around my head and, instead of finding air and absence, discover substance and value.
I am older now. Irrelevant in the cult/ure of youth, followers, and TikTok. But I write anyway. I write and write through the last vestiges of night and then suddenly, the sun, igniting the crystal-edged branches of winter trees, diamond starlight flashing against the cerulean sky. I am here and not here. Disappearing and finally gone. And maybe the deepest reckoning is that nothingness that I have feared forever is not frightening after all. Maybe it's where we come from and the vast welcoming emptiness calling us home. And maybe what I have called existence is just the burning desire to grab hold of the others here, now, before we go.