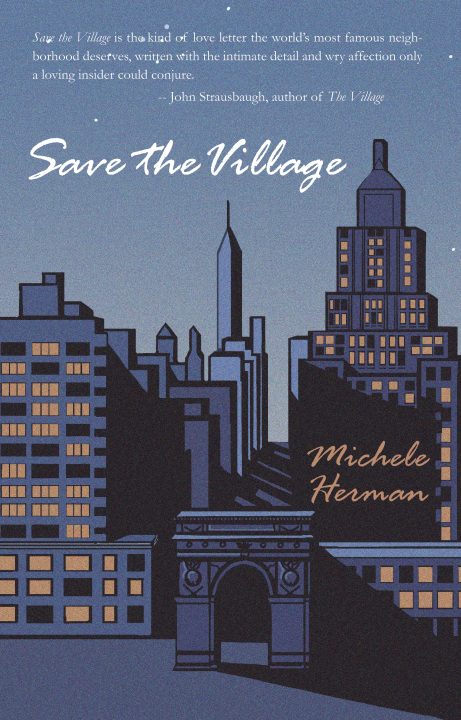 SAVE THE VILLAGE
---
Life hasn't turned out quite the way Becca Cammeyer of Greenwich Village – once voted most likely to land on Broadway or in jail for a good cause – had planned. Her only child has moved to another continent, she's still living in a fifth-floor walkup with her aging dog, still single, still nearly broke, still not on speaking terms with her best friend or mother, and still hearing the ghost of her long-dead father whispering in her ear.
But she's a semi-famous tour guide, and on a perfect October evening, Becca almost believes all is well with her world as she helps a group of South Carolinian tourists fall in love with her beloved Village.
Life hasn't turned out quite the way Becca Cammeyer of Greenwich Village – once voted most likely to land on Broadway or in jail for a good cause – had planned. Her only child has moved to another continent, she's still living in a fifth-floor walkup with her aging dog, still single, still nearly broke, still not on speaking terms with her best friend or mother, and still hearing the ghost of her long-dead father whispering in her ear.
But she's a semi-famous tour guide, and on a perfect October evening, Becca almost believes all is well with her world as she helps a group of South Carolinian tourists fall in love with her beloved Village. The tour concludes, and Becca sends the women on their way, unaware that her world is about to be upended.
In the aftermath of a tragedy, Becca must come to terms with her own paralysis, her survivor's guilt, and the messiness of her life. She embarks on wildly improbable reconciliations and new relationships. At once a love story about Greenwich Village and a reflection on a changing world, Save the Village reveals how when a community comes together, everyone wins.
Regal House Publishing
Paperback
February 2022
268 Pages
9781646030811
Praise
"Michele Herman has created a protagonist worthy of Grace Paley, and rendered her world with such intimacy you may think that you, too, once inhabited it. Save The Village is a paean to the energy and idiosyncrasies of New York City, and to those, who, against all odds, have staked their claim there." –Sue Halpern, staff writer, The New Yorker
"Save the Village is the kind of love letter the world's most famous neighborhood deserves, written with the intimate detail and wry affection only a loving insider could conjure." –John Strausbaugh, author of The Village
"Michele Herman knows Greenwich Village inside out: its gestures, its codes, the complex history behind each building facade, smile, or frown. Every village is a universe, and Herman brings this one joyously alive. With compassion and humor, she tells a gripping tale of a rupture that shakes a community into a new alignment." — Pamela Erens, author of Matasha, Eleven Hours, and The Virgins.
"Save the Village is an unblinking deep dive into the psyche of a self-professed "broken girl in a broken life"; a woman alone with her aging dog in the most densely populated major U.S. city; a woman who has dug deeply into the rich history of her beloved Village but who, until now, has not studied the artifacts, accidental architecture, and ghosts of her own personal history. Herman is a skilled guide, deftly directing our gaze to the largest of questions and then zooming in on the most intimate details, all at a freewheeling tempo that would have fit right in at Caffe Reggio circa 1960. As details and relationships are revealed, Becca discovers that before she can save her village, she must first save herself." — David Roth, author of The Femme Fatale Hypothesis
Discussion Questions
1. Why do you think the author started the novel with a short prologue? Whose voice is speaking?
2. The novel takes place in a very specific time and place. If you haven't spent time yourself in Greenwich Village, were you able to relate to the setting and the conflict? Have you had your own experience with the changes gentrification can bring to a neighborhood or town?
3. On the first page, the tourists are ready to love Becca. What was your first impression of her? How did your feelings about her deepen or change over the course of the story? Did you ever worry for her? Feel exasperated by her? Feel proud of her?
4. When we meet Becca, we see her on stage, in a way, and then we see her at home. Talk about the contrasts.
5. Melora is presented initially as what Becca might call "yuppie scum." How did your feelings about Melora evolve?
6. Does this depiction of Greenwich Village ring true to your own experience and/or its reputation?
7. There are many secondary characters, including Ed, Frieda, Camille, Jay, Doris, Marc and Aaron. Did you have a favorite? a least favorite? Can you explain why?
8. Though Becca is the main character, the author gives several other characters their own chapter. Why, do you think? How many of these were there, and what did it feel like to find yourself in the point of view of someone else?
9. Is there someone like Camille in your own life – a role model, an artist, a refugee who had to reinvent herself?
10. What did you make of the occasional dispatches from the local paper and the unpublished reporter's notebook entries?
11. Often in a novel two characters who start out as enemies will not end up as enemies, and part of the pleasure is watching the dynamic change. How would you describe the trajectory of the relationship between Becca and Melora?
12. There's some romance, and near romance, in the story. What would you like to happen for Becca in the future, romantically speaking?
13. In a way, this is a ghost story. Whose spirit hovers over the novel?
14. What do you think the story reveals about the author's worldview?
Excerpt
A Tour of Greenwich Village
The six women from South Carolina looked at the tour guide and were ready to love her. On Friday they had admired the Tiffany windows at the Met, on Saturday hummed along at the matinee of "Jersey Boys," on Sunday made the pilgrimage to Ground Zero, and today splurged on lunch at the Mesa Grill because who doesn't love Iron Chef Bobby Flay? It had all been perfect, they told each other.
Now it was Monday evening, and their time here was almost up. The women had just cabbed it to the Village from their midtown hotel, where their husbands were wrapping up their big East Coast engineers' meeting. Watching all the imposing buildings they would never enter and all the purposeful people they would never meet speed past from the cab windows, they relished their one last chance for Manhattan to open up and offer them more—a new friend who wasn't just a concierge or a waiter; maybe a bolder version of themselves to take back home to Plantation Pointe.
They recognized their tour guide right away from the TimeOut posting on the Web that ranked 25 Living Legends of New York That Should Be Experienced While They're Still Alive and Kicking: the woman in the black cape leaning against the Washington Square Arch as if she were holding it up all by herself. She was smaller and older and more round than she had appeared in the picture, and these facts helped set them at ease. Her mouth was cut a little on the wide side, as if to allow for the passage of big emotions.
"I'm Becca Cammeyer," she said, and then she added with a smile and a twirl, "and this is my dramatic tour-guide cape, so you won't ever lose me."
They looked up at her from their twin sets and their drawstring-waist cropped pants and their flats. They had expected a big, nasal voice, but hers was soothing and carried just the right amount of authority. Her hair was a long, rough-textured mix of dark brown and gray, much as theirs probably was somewhere deep under the defrizzer and the blow-drying and the gold-hued dye.
When she asked where they were from, they all clamored to answer.
Sheryl, the one in the top with the stripes and the nautical brass buttons, got in first, as usual. "You wouldn't of heard of it. It's kind of a suburb of a suburb of Greenville, South Carolina."
Becca smiled again and asked, "How many of you have been to the Village before?" Jackie, who'd organized the tour, said that once many years ago she'd come to visit a boyfriend at NYU. Laura, who tended toward shyness, volunteered that her daughter had studied ballet at the Joffrey before the birth of twins put the kibosh on that dream.
"Even for those of you who have never set foot in the Village until now," Becca continued, "I think that a tiny bit will rub off on you tonight. Who knows? Maybe by the end of the evening, a little piece of South Carolina will rub off on me, though I've never been there."
Mary Anne, who liked everyone to be happy, gave the others a discreet thumbs-up. Ever since they had sat around Jackie's blond kitchen table studying print-outs of Expedia itineraries, each of them had secretly feared that New York City was a test they might fail, the kind that would go on their permanent record. What if the city cast them in unflattering light, made them heavier than they wanted to see themselves, and at the same time less substantial? What if, upon their return south, their spacious, meticulously decorated homes looked hollow and farcical? What if their husbands—their dear, hearty, hard-working husbands—turned squat and red-faced and corny on them?
"So let's talk about Greenwich Village," said Becca, spreading the name on an invisible marquee, "arguably the most famous neighborhood on the planet." They were mesmerized by her hands, surprisingly long and thin. Her palms caught each sentence in midair as if it were an extrusion in need of molding and crimping and polishing—talk in New York City seemed to be both an art and a skilled trade. Where they came from, speech was a more pulmonary activity, having to do with the concertina-like withholding and releasing of air into select vowels.
Interviews
An Interview with Michele Herman
with John P. Loonam, Washington Independent Review of Books
The debut novelist talks 9/11, Greenwich Village, and the pain of (fictionally) destroying landmarks.
How do you go about switching back and forth from poetry to fiction?
Until 2015, I wrote only prose. That June, I signed up for the Tupelo Press 30/30 poetry-writing marathon on a whim, feeling emboldened to try scary new things after being given the gift of acting in community theater. I produced 30 poems in 30 days, all posted on Tupelo's website. Those poems formed the core of my first poetry chapbook, Victory Boulevard. Since then, I've been entirely focused on poems and essays while waiting for new stories and maybe a new novel idea to bubble up from my unconscious. Writing poems has made me happy and productive, two qualities that I find hard to separate. With poems, there's less investment and a quicker payoff, with more time spent doing one of my favorite things: playing with words. And in poems, I've been able to write about some personal material that eluded me in other forms.
Let's talk about your novel's title, Save the Village. Your main character, Becca, has been involved in various landmarking and urban-preservation moments, but that doesn't figure much in the plot. What are you pointing to with that title?
Save the Village was the name of an anti-overdevelopment organization my husband and I were active in in the 80s, when we moved to the Village, a nod to urbanist Jane Jacobs' earlier Committee to Save the West Village. I like the way "Village" can refer just as easily to Greenwich Village and to the kind of "village" it takes. I kept Becca's activism in the background on purpose because when we meet her, she's tired and discouraged. In early drafts, Becca was going to fight a terrible development scheme: a conversion of her tenement to luxury housing (something that has actually happened in the neighborhood). A novel is roomy but not infinitely roomy; there just wasn't space for that plot.
The narrative is sparked by an act of destruction. Was it difficult to destroy a Greenwich Village landmark, even in your imagination?
Yes! Particularly because I'm married to a guy who works for the Parks Department. I shied away from creating something so awful. But my allegiances are with the writing process, and in the end, the disaster made the writing much easier, raising the story's stakes and compelling me to imagine all the fallout. It also provided shape, momentum, and lots of primal emotion.
Various characters link the book's opening explosion to 9/11. Do you see Save the Village acting as a 9/11 novel?
After 9/11, we all talked about whether the other shoe was going to drop. The explosion I created was definitely a shoe, albeit a small one compared to the Twin Towers. That September week in 2001 was so distinct, everyone's emotions so wide open, and those days were definitely in my mind as I wrote.
Becca, who gives tours that speak to preserving the historical Village, renews a number of connections, perhaps most importantly with Melora, a real estate broker working to bring in a newer, sleeker Village. Do you intend their friendship to call up a kind of meeting of these two points of view?
I loved the process of creating a close friendship between two new moms, then having their "lifestyles" diverge so much that they become sworn enemies, and then figuring out how they might find their way back to each other in a time of tremendous upheaval. I like to believe that even the most rigid people can change and grow. Becca certainly grows during the time we spend with her, but Melora is also undergoing a major rethinking of her yuppie life choices. I'm rooting for both of them. In other words, while they represent two opposing kinds of Villagers, I wanted them to be living, breathing people rather than just symbols.
One of the joys of reading Save the Village is encountering the many familiar places you mention. For anyone new to New York, there is a kind of introductory tour here. Are there spots that you are particularly happy to call attention to — or that got left on the cutting-room floor?
I'm both pleased and aghast about Washington Square — pleased because I know of no livelier, more welcoming place and aghast because of what I made happen there. I'm pleased that the Rebecca, Becca's tenement, gets a starring role, though it doesn't exist in the real Village. It was fun to mention so many locales I know well: the Westbeth basement sale, D'Agostino's supermarket, Our Lady of Pompeii church, Garber's Hardware, quaint West Fourth Street, [and] the late, lamented St. Vincent's Hospital.
I had to cut a whole lot: The tourists from South Carolina admiring the Jefferson Market Library with its fanciful clock tower. A plotline for Photojay that took place in what we parents call the "key park" of the Washington Square Village apartment complex. Becca swimming at the Carmine Street pool. [And] a flashback of Becca climbing the interior staircase to the top of the Washington Square Arch — something I once got to do myself.