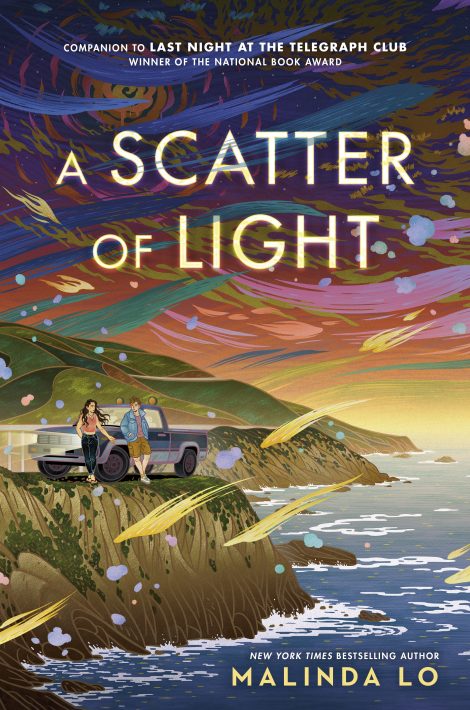 A SCATTER OF LIGHT
---
Last Night at the Telegraph Club author Malinda Lo returns to the Bay Area with another masterful queer coming-of-age story, this time set against the backdrop of the first major Supreme Court decisions legalizing gay marriage.
Aria Tang West was looking forward to a summer on Martha's Vineyard with her best friends—one last round of sand and sun before college. But after a graduation party goes wrong, Aria's parents exile her to California to stay with her grandmother, artist Joan West. Aria expects boredom, but what she finds is Steph Nichols, her grandmother's gardener. Soon, Aria is second-guessing who she is and what she wants to be,
Last Night at the Telegraph Club author Malinda Lo returns to the Bay Area with another masterful queer coming-of-age story, this time set against the backdrop of the first major Supreme Court decisions legalizing gay marriage.
Aria Tang West was looking forward to a summer on Martha's Vineyard with her best friends—one last round of sand and sun before college. But after a graduation party goes wrong, Aria's parents exile her to California to stay with her grandmother, artist Joan West. Aria expects boredom, but what she finds is Steph Nichols, her grandmother's gardener. Soon, Aria is second-guessing who she is and what she wants to be, and a summer that once seemed lost becomes unforgettable—for Aria, her family, and the working-class queer community Steph introduces her to. It's the kind of summer that changes a life forever.
And almost sixty years after the end of Last Night at the Telegraph Club, A Scatter of Light also offers a glimpse into Lily and Kath's lives since 1955.
Dutton Books for Young Readers
Hardcover
October 2022
336 Pages
9780525555285
Praise
"Full of yearning, ponderances about art and what it means to be an artist, and self-revelation, A Scatter of Light has a simmering intensity that makes it hard to put down."—NPR 
"Raw and bittersweet … [an] expansive tale of yearning, self-discovery, and first love."—Publishers Weekly, starred review
"Aria's story is…about what it means to be an artist, a friend, a daughter and a granddaughter, and about how identities of all kinds can converge and crystallize as part of the process of growing up." —BookPage, starred review
"A Scatter of Light is not one but many love letters—to art, to first crushes, and to friendships that span decades and ground you while letting you grow."—Booklist
"This deeply perceptive bildungsroman thoughtfully explores several absorbing topics, but first and foremost it is an intimate, exhilarating story of first love."—Horn Book
Discussion Questions
1. Aria's experiences in the final weeks of high school were not at all what she planned. How did the series of traumas she experiences influence her views on family, friends, and romantic partners? What boundaries did Aria erect to help her cope with this trauma?
2. As a biracial Chinese American teenager coming out in 2013, what pressures does Aria face as a teenager navigating a new life?
3. Joan is not only grandmother to Aria, but her role model as well. In what ways does Joan's artwork empower Aria? How does her grandmother's artwork and wisdom help Aria?
4. "I was split in two: my future and my past. I wanted to remain here on the edge between my two selves, doubly exposed, all hunger and heart" (Page 275) Aria begins to discover her sexuality through her experiences with Steph and her friends. How do Aria's new relationships lead her to the exploration of her queer identity? In what ways does Aria explore her sexuality on her own?
5. A significant theme in A Scatter of Light is grief. How does Aria experience grief? What are her ways of coping with it?
6. A Scatter of Light revisits Lily and Kath, the two protagonists from Malinda Lo's Last Night at the Telegraph Club. Did you notice any similarities between Lily and Aria? In what ways are they different? How does the author connect the relationship of Lily and Kath with that of Aria and Steph?
7. What do you think was the author's motive for delving back into Lily and Kath's lives after Last Night at the Telegraph Club? How do Lily and Kath connect back to Aria's story in 2013?
8. What does Steph's ultimate rejection of Aria reveal about Steph? Which aspects of her background and her relationship with Lisa influence this decision?
9. Aria's relationship with Steph is not the only unexpected development she experiences that summer. Before she went to California, she thought she had a clear vision for college and her future. What are some changes you notice in those areas of her life by the end?
10. Did you expect Aria and Steph's relationship to work, or was it unrealistic from the beginning? Do you think Aria and Steph's relationship could have improved in the future, given different circumstances? Why or why not?
Excerpt
Joan was gone by the time I came downstairs on Friday morning. Analemma was sprawled on the rug in front of the cold wood-stove in the living room, and her tail thumped against the floor as I bent down to pet her. In the kitchen, Joan had left a check for Steph on the table, weighted down with the salt shaker.
I poured myself coffee, made toast, and took it all out to the deck, where I sat in the morning sunlight and gazed at the hills. It was going to be a hot day; I could feel the promise of it in the way the sun sank into my hair. In the distance, I heard the gate opening and closing. The metal latch dropping into place.
I couldn't see Steph from here, but there was something delicious about knowing that she was coming up the hill, and if I went around the house to look for her, I could see her. From my vantage point, it seemed as if I was alone, but I wasn't. Steph was close enough that if I called her name, she would probably hear me.
I sat on the deck for a while, listening. The gardening tools were kept in a shed just below the studio, and I heard the bolt on the shed door thrown open and then the low creak of the hinges. I heard the clanging of tools and the rumble of the wheelbarrow as it was pushed out into the yard. Thump, thump, clang. The door creaking again, closing. Footsteps and the wheelbarrow, trundling away.
Another few minutes passed, and then I went back into the kitchen. Joan always had a pitcher of iced tea in the fridge, and there was a bowl of lemons on the counter. It was getting hot already, and Steph would probably be thirsty. I took out the lemon squeezer and some glasses and set them on the counter along with the iced tea, long spoons, and a tray of ice from the freezer. I didn't let myself think about what I was doing; I just did it.
***
Analemma ran ahead of me out the front door, and I followed more slowly with the two glasses of iced tea. The hill that the cottage was built into was terraced, and the brick path wound back and forth down the hill like a Z. I heard Steph greeting Ana before I saw her, and when I rounded the bend and Steph came into view, she looked exactly as I expected— baseball cap, shorts, sleeveless tee— but it still startled me: my imagination made real.
She looked up as she rubbed Analemma's back and smiled. "Hey." "I thought you might want some iced tea," I said, and offered her a glass.
She was wearing work gloves, and she took one off to accept it. Our fingertips brushed together. "Thanks." She took a sip and then set the glass down on the stone bench nearby.
"Joan gave me this to give to you, too." I took the check out of my pocket and held it out to her.
"Great." She took it without touching me, and I was a little disappointed.
"She also asked me to invite you over for lunch sometime."
"That's nice of her," Steph said as she folded the check and put it in her pocket.
"She said any day would do, as long as it was after noon."
"I'll check my schedule at work and get back to her. Is she out? Her car's gone."
"Yeah, she went to Berkeley."
Steph went to sit on the bench, taking another drink of her iced tea, and gestured for me to join her. "Did you have a good time last Saturday?" she asked. Analemma nosed around the flower bed where she had been weeding.
I sat down beside her. "Yeah, I had a great time. Thanks for invit-ing me."
"Anytime." She glanced sideways at me, a mischievous expression on her face, and asked, "Did Mel try to make a move on you after we left?"
"That's private," I said with a hint of a grin.
"She did, didn't she?" Steph seemed to think this was hilarious. "I hope she didn't make you uncomfortable."
"Oh no. Mel is great."
"Good." She drank more of the iced tea; it was almost gone already. "You doing anything this weekend?"
"No. I'm helping Joan go through my grandpa's old papers, but that's more of an ongoing thing."
"She never says much about your grandpa. I only know he was a professor at Berkeley."
"Yeah, he taught astronomy. I'm sorting his research papers be-cause she's using them in her art."
"Really? How?"
"I don't know. She won't tell me."
"What did he research?"
"Protostars. I can show you if you like." As soon as I said it, I wanted to take it back. Why would Steph want to see Grandpa's research notes?
But she said, "Sure, I'd love to see it. But I have to finish up here first."
"Oh, of course. Sorry. I'm distracting you."
"Happy to be distracted."
Did I imagine that look in her eyes? A hint of pleasure. I didn't imagine the buzz I felt in my body.
"But I do have to get back to work," she added, and then she set down the now- empty glass and pulled the work glove on again, returning to the flower bed she'd been weeding.
I wondered whether I should leave, but I didn't want to. Ana-lemma had stretched out on the moss- covered brick path and was panting slightly in the growing heat.
"When did you start working for Joan?" I asked.
"About a year ago. She used to come to the Greenbrae Garden Center, where I work, and I'd help her there. Then she asked if I did gardening gigs outside my job."
"Were you here last summer?" My dad and I had visited last July, but Steph hadn't been around then.
"Yeah, I started in August."
She threw the weeds she had pulled into a yard- waste bag. A dark bloom of sweat dampened the back of Steph's shirt, and the short strands of hair along the nape of her neck were damp, too. I watched the way the muscles in her arms flexed as she worked, and then I realized I was staring and looked down guiltily. The glass in my hand was slick, and a droplet of condensation plummeted to the ground, leaving a splotch of water on the bricks.
"So— " she said.
"So— " I said.
She looked over her shoulder at me and grinned. "You go first." "I was going to ask if you decided whether you're doing that concert in August with Roxy."
She straightened up to get the bag of fertilizer from the wheel-barrow. When she lifted it, I tried not to look at her. The way her koi tattoos moved.
"I haven't decided yet. If I get involved again, it could be— " She shook her head. "It's just a lot."
"What do you mean? Is there drama or something?"
"No. The band gets along fine. I'm just not sure if I have time to do the band and work, and I was thinking about finishing my music degree."
"You were getting a music degree?"
"An associate in fine arts at the community college. I have one semester to go, but I don't know when I can do it." She finished pouring out the fertilizer and returned the bag to the wheelbarrow.
"What's stopping you?"
She gave a short laugh. "Money. What else?"
"Aren't there scholarships?"
"Not for community college." She knelt down and began to spread the fertilizer around the plants. "At least not as far as I know. Anyway, I don't even know if it makes sense to finish the degree. I feel like life might be a better teacher."
"My mom has a music degree. She's an opera singer. She'd say it was worth it."
Steph looked up. "Your mom's an opera singer? Like profession-ally?"
"Yeah." Sometimes, when people found out about my mom's ca-reer, they thought I was making it up, but that didn't seem to be what Steph was implying. She seemed impressed, which made me uncomfortable.
"Where does she perform?" she asked.
"All over," I said vaguely. "She's in Europe this summer."
Steph sat back on her heels. "Touring?"
"No, she's at a festival. Sometimes she tours, but— I mean, the point is, she couldn't have done that without her degree. Maybe it's a good idea for you to finish yours."
Steph looked at me for a second and then returned to spreading the fertilizer around the plants. "Yeah, maybe. Or maybe it would be more useful if I get an accounting degree." She sounded a little bitter.
"I can't imagine you as an accountant."
"I can't either, but it might help with the rent."
I felt like I had screwed up our conversation somehow. "Well, you should do whatever makes sense for you," I said, trying to fix it. "Whether that means you finish your degree or get back together with the band. I just feel like if you have that talent, you should go for it. Otherwise you're suppressing who you really are, and that just seems wrong."
She smiled slightly, first down at the dirt, and then over her shoul-der at me. "Thanks for the words of wisdom," she said.
I flushed. "Sorry. I mean, I didn't mean to be condescending."
"You weren't. I appreciate it. It's nice when someone believes in you."
I felt that warm flush spread down my neck as we looked at each other— as she looked at me. Her eyes bright, focused. Did I imagine the slight color on her cheeks, too?
"Enough about me," she said, turning back to the flower bed. "Tell me about you. You're going to college in the fall? What are you going to major in?"
"Yeah, probably either physics or planetary science."
"Really?" She sounded surprised.
"Why, you don't think girls can do science?" I teased her.
She laughed. "I never said that."
"It's just that people have assumptions, you know? Most boys take one look at me and think there's no way I could do math, even though I'm Asian. It's like their two stereotypes get crossed and they don't know how to deal with me."
"I'm not a boy," she said. She sounded amused.
***
After Steph finished the yard work, I put Analemma back in the house and helped her clean up. I hauled the yard- waste bag over to the trash area and carried the watering cans back to the shed, where Steph put away the wheelbarrow and tools.
"You still want to see my grandpa's notes?" I asked.
She took off the gloves and laid them on the shelf beside some empty pots. "Sure. I have a few minutes."
"I'm set up in Joan's old studio. Have you been in it?"
"No."
I led her up the back path toward the studio and opened the door. "She works in the house now, but she used to work in here."
Steph followed me into the studio, looking around. "Why'd she move into the house? This space is great."
"I don't know. It happened after Grandpa died."
By now I'd divided Grandpa's notes into three stacks on the worktable: unsorted, notes, and not-notes. Next to the not- notes stack was Diving into the Wreck, which I'd brought into the studio last time I was in here.
Steph pointed to the book. "Hey, Adrienne Rich. I love her stuff." "I haven't read anything of hers except for this. I like it a lot." "My favorite of hers is The Dream of a Common Language. Have you read it?"
"No, what's it about?"
"It's more poems." Steph gestured to Diving into the Wreck. "Like these, but gayer. She was a lesbian."
"Oh." I had assumed she was straight.
"I tried to write some songs inspired by her poems. One of them turned out okay. When I was with Madchen, we recorded it on our EP."
I could tell by the way she was downplaying the song that she was proud of it. "I'd love to hear it," I said. "Is it online?"
"No. We burned a bunch of CDs at Roxy's apartment and sold them after gigs. But tell me about your grandpa's work. This is it?"
I plucked the top folder off the notes stack and opened it to show Steph, who came over to stand next to me.
"He was researching protostars. They're stars in an early stage of formation," I explained. "Joan wanted me to separate out his re-search from his letters. I like seeing his handwriting."
"Do you understand all this?" Steph asked, gesturing at the math. "Only sort of. I've taken calculus, so I can kind of see where it's going, but I haven't studied this. It's pretty advanced."
"Is that what you're most interested in? Protostars?"
"I'm actually more interested in planets than star formation. I'd love to study Earthlike planets."
"Like places we can travel to?"
"That's the first thing everyone thinks of," I said, smiling. "But we have to invent a way to travel a lot faster before we can do that."
"Warp speed?"
I figured she was joking, but I said seriously, "Maybe, but it's unlikely."
She leaned against the edge of the table and looked at me curiously. "Let's say we could go there— to these planets. Do you think there's life on them?"
"Absolutely! We've already found thousands of planets— and only from a really tiny part of the Milky Way. There are so many possibilities for life out there— and life out there might not be any-thing like what we know on Earth. There are a bunch of telescope missions in the pipeline at NASA that are going to make it practically guaranteed that we can find an Earth like planet with life on it in our lifetime. I want to be part of that discovery." I stopped, realizing self- consciously that I sounded like a total nerd.
"You're really into this stuff," Steph said, smiling.
I shrugged. "Sorry not sorry?"
She laughed. "I bet you'd be interested in this movie we're watch-ing this weekend. I can't remember the title but Lisa picked it out. It's a 1950s science-fiction movie. Lisa was almost a film major, so she likes to plan out little film festivals for us— I mean for me and Mel. We get together on Sunday nights and watch movies." Steph paused, then said, "You should come over. I bet I have an extra Madchen CD I could give you, and you could borrow my favorite Adrienne Rich." It was a perfectly safe invitation— Lisa would be there, as well as Mel— but to me it felt, if not dangerous, then significant. "Are you sure? I don't want to crash your party."
"It's not a party; it's just a movie. It would be great to have you." She grinned. "And I know Mel would love to see you."
I was never going to say no, but I hesitated as if I had to think about it. If Steph were a boy, would my hesitation make her try harder? But she wasn't a boy, and she didn't look as if she doubted my decision. She simply looked at me, and I said, "Okay. Sure, I'd love to come."
"Cool. Give me your number and I'll text you my address." She pulled out her phone and handed it me to type in my number. "We usually start around seven and make pizza with Mel."
"Should I bring anything?"
"No, it's really low- key." She wrote a quick text message and a moment later I heard my own phone chime.
I pulled out my phone to read her message. It was just her ad-dress, no name. "Got it." When I looked up, she was looking at me with an odd expression on her face. "What?"
"You have a leaf in your hair."
"Where?" I ran my fingers through my hair, trying to dislodge it. "Other side." Steph reached out with her left hand, her fingers sweeping through my hair behind my right ear, and even though she barely touched me, it felt as though she had stroked my skin from head to toe in one smooth motion. When she stepped back, she was holding a dry fragment of an oak leaf, and her face had a tentative expression on it, as if she wasn't sure if she should have done that. She carefully set the leaf on the worktable, and I wanted to pick it up and preserve it between the pages of a book, like evidence. Exhibit number one: The first time Steph touched me was because of this.