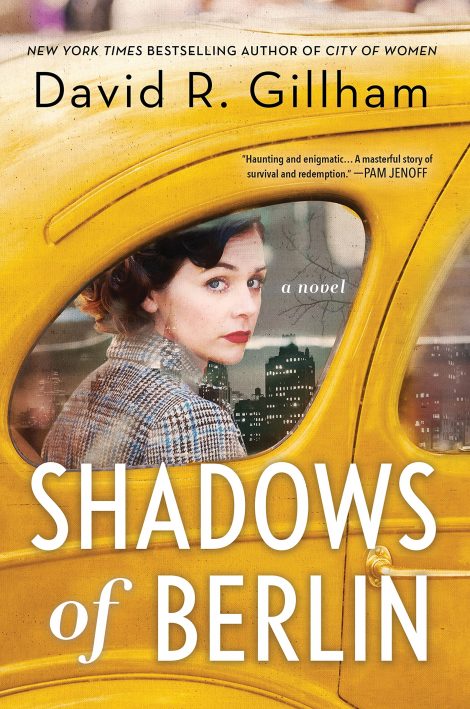 SHADOWS OF BERLIN
---
A captivating novel of a Berlin girl on the run from the guilt of her past and the boy from Brooklyn who loves her
1955 in New York City: the city of instant coffee, bagels at Katz's Deli, ultra-modern TVs. But in the Perlman's walk-up in Chelsea, the past is as close as the present. Rachel came to Manhattan in a wave of displaced Jews who managed to survive the horrors of war. Her Uncle Fritz fleeing with her, Rachel hoped to find freedom from her pain in New York and in the arms of her new American husband,
A captivating novel of a Berlin girl on the run from the guilt of her past and the boy from Brooklyn who loves her
1955 in New York City: the city of instant coffee, bagels at Katz's Deli, ultra-modern TVs. But in the Perlman's walk-up in Chelsea, the past is as close as the present. Rachel came to Manhattan in a wave of displaced Jews who managed to survive the horrors of war. Her Uncle Fritz fleeing with her, Rachel hoped to find freedom from her pain in New York and in the arms of her new American husband, Aaron.
But this child of Berlin and daughter of an artist cannot seem to outrun her guilt in the role of American housewife, not until she can shed the ghosts of her past. And when Uncle Fritz discovers, in a dreary midtown pawn shop, the most shocking portrait that her mother had ever painted, Rachel's memories begin to terrorize her, forcing her to face the choices she made to stay alive?choices that might be her undoing.
From the cafes of war-torn Germany to the frantic drumbeat of 1950's Manhattan, Shadows of Berlin dramatically explores survival, redemption and the way we learn to love and forgive across impossible divides.
Sourcebooks Landmark
Hardcover
April 2022
416 Pages
9781728250441
Praise
"Colorful dialogue, meticulously researched period detail, and an intricate plot about war and penance combine in a richly layered tale of a New York housewife with a secret past buried in World War II Berlin. Immersive and evocative, this tangled tale of regret and rebirth will haunt you." —New York Times bestselling author Kristin Harmel
 "A powerful, heartrending story of guilt and forgiveness, loss and love, war's long shadow over the living and our memories of the dead. With exquisite poignancy, Gillham asks what it means to survive profound trauma and find hope in a broken world." —Jennifer Rosner, author of The Yellow Bird Sings
"Straddling the ragged line between guilt and tender mercy, SHADOWS OF BERLIN is Gillham at his best, writing compelling, evocative history. He is a master wordsmith who deftly pulls us down winding corridors riddled with broken spirits and haunting ghosts on a quest for absolution. An unspeakable past unspools in spits and sputters. Gillham nimbly sews the scraps together. The result is a riveting story that is unputdownable."  —Leah Weiss, bestselling author of If The Creek Don't Rise and All the Little Hopes
"I have been a fan of David Gilham's work since City of Women and his latest, SHADOWS OF BERLIN, is his best yet.  The story of Rachel, a Holocaust survivor, who seeks to start a new life in New York City with her American-born husband, Aaron, but cannot outrun the secrets of her past and what she did to survive, is haunting and enigmatic.  Gilham writes about both the war and its aftermath with a sure hand, placing readers in the shoes of his memorable characters and compelling them to ask what they would have done.  Reminding us that history is made up of infinite individual choices, SHADOWS OF BERLIN is a masterful story of survival and redemption." —Pam Jenoff, New York Times bestselling author of The Woman with the Blue Star
"David Gillham has written a deeply moving story about an aspect of the Holocaust that few people know about – how thousands of survivors came to New York City to restart their lives and escape demons from the past. But some have a hard time dealing with the guilt, shame, and anger caused by the terrible experience. Gillham paints a vivid picture of their life in post-war New York while imaginatively linking it to their ordeal in wartime Berlin." —Charles Belfoure, New York Times bestselling author of The Paris Architect
Discussion Questions
1. Aaron is extremely impatient for children. Why is Rachel reluctant to start a family? Does Aaron respect her reasoning?
2. Rachel's uncle, Feter Fritz, is an important character in Rachel's life. Yet he is often manipulative and self-serving in his behavior toward her. Why do you think she puts up with him and continues to go out of her way to maintain his affections?
3. In many ways, Rachel resists thinking of herself as traumatized. What prevents her from feeling "worthy" of her struggles with mental health?
4. Characterize the Red Angel. Did your opinion of Angelika change as you learned more of her story? In Rachel's position, would you have accepted her help in New York City ten years after the end of the war?
5. What does Aaron expect Rachel to get from her appointments with her therapist? What does she actually achieve through therapy?
6. What is the root of the rivalry between Aaron and his cousin Ezra? What does the character of their rivalry say about Aaron? How does Rachel react to their rivalry?
7. Had you heard of Jews living as U-boats during the war before reading the book? How did hiding in plain sight provide safety, and how did it increase danger?
8. Compare Rachel's and Aaron's relationships to Judaism. How do they deal with the differences in their experiences?
9. Why does Rachel become so invested in Naomi and Tyrell's rela- tionship? Do you think she helps them?
10. Rachel feels responsible for carrying on the legacy of the many Jews who lost their lives, including her mother. What actions does she take to fulfill this responsibility? How do you contribute to the leg- acy of your ancestors?
Interviews
A Conversation with the Author
Where did the idea for Shadows of Berlin come from? Where do you start when writing a new book?
I had been very interested in the idea of survivor's guilt, and I wanted to explore the aftereffects of trauma and what the living owe to the memory of the dead.
All your books have dealt with World War II in some way. What brings you back to this era in history?
I have been interested in the Second World War since childhood. On a personal note, my father served in the army during the war. More broadly, I believe the war shaped the world we live in today. And we are still dealing with many problems the war created or failed to address. So I believe it remains relevant and very fertile ground for fiction.
While we come to understand Angelika, the narrative does not for- give her actions. Do you think it matters why people do bad things? Should it change the consequences they face?
I have always searched out the "gray" areas of my characters' actions and intentions. No one is totally good or totally bad in my books; no one rides for free. Everyone must pay a price for their actions. I don't expect readers to feel any particular sympathy for Angelika. In the end, she was still a murderer. But I do hope readers are moved to discuss the relationship between trauma, power, and personal actions and their consequences and come to their own conclusions.
Rachel's development of her self-portrait is vividly rendered. How would you compare her artistic process to your own?
In some ways, they represent two very different approaches to art. Rachel paints to both honor her mother's death and forgive her moth- er's abuses. Also to forgive herself. There is a great desperation fueling Rachel's painting.
My writing, on the other hand, is less of a compulsion and more of a vocation. (Though I can never imagine myself quitting the habit!) And yet? At a basic level, both Rachel and I are compelled to create. Growing up, I had a strong interest in both history and art and thought I might become a historical illustrator. But writing eventually won me over. Still, Rachel and I share the joys and trepidations of creating a whole out of nothing—whether we are faced with an empty canvas or a blank page.
When they meet, Rachel is still a refugee in a Lower East Side residence hotel. Aaron is at loose ends, unsure of his direction after the army. Rachel is in need of security, and Aaron is a young man in search of purpose. Why, as the author, would you say they fell in love? What are their greatest challenges to their marriage?
They fell in love because they both felt lost, and marriage seemed a perfect refuge for them. But Rachel has secrets that disrupt the "normal" life she is supposed to be leading. Her heart is a secret, even to herself. And as the book opens, after seven years of marriage, things are not so simple between them. Aaron likes married life, though marriage to a former displaced person is not as easy as he might have imagined it. She's a refugee from the ash pit of Europe, lovely and feline and exotic—and broken. He thought he was saving her, of course. A Jew from Flatbush making the ultimate American mitzvah—saving the persecuted waif from her own brutalized past. But as it turns out, maybe he's not the savior he thought he might have become. Maybe he needs some saving himself.
And as the story spins, both Rachel and her husband must deal with their own brands of guilt. Rachel's guilt is triggered by her horrific experiences during the war and by the lengths she was forced to go to in order to stay alive. And Aaron's guilt is that of one of the multitude of American Jews who, while the chimneys of Auschwitz smoked, lived lives sheltered by democracy, safe from the atrocities perpetrated across the ocean. All this is wrapped up into Aaron's desire for children and Rachel's resistance.
Though Rachel finds a sense of equilibrium at the end of the book, she is not "cured" of her trauma. What do you most want readers to take away from this representation of her emotional health struggles?
I don't think that grief and guilt are easily overcome. A person can spend a lifetime coping with them. But this is a story of survival and redemption. It's a story of the trauma, of self-preservation, and of betrayal and remorse. But in the end, I do want the reader to believe that it is also a story of hope. Because hope is a vital regenerative force.