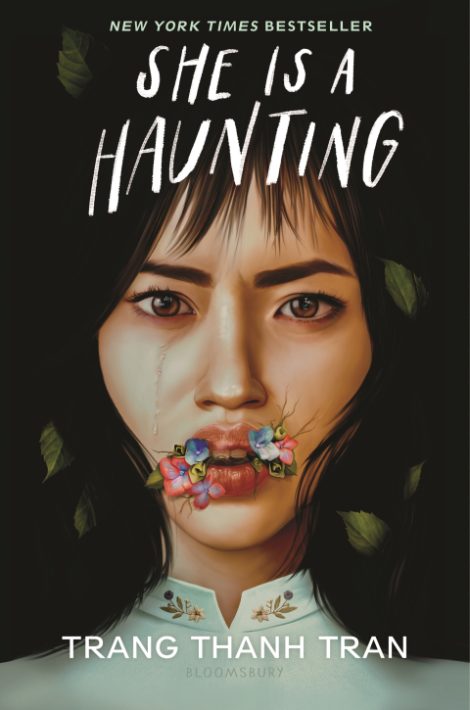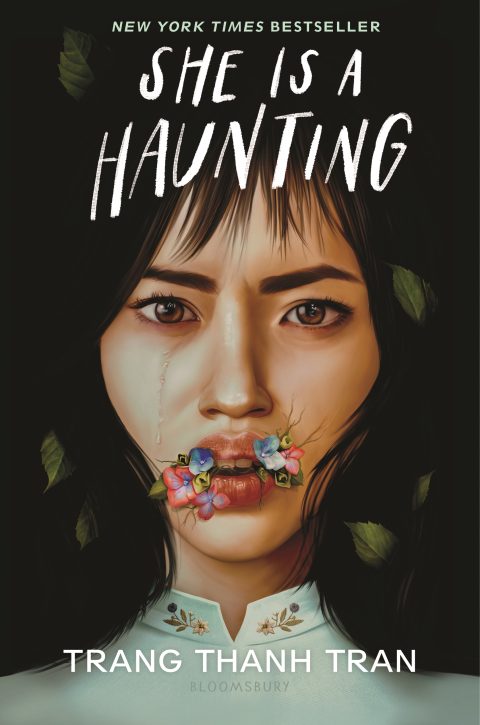 SHE IS A HAUNTING
---
In this gorgeously written, deeply haunting ghost story, debut author Trang Thanh Tran explores complex family dynamics and exhilarating romance as a teen girl tries to save her family and herself from a deadly haunted house.
This house eats and is eaten . . .

A House with a terrifying appetite haunts a broken family in this atmospheric horror, perfect for fans of Mexican Gothic.
When Jade Nguyen arrives in Vietnam for a visit with her estranged father, she has one goal: survive five weeks pretending to be a happy family in the French colonial house Ba is restoring.
In this gorgeously written, deeply haunting ghost story, debut author Trang Thanh Tran explores complex family dynamics and exhilarating romance as a teen girl tries to save her family and herself from a deadly haunted house.
This house eats and is eaten . . .

A House with a terrifying appetite haunts a broken family in this atmospheric horror, perfect for fans of Mexican Gothic.
When Jade Nguyen arrives in Vietnam for a visit with her estranged father, she has one goal: survive five weeks pretending to be a happy family in the French colonial house Ba is restoring. She's always lied to fit in, so if she's straight enough, Vietnamese enough, American enough, she can get out with the college money he promised.
But the house has other plans. Night after night, Jade wakes up paralyzed. The walls exude a thrumming sound while bugs leave their legs and feelers in places they don't belong. She finds curious traces of her ancestors in the gardens they once tended. And at night Jade can't ignore the ghost of the beautiful bride who leaves cryptic warnings: Don't eat.
Neither Ba nor her sweet sister Lily believe that there is anything strange happening. With help from a delinquent girl, Jade will prove this house–the home they have always wanted–will not rest until it destroys them. Maybe, this time, she can keep her family together. As she roots out the house's rot, she must also face the truth of who she is and who she must become to save them all.
Bloomsbury YA
Hardcover
February 2023
352 Pages
9781547610815
Praise
Instant New York Times and Indie Bestseller!
"A riveting debut from a remarkable new voice! Trang Thanh Tran weaves an impressive gothic mystery in which Jade's father is determined to restore a decrepit home to its former glory and Jade is the only person who feels the soul-crushing devastation of colonialism lingering within its walls." —Angeline Boulley, #1 New York Times bestselling author of The Firekeeper's Daughter
"She Is a Haunting is a beguiling feast of a book that drew me in immediately with its exquisitely unsettling atmosphere, vivid prose, and creeping horrors—both supernatural and all too human." —Kate Alice Marshall, author of I Am Still Alive and Rules for Vanishing

"This exquisitely disturbing tale of identity and colonialism and intergenerational trauma will eat its way under your skin and live there forever. Read this one with the lights on. I'm ready to be haunted by whatever Trang Thanh Tran writes next." —Emily X.R. Pan, New York Times bestselling author
"A welcome addition to the quickly growing canon of culturally diverse, queer horror . . . The result is an atmospheric horror novel that teens with a penchant for the grotesque will delight in unfolding, bit by rotting bit." —BookPage
"This is a multi-layered exemplar of the horror genre, as the terrifying supernatural aspects of this story combine with the equally horrific colonialist history of this home . . . All of that is then topped off with a compelling exploration of the dynamics of estranged families and how culture, identity, and feelings of what is home can vary dramatically from generation to generation." —BCCB
"Hair-raising supernatural horror debut . . . Tran smartly weaves Vietnamese culture and real horrors of French imperialism to deliver an eerie tale overflowing with deeply unsettling atmosphere." —Publishers Weekly



Discussion Questions
1. What is your relationship to the horror genre? Did you go into this book being familiar with the horror genre, and how did that inform your expectation?
2. Under the jump scares and horror imagery lies a more cerebral fear: Jade's feelings about her identity as a queer woman and as a Vietnamese American, and her relationship to her family and their generational trauma from colonialism. Why do you think her story was told through this haunted house narrative?
3. What elements of the story did you find scariest?
4. The author uses the meals Ba cooks for his family as both a bonding agent for the family, and a medium through which the house can enact violence on them. What did you think of the descriptions of food? Have you tried cooking any Vietnamese recipes?
5. In the story, there's a strange symmetry between the parasitic nature of the bugs, and the relationships people have to the houses they live in. The author has spoken about being inspired by the idea that houses could tell stories about what they've seen. What did you think of the house's chapters? If you could hear the perspective of one house, which would it be?
6. Did you know anything about the French colonization of Vietnam prior to reading this book? What surprised you most about Jade's family history?
7. Who is your favorite character? What do you think of the ghosts?
8. If you were in Jade's place, would you stay at the villa for the full five weeks in order to get money for college?
9. There's a tradition in Gothic literature about dramatic climaxes in which the house (or other central setting) is destroyed, often by fire. Did you see the ending coming in this book? Why do you think the author wrote the final act to play it out this way?
10. Will you read more horror after this?
Excerpt
THIS HOUSE EATS AND is eaten.
Memories mar the wood, pencil in the heights of children, and wear the scuff marks of well-loved feet. There are echoes that do not stop echoing, trapped in nooks and old curtains, until they're found again—still screaming or laughing, voices dead or gone. What parts are undigested lie waiting. There is no real organ here to rot, only soft wood that termites consider and wasps hollow. But shut the door tight and something can still die.
The body becomes full of things it did not ask for.
So, when a door opens, it is this: the first page of a menu.
I AM A TOURIST in the country where my parents were born. Even my clothes have been here before me. All made in Vietnam by Vietnamese hands, then sent overseas where a Vietnamese American girl (that's me) picks it off the rack and one day brings it to a place she can't call home but the clothes can, if inanimate objects could claim shit. I'm not bitter or confused, at all.
My fingers tighten on the cart I'm pushing out of Đà Lạt's airport. People stream around me, laboring under giant back- packs, which really is the only thing that would make it more obvious I don't belong. Like hell I'd do one of those "finding yourself " trips though.
I only have this summer to make up the money for UPenn.
Lying to Mom about getting a full scholarship was the only way to stop her from taking out loans, when she works seventy-two-hour weeks at the nail salon already. My Walmart
on weekends and scooping out "Ice Custard Happiness!" part- time every summer at Rita's was just enough to cover SAT registration and college application fees after my little sister's club expenses. That leaves Ba. His money is the thing that's gonna make it happen, and I have to see him.
That's his condition.
"There he is!" Lily yells, bounding off the cart to sprint toward the idle cars. Ba steps out of a beat-up truck, opening his arms for my sister. He's still slight, tanned a reddish brown, with black hair trimmed thin. Lily's already telling him everything he's missed in the past, oh, four years of sparse calls.
"Jade," he says when I finally catch up.
"Dad." There're too many sounds in my mouth. This untrained tongue. I don't know how to say hello or I miss you in Vietnamese. We'd never said either much, and I don't miss him. I hate him.
Ba squeezes Lily's shoulder, but his eyes stay on me. I'm almost as tall as him now. "Where's your brother?"
"He stayed in Saigon with Mom," I say. Bren barely remembers Ba, or so he claims, so he'd rather hang out with our cousins on Mom's side for the rest of the trip.
We stare at each other before I toss both suitcases into the back, shuffling aside wood planks. I take the middle spot up front since the seat belt's shit, which makes Lily's face do a fake- angry thing until Ba gets in the truck. It shifts into gear, and we're on our way.
It's quiet, then quieter as the other cars and motorbikes fade away. Lily's voice is as familiar as a heartbeat, filling the space
between us. The air cools against my face, smelling sharply of pine and flowers rather than Saigon's smoke-tinged lungs. Green and gray, soft hints of yellow, and a pink sunrise unfurl to my right.
Mountains rise from the mist like candles in an uneven but- tercream. I want to smash them down with my thumbs. It's ridiculous that Đà Lạt is so beautiful when I am this angry.
"We're fifteen minutes from the city," says Ba. "Closer to our house."
I want to correct him: it's not my house. I don't belong here. Stay the summer, five weeks, and you get what you want, he told me during the April call. Will I? Ba spent years building the per- fect houses that aren't ours, all time lost in a black hole where a thirteen-year-old girl had to become a father for her siblings.
"How's your mom?"
"You could call her." My attempt at casual comes out bitchy, which Lily confirms by lodging an elbow in my rib. I step on her toes. "But she's fine." It's the first time Mom's come back in decades, since she stepped onto a boat drifting for an American dream. From the moment we landed in Saigon from Philly, Mom started crying, then sobbing and laughing as she hugged her sisters and brothers. Her family is overwhelming in the best way, which means the entire week was food and karaoke, and so much of her laughing. It gnaws at me, how I could've taken this visit away from her just for tuition money.
Ba slows around another bend on the road. The forest closes in, branches near enough to brush the truck hood, like braided fingers urging us back to the earth. We're so tucked away no one would be able to hear a scream. Glass blinks between treetops, the dark eyes of abandoned houses.
"The French left them, after the Americans ran," Ba says. I roll my eyes. Communism: bad for real estate.
The truck veers onto a dirt driveway where pines cluster all around. The heady fragrance of flowers thickens, luring us closer. We stop.
The house juts upward, yellow and tangled in vines. Roots crisscross the body, grow into wood, and drag it whole into the hill. Hydrangeas climb the crumbling walls beside tall and thin windows, their white blooms kissed with lazy bees. They're the most loved thing here.
I stand in its shade, dizzy when I look up, either from jet lag or all these damn flowers, I don't know. An antique balcony, with iron bent at odd angles, leans from the second floor.
Below it, a girl sits on the stair's railing, balancing, precarious, her hair as shiny as oil over cast iron.
Beside me, Ba introduces his business partner Ông Sáu, who joined us from the other parked car. The bald man waves. "This is my niece, B—"
"Florence," the girl cuts in with a sawtooth smile.
"Nice to meet you, Florence," I say, emotionless and pleasant in the same way I greet white people. No handshake though. I drag the suitcase by her, hoping I don't look as greasy as I feel.
Her midriff is exposed beneath a loose bomber. She quirks a brow before twirling a hand as if ending a magic trick. "And you, as well." She speaks in English, accented with Vietnamese tones.
The two business partners are oblivious to our awkwardness as they talk about upcoming repairs before the house's grand opening. While Lily fidgets at our dad's side, Florence is close to me at the top of the steps, her brown eyes clever and wrinkling as though we share a secret. She slides down the railing. Part of me is pulled along, wanting to learn how her perfect mouth moves between our languages.
It's the sound of Ba's laughter that drives me indoors. I'd thought only Mom could coax that joy out, but I am wrong, as always, about him. Mistakes take one moment to unravel, and I've nearly made several just now. Too much is riding on these next five weeks to entangle myself in the false hopes of reconciling with Ba or knowing this girl.
The door shuts behind me, and it's like I'm back in the thick heat of Saigon. Something here is newly sanded, freshly painted. I smell an unfamiliar life pressing itself around me before a sweet scent roots me back in Đà Lạt. Pastel blushes of hydrangeas are potted along the windows, their large shadows unfurled over empty rooms. Needing escape, I take the curved steps two at a time and land in a hallway of closed doors. All the doors, except one. A blade of light slices into the darkness, and I follow.
The room swallows me in brightness. Crown molding weighs the walls with such fancy, sharp edges that I expect Michelangelo's angels to be among them. The bed frame, carved with roses, has a headboard in upholstered velvet, also fancy, and I flop down without fuss. My suitcase falls over as the voices outside fade and a car starts.
I stay that way for a while, alone, because the truth is this: Ba left us, all three of us with Mom and no child support. He doesn't get to come back.