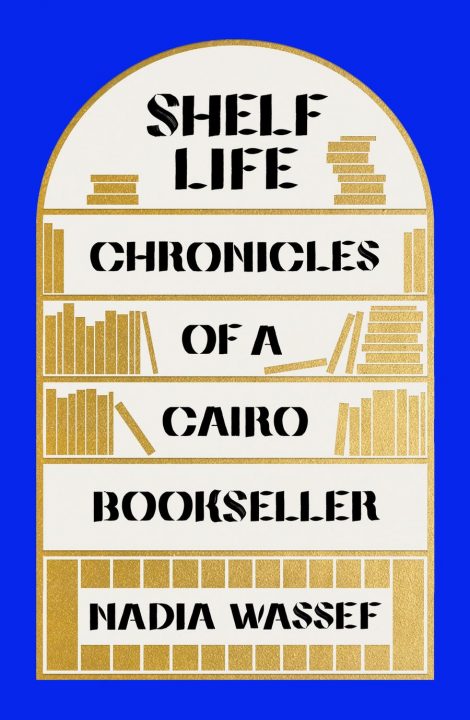 SHELF LIFE
Chronicles of a Cairo Bookseller
---
The warm and winning story of opening a modern bookstore where there were none, Shelf Life: Chronicles of a Cairo Bookseller recounts Nadia Wassef's troubles and triumphs as a founder and manager of Cairo-based Diwan
The streets of Cairo make strange music. The echoing calls to prayer; the raging insults hurled between drivers; the steady crescendo of horns honking; the shouts of street vendors; the television sets and radios blaring from every sidewalk. Nadia Wassef knows this song by heart.
In 2002, with her sister, Hind, and their friend, Nihal, she founded Diwan, a fiercely independent bookstore.
The warm and winning story of opening a modern bookstore where there were none, Shelf Life: Chronicles of a Cairo Bookseller recounts Nadia Wassef's troubles and triumphs as a founder and manager of Cairo-based Diwan
The streets of Cairo make strange music. The echoing calls to prayer; the raging insults hurled between drivers; the steady crescendo of horns honking; the shouts of street vendors; the television sets and radios blaring from every sidewalk. Nadia Wassef knows this song by heart.
In 2002, with her sister, Hind, and their friend, Nihal, she founded Diwan, a fiercely independent bookstore. They were three young women with no business degrees, no formal training, and nothing to lose. At the time, nothing like Diwan existed in Egypt. Culture was languishing under government mismanagement, and books were considered a luxury, not a necessity. Ten years later, Diwan had become a rousing success, with ten locations, 150 employees, and a fervent fan base.
Frank, fresh, and very funny, Nadia Wassef's memoir tells the story of this journey. Its eclectic cast of characters features Diwan's impassioned regulars, like the demanding Dr. Medhat; Samir, the driver with CEO aspirations; meditative and mythical Nihal; silent but deadly Hind; dictatorial and exacting Nadia, a self-proclaimed bitch to work with—and the many people, mostly men, who said Diwan would never work.
Shelf Life is a portrait of a country hurtling toward revolution, a feminist rallying cry, and an unapologetic crash course in running a business under the law of entropy. Above all, it is a celebration of the power of words to bring us home.
Farrar, Straus and Giroux
Hardcover
October 2021
240 Pages
9780374600181
Praise
"As a bookseller, I loved Shelf Life for the chance to peer behind the curtain of Diwan, Nadia Wassef's Egyptian bookstore—the way that the personal is inextricable from the professional, the way that failure and success are often lovers, the relationship between neighborhoods and books and life. Nadia's story is for every business owner who has ever jumped without a net, and for every reader who has found solace in the aisles of a bookstore."—Emma Straub, author of All Adults Here
"Shelf Life is such a unique memoir about career, life, love, friendship, motherhood, and the impossibility of succeeding at all of them at the same time. It is the story of Diwan, the first modern bookstore in Cairo, which was opened by three women, one of whom penned this book. As a bookstore owner I found this fascinating. As a reader I found it fascinating. Blunt, honest, funny."—Jenny Lawson, author of Broken (in the best possible way)
Excerpt
1
THE CAFÉ
To the uninitiated pedestrian, Diwan was just one of several shops behind the Baehler mansions' ornate exterior. The traditional royal-blue street sign read Shari' 26 Yulyu, 26th of July Street. We'd placed our logo, in formidable black text, on the building's façade. A supplicant jacaranda bowed over the shop entrance. The glass front door, which faced the street corner, was adorned with modern Arabo-Islamic designs and a long silver handle.
Inside was an oasis from the hot, traffic-choked street. Strains of Arabo-jazz, Umm Kulthum, and George Gershwin were underscored by the mechanical din of air-conditioning units. Beneath a mighty wall with signs for recommendations, bestsellers, and new releases, Arabic and English fiction and nonfiction books cascaded from floating shelves. Visitors could either walk through the doorway on the right to the book section, past the cashier and stationery, or enter the left doorway into the multimedia section, a curated collection of boundary-crossing film and music: experimental and classic, Eastern and Western.
During the research phase of setting up Diwan, I'd read an article stating that most people turn right upon entering a bookstore. Swayed by this observation, we placed the book section of Diwan to the right. There, the windows looked out onto the adjoining courtyard rather than the main road, making it the quieter part of the store. High ceilings lined with tracks of incandescent lighting illuminated mahogany wood shelves with a matte-steel trim—a marriage of old and new. The books were split into two categories. On the left were our Arabic books, which Hind stocked. On the right were the English books: my domain. We placed our modest selection of French and German titles in the multimedia section. A nearby entryway led to the café, the central hearth of the store.
Customer-service staff circulated through the rooms dressed in Diwan uniforms: a navy-blue polo shirt with our logo stitched in beige on the left-hand side, and beige pants with the pockets sewn shut to prevent theft. They offered their knowledge, trying to strike a balance between eagerness and professional distance. Their job was more demanding than that of booksellers elsewhere, especially when we first opened, when most customers were completely unfamiliar with Diwan's approach.
I understood their confusion.
Before Diwan, there had been three kinds of Egyptian bookshops: those mismanaged by the government; those affiliated with particular publishing houses; and the small local shops, which primarily sold newspapers and stationery. The government bookshops left the strongest impression on me. As a university student, I used to take taxis to Cairo's city center, where the Armenians once ran guilds; the Italians, department stores; and the Greeks, groceries. I would travel along the main roads of my city, all named after dates of historical significance. (26th of July Street was formerly called Fouad I, after the first king of modern Egypt. It was renamed for the day Fouad's son, Farouk, left the country on his royal yacht, during the 1952 revolution led by Nasser [the son of a postal worker] and Mohamed Naguib, who would become Egypt's first president.)
Downtown, I would enter tomb-like shops lined with books encrusted in dust. There were plenty of shelves but very few signs. Each shop seemed to have one man at the front desk, sipping tea and sleep-reading a newspaper. I'd request a title, and the man would slip his bare foot partially back into his sandal, leaving his cracked heel to press upon the floor. Without lowering the radio, he would heave himself up, disturbing the settled particles on the creaking boards beneath him.
* * *
Why were these bookshops so decrepit? The answer is, in part, historical. In Egypt, the past lives within the present, often revisiting it in disguise and never fully disappearing. Establishing Diwan forced us to acknowledge the histories of publishing and bookselling, histories that continued to dictate the contemporary industry. In 1798, the Napoleonic expedition gave Egypt its first two printing presses, one in Arabic and one in French. In 1820, Muhammad Ali, the Albanian Ottoman ruler and the father of modern Egypt, had an industrial printing press installed in the neighborhood of Bulaq (named after the French beau lac). Under his rule, publishing became a propaganda tool.
In the latter half of the nineteenth century, the government relaxed its monopoly on publishing, and then censorship, especially after the British occupation of Egypt in 1882. The upper echelons of society had the means and the interest to invest in print media. By 1900, a barrage of journals—political, social, and feminist—were being published, for consciousness-raising, profit, or both. Newspapers and periodicals published speeches, manifestos, and novels that were first serialized, then made into books. Decades of powerful writing followed from the hands of Egypt's literary masters.
Everything changed after the revolution of 1952. When Nasser took over the presidency in 1956 (as the only candidate on the ballot), he set into motion a range of political initiatives that altered the landscape of Egypt: exponentially improving access to housing, education, and medical care; but also rescinding citizenship from, and deporting, large numbers of foreigners; setting up bureaucracies to mimic those of the British; curtailing civil liberties; and instituting decades of military control. By the 1960s, he'd enlisted the book industry to publish titles that promoted Egypt's new socialist vision and the broader goal of Arab nationalism. But his regime lacked the infrastructure to implement this vision. By 1966, publishers had accumulated staggering deficits, and under the state's motto "a book every six hours," their warehouses overflowed with unwanted titles. Books were printed on poor-quality paper. Covers were flimsy and frequently tore off. There were no literary agents, bestseller lists, or marketing departments. Book signings and book launches were unheard of. Books were delivered from publishers in bundles tightly wrapped with string that left scars on the covers, or in repurposed cardboard boxes that had once held cigarette cartons. This was the landscape that Hind, Nihal, and I had entered. Undaunted, we began to work with this chaos, and against it.
Even before we'd opened the Zamalek shop, practical Hind had systematically isolated and addressed seemingly every obstacle. Around us, a reformist optimism was sweeping the landscape. New investment laws had revitalized the stock exchange. Large numbers of Egyptians who had studied abroad returned eager to take part in their country's future. We were on the verge of an artistic and cultural renaissance—even though we still lacked basic modern amenities. Like bookstores.
Hind helped us ride this wave by solving problems early and often. She visited other bookstores and publishers, taking note of what they offered and asking questions. On these scouting missions, Hind made herself small, subdued, and unthreatening. Other business owners met her inquiries with skeptical and sometimes patronizing responses; she remained unfazed. While speaking to a publishing manager, she discovered that few locally printed book jackets carried ISBNs (an International Standard Book Number identifies every published book). In Egypt, ISBNs were generated one at a time by national libraries, which granted approval only to titles that didn't antagonize the prevailing government. Independent publishers creatively evaded censorship by forgoing the ISBN altogether or "borrowing" the ISBNs of already published titles. Egyptian authors sometimes published in other countries. The absence of those numbers meant that the process of invoicing, dispatching, and tracking books was subject to serious margins of error. National bestseller lists couldn't be compiled. Back at Diwan, Hind faced this hellish realization with characteristic patience. She created a manual for transliterating authors' names and titles into our English-language-based computer system, which covered every probable formation. By adopting this phonetic system, we were able to generate house codes for our Arabic books.
Then, she ventured into the great unknown: sales figures. Bookstores in Egypt had traditionally used manual registers or handwritten receipts. No one knew precisely what they were selling, so no one knew how to stock well. Anyone who did track sales figures kept them secret. Hind defied convention by compiling these numbers and then publishing Diwan's bestseller lists, inciting competition between publishers and authors and introducing readers to new books. This was just the beginning. I never really knew of Hind's plans until after she'd succeeded in them. We both shared a belief that doing preceded talking.
Cairo's depleted bookselling industry had fostered two primary types of readers: those resigned to the broken system, and those, like Hind, Nihal, and I, who wanted an alternative. Diwan's customers held an array of assumptions and attitudes about bookstores. It was our job to detect, and sometimes dispel, their biases. Seasoned readers found their haven here: buying new and selling used books, recommending new titles, and participating in the wider conversation. They personally sought out us owners to discuss errors in customer service and share grievances. They were eager for Diwan to succeed and maintain its standards. To this day, I receive emails and messages on social media from customers who are upset about shipping delays or other issues. Some still want one of the founding partners to personally oversee a sale.
Others had less benevolent intentions.
A typical interaction went like this. "I demand to speak to the owner," a customer would say, marching up to Nihal, Hind, or me.
"I'm one of them," Nihal or Hind would respond. I always tried to recede into the background, busying myself with some suddenly pressing task.
"I need to return this book."
"I'm sorry to hear that. Is there something wrong with it?"
"I bought it. I read it. I don't like it. I want my money back."
From here, the exchange differed based on the listener. Nihal would always nod, helping the customer feel heard. She'd kindly explain that Diwan was not a library. Frequently, the customer would respond and say that we should be one. Wasn't culture a shared resource? At this stage, unable to control myself, I'd jump in, saying how this backward belief was what had gotten us where we were in Egypt—until, after many similar interactions, I finally learned to hold my tongue. Nihal would gently direct customers toward the many government-run libraries that could fulfill their needs, all the while commiserating that Diwan didn't follow the same model. In her encounters, Hind, who had a taste for the absurd, would engage in extensive discussions to test the limits of these customers' logic. In polite tones of faux naïveté, she would disprove their arguments with a debater's agility. If the conversation grew tedious, she would look at her watch and politely excuse herself. Hind is the least punctual person I know. Like my mother, she has a quiet ruthlessness and an ability to subtly dismiss a person if she no longer has time for them.
Other customers were kinder, even as they struggled to navigate this foreign terrain. They'd admire the cleanliness, the meticulous attention to detail, the décor, the staff, and then mount the same challenge: Why was this a store and not a library? Hind, Nihal, and I—forever present on the shop floor—pointed out that a library couldn't sustain the costs of rent, salaries, uniforms, taxes, and the host of other expenditures small businesses contend with. When we were inevitably asked if Diwan was part of Mrs. Mubarak's literacy initiative, we would reply that it had nothing to do with the First Lady or the government—this was a private endeavor. They'd respond with surprise: Why would any sane person invest money in the losing venture of bookselling?
* * *
Even before we opened Diwan, our venture met with disbelief. During our research phase, Ali, Nihal's husband and one of our cofounders, suggested we interview writers about where they bought their books. An alum of the Deutsche Evangelische Oberschule, one of Cairo's German schools, Ali was an avid reader and a people person with an infectious laugh. I marveled at his ability to spark friendships, and maintain them, across generations, continents, and ideologies. One afternoon, we accompanied him on a meeting with one of Egypt's eminent journalists. As the journalist listened to Hind's and my pitch, he looked us up and down. Finally, the journalist issued his verdict: we were bourgeois housewives wasting our time and money. Since the demise of the middle class, people in Egypt didn't read anymore.
"But do things need to be financially sustainable to exist?" I asked the journalist. "Governments maintain public spaces like gardens, museums, libraries, to better the cultural health of nations. So why do you condemn individuals to failure when they go on similar missions?"
"You are young women with no experience of the world. I speak to you as I would to my children. I'm trying to spare you the disappointment. You don't know the challenges that going into business entails, let alone if that business is based on reading. You will be eaten alive by your suppliers and your clients."
Never mind my disappointment, I thought to myself—what about Egypt's? What happens to countries that neglect their cultural projects in favor of dams and highways? The answer was clear to see. Our museums had become graveyards, dead spaces devoted to the triumphs of a few strongmen. Our schoolbooks echoed these lies and omissions. The journalist believed that culture had become a preoccupation of the elite, and that books were irrelevant to people who were fighting to stay above the poverty line. He wasn't wrong. But we had to believe in our store and our books. If we Egyptians became alienated from who we were, we'd never know who we could be.
* * *
Diwan emerged onto this cultural landscape, standing directly at the crossroads of the present and the past. Nihal designed the café accordingly, adapting the intimate tearooms of Quiberon, in western France, where she'd spent summers, for Cairo's bustle. She approached aesthetics with her trademark fairness, pairing marble-topped tables with wooden-and-chrome chairs. The chairs were a compromise—she'd initially wanted more comfortable seating, but Hind thought that that would limit client turnover. Variations of cappuccinos, Turkish coffees, and infusions of chamomile, hibiscus, cinnamon, and mint were listed on one side of the menu; on the other, cheese pâtés, doughy pizzas, slices of carrot cake, brownies, and chocolate chip cookies. Knives and forks, wrapped in napkins bearing Diwan's logo, stood at the ready. Hassan, the principal server, was a Sudanese refugee with a stutter who frequently lost his temper with clients who didn't understand his enunciation. Nihal appreciated his smile as well as his rigorous hygiene standards. Through her coaxing of both Hassan and the clientele, customers grew used to Hassan, and Hassan grew into his words.
Graceful mediation came naturally to Nihal, who was the youngest of three sisters and yet somehow the most maternal of us. I waited to witness a situation where Nihal didn't get her way—I'm still waiting. She's the only person I know who fasts the entire month of Ramadan without complaining once. We have managed to argue for two decades, and forgive each other for two decades.
Nihal's disposition uniquely prepared her for the eclectic characters and behaviors that mingled in our seemingly chaste café. Like most spaces, it had a mind of its own, regardless of what we called it. I remember applying for a license for Diwan. I told the bureaucrat at the municipality office that we would sell books, films, music, and stationery, and that we would have a café. He gave me a blank stare. "You can't," he said in a bored tone, not raising his head from the form in front of him.
"Why not?" I questioned, lacing defiance with naïveté, hoping he would engage with me.
"A space can only be licensed for one activity. You can't be a bank and a school. Pick one."
"Can't I be a teacher by day and a belly dancer by night?" I asked.
He gave a halfhearted smile. "Someone with two mindsets is a liar," he said, quoting a popular saying to terminate our discussion.
"And we're a bookstore," I declared. He sighed, filled in the last line on the form, stamped it with faded blue ink, and handed it back to me, all without glancing up from the next form on his desk. I withheld my final retort: we are a bookstore where people will spend not only money, but time.
* * *
One cruel irony of Egypt in the latter half of the twentieth century: just as people began to have more free time, the physical spaces designed for recreation began to shrink. Urban development encroached on city parks. Promenades and cafés along the banks of the Nile were turned into private clubs for army officers and government syndicates. The "public sphere," a spatial and theoretical concept introduced by the German philosopher Jürgen Habermas, was in transition. Habermas's public sphere describes the social arenas in which people gather to share ideas, where private individuals enter into a collective. The term informed the sociologist Ray Oldenburg's theory of the "third place" (after home, the first place, and work, the second). Third places are locations for community building, which, by his definition, include cafés, like ours. In Egypt, men had their mosques, barbershops, and the ahwa—coffee shops where they smoked sheesha, played backgammon and dominoes, listened to the radio, and watched the television and the world go by. Young men had their sports clubs. Women had their homes, which they rarely owned.
Men are defined by what they do, and women, by their intimate relationships. Take Ada Lovelace. Even though she was a renowned mathematician and the world's first computer programmer, she's probably just as famous for being Byron's daughter. A few years after we founded the shop, customers, friends, and acquaintances began calling me "Mrs. Diwan." I'd begun spending all my time at Diwan. I dreamed of Diwan. I was at my desk by eight o'clock most mornings and left well into the evening. I wanted to overlap with the morning and afternoon shifts, as well as make sure that staff in the head office knew that I would be there when they arrived and after they left. And when I wasn't there, I was thinking about Diwan. It was true that my identity had gradually become indistinguishable from the store's, in a way that threatened my relationship with Number One—but more on that later. Still, I bristled at the idea that even in my sobriquet, Diwan was positioned as "the man," making me subservient to the very thing I'd created.
* * *
Bookstores are both private and public spaces, in which we escape the world and also participate in it more fully. Our café in particular held these contradictions: a place where friends gathered, where people lingered for hours (despite the chairs), where I often brought my daughters on the weekends. A place that resembled a home but that wasn't a home. Prior to becoming Diwan, the whole shop had been a testosterone-filled gym called Sports Palace. I savored the irony of our female-owned-and-operated bookstore replacing that temple of masculinity.
Hind and I had grown up in a world that constantly excluded us; it neither belonged to us nor granted us belonging. As kids, most mornings, we would leave our home at seven thirty and walk down the muted marble corridor to the elevators. I would press the button over and over—out of impatience, and disbelief that the elevator had registered my request. I hated the steel cuboid with neon lights that had replaced the original Schindler wooden compartment, with its foldable miniature banquette and bronze, crystal-domed ceiling light, but going down four flights of marble that were coated in soapy water from the morning cleaner seemed ill-advised. A hospital-like tone announced the elevator's arrival. Most mornings, the left panel slid into the right to reveal one of our neighbors from the floor above: an older gentleman, with a lit cigarette between his lips. We would enter the matte-silver compartment, watching the rings of smoke, holding our breath in protest. If I had been a man, would he have extinguished his cigarette on the floor the moment I entered? The elevator nodded into place on the ground floor. As soon as the doors opened, we pushed our way out, past a fresh puff.
I remember one formative conversation I had with my father when I was a teenager. Following some long-forgotten infraction, I complained to him about this world, the world I was beginning to understand kept women in their place. He drew my attention to the next world: in the Muslim promise of heaven, houris—beautiful virgins—are offered as rewards to pious men.
"It's a man's world. Change it on your own time, but until then, learn to deal with it," my father suggested with gruff pragmatism.
"How can heaven be so exclusionist? Why should I even try to be good if all I end up with is a bunch of virgins?" I cried.
"You aren't the target audience," my father said, laughing at the world he glimpsed through my eyes.
"God's bestseller has half the world as a captive audience, that's the problem."
"As always, you are misdiagnosing the problem." He placed his rectangular glasses on the rim of his nose, picked up the newspaper, and resumed his reading, with one afterthought: "Maybe one day you can push other bestsellers."
* * *
We decided to make Diwan a space that catered to us, rather than the other way around. Soon, other women began to find respite in Diwan—a home away from the burdens of home, a public place less fraught with the pressures of being a woman in public, where we are constantly reminded of our nonexistence. Public toilets in Egypt were normally attached to mosques or churches. The state offered few other alternatives. Men were free to urinate under flyovers or against the sides of buildings. Women's toilets in public spaces were putrid-smelling holes in the ground, flooded by running taps. Soap and toilet paper were never available, and no one expected them to be. It was this reality that brought to Diwan an entire cross-section of women who were not necessarily readers but who found relief at the end of its winding corridors: it became their toilet on 26th of July Street. Few shops had facilities, and if they did, the proprietors were not inclined to share them. Diwan was more gracious. And the café, with its book-covered walls, became a makeshift barrier between women and their harassers, men who knew that we, the women of Diwan, wouldn't tolerate their hostility.
Diwan's café served numerous purposes and patrons. Ardent readers browsed through the pile of books they had collected before making their selection. Visitors came to idle away a portion of their days, while others made it their gathering place, catching up with old friends or acquaintances they didn't want to host at home. Gray economies unfolded over the marble-topped tables: people had their astrological charts or fortunes read, while nearby, private tutors coaxed reluctant pupils.
* * *
"She's back at her usual table. In four hours, she has consumed one Turkish coffee and a bottle of water," said Nihal one day, with a hint of irritation.