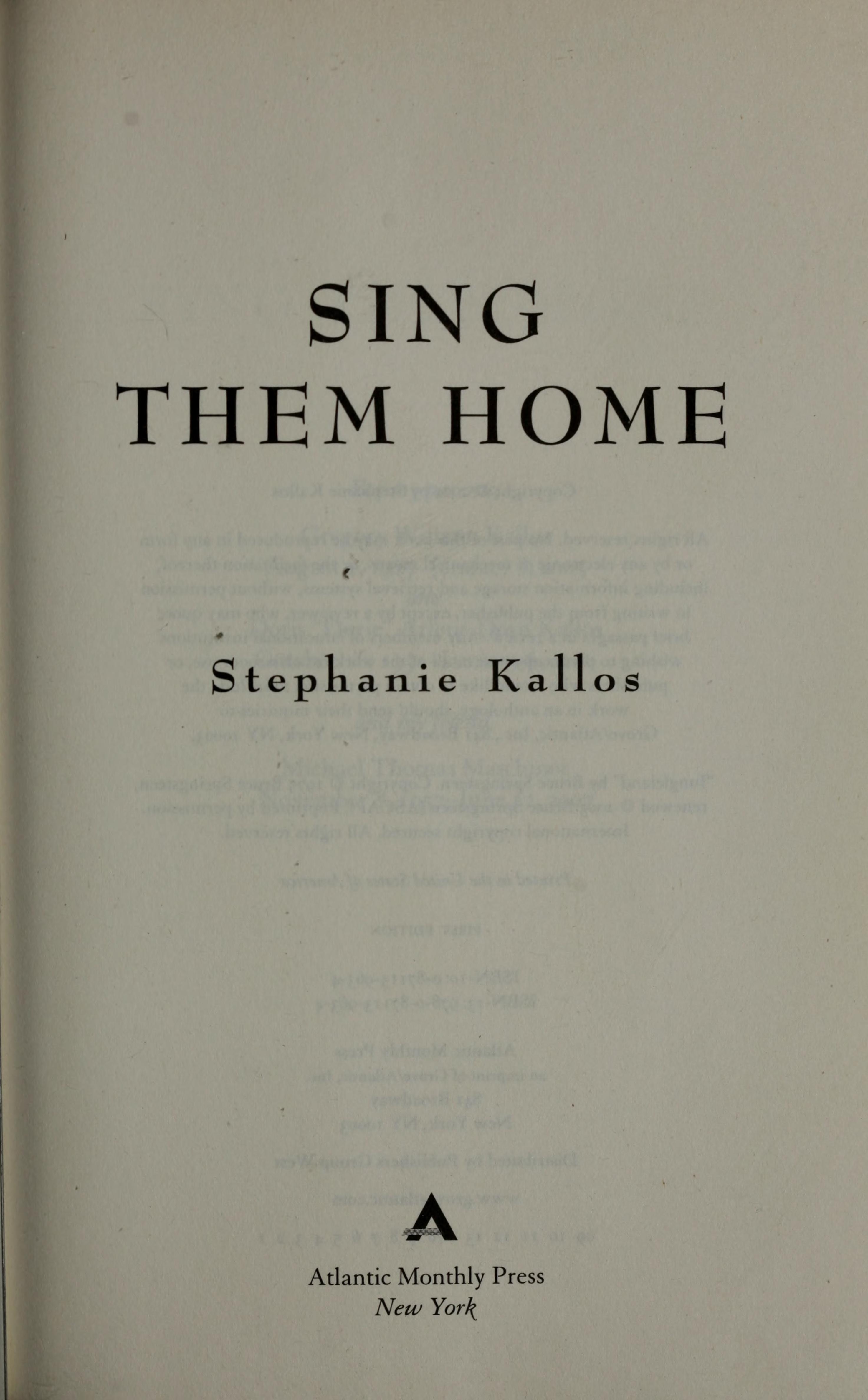 SING THEM HOME
---
Sing Them Home is a moving portrait of three siblings who have lived in the shadow of unresolved grief since their mother's disappearance when they were children. Everyone in Emlyn Springs knows the story of Hope Jones, the physician's wife whose big dreams for their tiny town were lost along with her in the tornado of 1978. For Hope's three young children, the stability of life with their preoccupied father, and with Viney, their mother's spitfire best friend, is no match for Hope's absence. Larken, the eldest, is now an art history professor who seeks in food an answer to a less tangible hunger;
Sing Them Home is a moving portrait of three siblings who have lived in the shadow of unresolved grief since their mother's disappearance when they were children. Everyone in Emlyn Springs knows the story of Hope Jones, the physician's wife whose big dreams for their tiny town were lost along with her in the tornado of 1978. For Hope's three young children, the stability of life with their preoccupied father, and with Viney, their mother's spitfire best friend, is no match for Hope's absence. Larken, the eldest, is now an art history professor who seeks in food an answer to a less tangible hunger; Gaelan, the son, is a telegenic weatherman who devotes his life to predicting the unpredictable; and the youngest, Bonnie, is a self-proclaimed archivist who combs roadsides for clues to her mother's legacy, and permission to move on. When they're summoned home after their father's death, each sibling is forced to revisit the childhood tragedy that has defined their lives.
With breathtaking lyricism, wisdom, and humor, Kallos explores the consequences of protecting those we love. Sing Them Home is a magnificent tapestry of lives connected and undone by tragedy, lives poised—unbeknownst to the characters—for redemption.
Atlantic Monthly Press
Hardcover
January 2009
560 Pages
9780871139634
Praise
"Sing Them Home ushers us into small-town life, with all its distinctive cultural nuances, eccentric personalities, and homegrown secrets. With the same beauty and lyricism of her first novel, Broken for You, Kallos stitches together a colorful patchwork of memories and images, creating a rich narrative fabric that develops and changes as it passes through each character's hands."
—Heather Paulson, Booklist
"[A] fresh, invigorating novel . . . Kallos tenderly shows us [her characters'] failings as they stumble, in a realistic and satisfying manner, toward better selves. Highly recommended."
—Library Journal (starred review)
"Enthralling . . . [Sing Them Home] will find a welcome audience in anyone who has experienced grief, struggled with family ties or, most importantly, appreciates blossoming talent."
—Publishers Weekly (starred review)
"Brilliant . . . A richly textured, deeply satisfying, and enduring read–a whirlwind of aching sadness, secret histories, sex that's by turns empty and angry and sloppy and transformative, moments of great sweetness and joy that are never saccharine, and ultimately, resolution and redemption that are well-earned and in no way false or forced. Before Sing Them Home, Kallos was already, arguably, the best first-novelist of the Aughts; now it's abundantly clear that she's becoming quite a bit more than that."—Stephan Nathans-Kelly, First Look Books blog
Discussion Questions
Tornados frame this whirlwind of a book, those of 1978 and 2004 in Nebraska. How are these events both apocalyptic and miraculous? See pages 531-533 for a dizzying tornado experience.
What does the title mean? How is the Welsh singing a lifeline for Emlyn Springs? Are music and tornados linked in some kind of magic realism? Look at pages 162-163: a whole town sings to a stranded child in a wind-carried, upside down cedar tree.
After she is miraculously rescued, still on her bicycle seat, Bonnie believes she has seen her mother swirled into the atmosphere into the arms of an angel. "The event shaped Bonnie Jones to believe in the improbable, that's sure, and in magic" (p. 163). Is Bonnie's oblique angle on life a curse or a gift for her?
"It's grotesque, Hope. . . . It's part Irish wake, part Jerusalem wailing wall, and entirely morbid" (p. 131). Is Llewellyn's view of "singing them home" accurate? "In Emlyn Springs, no one is said to be truly dead until they've been sung to in this manner" (p. 139), in chorus, in shifts, for seventy-two hours. Is this a stunningly appropriate ceremony for the passing of a human life?
What kind of person is Llewellyn Jones? How soon does Hope see their marriage as a mismatch? Do we credit her early opinion that he was closed and incommunicative? (Does he seem to be the same person with Viney?) How is he as a father? What does Hope see as his treacheries? How much does she care about his infidelity? How do Dr. Jones's medical ethics come into question?
Another natural disaster is the lightning bolt that strikes Llewellyn down. Do you accept Viney's theory that he was complicit in his own death? That he was bringing a judgment on himself? "He wanted to die. He was not hers. They never really belonged to each other" (p. 72). Yet the children assure Viney that their father and she had made a marriage together.
What are some of the interpolated stories that might at first seem diversions but actually give insight into central concerns of the book?
Both Gaelan and Larken achieve success in their careers. How do both suffer humiliation and debacle?
What can we say about the nature of friendship in the book? Hope and Viney? Larken and Jon and Esme? Bonnie and Blind Tom? Others? What is suggested about relationships that begin in friendship and end in romance?
How do hate and love coexist in friendship, love affairs, and marriage in this book?
Were you surprised by the Hope that emerged in her diary? Does this Hope seem different from what you expected? Does she continue to reveal new facets as the story goes on? Does this repeated device of the diary bring the past to life again? "I have the disease to thank for this clearsightedness" (p. 500).
How much do the characters know about each other? Larken's secret vices must be obvious from her shape, but can anyone in her department or family understand the magnitude of her addiction? Gaelan, too, displays outwardly his workout obsession, but who really assesses his promiscuity before he is investigated? Does Bethan take his measure? How does the quilt work both for and against him?
"Unique to midwesterners, Larken has observed over the years, is an uncanny ability to make a statement of absolution insinuate blame and incite guilt" (p. 112). Is it unique to midwesterners? (Some who read Joy Luck Club thought, yes, it's Chinese mothers, but also Texas mothers, Jewish mothers, Italian mothers, etc.). Here it's Viney, with all her virtues, turning the screw.
"Hope makes a few quick notes in her diary, characterizing her children: Larken: Heavy, judgmental, fraudulent, afraid. Gaelan: Closed, disconnected, libidinous, un-self-aware. Bonnie: Imprisoned, silent, obsessed. Liars, all of them. And so humorless!" (p. 68). Are these evaluations just?
Why do we care about these people? What is it that makes us curious about their motives and their fates? As neurotic and demon-driven as the three siblings are, how are they also sublimely human and happily inconsistent? Although they are unlikely heroic material, each has moments of real contribution to other people. Give examples.
Some of the most dazzling writing in Sing Them Home shows us the pathological addictions of Gaelan and Larken. Find examples of compelling portraits of a weight-lifting serial seducer and a frantic compulsive eater. Is there hope at the end for the three driven characters, Larken, Gaelan, and Bonnie? Any sense of liberation from their demons?
"The witch remains firmly affixed to her seat, feigning frailty and trying to simulate a compassionate expression. She must be ninety if she's a day, Larken reflects. Why do the mean ones always live the longest? 'Hello, Miss Axthelm'" (p. 113). Where else does Kallos give us this kind of refreshing malice?
"Even Blind Tom knows that his eccentricities put him at the fringes of normalcy. How lucky that he landed here, in this small, benevolent, provincial place insulated by geography and human will, where such eccentricities are more than accepted: They are ignored" (p. 332). Describe Emlyn Springs. In some small towns, we recognize people from afar by their walk or the pet on a leash or a favorite baseball cap. In this Nebraska town, people are identified by the quality of their voices, their singing parts, bass, alto, tenor, soprano. Does it seem a protective atmosphere or a claustrophobic one? "There's a special kind of pretending that goes on in small towns. It involves neither willful ignorance nor blindness. It is the opposite of gossip: a pretense of not knowing" (p. 408).
"The gift of bones is a profound comfort to the living—little else satisfies . . . Their mother went up. She never came down" (p. 3). Does this explain why Larken feels more gratitude than grief when she views her father's body? How was Viney's grief about her dead son protracted (some bones and teeth) and yet still somehow better than the anguish of mothers of MIA soldiers in Vietnam?
There are numerous personal symbols in the novel, e.g. Larken studies the symbols of the Merode; Gaelan uses symbols in his forecasting; Bethan refers to the symbolism of the Welsh love spoon she gives Gaelan. What purpose do symbols serve in the lives of these characters? Do you have any personal symbols in your own life?
How is the image of the Merode used as a template throughout the book? Larken talks about weaving the stories of the six characters in the Merode: how does this apply to Larken's personal life? What roles does each character take on at various times in the book? (i.e. Who plays the Gatekeeper? The Virgin? etc.) Are there any images in the novel that reflect particular aspects of the Merode painting?
How do signs, whether literal or metaphorical, influence the lives of the main characters, particularly Bonnie and Larken? Are you a person who looks for signs when making significant decisions? Do you believe in such things? What "signs" have you encountered in your own life?
How does the idea of sight factor into the novel? In what way do unseen elements of the story affect observable events and actions? Name some examples of how characters view the past, present, and future, and what serves to hinder some from seeing what's right in front of them.