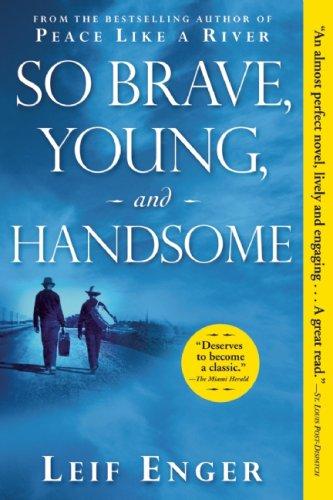 SO BRAVE, YOUNG, AND HANDSOME
---
One of Time magazine's top-five novels of the year and a New York Times best seller, Leif Enger's first novel, Peace Like a River, captured readers' hearts around the nation. His new novel is a stunning successor—a touching, nimble, and rugged story of an aging train robber on a quest to reconcile the claims of love and judgment on his life, and the failed writer who goes with him.
In 1915 Minnesota, Monte Becket—"a man fading, a disappointer of persons"—has lost his sense of purpose. His only success long behind him,
One of Time magazine's top-five novels of the year and a New York Times best seller, Leif Enger's first novel, Peace Like a River, captured readers' hearts around the nation. His new novel is a stunning successor—a touching, nimble, and rugged story of an aging train robber on a quest to reconcile the claims of love and judgment on his life, and the failed writer who goes with him.
In 1915 Minnesota, Monte Becket—"a man fading, a disappointer of persons"—has lost his sense of purpose. His only success long behind him, Monte lives a simple life with his loving wife and whipsmart son. But when he befriends outlaw Glendon Hale, a new world of opportunity and experience presents itself.
Glendon has spent years in obscurity, but the guilt he harbors for abandoning his wife, Blue, over two decades ago, has finally lured him from hiding. As the modern age marches swiftly forward, Glendon aims to travel back into his past—heading to California to seek Blue's forgiveness. Beguiled and inspired, Monte soon finds himself leaving behind his own family to embark for the unruly West with his fugitive guide—a journey that will test the depth of his loyalties, the inviolability of his morals, and the strength of his resolve. As they flee from the relentless Charles Siringo, an ex-Pinkerton who's been hunting Glendon for years, Monte falls ever further from his family and the law, to be tempered by a fiery adventure from which he may never get home.
With its smooth mix of romanticism and gritty reality, So Brave, Young, and Handsome often recalls the Old West's greatest cowboy stories. But it is also about an ordinary man's determination as he risks everything in order to understand what it's all worth, and follows an unlikely dream in the hope it will lead him back home.
Grove Press
Paperback
April 2009
304 Pages
9780802144171
Praise
An IndieBound Pick
"An inviting voice guides readers through this expansive saga of redemption in the early twentieth century West and gives a teeming vitality to [the] period. . . . Peopled with sharply carved characters and splendid surprises . . . An adventure story . . . so rich you can smell the spilled whiskey and feel the grit." —Publisher's Weekly
"[Leif Enger is] in fine storytelling form, as he spins a picaresque tale of redemption and renewal amid the fading glories of the Old West." —Kirkus Reviews (starred review)
"Leif Enger has done it again. He has a magic touch with a high-action road novel, and the road in So Brave, Young, and Handsome leads straight into the wild heart of the American West. So Brave, Young, and Handsome abounds with adventure, comradeship and hardship, splendid characters, romance, humor, and goodnaturedness. It is a literary western in all the best senses—and a world of fun to read." —Howard Frank Mosher
Discussion Questions
What elements of Enger's book play off the conventions of cowboy movies and cowboy novels? In Chapter 12, we read "And so it came down to a farmhouse. As it so often does!" (p. 232) Monte's son, Redstart, "knew which members of the James Gang had once ridden into our town to knock over a bank and been shot to moist rags for their trouble" (p.4). What other traditions of the cowboy genres do you recognize in the book? The lore of train robberies? Cattle rustling? The nugget of goodness under the outlaw behavior?
How does Enger make these outsized characters convincing? Is there value as well as mayhem in these renegades? In their diction, do you find an odd level of civility even as death and destruction are threatened? For instance, look at some of the rather elegant locutions, such as that of Siringo on p. 115: "I'm leaving, you gentlemen may have this rocky paradise to yourselves."
Does it make sense that it is Susannah who sets Monte free to make his journey with Glendon "because he dreamed of his wife" (p. 37)? But then, "Love is a strange fact—it hopes all things, believes all things, endures all things. It makes no sense at all" (p. 37). Talk about love in the book, relationships that occur or are recalled.
How does Enger give us characters' inner lives? Are there some characters we feel we know inside and out? Which ones? Who in the book is most adept at holding us at a distance? Is that part of the person's charm as well as enigma?
We read about a number of marriages in So Brave, Young, and Handsome. We begin and end with that of Monte and Susannah. Do you think it is a good marriage? Talk also about Mr. and Mrs. Davies. What about Blue and Glendon? And later Blue/Arandana and Soto, as well as Charlie Siringo and his wife who forgot who he was. Does Monte learn from each of these tales? You might look again at question #3.
Monte and Siringo are juxtaposed as both adversaries and an oddly linked couple. Even as a captive, Monte maintains communication. "In the meantime I tried to remain pleasant company. He loved talking about books, especially his own, and his other favorite, Ecclesiastes. That treatise with its severe rhetoric—'all is meaningless'—he had by heart, often enlisting its author, Solomon, in his arguments against bothersome ideas like altruism and honor and clemency" (p. 207). Does this passage set an important dichotomy between Siringo and Monte? Why does Monte prefer Proverbs? Look, too, at Siringo's catechism on honor on p. 191.
Royal Davies, the Kansas City policeman, says, "You're doing these youngsters no service, you know…you authors, I mean—this world ain't no romance, in case you didn't notice." But Monte later says, "I take issue with Royal, much as I came to like him; violent and doomed as this world might be, a romance it certainly is" (p. 51). Talk about this idea. Think about the definition of "romance" as a medieval tale about a hero of chivalry. How has Enger explored "romance" in the book?
What is the result of Monte's weaving Susannah and Redstart into every turn of his story? Why do you think he consistently fails to write his wife? Ambivalence about what he's doing in this runaway adventure? Guilt? Another kind of writer's block?
How is Hood held up as a version of the chivalric hero? Is he almost a foundling for Monte and Glendon? How is he depicted as golden boy (cherubic, even), magnificent horseman, boon companion, and charismatic lover? After Hood's initial conquest on a horse, Monte says, "It was as stunning an ascension as any I have seen (p. 143). How is Hood like a comet? "A cowboy doesn't ask for much, that's my observation. A flashy ride, a pretty girl, momentary glory—for a day or two, I'm glad to say, Hood Roberts had them all" (p. 145). Was his reversal inevitable, do you think, given his character?
Describe Glendon as a phenomenon. What are traits you hold onto? Is it his melting disappearances? How are both Siringo and Glendon almost phoenixes, myths that resurface despite the odds?
In contrast to the romance of heroic exploits, what are some blasts of reality? Would you agree that this is not a comfortable fairy tale? "We were a dozen weary men in a damp room with one smoky candle for light and no prospect of rest" (p. 159). What are other times Monte and his cohorts are battered by weather, hunger, or assailants? Is the life of the outlaw worthwhile?
If you were to cast this book as a movie, who would play the principal roles? What would be essential scenes? As a director, how would you handle the frame tale of Monte, Susannah, and Redstart? Is there actually another frame tale?
Is it justice that Glendon is seeking in the novel? For whom? Do you think it is achieved? Is forgiveness as important as justice in the book?
The novel's humor is sometimes ironic or deadpan, other times pure slapstick. What purpose does recurrent comedy serve in a story with such violence and loss?
Almost every major character in the novel has more than one name, whether an alias (like Jack Waits), a stage name (Deep Breath Darla), or a translation (Blue). What is the significance of a person's "true name?" Does the revelation of one's true name put him, as Redstart claims, at the mercy of others? Is that a bad thing?
What is the time of the novel? Enger gives us a date, but what are other clues? Driving with pride eighty miles in a day? Pancho Villa?
How do books pervade the novel? Monte, of course, is an author, and we follow his discomfort about producing a second success. But books are important to other people, too. Who are they? Emma Davies? Her grandmother as literary critic? (see p. 53). What happens to the book Monte had inscribed to Emma? How does Siringo's easy writing and reciting of his compelling narrative affect Monte? How does the library of Claudio and Arandana define them?
"Most men are hero and devil," says Siringo (p. 224). Does that statement hold true in the book? And in general? Is it a description better reserved for leaders? Politicians, even statesmen, outlaws, C.E.O.s, Hollywood stars, sports idols? Who else? Do people in this book understand and accept this idea of human nature?
How is Darlys the Sharpshooter a pivotal figure? Think about her deft explosion of the glass orb in Monte's hand as well as her well practiced aim later at Siringo who has cruelly spurned her.
Siringo blazes from the pages, always surprising. This is the man who "left off cowboying when the profession of detective was chosen for him at a public demonstration of phrenology" (p. 173). Who is this "dark personage" (p. 178)? When do we see his menace most startlingly? He's an "old vulture" who "ate like a scavenging bird in big swallows without evident pleasure" (p. 197). Does that image tell us something about Siringo's other actions in the book? We know about his treachery to Monte. "That he could trust me was my own disgrace" (p. 205). Other times, "the old monster was capable of gratitude after all" (p. 180), to both Dr. Clary and Monte. Talk about his brilliant manipulation of the town of Alva. What is your ultimate evaluation of Siringo?
"Say what you like about melodrama, it beats confusion" (p. 262). Is this how we feel after reading a page-turner? Enger's book has ambiguity to spare, but are you in doubt at the end about events or characters?
Where do our sympathies lie in So Brave, Young, and Handsome? Did you feel a loss as Hood sank deeper into runaway crime? Is everyone on the trail tainted except maybe Monte? Is he, as well?
The rivers, from the Cannon in Minnesota to the Rienda in California, link the sagas of the book and provide a central theme. Did you find it inevitable to compare Monte and Glendon to Huck and Jim in the Twain celebration of the Mississippi? "People on riverbanks understand one another. "If you can't be on a boat, a dock will do" (p. 55). The Kaw in Kansas City provides a moment of respite as well as another escape. How? How does the Hundred and One disaster, the Salt Fork flood, create a scene of biblical proportions? How is the post-lapsarian world a turning point and a rebirth for some of the characters?
Do you see an analogy with Don Quixote and Sancho Panza in the book? (There are even recurrent windmills!) Can you talk about the idea of the Quest? The idealism, as well as the consistent blanket of reality? Give examples?