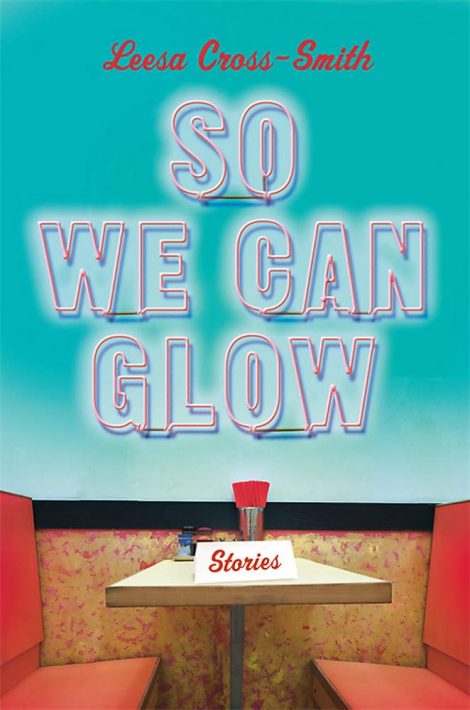 SO WE CAN GLOW
Stories
---
A lush, glittering short story collection exploring female obsession and desire by an award-winning author Roxane Gay calls "a consummate storyteller."
From Kentucky to the California desert, these forty-two short stories — ranging from the 80's and 90's to present day — expose expose the hearts of girls and women in moments of obsessive desire and fantasy, wildness and bad behavior, brokenness and fearlessness, and more.
On a hot July night, teenage girls sneak out of the house to meet their boyfriends by the train tracks. Members of a cult form an unsettling chorus as they proclaim their adoration for the same man.
A lush, glittering short story collection exploring female obsession and desire by an award-winning author Roxane Gay calls "a consummate storyteller."
From Kentucky to the California desert, these forty-two short stories — ranging from the 80's and 90's to present day — expose expose the hearts of girls and women in moments of obsessive desire and fantasy, wildness and bad behavior, brokenness and fearlessness, and more.
On a hot July night, teenage girls sneak out of the house to meet their boyfriends by the train tracks. Members of a cult form an unsettling chorus as they proclaim their adoration for the same man. A woman luxuriates in a fantasy getaway to escape her past. A love story begins over cabbages in a grocery store, and a laundress's life is consumed by her obsession with a baseball star. After the death of a sister, two high school friends kiss all night and binge-watch Winona Ryder movies.
Leesa Cross-Smith's sensuous stories — some long, some gone in a flash, some told over text and emails — drench readers in nostalgia for summer nights and sultry days. They recall the intense friendships of teenage girls and the innate bonds between mothers, the first heady rush of desire, and the pure exhilaration of womanhood, all while holding up the wild souls of women so they can catch the light.
Grand Central Publishing
Hardcover
March 2020
256 Pages
9781538715338
Praise
"Leesa Cross-Smith is such a beguiling writer and her skills are on full display in So We Can Glow. These are stories about breathless love, lustful abandon, all that glitters, hot summers, cool pavement, sticky skin, beautifully beating hearts. There is such authenticity to these stories and nostalgia that is tempered with just enough of a clear-eyed understanding of the world as it is, not just how we hoped it might be. It's also refreshing to see a writer crafting stories that are so unapologetically for women, about women, a love letter to who we are, the best and worst of us, held high and true, so we can glow as brightly as we dare."—Roxane Gay, New York Times bestselling author
"Though the 42 stories here often masquerade as slices of domestic life, the scale of the emotional trajectories is treated with the weight of the epic. They are sexy and sly. The dialogue winks and sparks on the page, making every story feel like a flirt. The collection overloads the senses . . . Cross-Smith's descriptions are filled with equal amounts of violence and tenderness . . . Throughout, characters from earlier stories reappear to nudge us in the ribs, these rewarding inside jokes building depth and resonance. It is the strength of the female characters, though, that truly binds this collection together . . . The woman throughout this collection are constantly being revealed by a powerful inner light." —New York Times Book Review
"Leesa Cross-Smith writes the way many people wish they could: ferociously, tenderly, and with a tremendous amount of heart. The stories contained in So We Can Glow showcase the very best of Cross-Smith's voice. They stick with readers long after the book is closed. This collection is tantalizing and Cross-Smith is a delight."—Kristen Arnett, New York Times bestselling author of Mostly Dead Things
"A joyous embracing of modern womanhood with all its pitfalls and landmines . . . This is short fiction that packs a wallop . . . It's easy to see more than a dash of everything good in these entertaining, spirited tales." —Atlanta Journal-Constitution
Discussion Questions
1. How does the first story, "We, Moons," set the stage for the rest of the collection?
2. The author frequently returns to specific motifs, such as the moon, lip gloss, and summer heat. What other motifs and/or themes do you notice that link the stories together? What moods, emotions, or sensations do they evoke?
3. In "Teenage Dream Time Machine," a mother observes that: "all the women our age…we were practically living the same life! We're all connected…like magic." Do you agree? If so, what bonds do you think tie women together?
4. The story "California, Keep Us" offers a different perspective on "Chateau Marmont, Champagne, Chanel." How does "California, Keep Us" change your understanding of the characters?
5. What other stories are linked together? Why do you think the author chose to revisit those particular ones?
6. How does the play format of "Eine Kleine Nachtmusik" help to deepen or challenge your perception of the complicated relationships between the characters? How else does the author play with format in this collection, and why?
7. How do the forces of obsession and desire impact different women throughout the book?
8. What kinds of love—familial, platonic, romantic, or otherwise—do you see represented in this collection?
9. In what ways do you think certain stories and characters challenge or comply with our expectations of what it means to be a woman?
10. How does setting reflect or affect the characters' behavior in various stories?
11. How does the final story, "A Girl Has Her Secrets,"wrap up the collection as a whole?
12. Which was your favorite story and why? Were there any that you found particularly moving or relatable?
13. Why do you think the author chose So We Can Glow for the title?
Excerpt
We, Moons
We're not depressed all the time, some of us aren't even depressed sometimes. We're okay, our hearts, dusted with pink. When we cry in bathrooms together it's about men or our mothers or our fathers or our bodies. We are resilient, none of us have attempted suicide, although we do at times imagine what it would be like to have never been born. Is that sadness? Is that regret? We love men. We are ashamed of this attraction. We, the ones who aren't lesbians or asexual, wish we were; we fantasize about lesbian communes or asexual communes. We take the curse of Genesis 3:16 to heart. Isn't it a curse to want a man? Didn't God intend that after the fall? We feel cursed. We are Eve. We develop crushes on men we'll never meet, men in magazines. We prefer our men to remain onscreen where they cannot hurt us. We, protected by those alien-beams of light, that space glass. We envision those men down on their knees before us, looking up at us, smiling. We pat their heads and call them good boys. We use them. We crave and desire them. We leave them whether they want us to or not. We wear their clothes because they smell like them and we let the sleeves hang long past our wrists. We swear to one another we won't call or text them during our Girls' Weekend. We try to keep our word. We try really hard. They call us, they text us, they send us pictures of the flowers they'd have delivered to us if only they knew where we were. We are in the mountains or on the beach or at a grandmother's home; the grandmother has passed and left it to us, left us her journals and her cake recipes, left us the blankets and sweaters she knit, the quilts and tea-stained books she read when she was young like us. We are not young, but we are younger than our grandmothers. We are young enough to still have our periods. We bleed together when the moons are death-darked and new, ovulate under the full ones. Their fierce, primal, ancient names connect us to the women who came before and all those who will come after: wolf, snow, worm, pink, flower, strawberry, buck, sturgeon, harvest, hunter's, beaver, cold. If we had been in charge of naming the moons, we wouldn't have changed a thing. Some of us are mothers, some of us have miscarried, some of us have no desire to bear children in our dark and starry wombs. Where do we go for emotional rescue? Where do we go to feel safe? Where do we go to escape the men who would rape and murder us, the men who would kidnap us, the men who would torture us, the men who would, the men who, the men. We are complete without them but we want them anyway. We love them but we want to hide from them. We drink champagne and wine and whiskies and stay up too late smoking. We eat dark chocolate brownies and coconut cakes and wake up and fry eggs with butter and chilies. We lock our doors at night and keep our secrets. We howl at the moon and paint our toenails with glitter and make promises, free before we leave. We return to our homes and our children and our jobs. We return to those men, the ones who keep us, the ones we are afraid of, the ones who would never harm us, the ones who protect us. We know they desire us, they are cursed with wanting to be inside of us. We are wild and cannot be tamed. They are cursed with wanting to tame us. They want us to be witches so they can burn us. They burn with lust for us. We use our own lust-flames to fuel us and keep us warm. We are better at this than they are. We read and write our books, sing our songs, scream our screams, and fall easily into the arms of a God who loves us. We fight a God who loves us. We beg for forgiveness for we know not what we do. We know what we are doing. We run away and want to be found. We want to disappear. We want to be seen. We search our breasts for lumps so our breasts won't kill us, our cervices for tumors. We scan our bodies for poison, never knowing. We feed our babies with these bodies and offer our bodies to the men we desire and the men take and take and take and we give and give and give. We are handmaidens and helpmeets and neither of those things. We are created in the image of a God who can be both man or woman or neither. No empty vessels; we are achingly full, spilling over. And when we die, our souls pour out like water.