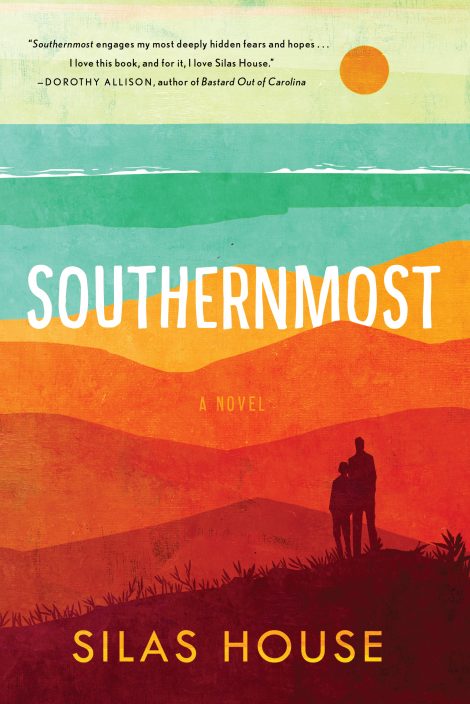 SOUTHERNMOST
---
Asher Sharp is willing to give up everything for what he believes in. Except his son.
In the aftermath of a flood that washes away much of a small Tennessee town, evangelical preacher Asher Sharp offers shelter to two gay men. In doing so, he starts to see his life anew–and risks losing everything: his wife, locked into her religious prejudices; his congregation, which shuns Asher after he delivers a passionate sermon in defense of tolerance; and his young son, Justin, caught in the middle of what turns into a bitter custody battle.
With no way out but ahead,
Asher Sharp is willing to give up everything for what he believes in. Except his son.
In the aftermath of a flood that washes away much of a small Tennessee town, evangelical preacher Asher Sharp offers shelter to two gay men. In doing so, he starts to see his life anew–and risks losing everything: his wife, locked into her religious prejudices; his congregation, which shuns Asher after he delivers a passionate sermon in defense of tolerance; and his young son, Justin, caught in the middle of what turns into a bitter custody battle.
With no way out but ahead, Asher takes Justin and flees to Key West, where he hopes to find his brother, Luke, whom he'd turned against years ago after Luke came out. And it is there, at the southernmost point of the country, that Asher and Justin discover a new way of thinking about the world, and a new way of understanding love.
In this stunning literary page-turner about judgment, courage, heartbreak, and change, bestselling author Silas House wrestles with the limits of belief, and with love and its consequences.
Algonquin Books
Paperback
June 2019
352 Pages
9781616209360
Praise
A 2018 Booklist Editors' Choice Pick
One of Paste Magazine's "12 Best Novels of 2018"
"An urgent and beautifully written literary thriller about a man on the run that explores themes like the pain of atonement and the necessity of reconciliation, being published at a time when understanding across cultural and political divides seems wider than ever." —Salon.com
"In sly and subtle ways, House skillfully beckons readers to dig deep into their own hearts and minds." —Atlanta Journal-Constitution
"A master storyteller, Silas House shows a keen understanding of the modern South wrestling with change." —Minneapolis Star-Tribune
"Given all the stories we have of the South in print, this one is, in a quiet way, revolutionary." —Asheville Citizen-Times
"Southernmost engages my most deeply hidden fears and hopes. Silas House has all the gifts of a passionate storyteller, and to this book he adds the heartfelt convictions of a man willing to voice what we so seldom see in print—the ways in which with all good intentions we can mess up and go wrong, and only later try to sort out how we can win our own redemption. I love this book, and for it, I love Silas House." —Dorothy Allison, author of Bastard Out of Carolina
"This beautifully crafted novel brims with a spirit of hopeful humanity as one man's effort to make himself a better person casts ripples in the world around him." —Charles Frazier, author of Varina
"Southernmost offers no easy conclusions about forgiveness, religion or moral courage. Rather, this novel weighs the high costs of confronting the way our beliefs evolve in response to our lives, as well as the costs of denying that evolution. But House also succeeds in telling a satisfying story—one that resonates beyond the issues of the day, toward something deeper and larger." —Knoxville News-Sentinel
"Though it never turns a blind eye to the cruelties of which we're capable, Southernmost is nonetheless assured in its belief that we can learn from, grow with, and find sustenance in each other. I devoured it like a thriller, standing in a pool in New Orleans one weekend this summer, crying all the while." —Paste
"An evangelical preacher learns 'judge not" is easier said than done . . . a reflection on the ways in which one man struggles to see beyond his own delusions. The strength is Southernmost lies in its exploration of the messiness of life." —The News & Observer (Raleigh, NC)
"Lyrical and thoughtful . . . House builds suspense slowly and carefully, favoring complexity and ambiguity over a simple resolution." —Columbus Dispatch
"In Silas House's moving new novel, a pastor wrestles with a crisis not just of faith, but of all the apparent certainties of his life: a crisis of marriage, of community, of fatherhood. This is a novel of painful, finally revelatory awakening, of fierce love and necessary disaster, of the bravery required to escape the prison of our days, to make a better and more worthy life." —Garth Greenwell, author of What Belongs to You
"Silas House's characters are as real to me as my own family. Southernmost is a novel for our time, a courageous and necessary book." —Jennifer Haigh, author of Heat and Light
"His storytelling is rich, but also spare, with descriptive passages that engage all five senses . . . And his characters . . . are so complicated and real that it's a shame to have to put the book down. Most of all, Southermost is a reminder that life is hard, and it is beautiful." —Booklist (starred review)
"[A] suspenseful narrative about a father and son navigating personal and spiritual upheaval . . . [that] will leave readers floored. House's fine moral drama pleasingly mixes spiritual reflection and a story of personal healing." —Publishers Weekly
"A road novel that mixes warmth, empathy, tragedy, and hope. A brave tale of human generosity and the power and peace that come from heeding the courage of one's convictions." —Kirkus Reviews
Discussion Questions
1. You can think of Southernmost as divided into two parts: the first part, which takes place in rural Tennessee, and the second, which is set in Key West. How does landscape work on a symbolic level in the book?
2. Why do you think Silas House starts the book with a flood? Aside from hastening action in the beginning, does it serve another purpose?
3. In Justin's sections, he often talks about "the Everything." What does this mean to him? How does his religion compare to his mother's? To Asher's? To Luke's?
4. Forgiveness is a central part of this novel, for many characters. Who needs to forgive whom and why? What is House saying about how forgiveness works? What does it take to be forgiven?
5. Why do you think (spoiler alert) House has Asher and Luke end up in the same profession? What does this suggest about that profession, and the two brothers?
6. House has said that Asher Sharp represents the majority of modern Americans he knows, people who have been raised to discriminate against LGBTQ people but have greatly evolved over the last couple of decades to be more accepting. How does this compare to your experience?
7. Readers are sometimes surprised by the level of homophobia that is on display throughout the book. In your experience, would you say the novel offers an accurate portrayal of how people react to this issue? Compare the range of reactions to homosexuality in the novel: Lydia's, Asher and Luke's mother's, Bell's.
8. Music plays an important role in the book. Justin loves the band My Morning Jacket, Asher loves Patty Griffin, Bell loves Joni Mitchell. What do they derive from the music they listen to? Are there certain musicians whose work has the same effect on you?
9. A number of characters in Southernmostfall into categories that in other contexts have been stereotyped: Christians, LGBTQ people, Southerners. What is different or surprising about how each is portrayed here?
10. House has said that dogs indicate "the presence of the divine." Where does this happen in the novel?
Excerpt
From Southernmost
By Silas House
The rain had been falling with a pounding meanness, without ceasing for two days, and then the water rose all at once in the middle of the night, a brutal rush so fast Asher thought at first a dam might have broken somewhere upstream. The ground had simply become so saturated it could not hold any more water. All the creeks were conspiring down the ridges until they washed out into the Cumberland. There was no use in anyone going to bed because they all knew what was going to happen. They only had to wait.
The day dawned without any sign of sun—a sky that groaned open from a black night to a dull, purpling gray of morning—and Asher went out to walk the ridge and get a full eye on the situation. The news wasn't telling them anything worthwhile. He could hear the flood before he reached the top of the ridge. There he saw the massively swollen river supping at the edges of the lower fields, ten feet above its own banks, a foamy broth climbing so steadily he could actually see its ascent, and then he knew he had to go get Zelda.
They had all thought the last flood was as bad as things could get but the water hadn't risen half this quickly. He maneuvered his Jeep across two bridges whose undersides were being caressed by the river and by the time he got to her house the water was nipping at her porch. He had to park on the rise at the top of her driveway and wade into waist-deep water that took his breath with its iciness. Zelda stood on the porch like a statue of an old woman clutching a stack of picture albums. That was all she had grabbed.
"Come on!" Asher hollered. The river raged so loudly he wasn't sure if she could hear him and she made no motion to acknowledge she had.
But then Zelda took a step forward and froze; he could see she was terrified. Zelda had been on this very porch the first time he ever met her. She had risen from her chair to embrace him, holding him the way his own mother never had. Another memory, too: they had gone wading in the Cumberland on the hottest day of the year. "You're like a son to me," she had said, gathering her yellow dress tail in one hand so it wouldn't get wet, and he had realized then that had been one of the main reasons he had married Lydia: to have a mother, to have arms around him to let him know he mattered.
The muck sucked at Asher's legs as he offered his hand to help Zelda off the porch. He fought with his feet to keep from going any deeper. Finally she reached out, resigned to silence because of the swollen river's roar. He pulled her toward him and latched his arm around her waist as they made their way back up to the rise where he had left the Jeep. Her body was hot and doughy to his touch. She sank in the mud and he had to pull her along and then carry her in some places. Butterscotch-colored water frothed around their legs, filled with tree limbs and garbage and all manner of debris they had to dodge. He helped her up into the vehicle and her fingers trembled in his grip.
Still the rain was falling in a torrent, washing across his windshield in a violence of nature he had never before witnessed. He had never seen it rain so hard, ever, and certainly not for this long.
Asher knew he shouldn't drive through the water overtaking the first bridge, but they made it. The vehicle coughed up the hill, the engine choked with river but managing to recover just before it sputtered out. By the time they reached the second bridge it had disappeared beneath a pasture that had become a lake. Asher knew the land well so he switched back around and pulled onto the railroad tracks where they racketed along—the Jeep shaking like it might fall apart, Zelda letting out little yelps every once in a while—until they had reached the road to his house. The whole valley was under water. From where they drove along the ridge-line they could look down and see it all spread out before them like the end of time had come to Cumberland Valley.
They watched a trailer home being swept away, the roof of a house, a pickup truck. Cows struggling to stay afloat. "Oh no! Asher!" Zelda said at that, as if he might be able to dive in and help the cattle find higher ground, but they both knew there was nothing to be done. So many trees, all with the lush full leaves of late June. Chickens sitting in a calm line down the length of a white church steeple. It must have been swept from far up the river as it wasn't familiar to him; he knew by heart the looks of every church nearby.
Asher saw the brick walls of a house collapse and then the roof was swept down the widening Cumberland while two men stood on the hill, watching. He knew the house had only recently been built by a songwriter from Nashville. He hadn't lived in there more than a couple months and now the house was altogether gone. Asher kept driving. He had to get back to make sure their house was still high above the water line, to see that Justin was all right.
And there he was, waiting right on the porch for them. Justin leaned against the banister with his arms crossed. Still miffed because Asher had not let him go along, not knowing how dangerous the roads would be. He was eight, but small for his age, and more like an old man in his bearing and thinking. Just as they pulled in, Lydia stepped out of the front door as if she had been watching at the window and went to put her arm around Justin's neck, but he scrambled away from her, running out to greet his granny.
<* * *>
Theirs was one of the lucky houses, situated on the ridge where the water couldn't reach them, although the river was far too close to put Asher at ease. The last flood had destroyed so much, but it had not threatened them. This one was licking awfully close and if the rain kept falling the Cumberland would have no choice but to keep rising until the water was seeping into their home. His church had been built on the highest point in those parts more than a hundred years before. But many in his congregation would be homeless. Some of them had only recently rebuilt from the last flood. He had no idea how he would handle all the care they would need.
Throughout the day Zelda and Lydia watched the useless television news while Asher and Justin watched the river rise, watched the rain fall. Justin would not leave his side.
"Are we gonna be okay?" he asked, his green eyes latched on to Asher's green eyes.
"Yes, buddy," Asher said, his hand capped over his son's head. "Don't you worry."
But Asher was worried.
Even worse than the rising water, even worse than the fact that he had not heard one siren or seen one helicopter or any sign of help from the government (they were alone out here, then, he realized, until the storm was over; help from the law always came after it was needed), even worse than when the electricity blinked out of being, even worse than Lydia doing nothing but praying in the shadowy cave of her room—was that they couldn't find Roscoe anywhere.
Asher stood in the doorway until Lydia said her quiet "Amen" then told her he was going out to look for the dog again. Although it was early afternoon her room was very dark; she hadn't opened the curtains. He could barely see her as she knelt beside the bed. Just when he was about to say that he was leaving he could make out that she had extended her hand toward him. "Won't you come here and pray with me?" she said.
He stepped into the shadows with hesitation; he wanted to tell her that faith without works is dead, that God doesn't hear those kinds of prayers. He knelt beside her at the bed and felt foolish in doing so. She had already bowed her head but now she laid her hand palm-up atop the bedspread. When he didn't respond right away she turned to look at him.
"What is it?" she whispered.
He intertwined his fingers with hers and bowed his head. She followed suit, the words trembling quietly on her lips: "Lord, we come to you to ask that you help our little dog . . ." In their tradition he was expected to say his own prayer aloud as well, their words mingling into a sort of woven chant. But he didn't pray aloud. He kept his head bowed and felt her sweaty hand in his own and all while she pleaded with God he could only think Please please please. That was the only kind of invocation he possessed now.
Essay
"Looking in the Mirror"
By Silas House
From the moment my first child was born, everything was different: the way the world sounded, the quality of light, the endless possibilities of both hope and danger. The first time I held her I knew I would try to be the best person I could be in ways that I never had before. I would do everything in my power to protect her. There was no limit to how far I would go.
That was the moment my new novel, Southernmost, was born, too, although I would not know that for a couple of decades. Over the next twenty years, while learning how to be a parent, I would also learn more about myself. I'd feel the life-altering power of loving someone else more than yourself. I'd know the vengeful anger that rose toward someone who hurt my child. Most of all I'd discover that the primary emotion involved with being a parent is powerlessness, of ultimately realizing that there is only so much you can protect your child from, no matter how hard you try. I always knew I'd do anything for my child, but most of the time parents are stuck in a purgatory of having no control at all.
So, it is always a great shock for me to hear of people who make the choice to reject their children who come out to them. I cannot wrap my mind around that notion. My parents certainly struggled with my being gay, but they never turned their backs on me. On paper, you'd think they would. They're working-class rural Southerners who have attended a Pentecostal Holiness (read: fundamentalist) church my whole life. Yet they allow my husband and me to cook Thanksgiving dinner for them, they love us both, and they acknowledge us as a couple.
Around the time I started writing Southernmost, the debate about marriage equality became a part of the everyday national conversation, and I saw my own community and family divided. Even though I am from the kind of place they always use on the news to represent homophobia, racism, or misogyny, there was a discussion there, too. Not simply a door slammed in the face of the issue. People like my parents were trying to reconcile the religious dogma they had been taught all their lives with the fact that they loved their children. Other folks were not ever going to budge.
After marriage equality passed, there was a lot of talk about the way the country was divided. Rural Southerners were almost always painted as vehemently against marriage equality—and progress on most social issues. For many Americans, the South is the Other, but in my experience, the South is a mirror, a microcosm of the rest of the country. While things may sometimes seem more pronounced or blatant here—and that's certainly been the case in the way people have voted here lately—the fact is that the South is a whole lot like the rest of the country. Injustice and intolerance exist here, and everywhere. The South is changing, but resisting those changes with all its last, dying gasps, just as the rest of the country is. The South has a plethora of problems—the legacy of racism chief among them—but when people blame all the racism, homophobia, and sexism on one part of the country, it lets the rest of the nation off the hook.
I wanted to write a novel that stared into that mirror with intention. By looking at this microcosm of America called the South with such focus, we can more clearly see our whole nation in a moment when we are in dire need of understanding one another. That can be best done through a human story. After years of writing, my characters—Asher Sharp and his son, Justin, and all the other characters in Southernmost—became so real that they helped me to better understand my place and my time. Asher and Justin travel across the South in search of sanctuary and hoping to find Asher's gay brother, whom Asher had rejected ten years earlier. Their trouble is fueled by the evolving South, and, by extension, the changing nation. Asher is trying his best to be true to his beliefs, but also to the people he loves. He makes a lot of mistakes along the way, as we all do. But parenting is about learning, about evolving, about realizing our mistakes and using them to become better parents—and better people. Which is, hopefully, what we are all attempting.