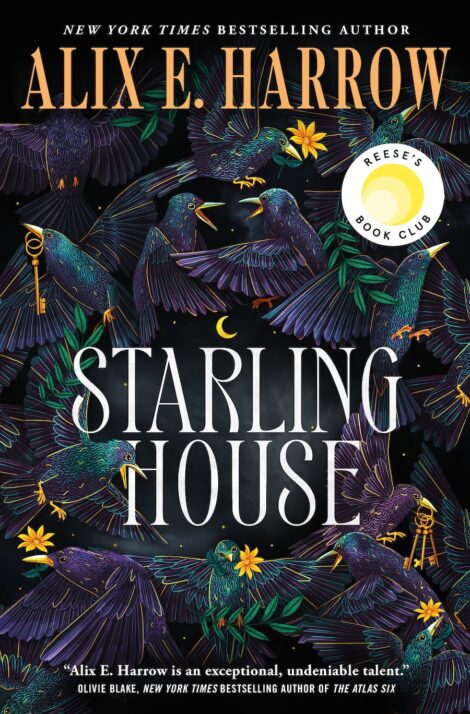 STARLING HOUSE
---
Starling House is a gorgeously modern gothic fantasy from the New York Times bestselling author of The Ten Thousand Doors of January.
I dream sometimes about a house I've never seen….
Opal is a lot of things–orphan, high school dropout, full-time cynic and part-time cashier–but above all, she's determined to find a better life for her younger brother Jasper. One that gets them out of Eden, Kentucky, a town remarkable for only two things: bad luck and E. Starling, the reclusive nineteenth century author of The Underland,
Starling House is a gorgeously modern gothic fantasy from the New York Times bestselling author of The Ten Thousand Doors of January.
I dream sometimes about a house I've never seen….
Opal is a lot of things–orphan, high school dropout, full-time cynic and part-time cashier–but above all, she's determined to find a better life for her younger brother Jasper. One that gets them out of Eden, Kentucky, a town remarkable for only two things: bad luck and E. Starling, the reclusive nineteenth century author of The Underland, who disappeared over a hundred years ago.
All she left behind were dark rumors–and her home. Everyone agrees that it's best to ignore the uncanny mansion and its misanthropic heir, Arthur. Almost everyone, anyway.
I should be scared, but in the dream I don't hesitate.
Opal has been obsessed with The Underland since she was a child. When she gets the chance to step inside Starling House–and make some extra cash for her brother's escape fund–she can't resist.
But sinister forces are digging deeper into the buried secrets of Starling House, and Arthur's own nightmares have become far too real. As Eden itself seems to be drowning in its own ghosts, Opal realizes that she might finally have found a reason to stick around.
In my dream, I'm home.
And now she'll have to fight.
Welcome to Starling House: enter, if you dare.
Tor Books
Hardcover
October 2023
320 Pages
9781250799050
Praise
A Book of the Month Club Pick
An October 2023 Indie Next Pick
A LibraryReads October 2023 Hall of Fame Pick
EW.com, Fall Book Must Reads 2023
Washington Post, Noteworthy Books for October
Paste Magazine, The Must-Read Fantasy Books of Fall 2023
PopSugar Best New Fantasy Books of 2023
BookPage, Most Anticipated Books of Fall 2023
OBSERVER'S Must-Read Books of Fall 2023
Polygon, 12 Best New SFF for the Fall
LitHub, October's Best Sci-Fi and Fantasy Books
Bookish, October's Most-Anticipated Books
Gizmodo, October's Huge List of New Sci-Fi, Fantasy, and Horror Books
"Alix E. Harrow is an exceptional, undeniable talent, and Starling House, with its gentle reassurances of the homes we make and the love we deserve, is more than satisfying. It's pure loveliness in book form." —Olivie Blake, New York Times bestselling author of The Atlas Six
"Gorgeous, poignant, and honest—an unforgettable read." —Andrea Stewart, author of The Bone Shard Daughter
"As knife-edged and sharp as its protagonist…A smart, spectacular contemporary Gothic that will leave its roots in you and linger in your dreams." —Kat Howard, Alex Award-winning author of An Unkindness of Magicians
Excerpt
ONE
I dream sometimes about a house I've never seen.
I mean, pretty much nobody has. Logan Caldwell claims he ding-dong-ditched the place last summer break, but he's an even bigger liar than me. The truth is you can't really see the house from the road. Just the iron teeth of the front gate and the long red lick of the drive, maybe a glimpse of limestone walls crosshatched by honeysuckle and greenbriers. Even the historical plaque out front is half-swallowed by ivy, the letters so slurred with moss and neglect that only the title is still legible:
STARLING HOUSE
But sometimes in the early dark of winter you can see a single lit window shining through the sycamores.
It's a funny kind of light: a rich amber that shudders with the wind, nothing like the drone of a streetlight or the sickly blue of a fluorescent.1 I figure that window is the only light I've ever seen that doesn't come from the coal plant on the riverbank.
In my dream, the light is for me.
I follow it through the gates, up the drive, across the threshold. I should be scared—there are stories about Starling House, the kind people only tell at night, half-whispered under the hum of the porch light—but in the dream I don't hesitate.
In the dream, I'm home.
Apparently that's too far-fetched even for my subconscious, because that's usually when I wake up. I surface in the half-dark of the motel room with a hungry, empty ache in my chest that I think must be homesickness, although I guess I wouldn't know.
I stare at the ceiling until the parking lot lights flick off at dawn.
* * *
I used to think they meant something, those dreams. They started abruptly when I was twelve or thirteen, just when all the characters in my books started manifesting magic powers or receiving coded messages or whatever; of course I was obsessed with them.
I asked everybody in town about the Starling place, but received only narrow, slantwise looks and sucked teeth. People in this town had never liked me much—their eyes slide right off me like I'm a street-corner panhandler or a piece of roadkill, a problem they would be obliged to address if they looked straight at it—but they liked the Starlings even less.
They're considered eccentrics and misanthropes, a family of dubious origin that has refused for generations to participate in the most basic elements of Eden's civil society (church, public school, bake sales for the volunteer fire department), choosing instead to stay holed up in that grand house that nobody except the coroner has ever seen in person. They have money—which generally excuses everything short of homicide—but it doesn't come from either coal or tobacco, and nobody seems able to marry into it. The Starling family tree is a maddening sprawl of grafted limbs and new shoots, full of out-of-towners and strangers who turned up at the front gates and claimed the Starling name without ever setting foot in Eden itself.
It's generally hoped that both they and their house will fall into a sinkhole and rot at the bottom, neither mourned nor remembered, and—perhaps—release the town from its century-long curse.
(I don't believe in curses, but if there were such a thing as an accursed town it would look an awful lot like Eden, Kentucky. It used to be the number one coal county in the nation, but now it's just a strip-mined stretch of riverbank containing a power plant, a fly ash pond, and two Dollar Generals. It's the kind of place where the only people who stay are the ones who can't afford to leave, where the water tastes like rust and the mist rises cold off the river even in summertime, lingering in the low places well past noon.)
Since nobody would tell me the story of Starling House, I made up my own. There isn't a lot to do in a town like Eden, and I didn't have many friends my own age. You're never going to be very popular when you wear clothes from the First Christian donation box and shoplift your school supplies, no matter how slick your smile is; the other kids sensed the hunger behind the smile and avoided me out of an animal certainty that, if we were all shipwrecked together, I'd be found six weeks later picking my teeth with their bones.
So I spent a lot of weekends sitting cross-legged on the motel mattress with my little brother, making up haunted house stories until both of us were so thoroughly spooked we'd scream at the sound of a doorknob turning three rooms down. I used to type up the best ones, in the secret hours after midnight, when Jasper was asleep and Mom was out, but I never sent them anywhere.2 I quit all that years ago, anyway.
I told Mom about the dreams once. She laughed. "If I'd read that damn book as many times as you, I'd have nightmares, too."
For my fourth or fifth birthday Mom got me a copy of The Underland—one of the old nineteenth-century editions, the cover bound in cloth the color of cobwebs, the title sewn in silver. It was secondhand, probably stolen, and somebody else's initials were written on the inside cover, but I'd read it so many times the pages were coming unsewn.
The story is pretty paint-by-numbers: a little girl (Nora Lee) discovers another world (Underland) and hallucinatory adventures ensue. The illustrations aren't great, either—they're a series of stark lithographs that fall somewhere between eerie and nightmarish. But I remember staring at them until their afterimages lingered on the insides of my eyelids: black landscapes stalked by spectral Beasts, pale figures lost among the tangled trees, little girls falling down into the secret places under the earth. Looking at them felt like stepping into someone else's skull, someone who knew the same things I knew: that there were sharp teeth behind every smile, and bare bones waiting beneath the pretty skin of the world.
I used to trace the author's name with my fingertip, draw it idly in the margins of my C+ schoolwork: E. Starling.
She never published another book. She never gave a single interview. The only thing she left behind other than The Underland was that house, hidden in the trees. Maybe that's the real reason I was so obsessed with it. I wanted to see where she came from, prove to myself that she was real. I wanted to walk through her secret architecture, run my fingers over her wallpaper, see her curtains flutter in the breeze and believe, for a moment, that it was her ghost.
It's been eleven years and forty-four days since I last opened that book. I came straight home from Mom's funeral, dumped it into a doubled-up grocery bag along with half a pack of Newports, a moldy dream catcher, and a tube of lipstick, and shoved it all deep under my bed.
I bet the pages are all swollen and mildewed by now; everything in Eden goes to rot, given time.
I still dream about the Starling place sometimes, but I no longer think it means anything. And even if it did—I'm a high-school dropout with a part-time job at Tractor Supply, bad teeth, and a brother who deserves better than this dead-end bad-luck bullshit town.
Dreams aren't for people like me.
People like me have to make two lists: what they need and what they want. You keep the first list short, if you're smart, and you burn the second one. Mom never got the trick of it—she was always wanting and striving, longing and lusting and craving right up until she wasn't—but I'm a quick learner. I have one list, with one thing on it, and it keeps me plenty busy.
There are double shifts to work and pockets to pick; social workers to mislead and frozen pizzas to snap in half so they fit in the microwave; cheap inhalers to buy from sketchy websites and long nights to lie listening to the rattle and hiss of Jasper's breathing.
Then, too, there's the cream-colored envelope that came from a fancy school up north after Jasper took the PSAT, and the savings account I opened the day after it arrived, which I've managed to grow using the many and considerable skills my mother left me—wiles, theft, fraud, charm, a defiant and wholly misplaced optimism—but which still isn't enough to get him out of this place.
I figure dreams are like stray cats, which will go away if I quit feeding them.
So I don't make up stories about Starling House or ask anyone else for theirs. I don't linger when I pass by the iron front gates, or look up with my heart riding high in my chest, hoping to catch a glimpse of that lonely amber light that seems to shine from some grander, stranger world, just for me. I never pull the grocery bag out from under the bed.
But sometimes, right before I fall asleep, I see the black shadows of trees rising up the motel walls, though there's nothing but asphalt and weeds out the window. I feel the hot breath of Beasts around me, and I follow them down, and down, to Underland.