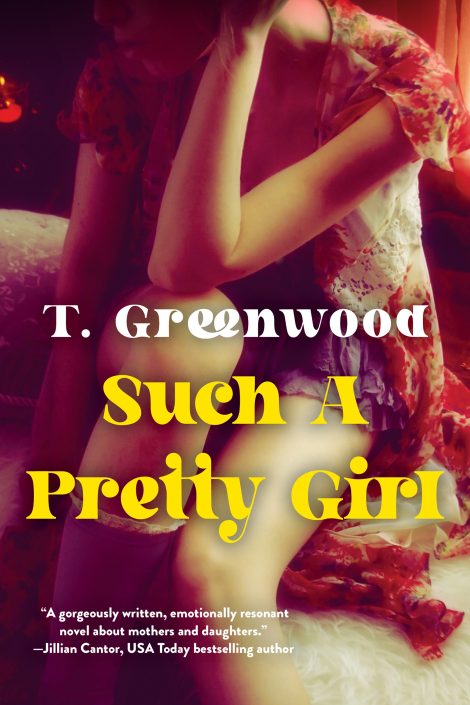 SUCH A PRETTY GIRL
---
Against the nostalgic grit of 1970s New York City, the precarious lines between girl and woman, art and obscenity, fetish and fame flicker and ignite for a young girl on the brink of stardom and a mother on the verge of collapse in this vividly lyrical drama from award-winning author T. Greenwood.
In 1970s New York, her innocence is seductive.
Four decades later, it's a crime…
Living peacefully in Vermont, Ryan Flannigan is shocked when a text from her oldest friend alerts her to a devastating news item. A controversial photo of her as a pre-teen has been found in the possession of a wealthy investor recently revealed as a pedophile and a sex trafficker—with an inscription to him from Ryan's mother on the back.
Against the nostalgic grit of 1970s New York City, the precarious lines between girl and woman, art and obscenity, fetish and fame flicker and ignite for a young girl on the brink of stardom and a mother on the verge of collapse in this vividly lyrical drama from award-winning author T. Greenwood.
In 1970s New York, her innocence is seductive.
Four decades later, it's a crime…
Living peacefully in Vermont, Ryan Flannigan is shocked when a text from her oldest friend alerts her to a devastating news item. A controversial photo of her as a pre-teen has been found in the possession of a wealthy investor recently revealed as a pedophile and a sex trafficker—with an inscription to him from Ryan's mother on the back.
Memories crowd in, providing their own distinctive pictures of her mother Fiona, an aspiring actress, and their move to the West Village in 1976. Amid the city's gritty kaleidoscope of wealth and poverty, high art, and sleazy strip clubs, Ryan is discovered and thrust into the spotlight as a promising young actress with a woman's face and a child's body. Suddenly, the safety and comfort Ryan longs for is replaced by auditions, paparazzi, and the hungry eyes of men of all ages.
Forced to reexamine her childhood, Ryan begins to untangle her young fears and her mother's ambitions, and the role each played in the fraught blackout summer of 1977. Even with her movie career long behind her, Ryan and Fiona are suddenly the object of uncomfortable speculation—and Fiona demands Ryan's support. To put the past to rest, Ryan will need to face the painful truth of their relationship, and the night when everything changed.
Kensington
Paperback
October 2022
304 Pages
9781496739322
Praise
A Publishers Marketplace Buzz Book
SheReads Fall Book Club Picks
Buzzfeed Best Books of the Month
"This engrossing novel is a timely look into childhood fame, mother-daughter relationships, and how we consume media." – Buzzfeed
"In the magnetic latest from Greenwood, a former child actor faces her childhood traumas after a photo of her is found in the collection of an alleged pedophile… In Ryan's introspective narration, she explores her mother's betrayal and quest for self-gratification, and her determination to offer her own daughter a different kind of life. This knotty story leaves readers reflecting on the limits of family obligations." – Publishers Weekly
"While the meat of the story — and the answers to its underlying mystery — take place in the past, both in Vermont and New York, the novel has a ripped-from-the-headlines feel to it…Readers have come to expect layers within Greenwood's novels — how she effortlessly blends coming-of-age fiction with elements of suspense and mystery. But she brings, however unintentionally, another common thread that unites her stories and one that is much more subtle and nuanced than a favored geographic location." – The San Diego Unio Tribune
"T. Greenwood's haunting novel of showbiz parenting is a must-read. Stories of friendship, mothers and daughters, and the moments that shape our entire lives are layered with finesse, immersing the reader in the pages. Fans of The Comeback and Carry the Dog will want to snap up a copy."  – Mary Webber O'Malley, Skylark Bookshop (Columbia, MO)
"Pretty Baby meets Mommie Dearest…Right away I thought of Brooke Shields as a real life model for Ryan – a child model and actor whose innocence was stripped when she was made to act and look older and seductive.  Kiddie porn, stage moms and the power of childhood friends to save you all play out in this powerful and disturbing look at manipulation and innocence lost." – Kim McGee, Lake Travis Community Library (Austin, TX)
Discussion Questions
1. Like many of T. Greenwood's novels, Such a Pretty Girl explores the relationship between mothers and daughters. Discuss how Ryan's relationship with Fiona changes over time. And how is Ryan's parenting of Sasha a response to her own mother's failures?
2. Fiona is an aspiring actress when we meet her, yet her dreams are ultimately unfulfilled. How does this affect her relationship with her daughter? Do you think that she is both proud of her and jealous as well?
3. What was your reaction to Fiona's claim that she was protecting Ryan by making the deal she made with Zev Brenner? Do you think it was true? Who or why not? What were her other motivations?
4. Do you believe that Fiona should be punished for her complicity in Zev Brenner's schemes? Is what she did on par with what Margie did?
5. There are two major settings in the novel: Lost River in Vermont and Westbeth in the West Village in New York City. Think about the contrast between these two places, and what each represents to Ryan. Why do you think she fled to Vermont when she leaves her career behind? Which setting did you prefer?
6. The 1970s was a dark time for New York City: it was both morally and financially bankrupt. However, for Ryan and the other children at Westbeth, it is magical. Discuss the depiction of childhood in this novel. What do you recall about your own childhood?
7. As an adult, Ryan is forced to revisit her childhood through a contemporary lens. As an adult, she is able to see how the adults in her life both failed and exploited her. Is there anything from your own life that you now see through a different filter?
8. The modeling industry and the film industry clearly exploit Ryan's innocence and beauty. She argues that Henri really saw her – and that his photos were not exploitative at all. Do you think this is true? Or is it possible that Ryan was wrong about his intentions?
9. In recent years, many women have reexamined past experiences thanks to the #metoo movement. Behavior that was once tolerated or dismissed or even expected by men has come under new scrutiny. How do you think the #metoo movement liberates Ryan?
10. Ryan has kept the secret of what happened on the night of the blackout for decades. Why do you think she does not reveal what Raymond did to her to anyone but Henri?
11. Ryan's anxiety begins as a child and is something she contends with her whole life. How does this manifest in the way she parents Sasha.
12. If Ryan had not been "discovered" by Margie, what do you think she would have done with her life? Do you have any moments in your own life that changed your trajectory?
13. Discuss the photo that Henri took on the night of the blackout and what it means to each of the characters: Ryan, Fiona, Henri, and Zev Brenner. What does it "prove" to the media?
14. This book is also about the various kinds of family's – the ones we are born into and the ones we make. Who do you think is Ryan's "family"? How is her family structure similar to and different from your own?
Excerpt
New York City
August 1976
I woke the first morning at Westbeth staring at the ceilings, which undulated like waves over our loft bed. Guillermo had told us that this building, like most in the neighborhood, used to be a factory; the wave design made the ceilings strong enough to bear the weight of heavy equipment. Westbeth had once belonged to Bell Labs; it was the place where TVs were first made. "The first talkies," he'd said.
"What are talkies?" Angelica had asked.
"Movies," my mother said, the word like something sweet in her mouth. "Sounds like kismet to me."
"What's kiss-mitt?" Angelica asked.
"You know, serendipity!" My mother's eyes sparked. "Seren-dip . . . ?"
"Serendipity." She turned to me and smiled. "It means it was meant to be."
Now, I stared up at the ceilings and felt a little seasick. Gilly explained there was a dance studio above us on the eleventh floor. He said sometimes you could hear the dancers when they were jumping, the sound of their movements rippling across those waves.
I rolled over, and my mother's side of the bed was still warm, but she was gone. I was accustomed to her getting up early at Lost River. She liked to wake up before the sun rose and walk along the river
with her coffee to practice her lines. Performing for the bees and the trees, she said. There was a river here, too, but it wasn't the same. It was murky and dark and expansive. The rotten wooden piers and polluted water smelled fusty and fetid. Liliana had said that we should never, ever go out walking alone. "Nothing but junkies and gypsies and thieves out there," she said.
My mother had told me she had an audition today, our first day in the city, but that she would be home by the afternoon. That we'd go out for ice cream later to celebrate. Liliana had wanted Guillermo to go along with her, but she'd insisted she'd be fine. He'd insisted on slipping her two crisp five-dollar bills and told her to take a taxi rather than the subway.
The idea of the subway system running under the city like some sort of subterranean kingdom was almost unfathomable to me. The day before, we'd taken a walk around the neighborhood, and when we passed steaming grates on the street, I imagined dragons beneath the asphalt, breathing their hot breath into the air. Maybe that was why it was so hot and smelly here, I thought. I wouldn't have to take the subway to school, at least.
School wasn't starting for another couple of weeks. I would be in the fifth grade at PS-3, the local public school. Gilly and his siblings went to the Village Community School, where Liliana taught art. I was terrified of going to a brand-new school, where I didn't know anybody, but my mother had explained that private schools cost a lot of money, and Liliana's kids had scholarships. Besides, my school was right around the corner from Gilly's, so he, Joaquin, and Angelica would all walk me there and then come pick me up after school, as well.
While we were touring the neighborhood, we walked by my school and stopped at Duane Reade, where my mother bought me a bunch of colorful notebooks and pencils and a box of sixty-four crayons with a built-in sharpener in the back. She had squirreled away all the money Serafina had paid her for the work she did at Lost River: cooking, cleaning, and the small stipend she was paid to perform. But Serafina must have known it wouldn't last long in the city, and so she'd ordered two pairs of Toughskins dungarees from the Sears Catalog and had them sent to me at Westbeth. All my pants were high-water; I'd grown almost three inches since last year.
My mother needed to find work, but for me, for the next couple of weeks until school started, there was nothing to do but settle into our new home. Today, Gilly was excited to show me around Westbeth, which felt like a maze, a dimly lit labyrinth with endless hall- ways. A city within a city.
"It'll be fun!" he promised, but a pit had settled into my stomach and stayed there, taking root, I thought. I was homesick already.
I could hear Liliana shuffling around in the kitchen and the low hum of her and Guillermo's conversation. Threaded through their conversation was the radio, turned low. Opera music. Liliana listened to opera at Lost River, too, and the familiar sounds of La Bohème softened the hard pit in my belly. I could smell something delicious, as well; Guillermo was a renowned cook at Lost River, and when I climbed down the ladder from the loft, I could see that he was making banana pancakes, the jug of maple syrup he'd brought from our neighbors' farm in Lost River on the table.
I was the only kid awake, but I was used to being the only kid around grown-ups, and Liliana and Guillermo were like family.
"Good morning, sunshine!" Liliana said. She was sitting at the little oak table with a steaming cup of tea. She wore a loose terry cloth robe that gaped open a bit. I could see she was naked underneath, just a little gold cross at her cleavage. Liliana was curvy and soft, while my mother was angular. Sharp.
"Your mother said to give you a big wet kiss," she said, and stood up, coming to me and kissing the top of my head. "Did you sleep okay?"
I shrugged. I had woken at least twenty times. The loft bed felt like a little nest, with soft, worn sheets, but it was hot in the apartment, so we'd kept the window open, and outside, the city was suddenly louder than it had been when we arrived. Voices, cars honking, and the distant sounds of the ships' horns. Every time I started to slip into sleep, something would jar me awake again.
"You'll get used to the noise," Liliana said. "Just like the cicadas and peepers in Vermont. After a while, you'll hardly hear them anymore."
Guillermo stood at the tiny stove, flipping pancakes. He was wearing a ladies' red gingham-checked apron with white rickrack on the edges.
"Come have some breakfast," he said, gesturing to an empty seat at the table. "I'll wake Gilly up."
Gilly gave me a tour of the ninth floor; he seemed to know everybody who lived behind the doors, if not by name, then by occupation.
"Painter," he said, pointing. "Acrobat. Flute. Mime. Composer." He said that in a fancy voice and waved his arms like a conductor.
I tried to remember what he told me, as if he were a teacher and I was memorizing something for a test. When we got to the elevators, he stopped. "Let's see what Henri is doing."
Henri was the man who had come to the door the day before. He hadn't stayed long, but had introduced himself to my mother and me, and told her that if she needed headshots to bring to her auditions that he was more than happy to take them for her. She had nodded, grateful, and penciled the appointment in her planner, where she scribbled down all the cattle call auditions she could find in the back of Backstage.
The only photo she had to bring to the audition today was over three years old and wasn't really a headshot at all, just a black-and-white picture of her sitting on the riverbank at Lost River. In the photo, she looked like she was far away, a look that always made me feel sort of sad and scared. Like she was somehow both there and not there at the same time.
Henri answered the door and clapped his hands together at the sight of us. "Allo!" he said, grinning. "Come in, come in!"
Henri's apartment had a long, narrow foyer that opened into a large open space. I followed Gilly and Henri, who led us into the room and then stood there, arms outstretched, like the ringmaster of a circus.
The parquet floor was the same as the one in Gilly's apartment, but in the center of the room were heaps of what looked like bear skins, a furry sea surrounding a pale green velvet sofa, a large console TV, and a lumpy red armchair patched with black electrical tape. Along the left wall was a giant card catalog, like I'd seen at the Quimby Athenaeum back at home, and on the right were floor-to- ceiling shelves stuffed with books, and piles of them on the floor, as well.
"Bienvenue!" he said, bowed at the waist, and made a flourish with his left hand before gesturing as if to say, Feast your eyes!
Every inch of the remaining walls was covered with framed art and photos and posters, including a life-sized circus sideshow poster: STRANGE GIRLS, it said. WHY WERE THEY BORN? The brightly colored poster featured illustrations of girls with long necks, mermaid tails instead of legs, or no legs at all. My mother had taken me to the circus once, set up at the fairgrounds in Quimby. But she had not allowed me to enter the tents advertising the Lobster Boy and Bearded Lady. "They'll give you nightmares," she said. Nothing upset my mother more than when I woke up screaming and sweating, delirious with whatever monster had invaded my dreams.
There was a desk at the opposite side of the apartment, with shelves almost all the way to the top of the high ceiling littered with more books and old-fashioned toys: a rusty jack-in-the-box, and a threadbare monkey with symbols attached to his hands.
"Would you like something to drink?" he asked, moving to a small kitchenette and opening the fridge.
"Yes, please," I said, leaning close to study a shadow box filled with butterfly wings hanging at eye level. I thought of my own collection I had brought from Vermont.
"I collect butterflies, too," I announced. "Mostly swallowtails. But I found a mourning cloak this summer."
"Oh, you are a lepidopterist, eh? A collector?"
I nodded. I thought of the delicate dusky wings of the butterflies: the buttery yellow and impossible blue of the mourning cloak.
He popped the tops off two glass bottles of Coke and handed one to me and one to Gilly, who drained it in a few long swallows, then wiped his mouth with the back of his hand and burped loudly. I sipped on mine, the sweetness flooding my mouth.
"Henri took these," Gilly explained, as my eyes found the wall of photographs again. The photos were street scenes mostly, pictures of people. A lady with a plastic rain bonnet and a deep frown, a hairy mole on her chin. A little boy whose lip was deformed, connected to his nostril. There was a photo of a little girl, as well, probably about my age, staring defiantly at the camera, hand on her bony hip, which jutted out. She was wearing a bathing suit, and a swim cap with plastic flowers. The freckles on her cheeks stood in high relief, and despite her defiant stance, her eyes were brimming with tears.
"Come," Henri said, and led us through the little kitchen to another hallway, which opened to a large room filled with photographic equipment. There was a brick wall and two windows that spilled light across the floor. An antique-looking camera stood on a tripod, and a single blue stool sat before a gray paper backdrop. Big white umbrellas stood on either side, and hanging on a heavy wooden door was a handwritten sign that said, GARDE LA PORTE FERMEE!!!
"Your maman, she will come to get her photo taken?" I nodded.
"Elle is très belle. Very beautiful."
He looked at me thoughtfully.
"Do you like cats?" he asked.
I loved cats. I had hated saying goodbye to the barn cats at Lost River. There were at least a dozen of them, and nobody could tell them apart except for me and Angelica. We had named them all, mostly after Saturday morning cartoon characters. Her favorite was a jet-black kitty she called Bamm-Bamm, but mine was a little tiger I'd named Daphne. I had pleaded with my mother to bring Daphne with us to Westbeth, but she had said that she was a country cat, not a city cat, and wouldn't be happy in Manhattan. I had worried after that— I was a country kid; how would I fare in the city?
"Come," Henri said, and motioned for us to follow him. He grabbed a camera from the coffee table in the living room and strung it around his neck.
We took the elevator up and then trailed behind him through another dimly lit hallway. He pulled a key from his pocket; it had a tattered red ribbon strung through the hole. "It is magic, this key. It unlocks every door in this building." I marveled at this. One key that could fit into every lock?
He opened the door, but instead of entering another apartment, we found ourselves outside, on a rooftop looking out over the city. I gasped with delight and turned in a complete circle, marveling at the three-hundred-sixty-degree aerial view of the city skyline. I could see the Towers in the distance and felt an odd sense of comfort. Just like Gilly had promised, I knew where I was.
"Come," Henri said again, and led us to a little shadowy alcove, where I heard a sort of humming, rustling sound. Purring!
We knelt on the crumbling asphalt ground, and there, in a cardboard box lined with a striped beach towel, was a big fat gray cat with six or seven squirming kittens suckling on her.
"Can I hold one?" I asked.
"Of course," he said, and reached into the box, plucking one nursing kitten from her mother. I held out my hands with the wriggling little ball of fur. Its warm body squirmed in my palms, its eyes still sealed shut.
"She's brand new!" I said. I knew from the barn cats' litters back at home that their eyes remained closed for the first week or two after they were born.
"Oui. Born just last week."
Instinctively, I held the kitten against me, felt the tiny little motorlike purr as she tried to find her mother's milk.
I heard the shutter click, and I looked up at Henri. Was he taking my photo?
"I am sorry," he said. "I should have asked. It is okay?"
My mouth twitched, and the kitten burrowed its hard little skull against my beating heart. I nodded.
He clicked again, and I felt the trapdoor feeling I sometimes had. Like those dreams where you start to fall but are jerked awake again. "She needs her mother," I said. I leaned over the box and carefully placed the kitten at her mother's belly, relieved when the kitten latched onto the one free, angry, pink nipple, and I heard the quiet motoring hum under its ribs.
As Gilly and I returned to the apartment, we could hear voices coming from upstairs. Liliana's voice was clear and high.
Gilly and I looked at each other. When I moved to go toward the doorway, he put out a hand to stop me.
Liliana kept talking. "Where the hell is she? The audition was hours ago. I told her not to take the subway."
"You know these things can run all day," Guillermo said. "The longer, the better—that means she wasn't cut right off the bat. It's probably good news. You're just being paranoid."
"It's getting dark. You know what happened to Marcy. And that happened in broad daylight, Gill."
"Who's Marcy?" I whispered, scared.
Gilly shrugged. "I think she's a painter my mom knows?"
Golden sunlight streamed through the western-facing window, the sort of afternoon light that came through our own window in the cabin, gilding the edges of everything. But instead of bringing comfort, it made everything worse. The last golden minutes of the day meant that it would be dark soon. It wasn't safe in the city in the dark.
"I think we should go find her," Liliana said. "Where did she say the audition was?"
Tears filled my eyes at the thought that something terrible had happened to my mother on our very first day in New York City. Gilly and I walked toward the open door. Just then, I heard the jangle of their phone. It rattled and echoed down the hallway. Was it the police?
Liliana had picked up the phone and wandered into the kitchen, the long cord trailing behind her like a venomous snake.
When Gilly and I got to the top of the stairs, Guillermo stood up from the chair where he was sitting. His face went sort of blank at the sight of me.
"Where's my mom?" I asked, trying not to blink. Once the tears started, I knew they might not stop.
"I'm right here."
I heard the door shut and turned to see my mother climbing the stairs.
She was wearing the tall, caramel-colored suede boots I loved and a denim miniskirt. A red floral blouse that revealed her tiny waist. Her hair was parted in the middle in two low pigtails. I had never been so happy to see her in my life.
"Where were you?" I asked, choking now on the sob that had gathered in my throat.
She lifted the strap of her fringy purse off her shoulder and set it down on the kitchen table.
"What do you mean?" she said. "I told you I had an audition."
I shook my head and clung to her, the familiarity of her body the only thing keeping me grounded. She smelled like cigarettes, and when she bent down, I could smell it stronger on her breath, with something sort of cloying underneath. Wine, maybe?
"Jesus H. Christ," Liliana said when she came back into the main room. "Where were you?"
"Oh my god, it's like the Spanish Inquisition here," my mother said, putting up hands like she was under arrest. "I had the audition I told you about. And then a callback . . . and then a few drinks with a new friend I made while we were waiting in line."
"Wait," Liliana said, her face softening. "A callback?"
"Yes. I mean, it could be nothing, but I made the first cut. And they said the second callbacks will be on Friday. I gave them the number here."
My mother unpeeled me from her waist. "I also stopped by Times Square to pick up a little gift for you," she said, and reached for her purse. "Oh, shit," she said as she lifted the snow globe from her pocketbook. It had cracked, and all the liquid was gone. There were sparkles all over her hand, and her fringy leather purse was soaked.
But I didn't care. She was home.
Essay
Dear Reader,
My hope is that Such a Pretty Girl will transport you to a lost city and a lost time. The story begins at a summer stock theater in Vermont, but takes place primarily at Westbeth Artists' Housing in New York City's West Village during the mid-1970s. It was when Son of Sam held a reign of terror. Times Square was a place no tourist would dare to venture. Bankruptcy and pervasive crime made many believe that the Big Apple was rotten to the core. And on the night of July 13, 1977, a blackout shut the city down, leading to twenty-five hours of arson and looting and mayhem.
But even as the city crumbled, the West Village was buzzing and alive with artists and bohemians. In Westbeth Artists' Housing, located along the West Side Highway, more than three hundred artists of all different kinds made their homes: dancers, painters, photographers, and actors. The children of Westbeth, like many children of the 1970s, were wild and free, making their own breakfasts and their own rules. Saturday morning cartoons, roller skating on the rooftop, and games of Manhunt; the labyrinthine hallways of the complex were their playground.
This magical place is where Fiona, an aspiring actress, has moved with her ten-year-old daughter, Ryan, in the summer of 1976 – just months before Ryan is discovered by a modeling agent who will change the trajectory of both their lives. It's a time when famous child actresses like Brooke Shields, Jodie Foster, and Tatum O'Neal appeared on TV interviews alongside managers who also happened to be their mothers, navigating what must have been a complex relationship in a very public forum.
I wrote Such a Pretty Girl because I wanted to tell the story of a girl becoming a woman too quickly. I wanted to examine how ambition can tilt one's moral compass. I wanted to write about a period in history when women were simultaneously fighting for equal rights and still being exploited and commodified. And how one's childhood must sometimes be reexamined through a contemporary lens. But above all, I wanted to tell the story of girlhood, and all that means, not only for Ryan, but – I believe – for all women.
I am so grateful to you for spending some time with this novel. If you enjoy following Ryan as her star begins to rise in a city on the decline, please consider sharing your thoughts online using the hashtags #SuchAPrettyGirl and #TGreenwood.
Thank you so much for reading,
T. Greenwood, author of Such a Pretty Girl