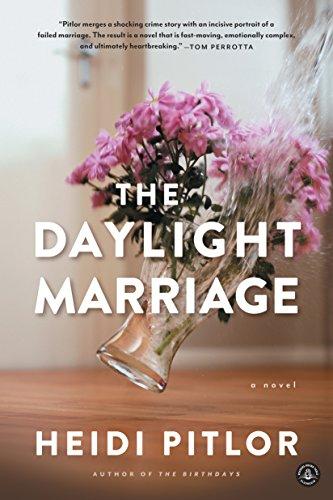 THE DAYLIGHT MARRIAGE
---
"Hypnotically readable—I absolutely couldn't put it down. The structure is brilliant, and I turned
the pages with increasing dread. This book is terrific." —Stephen King
When Hannah vanishes the morning after an explosive argument with her husband, he must try
to piece together what happened to his wife—and to their life together. And while he waits with
their two children for news from the police, the reader watches Hannah's every move as hastily
made decisions prove irrevocable.
With haunting intensity and a seamless balance of wit and heartbreak,
"Hypnotically readable—I absolutely couldn't put it down. The structure is brilliant, and I turned
the pages with increasing dread. This book is terrific." —Stephen King
When Hannah vanishes the morning after an explosive argument with her husband, he must try
to piece together what happened to his wife—and to their life together. And while he waits with
their two children for news from the police, the reader watches Hannah's every move as hastily
made decisions prove irrevocable.
With haunting intensity and a seamless balance of wit and heartbreak, The Daylight Marriage is
a psychologically powerful study of the dark and delicate nature of a marriage and examines our
need to be truly seen by those who see us every day.
Algonquin Books
Paperback
January 2016
272 Pages
9781616205317
Praise
"Riveting." —Geraldine Brooks
"Thoughtful, lyrical, unforced . . . A perfect microscope with which to examine the inexhaustible
fascinations of marriage." —The New York Times Book Review
"Understated and plausible . . . We learn the truth about what happened to Hannah in a way
that's all the more disturbing for its subtlety." —Entertainment Weekly
"[A] spellbinding novel of suspense." —Library Journal
Discussion Questions
Why do you think Lovell and Hannah chose the jobs that they did? How do their jobs
contribute to their fates?
The author chose to tell this story from two points of view. What did this narrative choice add
to the story?
Why do you think Lovell and Hannah ended up getting married and staying together, even
after their incompatibilities became clear to them?
How does Lovell's work serve as a metaphor for what happens elsewhere in his life?
Do you think Hannah's fate was wholly accidental, or did she have some small say in it? Do
you think she was entirely unaware of the danger she faced on the beach?
What role do the neighbors, Stephen and Jeff, play in this book? Without them, what would be
lost?
What does the title mean to you?
Is Lovell a reliable character? Why or why not?
How does the author build suspense in this novel?
What does danger mean to Hannah? Why was it necessary to her?
Why wasn't Lovell more receptive to the therapist, Dr. Valmer? Why weren't the kids?
The members of the Hall family often chide each other for their language. What roles do
language and swearing have in this book?
What does Janine think has happened to her mother? How does this change throughout the
book? Why?
Do you think the author wrote this book more as a character study and a literary novel or as a
cautionary tale? Why?
Hannah once asked Lovell, "Do you ever get sick of trying to predict the precise movement
of every molecule in the atmosphere? When you look so close at something, doesn't it start to
disappear? Doesn't it lose its fundamental it-ness?" (page 184). What does this mean to you?
What do you think Hannah was talking about, beyond Lovell's work?