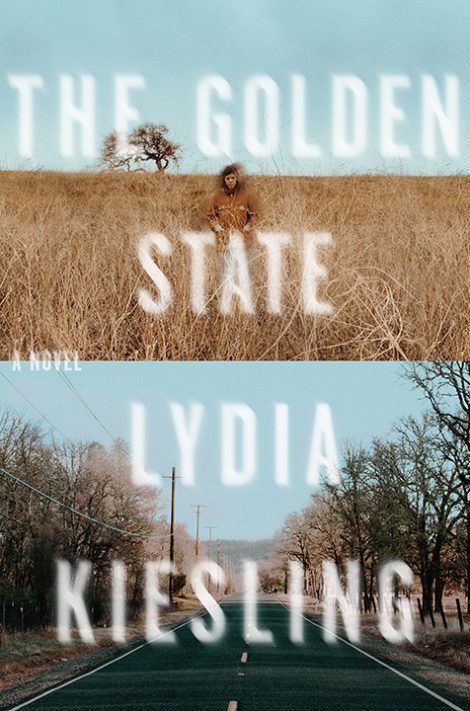 THE GOLDEN STATE
---
A gorgeous, raw debut novel about a young woman braving the ups and downs of motherhood in a fractured America
In Lydia Kiesling's razor-sharp debut novel, The Golden State, we accompany Daphne, a young mother on the edge of a breakdown, as she flees her sensible but strained life in San Francisco for the high desert of Altavista with her toddler, Honey. Bucking under the weight of being a single parent—her Turkish husband is unable to return to the United States because of a "processing error"—Daphne takes refuge in a mobile home left to her by her grandparents in hopes that the quiet will bring clarity.
A gorgeous, raw debut novel about a young woman braving the ups and downs of motherhood in a fractured America
In Lydia Kiesling's razor-sharp debut novel, The Golden State, we accompany Daphne, a young mother on the edge of a breakdown, as she flees her sensible but strained life in San Francisco for the high desert of Altavista with her toddler, Honey. Bucking under the weight of being a single parent—her Turkish husband is unable to return to the United States because of a "processing error"—Daphne takes refuge in a mobile home left to her by her grandparents in hopes that the quiet will bring clarity.
But clarity proves elusive. Over the next ten days Daphne is anxious, she behaves a little erratically, she drinks too much. She wanders the town looking for anyone and anything to punctuate the long hours alone with the baby. Among others, she meets Cindy, a neighbor who is active in a secessionist movement, and befriends the elderly Alice, who has traveled to Altavista as she approaches the end of her life. When her relationships with these women culminate in a dangerous standoff, Daphne must reconcile her inner narrative with the reality of a deeply divided world.
Keenly observed, bristling with humor, and set against the beauty of a little-known part of California, The Golden State is about class and cultural breakdowns, and desperate attempts to bridge old and new worlds. But more than anything, it is about motherhood: its voracious worry, frequent tedium, and enthralling, wondrous love.
MCD
Hardcover
September 2018
304 Pages
9780374164836
Praise
Longlisted for The Center for Fiction's First Novel Prize
"Kiesling's intimate, culturally perceptive debut portrays a frazzled mother and a fractious America, both verging on meltdown . . . Kiesling depicts parenting in the digital age with humor and brutal honesty and offers insights into language, academics, and even the United Nations. But perhaps best of all is her thought-provoking portrait of a pioneer community in decline as anger and obsession fray bonds between neighbors, family, and fellow citizens."—Publishers Weekly (starred review)
"First novelist Kiesling nails the particular travails of new mothers, puts a human face on immigration issues, and adds some contemporary political commentary . . . There's so much to love about this novel . . . Strongly recommended for readers who enjoy contemporary literary fiction and can handle a few swear words."—Library Journal (starred review)
""Lydia Kiesling's first novel encapsulates the intense and often conflicting feelings of early parenthood: frustration, tenderness, isolation. By playing with punctuation and sentence structure, Kiesling immerses the reader in the fragile headspace of the anxious new mother. With a style reminiscent of Claire Vaye Watkins and Sarah Stonich, The Golden State sparks the lovely, lonely feelings inside us all"—Booklist
Discussion Questions
1. What makes Engin and Daphne a good match? What attracted them to each other, and to each other's worlds? How does their love evolve over the course of The Golden State?
2. Daphne describes pumping milk at work, in a basement closet that houses computer servers. What does this image say about modern American motherhood?
3. As Daphne counts the dollars in her bank account and the minutes of her commute, what is she really measuring? When she returns to her grandparents' house, how is she affected by the new daily rhythm of sleeping and feeding and playing?
4. How would you have reacted in Daphne's situation after Engin was illegally pressured to relinquish his green card? If you could rewrite America's immigration laws, what would you decree?
5. What viewpoints do Daphne and Cindy share? What lies at the heart of Cindy's paranoia? Why is it difficult for her and the State of Jefferson followers to stay rooted in reality?
6. As Alice's friendship with Daphne unfolds, what forms of caretaking do they provide to each other? If you had the chance to reconnect with a chapter from your past, what special place would you want to return to?
7. The author delivers a highly realistic depiction of workplace bureaucracy. How do Daphne's coworkers compare to yours? How long could you be gone from the office before anyone would know you were missing?
8. Daphne recalls the tidy world that her grandparents inhabited, down to her grandmother's immaculate golfing outfit, and the thriving small-town community where they were well-known. What caused the decline of Paiute County?
9. None of the staff at the Institute for the Study of Islamic Societies and Civilizations is a Muslim. What commentary does the novel offer on the limitations of institutions—and the power of individuals—to heal society's fractures?
10. As Daphne comes to terms with the accident that took the life of a student (Ellery Simpson) and injured another (Maryam Khoury), what does she discover about the risks and rewards of her own cross-cultural journeys?
11. What does the novel tell us about the ability of language to connect us, even when language appears to be a barrier?
12. How did Engin and his mother change your perspective on what it means to lead a fulfilling life?
13. What do you predict for Honey's generation? Are you optimistic that cultural differences will be widely respected and celebrated in the future, in America and abroad?
Excerpt
DAY 1
I am staring out the window of my office and thinking about death when I remember the way Paiute smells in the early morning in the summer before the sun burns the dew off the fescue. Through the wall I hear the muffled voice of Meredith shouting on the phone in laborious Arabic with one of her friend-colleagues, and in my mind's eye I see the house sitting empty up there, a homely beige rectangle with a brown latticed deck and a tidy green wraparound lawn to its left, a free-standing garage to its right, and beyond that an empty lot with juniper shrubs and patches of tall grass where the deer like to pick. Technically it is a double-wide mobile home, although it does not look mobile—it's not on wheels or blocks; it has a proper covered foundation, or at least the appearance of one, and could not be mistaken for a trailer. Technically I own this house, because my grandparents left it to my mother and when she died she left it to me.
The house is waiting for an occupant; my uncle Rodney, who didn't need it and thus didn't inherit it, has been paying someone to come every month to tend the geraniums and cut the grass for the last five years. He pays for a low, persistent hum of electricity and gas through the winter so as to avoid the effects of a hard freeze. The idea is that someone will one day want to buy this house, and my uncle Rodney is keeping it nice until then, I suppose as a favor to me.
I hear Meredith send valedictory kisses through the phone and amid the sparkling glass and chrome splendor of the Institute I see the faux-wood paneling of the house and the nubbled brown upholstery of my grandmother's two soft couches, still in situ with the rest of her furnishings. And then I feel something tugging—first from across the Bay, the dingy living room where Honey and six other babies spend ten hours a day toddling, then from the long stretch of road, nearly four hundred miles of road, leading up to the high desert. And then I stand up from my office chair and open the right-hand desk drawer and put a Post-it on the petty cash box noting my outstanding debt of $64.72 to the petty cash fund, and after a moment's hesitation I put the Dell laptop and charger paid for with endowment income from the Al-Ihsan Foundation into my bag. And then I turn off my monitor, slip on my ill-fitting flats, call goodbye to Meredith ("Have a good night," she calls back, at 10:00 a.m.), and walk out of the building and down the main walkway through campus, the Bay before me and the clock tower at my back.
On BART I stare out the window and consider why it is that I am homebound at 10:15 in the morning with my eye to the northeast. The morning was not worse than most mornings. The alarm went off at six and I hit snooze six times at 6:10 6:19 6:28 6:37 6:46. Honey called from her crib like a marooned sailor and I guiltily left her there to take a shower after calculating the number of days without, four, too many. Then half-dressed and still dripping I pulled her wailing from the crib and wiped her tears changed her diaper replaced her jammies gave her kisses carried her to the kitchen. I put her in the high chair and gave her a fistful of raisins and realized there were no eggs or yogurt or fruit, which meant oatmeal, which takes an additional eight minutes by the most optimistic estimate, and so because of my own late start and the absence of the eggs I had to rush her through breakfast, and lately she hates to be rushed, hates to have things cleared away before she is ready, so when I took the oatmeal away she started wailing and when I carried her into our room she screamed and stiffened and threw her body back against my arms, a great dramatic backward swan dive with no regard for whatever might lie behind. And when I hustled her onto the floor to get dressed and held up the onesie and tried to invest her in the process like they say you should she started shrieking and thrashing anew and it felt very distressing, very critical, very personal, and I gripped her arms tightly, too tightly, arriving at a threshold of tightness that felt dangerous but obscurely good in a way I wouldn't care to investigate further. And then I tugged the onesie over her head looked at the time put my own head in my hands and sobbed for thirty seconds.
Engin's primary criticism of me is that whenever he tries to initiate a serious conversation I start crying, which activates his innate gallantry and sympathy, and which effectively halts whatever potentially challenging conversation we are having. He calls it a taktik; I call it a refleks. "What do you do when they criticize you at work?" he asked me once, and I told him, truthfully, that at work I am perfect. Whatever the thing is, my taktik or refleks, it worked on Honey, because she paused and I seized the moment to stuff all her limbs into the onesie the pants the socks. Then I put her down and got dressed while she rampaged cutely around the bedroom and messed with the doodads on my bedside table, evil eyes and icons and various other apotropaics I keep meaning to hang up on the wall. And then I dutifully put the little rice-size grain of toothpaste on the little toothbrush festooned with Elmo and friends and sang the song from the Elmo video, but she clamped her mouth shut tight and pearly tears squeezed from her eyes and I gave up which I do four times out of ten.
But all this was par for the course. In fact it was a small miracle that we were out the door at 7:55 for a nearly on-time daycare arrival of 8:05. Then to the streetcar, then to the train, there to zone out with the Turkish work of midcentury social realist fiction I've been trying to read for three years, then switch trains, then to the planter boxes of a Wells Fargo to smoke a cigarette, then up the hill to arrive at work at 9:35 which is a little over one hour later than I am supposed to be there according to the terms of my offer letter. But I'm still the first in the office, and if I bring Honey to daycare at 8:00, the earliest they accept kids, I can't get to work any earlier than 9:30, even if I don't smoke a cigarette—it is physically impossible.
In the office things had proceeded more or less as usual. I visited the Visa Status Check page of the National Visa Center website to see the status of Engin's green card, which was, is, in perpetuity, "At NVC," which means nothing except that not a single thing that needs to happen has happened. I checked the bank balance, $341 checking; $1,847 emergency. This had five months ago been a plump and hopeful $4,147 until the forced abandonment of Engin's green card and immediate forced return of Engin to Turkey at our expense, and the subsequent retention of an attorney to reapply, and the new application fee, and the recent additional lawyer's fee to understand why it has been At NVC for five months with no perceptible forward movement—which is, we have lately been told, a probable "click-of-the-mouse error." I paused to silently pray that whatever future emergencies might arise can be resolved for under $1,847. I checked the credit card balance, $835 less $483 in pending reimbursements for Miscellaneous Catering Expenses. I checked the University Purchasing Portal to see the status of my pending reimbursements, and verily they were still pending. I checked my retirement balance, $9,321, which was theoretically comforting although I cannot of course access it without penalty for twenty-seven years. I checked an immigration thread on BabyCenter, very short, and a Subreddit, very sad. I looked at a WeChat picture from daycare showing Honey's diaper and a troublingly small turd. I checked WhatsApp for Engin's last greeting and sent him the picture of the turd. And finally I listened to a voice mail from the Office of Risk Management relaying that I would have to make a statement regarding the death of student Ellery Simpson and injuries sustained by student Maryam Khoury in a taxi outside the Fidanlik Park refugee camp on a research trip supported with funds from the Al-Ihsan Foundation and partially arranged for by me. And then I looked out the window and thought of death and remembered the smell of the Paiute air and the dew on the fescue grass.
* * *
I reach my stop and take the streetcar to my block and stop to smoke a cigarette in front of the door of our building, staring at a free newspaper in a waterlogged bag on the pavement and picturing the long road up to the house. It's been a year since I made the drive, the miles of sprawl, then the huge swath of territory punctuated by alkali lakes and picturesque homesteads and tree stands, then the stretch of increasingly far-apart tiny townships and ruined general stores and abandoned trailers, the place where you think you've absorbed the beauty and caution of the territory and it must be time to get where you're going but you've still got eighty miles of rattlesnake plain left to go. I imagine the swift elevation up from the plain through sugar pine and juniper and more pine and the sudden descent onto another great basin, this one checkmarked with fields and cattle and pieces of wetland, its silvery grass and wet places shimmering pink in the twilight, a cattleman's paradise five thousand feet high. And then my own abandoned homestead in Deakins Park, to sink into those soft nubbled couches and take in the cool morning air of Altavista, the seat of Paiute County.
I put out the cigarette in a flowerpot and go inside and pull out a tote bag and a suitcase, and all of the focus that has lately abandoned me at work materializes and I run through the checklist: clothes diapers Pack 'n Play baby bedding sound machine high chair Ergo stroller toys books bib sippy cup snacks and, in a flash of motherly inspiration, socket protectors. There are thirty-some Costco string cheeses in the fridge and several bags of shriveled horrible natural apricots in the cupboard. I put on jeans and I stuff my jammies a housedress a few of Engin's T-shirts and my sweatshirt that says "I Climbed the Great Wall" into the suitcase. There is no Business Casual in the high desert and none of my nice things fit in any case. I put everything in the trunk of the car in two trips and then I pause before locking the door and run back in to get our passports because you never know. Then I stand on our dingy wall-to-wall carpet thinking now is a moment to reverse course and drive south to the airport and find the soonest flight to Istanbul and get us one ticket since Honey is still free and then I recall I have this thought every single day like a goldfish and every time it ends back at the $1,847 in emergency.
My mother-in-law is not rich but she is not poor and I suspect she would happily buy the plane ticket to get her hands on her granddaughter so I suppose it's not only the $1,847 that keeps me from this course. The other thing is that I have this objectively marvelous job, a world-historically good job, a job at one of the best universities in the country or the world, a job wherein I got to make up my own nonsense title which is Director of Engagement and for which I make $69,500 a year all by myself, an extremely arbitrary figure which is somehow not enough to live on here but well above the national median household income and with which I pay our rent our daycare and our food and appreciate but do not rely upon the sporadic lump sums from Engin's video gigs. "Always have a job," my mother told me when I was eleven, and again when I was seventeen, and then again, when I was twenty-three, right before she died, when we sat together at her dining room table going over the papers that would give me the mobile home and all of her own furniture and household effects. "Don't ever live on someone else," she said to me over her glasses, her dainty head wrapped in a silk scarf I remember for no reason that my dad bought her at the Alhambra gift shop in the dead of a cold Spanish winter.
So I suppose it is the $1,847 that keeps me here, but it is also my glass-walled office, my gold-plated health care, our below-market rent in a top-five American city. And there's Honey, born here. If we leave I am pretty sure we are never coming back, and she's a California baby now and if we leave she won't be ever again. So I abandon Istanbul with a pang as I do every time I think to take flight, and I smoke another cigarette against the hours in the car to come. Then I walk the two blocks to daycare to collect Honey, who gives me a radiant smile when she is brought to the door, which I accept as confirmation of the rightness of my actions thus far.
* * *
There are two ways you can drive up to Paiute County from San Francisco. You can take I-5 which runs up through the central agricultural flatlands, or you can head way east up the mountains that encircle Lake Tahoe, all the way to Reno and then north from there up the endless state roads. Mom always went up the mountain and down the valley so I decide that's what we'll do too.
Honey is happy enough when I put her in the car seat even though I do so with hideous pangs because she should be facing backward but faces forward. I switched it when her unusually long baby legs started to seem cramped and then read she should stay facing backward for many more months but couldn't get it tight enough by myself when I tried to turn it back around. The idea of calling the fire department or one of the daycare parents to do it for me is so humiliating that for now I've abandoned her to her fate in a front-facing car seat which I secretly prefer anyway because now I can see her and at red lights I can reach back and squeeze her feet. I give her a string cheese but I panic at the first stoplight remembering that it's a choking hazard in a moving car and first I scrabble my hand back ineffectually and then I pull over before the entrance to the highway so that she can eat the string cheese under supervision, but I have ruined it, and she throws the cheese and cries, and she cries all the way over the bridge and into the customary gridlock by the IKEA, the clogged highway branching off into miles of parking. I smell the foul bay-mud around the base of the bridge, and look across the water to Angel Island and the container ships making their placid hulking way through the Golden Gate and I say "look look look Honey, big boats, BIG BOATS" but she is still crying forty minutes after we've left the house and she is still crying forty minutes after that.
The Buick is a beautiful heavy boat built for long voyages, with soft taupe upholstery and a bench seat in the front with seat belts for three across. It is a 1997 LeSabre that I inherited from my grandparents before I inherited their house, and it is now pointing toward its place of origin like a giant beige homing pigeon. I wish I could put Honey up here next to me but that would obviously be a thousand times worse safety-wise than having her facing forward in the back. When Engin and I made this drive the first time, he drove the complicated part to get over the bridge and onto the open road and I sat in the middle seat nestled against him, pointing things out as we passed Berkeley passed El Cerrito passed Richmond until we were well into the golden hills scarred with cheap motels and roadside churches and housing developments. I showed him my favorite lone farmstead past Hercules, an 1800s beauty hunkering down amid a stand of poplars, beyond it rolling hills dotted with cows. It must have been one of the loveliest pieces of land on God's earth and now it looks out at a highway lined with trash.
If Engin and I can be said to have anything in common, anything that forms the basis of a solid lifelong marital foundation that is, it's a shared aesthetic, so that the landscape of California moves and offends us in equal parts. Thus he admired my farmhouse and the hills of the coast range, yellow as they were, and lamented with me the cheap hideous housing tracts around Vallejo Fairfield Vacaville, and then the god-awful Nut Tree, a township comprised entirely of big-box commercial establishments, mattress stores and Starbucks and fast casual dining a stone's throw from endless choking traffic, the smell of exhaust faintly perceptible even in the padded coffin of the Buick.
But now it is Honey and I and I am driving straight-backed right up against the wheel with my shoulders up by my ears, sweating and worrying over my precious squawking cargo and feeling so increasingly perturbed by her crying that soon I have to pull the car over again in a highway-adjacent dialysis center and cry into the steering wheel for three minutes along with her. Honey knows we have stopped the car and her crying becomes more urgent and her body begins straining against the straps of the car seat and she makes a glubbing sound and I look back at her and before I can do anything her mouth opens wide and her eyes open wide with the unmistakable panic of imminent barfing and I say "no no no" and a small torrent of milk water cheese pieces and noodle bites from daycare sprays forth onto her and the car seat and her eyes are terrified. I lunge back and am trying to unbuckle her as another torrent comes forth and then she recovers her breath and screams so I know she is not dying. I get out of the car and sprint around to her door and undo the restraints from which she is frantically trying to free herself and pick her up and first hold her at a shameful arm's length before motherlove grinds into gear and I press her against me and cradle her hot head against my shoulder and smooth down her damp curls while she sobs. I grip her with one arm open the trunk dig in the tote bag find a T-shirt and a pack of wipes and a new onesie and I get her more or less wiped off and changed and sit her in the passenger seat and tackle the car seat with one eye on her and I am obscurely proud to see her return quickly to higher spirits and make a renewed effort with her cheese; she has a nice sense of equilibrium. I take my shirt off and put on one of Engin's and we do a little walk around the parking lot and finally she gives me a smile and squawks merrily when I kiss her on the mouth and do a zerbert into her neck.
We have some water and she finishes the cheese and I put her back in the car seat and roll down the windows for the smell and as I move down the exit and wait for some window between the terrifying rush of enormous trucks pickups SUVs she has started up crying again. But once we get on the road and make our way through the perpetual snarl of traffic that surrounds Nut Tree and finally get through Davis and Sacramento and head into the Sierra, she is asleep, and as we say goodbye to the dusty median oleanders of the flatlands and begin to feel the incline signaling our ascent to the high country I have the slightest bit of that road-trip feeling, that opening up, the road rising up to meet us, the marginal loosening of cares.
The road is beautiful now, pine forests and limestone slabs and glimpses of Donner Lake in the distance. Once you get over the top of Donner Pass and some kind of geological divide, suddenly the forests are gone and the land is brown and stretching out for miles and miles and that's Nevada. Then through Reno, its outer ring of subdivisions and lawns trying to be green, its downtown its modest multistory casinos and the suggestion of tree-lined neighborhoods just hidden from view of the highway. In Altavista this is the small-c city, four hours away, where Mom and Uncle Rodney bought their prom clothes and their dress-up shoes and had white-tablecloth meals at the regal art deco hotel they demolished fifteen years ago. Every time I see the trees and think of the home prices I think maybe Engin and I should try it out here, but Engin having grown up in the heart of the world's greatest metropolis is ruined for two-bit cities, for him San Francisco is just a town, and I can't quite picture him on this patch of desert.
Before Honey and I traverse the vast territory between Reno and Altavista we have to eat, so we stop on the Nevada side at a little tiny casino called State Lines which is where Mom and I always used to stop to get a cheeseburger for reasons that now escape me since it's a low-lying unprepossessing building with tinted windows on a plateau overlooking the warehoused suburbs of Reno and a vast dry lakebed. When you open the door, on your left is the gambling section with indoor smoking and on the right is a diner. The people are friendly and the food is bad and the seats are vinyl and the art is mustardy paintings of waterwheels and gold-rush diggings. Honey sits on my lap and plays with the spoon and the fork and I order the jumbo hotdog and share with her, cutting her half into tiny pieces, but she whines and mostly wants to take bites off mine like a big girl.
Engin and I stopped here on our solo trip and I said as I had said for the days weeks leading up to it, "Prepare yourself for a lot of downtrodden white people." And there were the customary white people saddled up to slots with oxygen machines and cigarettes smoldering in the ashtrays beside them, bearded men in shirts reading e.g. "Donkey Kong Is My Spirit Animal," every one with his hat on, women with big legs and bad hair and rambunctious children. Now I am here, a white person not particularly downtrodden but with big legs bad hair and rambunctious child although she isn't really that rambunctious, not really, and at this moment she is peaceful in my lap, happy to be out of the car happy to be smiling at the hostess who is not white but brown and who chucks Honey's cheek and touches her curly fuzz and Honey points at a bronco in a painting and says "daggy daggy daggy," the only real word she can say. She sucks ketchup off the French fries and I analyze her food intake today and it is unbalanced and I wonder how I will go about balancing it. I exchange smiles with two very old people sharing an enormous sandwich, he with a trucker hat and suspenders, the picture of my beloved Burdock grandfather, but this man looks menacing to me as everyone looks menacing to me lately. We finish our meal, my fingers already swelling from salt, and I stand and pluck my pants from my butt and haul Honey through the smoky side to the bathroom and I pee and there's no changing table so I change Honey's diaper outside in the back seat of the baking car. Zerberts zerberts and more zerberts and baby laughs and so docile getting into the car seat I think I can do this and trot around to the driver's side with just the slightest bit of pep in my step.
We leave State Lines and Honey looks happy. I have the windows down and the hot wind is whooshing around the car and the fuzz on her head is standing up and I crane to make eye contact with her in the rearview mirror and I smile and she smiles back. I like this stretch here the most because this is the real way there, all the obstacles of Davis Sac Reno behind you and the sparse hills rolling away from the road like a moonscape and you understand you're really going somewhere special. But it doesn't last long before the road becomes long and monotonous and the distance starts to feel threatening and somehow irrevocable, the only movement the occasional flocks of sheep impossibly far from shelter. When Engin saw this part for the first time he said "My god, it's like the steppe." When I was a child we did this pilgrimage every year, hours and hours and hours in the plane and then stepping bewildered into the fog of SFO, only to get in the car and drive into this otherworld where my grandparents waited on the deck with drinks for my parents and ice cream for me. But now for me it's only the memory that beckons, the strength of all the associations that still cling to the land and the road leading to it.
Honey is quiet and the Buick is devouring miles, the ride so smooth you don't feel the road beneath. We are swiftly out of radio opportunities and I have to pee again but Honey is fast asleep so I press the pedal and we are flying on the empty road at ninety miles an hour until I can't stand it anymore and find a dirt place to pull over, a forest service fire road or a rancher's road with a cattle gate stretched across. I leave the car on and spring around to the side and pee right next to the car so I can peer in the window and keep an eye on the sleeping Honey. And then it's back on the road, now passing the tiny depleted burgs before the Paiute border. In the distance I see a little shack with a big black flag reading "Kafir" in Arabic, which was here when Engin and I came up last time. "Bu ne yaa," he said when he saw it. What is this? And I said, "It says kafir," infidel, the same word in Turkish. "It's for anti-Islam dickheads to show that they are anti-Islam dickheads." He looked aghast and then laughed, I thought because it sounded so odd to hear the obscenity in my accent but then was informed that sik kafali is way more obscene apparently than dickhead is in English—the type of thing where you might have to fight someone. I'm always miscalibrating profanity since you can't learn it in a book.
The sky is just starting to mellow into the warm pre-twilight light, bruising faintly at the horizon, when we get out of the last stretch of plain and up over the forested hills to the basin where Altavista sits. Honey wakes up now, crying. "We're so close, sweet one," I tell her. "Hang in there," but she's justifiably grumpy and she cries and I listen to the crying and roll down the window to imbibe the juniper and try to bolster myself for the sight of the wildlife preserve and the fields and the town that will greet us over the crest of these little mountains, but as with everything up here it's the scale and the sparseness that are striking, and the thrill of recognition at first sight is replaced almost immediately with a feeling of deflation, the knowledge that there's no one waiting on the deck to greet us. The highway turns into the main street and we pass the area they called Indian Town which is a rocky slope just outside of where the grid begins and presumably where the people were made to live who weren't shipped off to Oklahoma after the Indian Wars or into one of the tiny rancherias out yonder. And then we are in town proper, Honey crying past the abandoned false-front emporia past a few shops past the High Desert Hotel past the tiny movie theater with by god a newish release spelled out on the marquee. My heart sinks as I take in the empty sidewalks and empty storefronts, the gas station, the railroad tracks now defunct, everything looking like it was the last time I was here, that is, not exactly thriving.
The drive is supposed to take six and a half hours but somehow we have been on the road for eight when we come to the wooden sign sunk into grass that signifies the entrance to Deakins Park. Although Honey is still caterwauling, passing the sign feels like entering protected land, something apart from the ravages of the town. It sounds like hair-splitting to parse the varieties of mobile home, like something only a person obsessed with imperceptible class minutia would do, but there are mobile homes and mobile homes and despite how mortified I used to be by the fact that my grandparents lived in one now I happen to think Deakins Park is just as nice if not nicer than many a suburban cul-de-sac of for example the Nut Tree–adjacent variety. It's a circle of nicely appointed and discreetly mobile mobile homes of different styles and patterns built on either side of a large circular street, each kept up nice and with a good-size yard. The outer ring of houses is bounded by a split-rail fence, and beyond this the town gives over to the high desert, with low, prickly sagebrush and rafts of tumbleweed through which jackrabbits bound and antelope poke delicately in the cool mornings. Everyone has plenty of space and a view of the low-lying mountains ringing the basin. It's a little neighborhood on the frontier. Home on the range, if you will.
I drive past what was the original eponymous Deakinses' place, left empty by their deaths like my grandparents' and also kept up by their children, and down the road ahead of us I see my grandma's birch tree with its white paper skin I picked strips off of as a child and its luxuriant fall of green and the low chain-link fence and the tidy squares of yellowing grass bordering the concrete walkway up to the porch.
I pull up to my grandparents' house, or my house, I should say, and the empty lot next door which is technically also mine. There's a Realtor's sign stuck into the front yard, curling at the corners and cutting off the final vowel on the Basque name of a local gal who handles all the dealings for a hundred miles. Every few months someone makes as though they want to buy it, ranch hands or frail retirees hoping to be closer to grandchildren, but they tend to melt away after their first inquiries to the bank, or some issue with the required paperwork. Uncle Rodney informs me that last winter the only title company in Paiute County closed, precipitously leaving all real estate deals such as they are in even greater disarray.
Honey is quieter now but still mewling hungry and tired of being squished up in her car seat, long past her bedtime already. I park in the driveway in front of the garage and step out to release her and once she has tottered around on the front grass a bit to stretch her legs I get her to hold my hand and together we climb the back steps and I fumble for the key I keep on my keychain even though I've only been up here twice in five years. I hoist Honey up on my hip and open the door holding my breath. It's been more than a year since the last time I walked in this door and I think what if it's been colonized by local youths meth-users or pillheads or whatnot and I prepare myself to see something I don't want to see. But it's as pristine as it was when my grandmother presided, with its all-over faux-wood paneling which somehow comes together with her couches her dining room table her Indian baskets her hutch her milk glass her torchère lamp, everything left as it was, cozy and immaculate, my grandfather's encyclopedia and his World War II books on the low shelf by his recliner. The house is an aesthetically closed circuit, not a detail out of place, its mobileness less apparent within than it is without. I breathe in the smell, the smell as it's always been, the smell of old paper in a dry cedar cabinet. I eye the woodstove on its brick platform and think how cozy it will be in here and remember that it's summer and I won't need to use it. Or not yet, I think, and then unthink it, because we are not prepared to travel that line of inquiry.
I feel the enormous squishy heft of Honey's diaper and set her down and consider leaving her while I go back to the car to get the diaper stuff but see too many incipient hazards about the place. So I heave her back up and trot back out to the car and pull out the tote bag with the essentials and trot back into the house and change her diaper on the living room floor, and she looks at me with a surprising amount of good cheer given the strange day she's had, and I feel that we are two gals out on an adventure. I button the onesie and pull up the pants and consider the living room and the hazards and, patting myself on the back for being so conscientious and prepared considering my general frame of mind, take a bunch of clean rags from the pantry and tape them over the razor-like corners and edges of the brick platform under the woodstove, and since I'm at it I take my thirty-pack of socket protectors and stick them around, and I put the heavy brass lamp down on the floor where she can't pull it down onto her head, and I feel the mirrors and still lifes the cowboy ephemera and weavings to make sure they're secure on the flimsy walls, and then I lie down on the couch and watch as Honey makes her first lap around the living room, poking and stumbling on little legs that have only just learned how to walk. It's very, very quiet and I wonder what we are going to do next. Then I consider what Honey has eaten today and I get up and make for the pantry and there are cans of baked beans and peas and I bustle around the kitchen and get them into a little saucepan and I survey the house. My house. My house. "This is my house," I say aloud, and everything in the house contradicts me, down to its dubious foundation. "You're a visitor," the house seems to say. But it still welcomes me, even if we have mutually rejected the existence of an owner-owned relationship between us. We are safe in the house, I feel.
Despite the caretaking efforts of my uncle the house is beginning to show the signs of disuse. I can see that rain comes through the master bathroom window; there's a small soft place in the wood at the sill. The shadows of deceased bugs are visible in the white bowls of light fixtures. Carrying Honey I slide open the screen door which complains a little in its tracks and step onto the porch and see that something has got at the feathers that once hung from the dreamcatcher wind chime, and its remaining wood and metal are in a little broken pile below. A cow skull propped against the house is minus a horn. I peer around at the neighboring houses and note the absence of any lights blinking cozily across the park. I note the mountains with the slightest bit of snow still on their peaks in the distance, neither the Sierra nor the Cascades, but some weird in-betweener range. I feel enervated rather than invigorated by the landscape. But the air feels warm and good and smells like juniper like I promised myself it would, and the light is otherworldly purple, indisputably beautiful.
Honey is starting to do high-wattage squawks that indicate she is way past tired and I know I have to hustle to try and get the sleeping situation configured in the most soothing routine-looking way possible. I decide we won't sleep in my accustomed twin bed in the little side room overlooking the birch tree with the framed telegraph from my great-great-grandmother on the wall and my mother's bronzed baby shoes on the dresser which I pause and consider weeping over but don't. No, the "master suite," my grandparent's room.
I clip Honey's high chair to the tiny laminate table in the kitchen and spoon her some of the baked beans and peas and she pats at them with her spoon and for a moment I worry about botulism and then stop worrying because I'm suddenly so desperate for her to eat something so I can get her into bed and smoke a cigarette and have a minute to figure things out. While she eats I set up the Pack 'n Play in the closet off the room with the king-size bed which eerily has clean sheets with military corners and the polyester floral cover spread over them smooth as cream and Grandma's chest of worn Pendleton blankies at its foot.
Finally we sit in the big bed and have milk which is warm in the sippy cup from this morning because I haven't brought a carton and we have two stories Goodnight Moon and Goodnight Gorilla, trying to emphasize the goodnight aspect and the sleeping aspect, and I decide to forgo brushing teeth and then think no no no it's too easy to fail to establish good habits and I haul her into the bathroom and poke at her with the toothbrush and she clamps her mouth shut and cries and then I lay her in the Pack 'n Play turn on the sound machine say "I love you I love you I love you" and close the door and listen to her scream.
I find my phone which I know will not have service here for love or money and there is a mystery Michelob in the fridge and I take it onto the porch with my cigarettes and stretch out as much as I can in the plastic chair. I unbutton my pants which are creasing the fat of my stomach, my embonpoint I sometimes try to cheer myself up by calling it. I open the beer and light the cigarette and feel repose fill my soft anxious body.
When I unlock the phone it wheezes to life, tottering along on one bar and I see that I won't be able to Skype Engin, something we will have to deal with tomorrow. I manage to load a few e-mails and I make a reflexive mental note to submit a reimbursement to the Institute for the overage this will undoubtedly accrue, datawise, and then make another mental note that I will not be reimbursed for anything going forward. I peck out a WhatsApp message to Engin that I'm in Altavista and will call him tomorrow and I watch the app labor to send the message for two minutes, my nerves chirping until it finally whooshes off and I have completed my major obligations for this day.
I haven't had a cigarette since we left the City and I feel a little high sucking this one down in the frictionless air. I have secretly had a pack of cigarettes with me at all times for eight months now. I'd like to say that I've had them since after I weaned Honey but if someone is surveilling the search history on my Institute computer which I suppose they could be apart from visa questions they would find many variations of "nicotine" "breastmilk" "nursing" "damage" "bad" etc. The problem with reproduction is that it is stressful, I mean becoming pregnant having the baby raising the baby, and all the measures I employ to deal with stress involve some measure of self-harm, and once you have a baby in or around your body that body is no longer just your own to harm. Engin has some investment in it, of course, not wanting me to die an early death, and shortly after we got married he took what I consider to be a rankly hypocritical position about my smoking, since he has smoked since infancy practically and I'm sure he's sucking them down on his mom's balcony right this moment, that is, morning his time. Unfortunately for him, given the various demands on my physical person over the last two-plus years smoking is now what I consider to be a feminist issue and I take a big drag and watch the smoke go out in the cooling air and think how every time I quit smoking I invest that last cigarette with a lot of ceremony—big, weighty drags, clasped hands, heart lifted up in supplication to God. But I can't remember the last time that I nursed Honey, and that really was the last time, the last time in the history of man that I had my baby at my breast.
This reminds me that my breast pump is still sitting in the basement of Oberrecht Hall. I remember this approximately once a week but while I was on campus I couldn't bring myself to go down the three flights to get it. It's in Ted's server closet, which is tiny and full of whirring machines and one office chair and kept at sixty-three degrees. Ted and I had a system, which was that I would go in there and turn off the AC and lock the door and disrobe and attach myself to the pump and if he needed to come in and check on the servers he would knock which thank god never happened. Sometimes I would go in there and find an orange or a little stack of paper napkins on the table, and know that Ted had shortly beforehand been sitting in the seat and eating his lunch and futzing with his servers. Ted has very long fingernails, which I imagined digging deep into the skin of the orange. I thought about this when I was half naked in his chair with plastic hoses attached to my breasts, and the little bottles of milk placed around his desk and on his papers and next to his servers.
Honey has stopped screaming and it is now very, very quiet and dark. A light pops on in the house behind us, neighbors I don't know.
The issue with the breast pump was that the things it came with, flanges they are called, were too big for my nipples. A whole great chunk of my breast was pulled in along with the nipple, and the skin blistered against the plastic as it was chafed by the motion of the pump. I found online a smaller insert, 22.5 millimeters, but the insert wasn't compatible with the tube thing that the flange stuck in, so that I had to stick it into the original too-large flange, and then stick that into the tube, and some of the milk sort of stuck between the insert and the flange and dripped all over the table when I took them apart. Invariably during the assembly or de-assembly one of the flanges would fall on the linoleum and I'd pick it up covered with hair and fuzz, and I would wipe it off with my clothes and the hand sanitizer that sat on Ted's desk, or one of his napkins. I asked Engin if I had in his estimation smaller than usual nipples, and he asked why and I got waylaid looking up the Turkish word for flange and I never found out about his estimation of the relative size of my nipples.
When I was in the hospital after I had Honey I told the nurse I wasn't sure the breastfeeding was working and she held my hand and looked into my eyes meaningfully and said, "You have all the tools you need." She was in her late forties and had very white, likely false teeth and tattooed eyeliner and lustrous black hair. I asked if she was from Paiute County because she pronounced the word "Sunday" just like my grandmother, "Sundy," but it turned out she was from Southern California with a mom from Okinawa, not like my grandmother at all. Her parents must have had a cross-cultural marriage, I think now. I should have asked her about that, not the breastfeeding which is in the scheme of things a very small part of life. I light another cigarette in honor of this woman, who reassured me that I could do it, feed Honey that is.
But once I went back to work, less and less started to come out of the tubes, and when I looked online about how to sustain the milk it seemed like an insane project—feed the baby, pump after feeding the baby, wake up and pump every two hours, etc., even if the baby is sleeping. So then I gave her formula, and the more formula I gave the less milk I made, and all the things that I read on BabyCenter came to pass vis-à-vis my "supply." I used to lie on the couch after work and look at pictures of nursing mothers on my phone and cry.
Engin's mother begged me to take more time off work for the good of the baby, but the standard leave policy of the University is six weeks off at 50 percent of your salary, and after many bewildering and misleading conversations with the morons in HR I elected to pay twenty-eight dollars out of every paycheck from the time I started work so that I could instead receive 70 percent of my salary, and then I took the additional six unpaid weeks that were my right by federal law, except Honey was born two weeks late and so that ate up two of those precious weeks and no one in HR ever told me I was legally entitled to tack them on later. I seem to always meet University staff who are just coming back from their second or third six-month absence but those are unpaid and in any case at the discretion of your supervisor. Hugo earnestly counsels his female graduate student against procreating and I felt that he felt that spending any additional time away from work would be frowned upon but to be honest I never even asked so I don't know and thus I went back when she was a mere ten weeks old. I felt so certain that the Institute truly could not function without me because there were grant reports to file and federal compliance to ensure and events to orchestrate and nobody knows how to do any of this but me and it all felt so important it would make me laugh now if I weren't so furious.
If I had just weaned her when I went back to work I never would have had to pump milk half naked and freezing in a closet with Ted's servers and napkins and oranges. Then again if I hadn't gone back to work at all I wouldn't have missed days weeks months with my child that I will never have again in this life.
My thoughts are finding their familiar melancholy groove of love for my child and sadness about our fleeting life together and then I think of Ellery whom I have assiduously avoided thinking about for most of the day, whose life on earth and with her own loving parents is now at an end, and I feel the mustard sting behind my eyes as her face and Maryam's face are summoned up before me from the night air. I never actually met Ellery despite being circumstantially wrapped up in her doom. Two months ago Maryam sent me a cheery progress report, two days before the accident, two days after having dinner with my sister-in-law Pelin and her husband Savas and their daughter Elifnaz, which I arranged so the girls—young women—could have some kind of cultural experience beyond carousing with hot guys from New Zealand in their Tünel-adjacent hostel. Attached to the e-mail was a photo, the two of them in the Rüstem Pasa Camii, Ellery a lively looking girl with great eyebrows white teeth huge smile, her face lit up with the secret joy game white girls feel upon donning a headscarf in a culturally appropriate context, and Maryam who is a Palestinian Christian from Bakersfield by way of Amman duckfacing with a worn mosque-provided paisley sheet wrapped around her short shorts and her arms wrapped around her friend. The memory of this photo, the thought of them setting out on their adventure with their backpacks and their water bottles and their bag of warm bread from Pelin's favorite bakery, and then of these smiling girls being thrown into the windshield of their speeding taxi with no seat belts is several orders of magnitude too large and awful to contemplate and I shake my head hard in the dark, a dimly remembered gesture of my father's whenever he wanted to stop thinking about something he didn't want to think about.
I have one more cigarette brush my teeth look in at Honey splayed out in her Pack 'n Play in the dark closet and stroke her head and cover her with the blanket and climb into bed. Then I think of all this big expanse of bed and Honey cooped up in the closet alone and get back out and gently lift her out and carry her over and put her next to me which I've always wanted to do but have not done because of all the things you read about sleep habits and people who sleep with their children until they are five. I've never had her in bed with me through the night, just mornings during the early weeks months when she hardly moved at all. Now I put my arm under her rear and sort of encircle her with my mouth against her fuzz. But she senses the change and squirms and wakes up and looks at me and smiles and starts fidgeting and says "da da daaaaaah" with curiosity and I feel her little hands on my face and I say "shhhhh sleeping" but when I open my eyes I can see the whites of her eyes in the darkness gazing at me like an inquisitive turtle and she kicks her feet and squirms toward the edge of the bed and I can't get her to lie down and I know I've made a mistake and carry her back to the Pack 'n Play and she cries.
My grandmother who slept in this bed with my grandfather lost her father before she was even born. He was twenty-one years old and was carried off by flu when my great-grandmother was six months pregnant. I thought about this all the time when I was pregnant and Engin was home with us and when he was late coming home from the store or the studio he sometimes rented time in I would hold my stomach and know he was dead and he would find me crying over the kitchen sink. Now sometimes I have to remind myself that Engin is not actually dead, just in Turkey. I want to think good thoughts about Engin so I think about those magic weeks after Honey was born when Engin and I hung around the house with tiny her lying on her blanket. In the mornings we would tuck her between us like a hot dog, and we would loll around until 11:00 and Engin would fix breakfast. Then we would have a pro forma argument about the in my view mistaken Turkish belief in a forty-day sequestering period for babies and new mothers that I pointed out he only knew and pretended to care about because his mother told him he should, and finally we would bundle her up and take her for a long, slow walk around the City, and we would stop for ice cream or beers and hold hands and gaze at each other and at the perfect creature that we made.
The last thought I have is that Engin is not in fact in Turkey at this moment, he is in Belgrade helping his friend Tolga shoot a commercial, and he'll be back at his mother's tomorrow night. I lie there feeling guilty that I have forgotten this, and also relieved that he likely hasn't been sitting around his mom's house waiting for Honey's face to light up his screen, until I finally fall asleep.
Copyright © 2018 by Lydia Kiesling